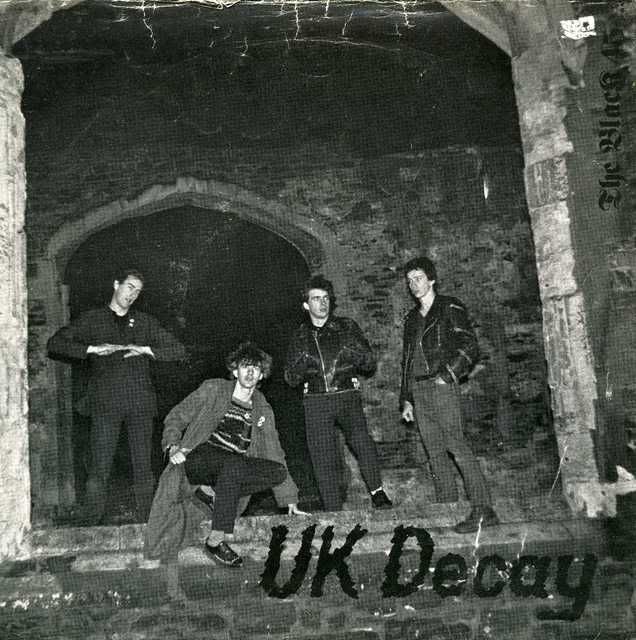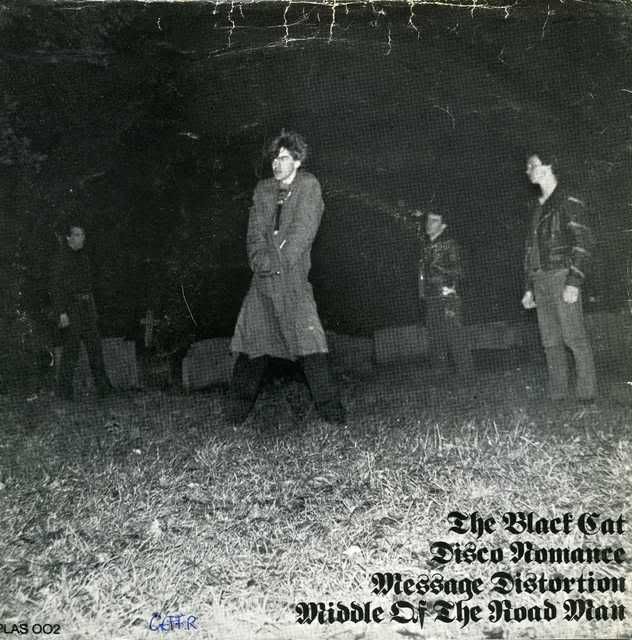 The Black Cat / Middle Of The Road Man
Message Distortion / Disco Romance
Crunchingly fine single by UK Decay, who later on in the early 1980's were to improve even more, with each successive release culminating in a fine 12″ release on Corpus Christi Records in 1982.
Text below via wicked pee dear, and the photo of UK Decay at Marsh Farm, Luton in December 1979 was taken by Tim Swain.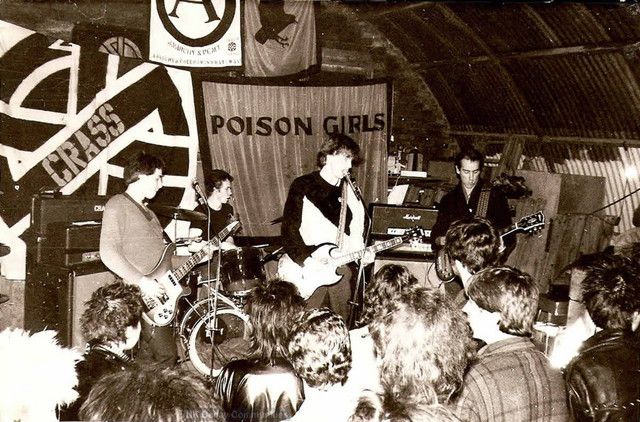 UK Decay was a Luton based band, formed out of the ashes of another local band called The Resistors, who were Steven Abbot AKA Abbo on guitar, Steve Harle on drums, Paul Wilson vocals and Martin Smith on bass.
After Paul Wilson left during the spring of 1979, the remaining band members changed their name and released the 'Split Single' 7" in partnership with local band Pneumania on their own Plastic Records label, under the new name UK Decay. There were two tracks from each band, with UK Decay contributing "UK Decay" and "Car Crash", and Pneumania "Exhibition" and "Coming Attack". The 'Split Single' sold extremely well, mainly thanks to a damning review in the NME, whose Danny Baker and Charles Shaar Murray described them as "one of the worst punk bands of all time". At the same time, some of the band produced their own monthly fanzine 'The Suss,' and ran their own punk record and clothes shop, 'Matrix'. Guitarist Steve Spon was poached from Pneumania, allowing Abbo to concentrate on frontman duties.
The next release for Plastic Records was the band's Black Cat EP, which came out in early 1980 and made the UK Indie Chart for three weeks, getting to No. 42. Alex Howe from Fresh Records offered to license the first two singles off them and signed UK Decay to the label for several new 7″s and an album. It was around this time that UK Decay played their first out-of-town gig, with Bauhaus, at the Northampton Racecourse Pavilion.
The first official release for Fresh was the single "For My Country" in September 1980, which got airplay from John Peel (for whom they would record two sessions) and spent eight months in the indie chart reaching No. 13. The single was promoted by a major UK tour with raging political punk band, Dead Kennedys. By 1981 two further singles, "Unexpected Guest" and "Sexual", had also been released, the former actually achieving the band's highest Indie chart placing of No. 4, and paving the way for UK Decay's debut album, For Madmen Only, released by Fresh Records in December 1981.
The band had taken a year in recording, after delays caused by taking time out for a US tour and further frustrations with finding a permanent bass player. After Segovia left, Lorraine 'Lol' Turvey from The Statics stood in for some UK dates and a European tour in early 1981. For the US and subsequent UK tours in Spring 81 Creetin K-Os (of US punks Social Unrest) stood in. Following that stint he returned home and Eddie 'Dutch' Branch (AKA 'Twiggy') from Northampton joined on bass, just in time to finish the album.
In early 1982, Fresh Records collapsed soon after the album's release, and the band were caught up in the ensuing management buy-out by what would become Jungle Records. With the help of John Loder and Southern Studios, however, they managed to buy up the rights to their back catalogue and set up their own UK Decay Records. John Loder also introduced them to Penny Rimbaud from Crass, which resulted in the Rising From The Dead 12″ coming out on Crass's Corpus Christi label in August 1982. However, despite a strong showing in the independent charts and an ever-expanding fanbase, UK Decay split up in December 1982. A posthumous live album, A Night For Celebration, was released during the summer of 1983.
Abbo, Spon and Eddie Branch would regroup with new guitarist Albie de Luca (formerly of Gene Loves Jezebel) as Furyo in mid-1983, releasing two mini-albums through the following year and recording an unreleased album before splitting again in early 1985.
UK Decay were arguably a major influence on an emerging wave of bands such as the Sisters of Mercy, Sex Gang Children and Southern Death Cult. These bands together spawned the emerging postpunk and Goth movements that still resonate today. UK Decay had a major role in developing these scenes, but had ceased to exist by the time these other bands started getting serious press coverage and sales.