THIS POST HAS BEEN BROUGHT FORWARD FROM THE ORIGINAL POSTING DATE OF DECEMBER 2007 – IN REMBERENCE OF ALISTAIR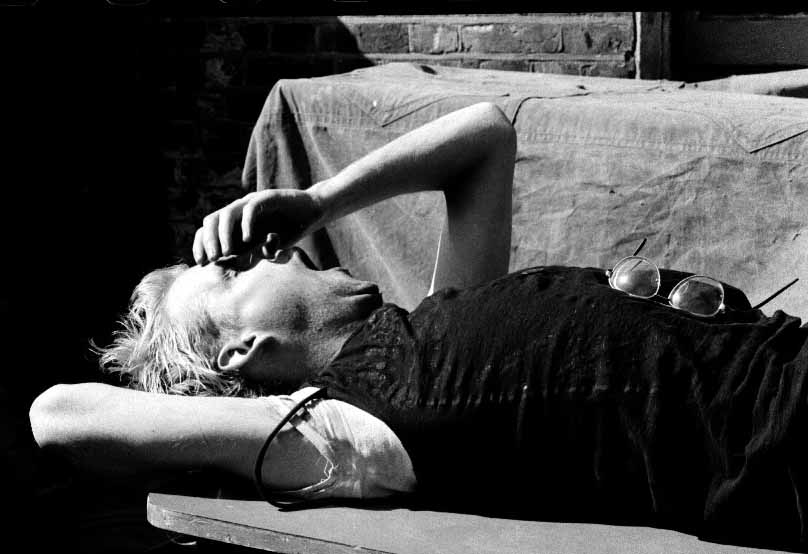 I found a diary I kept through 1983.
Here are some edited highlights. Of interest is the movement on from punk (anarcho / goth) towards first Psychic TV and second Stonehenge, but also the politics – Stop the City.
What I find hard to realise is that through until November I was still working for London Rubber, busy making condoms and rubber gloves. I seemed to spend a lot of time staying up all night!
Here is a photo of me in my white lab coat fast asleep at work.
People mentioned in 1983 diary (in vaguely sequential order)
Bob, Tony, Val, Min, Nicki, Mouse, Fod, Big Steve, Paul, Scarecrow, Marina, Jenny, Tinsel, Andy Palmer, Lu, Elaine, Ruth, Karen, Helen, Gary, Donna, Michelle, Richard, Michael Moorcock, Lorraine, Alex, Mark, Tod, Jane, Jackie, Lisa, Sally, Alf Martin, Mick (Luggy), Mick (Mercer), Genesis P. Orridge, Ronnie, Sarah, Rachel , Kenneth Grant, Colin (printer not Conflict,) Ripper, Brett, Angie, Julian, Josef, Greenhair, WOg (William Ogden), Caroline, Iosanna, Marion, Shirley, Keith (Here and Now?), Jeremy Gluck, Matt, Valentina, Jake, Debbie, Joan, Gabrielle, Lou, Cory, Andrea, Claudette, Beki Bondage (!), Janet, Rod, Les, Angee, Sonia, Lol, John, Derek Flux, Simon (Rough Trade?) James, Claudette, Chris, Emma, Sally(2), Zena, Hester, Anya, Soo, and Rob Vex. Who did eat all his muesli?
I make it over seventy altogether, which gives a fair idea of how lively it all was.
January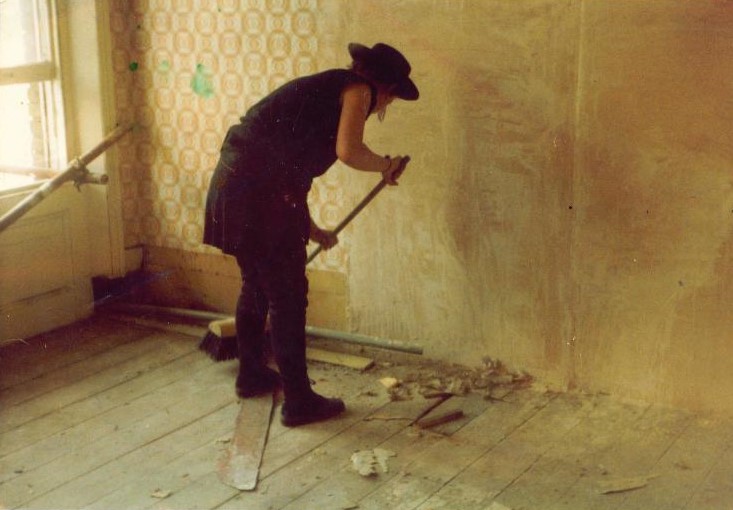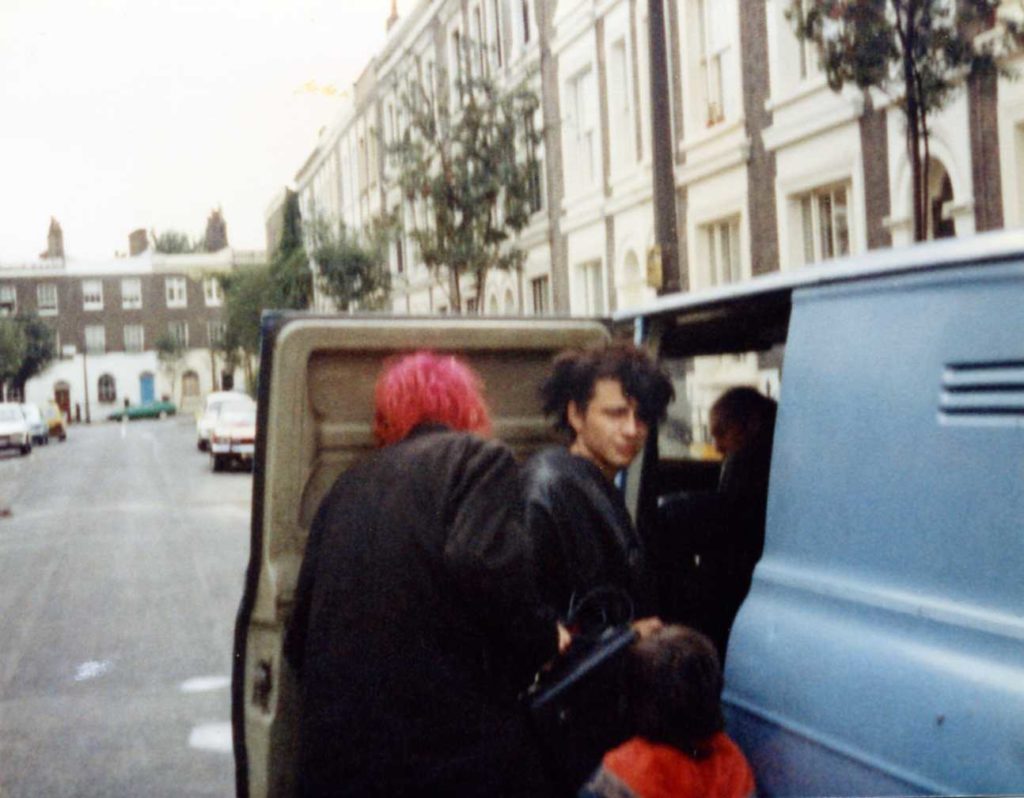 1st to 3rd. First to New North Road (squat where Mark Wilson of The Mob lived + Val Drayton, Mark 's younger brother Paul, and Richard Cabut – Kick and NME journo)
Then to Nettleton Road, New Cross – New Year party at Mouse and Alex's house with Val, Mark, Nicki, Tod, Paul, Michelle, Tony, Scarecrow, Fod, Donna, Tinsel, Lorraine, Min, Gary and Michelle's guitarist. We listened intently to first Psychic TV album; 'Force The Hand Of Chance'; "Very cosmic man" is my opinion.
Mouse later became PTV person and Min moved to Beck Road, Hackney former Throbbing Gristle HQ, then Psychic Temple, and became singer for Zos Kia.
7th to 9th To Bayston Road / Stoke Newington where Bob and Scarecrow had been making a film, then on to Kingdon Road / West Hampstead – a lesbian squat. Helen lived there. Met Helen when I visited Min for the first time in 1981 when she was living at Cazenove Road / Stoke Newington. Helen had a leather jacket with "Lesbian Guerilla" and a Kalashnikov painted on it. I was impressed and only a teensy bit nervous when I got talking to her and her girl friend Sonia. But it was cool, and I loaned them a fiver to get a taxi home the next day.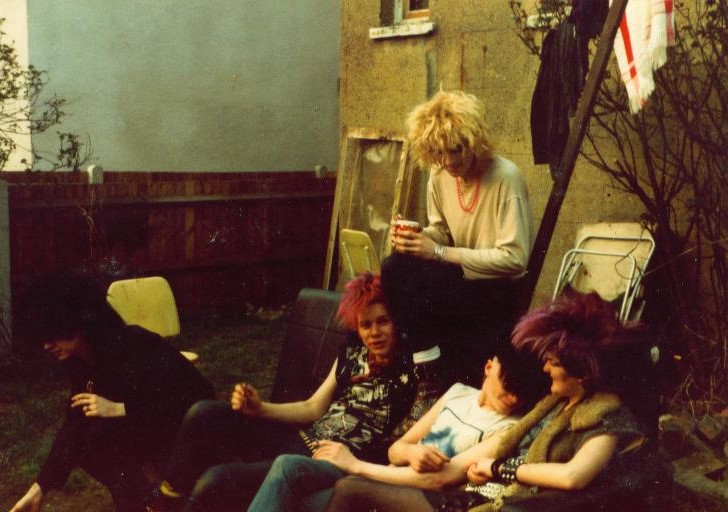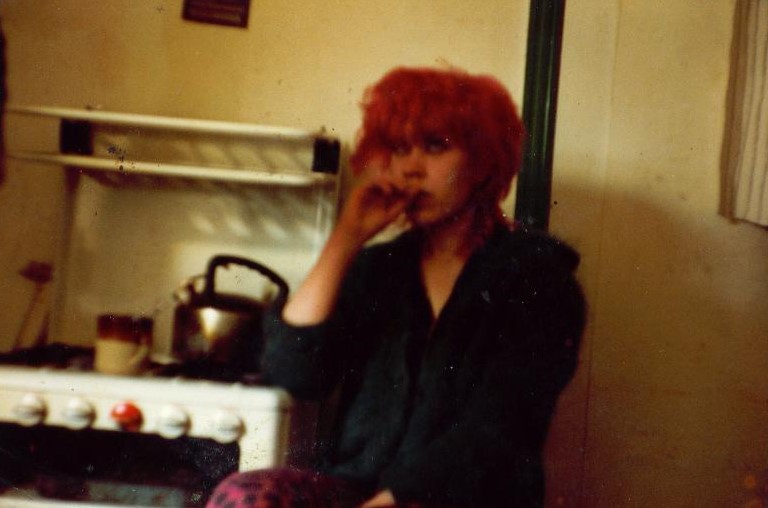 Then on to Puppy Mansions / Westbere Road / West Hampstead – Tony, Mouse, Bob, Jackie and listened to tape of 'Necromantra' and 'Love Is The Law' – the forthcoming Blood and Roses single. We celebrated with a bonfire in the garden.
15th Visited new house – an as yet still derelict 103 Grosvenor Avenue, soon to become a home for eight Black Sheep.
22nd The Mob played the London Musician's Collective.
February
Thursday 17th Richard's NME piece came out – front cover. "Positive Punk". Blame the sub-editor. Went to a Blood and Roses gig. At the time I just wrote "NME piece", but it was used to heap derision upon the whole scene.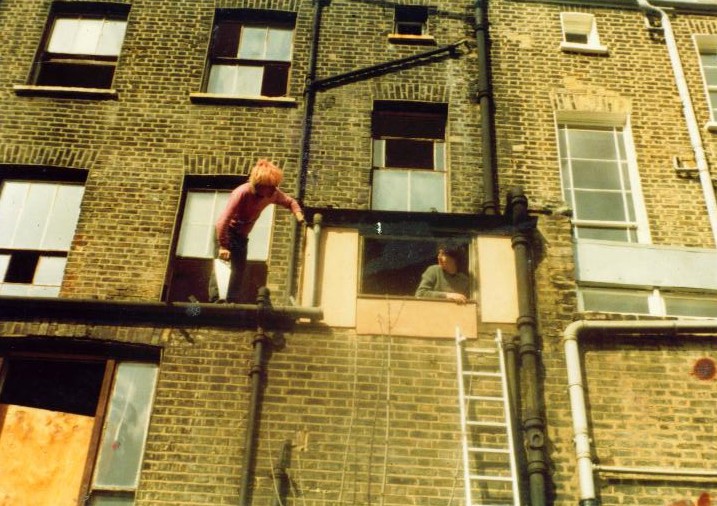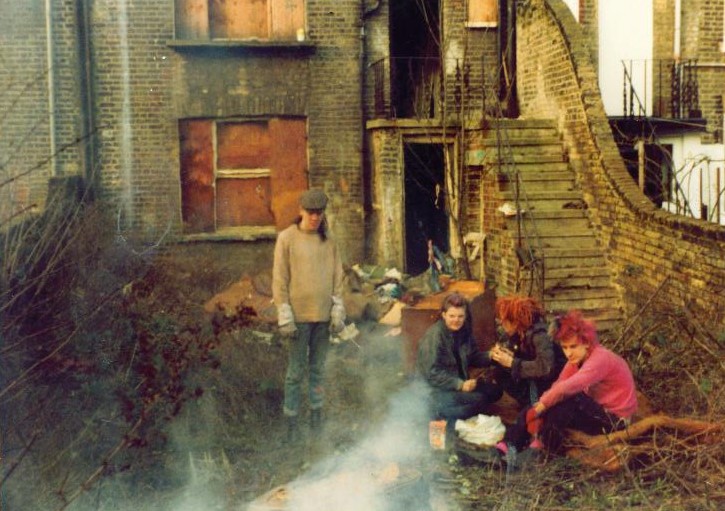 19th / 20th Started work at 103 Grosvenor Avenue, clearing crap out of garden and having a bonfire. A policeman came round, assuming we were dirty squatters – but we had a Council key. Got some photos of us at work. Weekends in Feb were all house work. We filled several skips.
March
4th / 6th Visited Mouse and Bob at Bayston Road, then more skip filling at 103. Cover of Mob album done. Spoke to Alf Martin about writing for Punk Lives. Alf rang back on the Monday – join the crew. So I wrote a piece about the Centro Iberico for him.
12th / 13th New North Road. Mark planning a bus trip. (As in free festivals and travellers).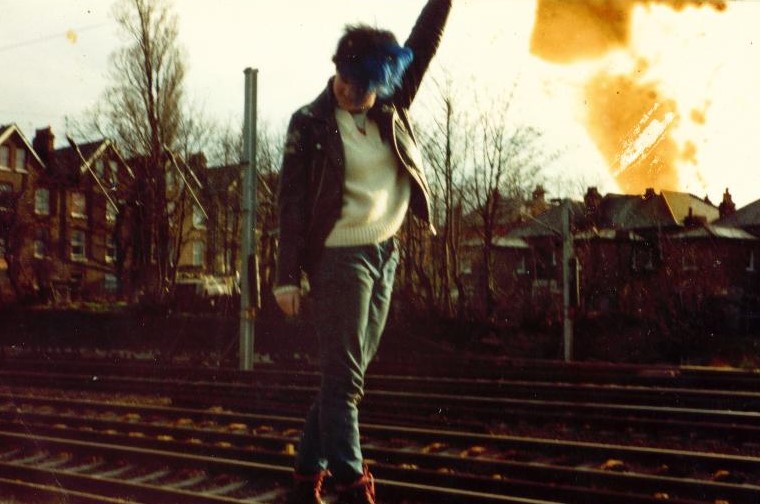 Westbere Road. Michael Moorcock had been to film – following Richard's NME piece – for a TV show. I had read all of Michael Moorcock's books and knew of his links with Hawkwind – though he had also written a Sex Pistols meet Jerry Cornelius piece years before. Exciting times.
Julien drew a sex-chart – putting everyone's names on a big sheet of paper and linking up who had slept with whom. It came out as a sex-web.
14th Got a letter from Kenneth Grant.
18th Michael Moorcock film on TV. "Dodgy" Lots of elder punk persons like Siouxsie saying how crap the music / scene was in comparison to the old days. And several minutes of Michelle Brigandage talking whilst using hairdrier on Richard's billowing tresses. Why?
20th to 25th On a course "Project Management for Engineers" at a Management Training College near Rugby. One of our tutors had worked for NASA on the Space Shuttle. Was actually very useful – still using ideas I learnt there. Like – break down big task into small bits and tackle each in turn – after first working out which are 'critical' – called critical path analysis- so you focus on the problem areas and don't get swamped by details.
April
1st April – Val and Nicky off to Greenham. Long talk with Min at Tolly (Tollington) Way when she told me about the rape that became the Zos Kia single.
April 2nd Punk Lives – my article becomes two page Anarchy Centre spread.
April 6th Wrote Blood and Roses story for Punk Lives, focused on Lisa (singer) so took it round to let her read it and get one of her drawing to illustrate it. She liked the story. Actually recycled from a high school essay based on Lou Reed / Berlin album.
Sunday 10th Elaine, Karen and Ruth – Hagar the Womb – at Puppy Mansions. Bought three gas fires at Brick Lane for new house.
21st / 22nd Stayed at Mouse's New Cross to go on another course "Working in a Co-Operative" One of the people on course was Keith / Here and Now. Met Marina from USA. Told me her ex-boyfriend Mark Mothersbaugh of Devo.
23rd / 24th Blood and Roses at the Scala. At soundcheck. Bad PA! Visited Helen at Kingdon Road.
28th Pip has been bannistering at 103. Met Jeremy Gluck.
Nearly all the work done to convert four derelict houses to a liveable standard was done 'in house'. We had gas-fitters and roofers, joiners, plumbers, electricians, painters… all the skills needed found amongst anarcho-punk-goth community. Maybe the NME sub-editor should have called us "Practical Punks".
May
1st Interview Conflict with Tony (For Punk Lives).
7th CND March – to Brockwell Park.
21st Moved in to 103 – after four years living in a bed sit in Ilford with a Polish Catholic landlady – refugee from communists after WW2. Brother Ian came down from Scotland and built table in kitchen and a bed for me.
24th to 31st To Scotland with Min. We camped in the forest at Drumness for a few days, on the Polmaddy (wolf's stream) Burn. Min not looking forward to returning to London. Go to "possibly last ever Blood and Roses gig" at The Tribe in Leicester Square.
June
3rd Mob and Hagar the Womb gig.
4th New Pet Puppy – No.6, about long strange journey to Stonehenge – finished.
6th Printed 100 copies of Puppy 6 at Islington Bus Garage community centre.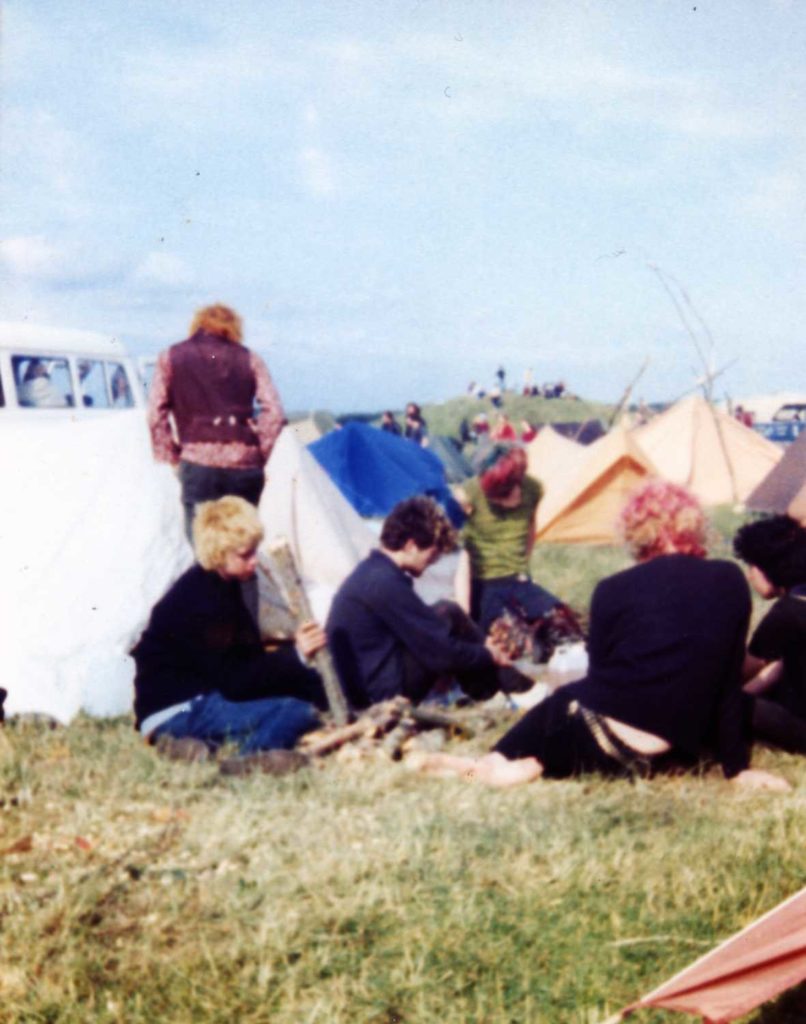 Monday 13th Val, Tony and Nicky off to Stonehenge
18th Andy Palmer (of Crass) and Lou visit. They are living at Cross Street Black Sheep house. Up all night doing layout for Encyclopaedia Of Ecstasy Volume 1.
23rd Mick, Tony, Mark and Sarah back from Stonehenge.
24th Val, Nicky and Fod back from Stonehenge.
July
3rd Brick Lane. Mark bought truck. Note: key moment in shift from 'anarcho-punk' to 'hippy traveller'.
10th Blood and Roses gig. Abortive attempt to squat new Anarchy Centre – Ives House on Roseberry Avenue.
15th Mob gig. Stayed up til 6am. Bit knackered.
20th Read some of Dreaming the Dark by Starhawk. Tinsel came to visit.
22nd Mob gig.
August
2nd Lengthy discussions about Co-Ops with Val, Mark, Rod, Les and Mick until 2am. Mick said "Co-Ops don't work, people need to be told what to do… "
3rd Rob Vex's birthday.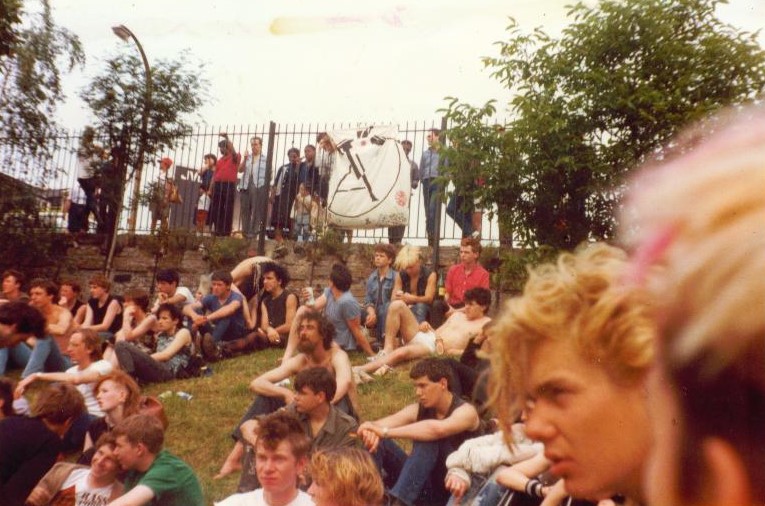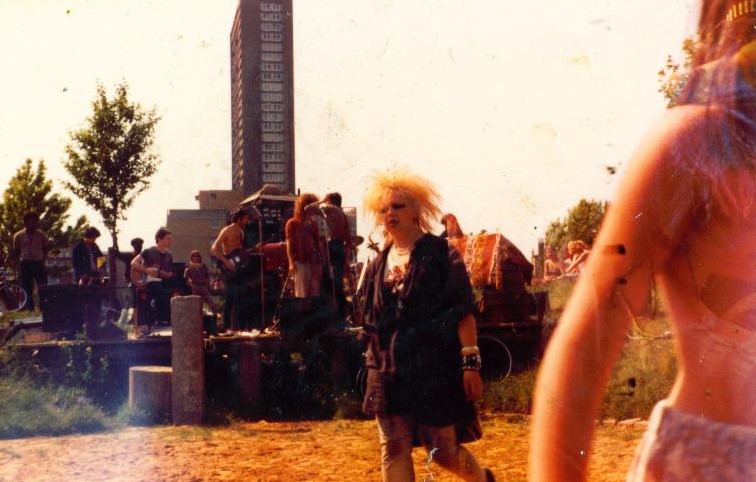 6th Mob gig at Meanwhile Gardens / Westbourne Park.
13th Picnic on Hampstead Heath with Angee, Anne, Les, Tod, Mick, Maria, Anna, two Italians and Dom. Faction gig blown out. Note: Maria and Anna lived in other Black Sheep House. They ran Southern Death Cult fanclub and wrote article 'Magick and Greenham Common" for Vague.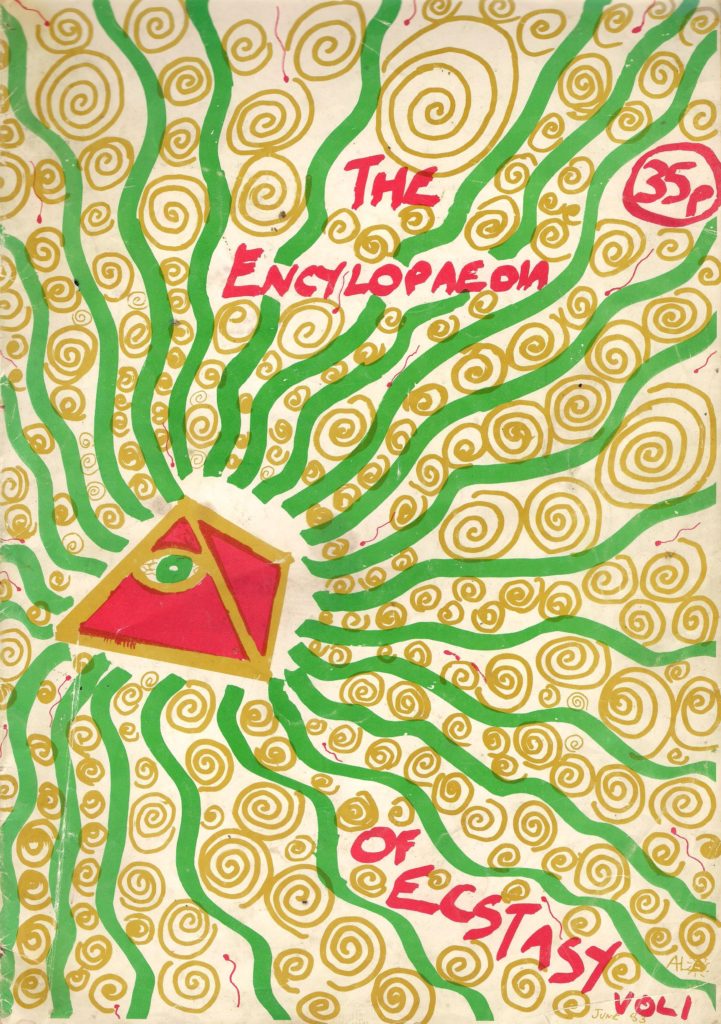 19th Sold five copies of Encyclopaedia Of Ecstasy Volume 1 to Mysteries book shop, bought lots of books on structuralism. Met Beki Bondage and Ligotage – went to pub with them. Visited Sheffield anarchos squatting on Camden Road.
21st Everyone back from Berlin. (Mob on tour).
23rd Aleister Crowley in Flexipop.
30th Wog (William Ogden) visited. Coming off heroin – again.
September
2nd Washed up, cooked dinner for Cory, Wog, Min, John A. Washed up. Sleeved 500 Witch Hunts with Mark and Min then a chillum. Hunt Sabs visited – they had had a good one.
3rd Rough Trade with Mark, met with Derek of Flux and Simon – talked business.
4th Mark and Fod met Genesis P.Orridge.
7th St. Ives House finally squatted – great place. Me and Tony build stage in basement.
8th Making and printing poster's for St. Ives house / New Puppy.
9th A work related entry "Pat on back from Finance Department" – I had solved mystery of a job which had run £10000 over budget. Production Dept. had bought a 'titration' device which came in on invoice at £36000 rather than the £26000 estimated. I had gone through every invoice for the past six months until I found it. Such dedication!
10th Gig at Ives House – Poison Girls. Not many people but lots of fanzines, good atmosphere, but police checked us out… Got home 5 am.
16th Mob gig at Burn it Down Ballroom. Sarah a bit drunk – still wanting Mark.
17th Min is moving to Beck Road / PTV.
21st Gas oven working – made six loaves of bread.
28th Invoked Hecate and Kali in back garden for Stop the City.
29th Stop the City.
30th My 25th birthday party (so wild I had fallen asleep by midnight).
October
24th Gig New Puritans, June Brides, Boys Brigade, The Mob. Lots of people – Zena, Min, Cory, Sue, Debbie and new person Anya, who is Polish.
26th Big Steve needs £500 bail! Josef sorts it out.
28th New PTV album – very good.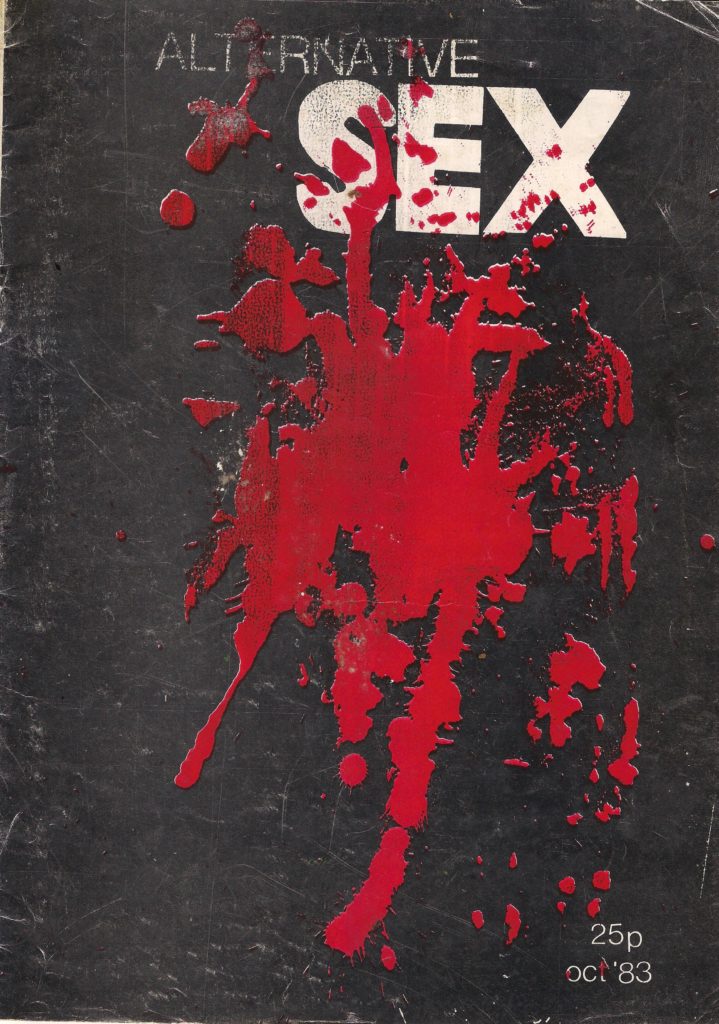 29th Gig at Ives House anarchy centre. Curse of Eve, Toxic Shock, John's band, Curse of Eve. Woken up by Zena and Hester giggling. First copies of Alternative Sex from printer's (feminist zine produced by Val, Nicky, etc).
November
5th Marina came to visit – took ecstasy with her. She had weird visions of plutonium.
9th Tony gone weird, psychotic? Kept saying "Tony's gone" Sat trying to bring him back until about 2am.
11th Missed Hagar gig – Tony still not right.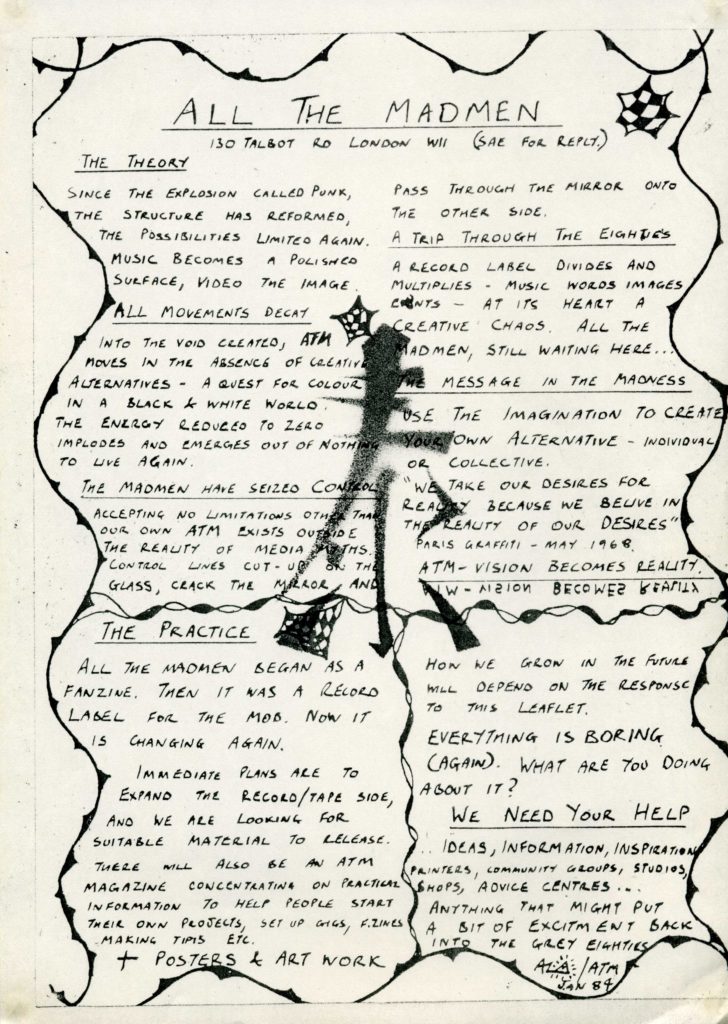 18th Left London Rubber – to manage All the Madmen once everything sorted out.
20th New Encyclopaedia Of Ecstasy – not ready yet.
Diary ends
In January 1984 at a party at 103 Grosvenor Avenue met Pinki. Relationship lasted twelve years – until her death in January 1996. Photograph features Cory / Quick Phil / Pinki / Lisa circa 1979.
PHOTOGRAPHS FROM THE COLLECTIONS OF MICK LUGWORM / TONY D / AL PUPPY / MIN