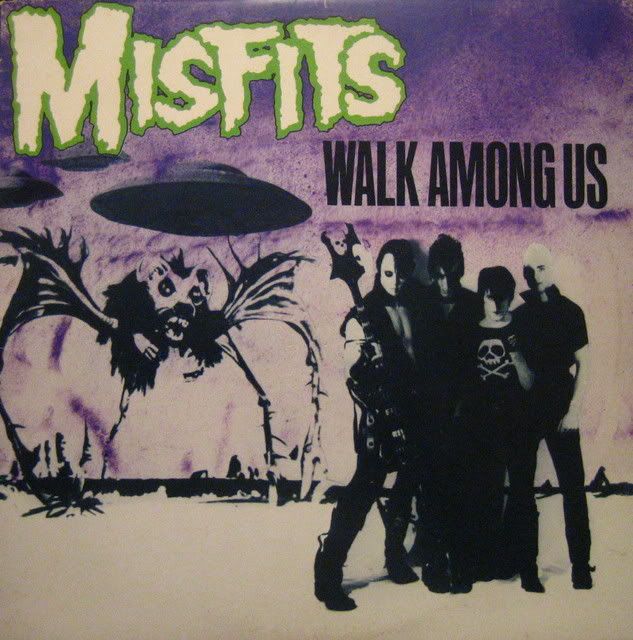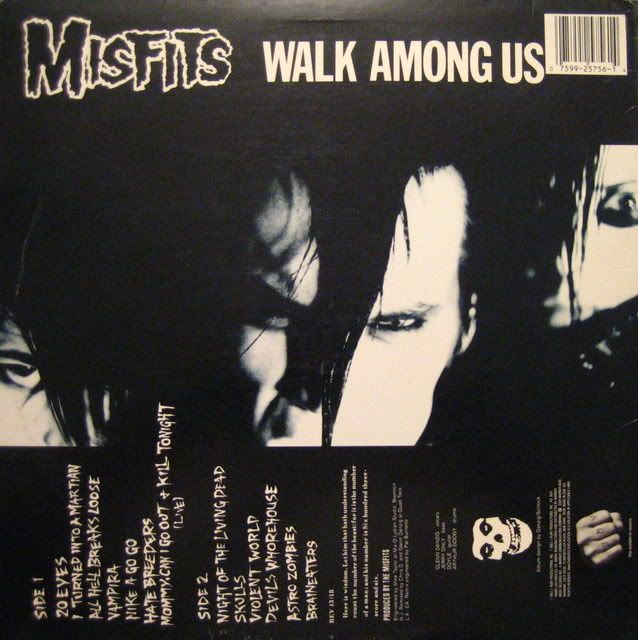 20 Eyes / I Turned Into A Martian / All Hell Breaks Loose / Vampira / Nike A Go Go / Hate Breeders / Mommy Can I Go Out And Kill Tonight
Night Of The Living Dead / Skulls / Violent World / Devils Whorehouse / Astro Zombies / Braineaters
Clocking in at around 24 minutes, I can not think of a better way to start the new year than with a blast of the debut LP by The Misfits, those ghouls from New Jersey in the U.S.A. Text below ripped from allmusic.com.
Wishing all KYPP browsers a pleasant and safe 2009. Give someone a hug…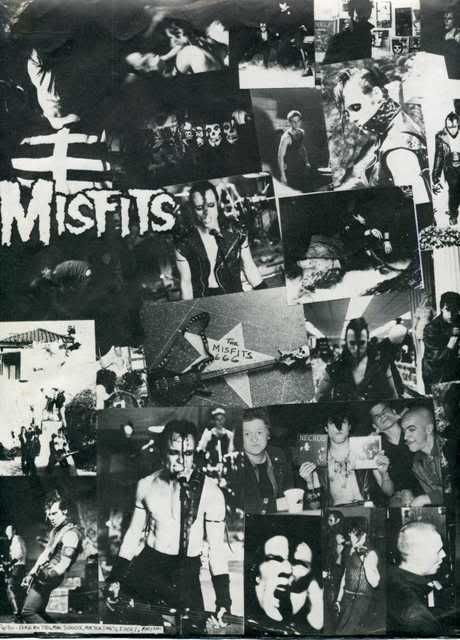 Genuinely shocking or tasteless, campy fun? It was sometimes hard to tell which way the Misfits wanted to be taken, and the immense cult following that has grown up in the years after their actual existence (1977-1983) seems divided in its own assessment. It certainly wasn't the Misfits' musicianship — which was as crude as the recording quality of most of their oeuvre — that endeared them to so many, although Glenn Danzig possessed one of the most distinctive and tuneful bellows in hardcore punk. Rather, it was Danzig's penchant for catchy, anthemic melodies, often delivered at warp speed, and his lyrical obsession with grade-B horror films and splatter imagery that helped the Misfits build a rabid posthumous following. Name-drops and covers by metal bands like Metallica and Guns N' Roses kept the Misfits' songs circulating during the mid- to late '80s, when their tangled discography remained only sporadically in print — reissues were maddeningly incomplete, and much of the band's prime material was confined to rare singles and EPs. The mid-'90s saw a spate of CD reissues that, while not quite presenting all of the Misfits' songs in the most concise, collectible format, at least succeeded in getting them all back into print, allowing those who missed the band the first time around to hear why they've enjoyed such enduring cult popularity.
The Misfits were formed in Lodi, NJ, in 1977 by vocalist Glenn Danzig and bassist Jerry Caiafa, who performed under the name Jerry Only. Their name taken from Marilyn Monroe's final film, the Misfits added drummer Manny and recorded a guitar-less single, "Cough Cool" b/w "She," on their own Blank Records label (later changed to Plan 9). Manny was soon replaced by "Mr. Jim" Catania, and guitarist Frank "Franché Coma" LiCata joined up for the four-song 1978 EP Bullet, which featured a notoriously graphic image of John F. Kennedy being shot. Although recording sessions had been held for a full-length album, to be titled Static Age, no record company would accept the results, and whatever material was not subsequently issued on EPs languished in the vaults until the 1985 compilation Legacy of Brutality. The Misfits began playing shows at CBGB's and attempted to obtain some greater musical stability with the addition of Whorelords guitarist Bobby Steele and drummer Joey Image. This lineup recorded the three-song EPs Horror Business and Night of the Living Dead in 1979, the latter being released on Halloween. An aborted tour of the U.K. supporting the Damned followed, and a frustrated Joey Image quit the band after Danzig was arrested in a bar skirmish. Things had not been going well with Steele, either, and upon returning to the States, Steele was ousted in favor of Jerry Only's younger brother Doyle (born Paul Caiafa; sometimes known as Doyle von Frankenstein). Arthur Googy became the full-time drummer, while Steele went on to form the Undead. England's Cherry Red label issued the legendary Beware EP in 1980, which contained Bullet, two tracks from Horror Business, and the Static Age outtake "Last Caress"; it became a ludicrously expensive collector's item in the years that followed.
Back in the States, more single releases followed over 1981, including the Three Hits From Hell 7″ and another Halloween single, this one titled "Halloween" and containing two versions of the song, one a low-budget attempt at creating a spooky ambience. Another full-length LP had been recorded under the title Walk Among Us and was scheduled for release in late 1981, but a larger distribution deal was worked out with the Slash subsidiary Ruby. In 1982, the Misfits finally released their official debut album under the planned title, which proved one of the finest additions to their discography. Googy left the band around this time in a dispute over money, throwing off plans to record a follow-up; in the meantime, the live EP Evilive was released later in the year, featuring a guest appearance by Black Flag's Henry Rollins. Future Samhain and Danzig bassist Eerie Von Stellman was nearly recruited to play drums, but lasted only a weekend; eventually, punk producer Robo was settled upon as skinsman, and the Misfits spent the rest of the year and the first half of 1983 recording Earth A.D./Wolfsblood, an album that tried to play up the more aggressive aspects of the band's music. Brian Damage was chosen as Robo's touring successor, but barely got a chance to perform before Danzig disbanded the Misfits in late 1983. A farewell single, the three-song "Die Die My Darling," was issued in 1984.