Today I have uploaded seven 7″ singles from Bologna's Attack Punk record label and a 7″ single on the Toto record label. All the 7″ singles are in glorious red vinyl and quite aesthetically pleasing to the eye. The second release especially looks like the sleeve and booklet was screen printed in the same way as the first three Kill Your Pet Puppy fanzines, lots of clashing colours and text!
All the bands on all these releases are no doubt committed to the causes that they are involved with. Myself not being able to read (the booklets and posters) or understand Italian and the other nationalities screamed out from some of the bands vocalists featured on these records I am unsure of what causes they are. Browsing through the pictures and the (small amount of) text that is written in the English language in all the booklets and posters that are an integral part of all these 7″ singles, it becomes obvious that the generic Crass / Discharge peace punk themes are common with most of these bands. That can not be a bad thing!
In my opinion the pick of the bunch on the compilation records is the band Sottoculture with 'Attack' from the 'Papi, Queens, Reichkanzlers & Presidennti' EP (SECOND ATTACK 1982). Simply blinding. But my firm favourite from the whole Attack Punk  catalogue is the 'Ortodosia' 7" by C.C.C.P Faithful To The Line. (SIXTH ATTACK 1984) This record reminds me more of bands like The Ex or The Rondos rather than either Crass or Discharge. Again not a bad thing!
There is very little information that I can get regarding the Attack Punk record label, or indeed little I could find out on the Bologna punk scene in the early 1980's. The small snippet of information I did get, and placed below, I unceremoniously ripped off the Kill From The Heart site. I am sure there is more information out there that would be useful and relevant to this post but it might all be written in Italian and on Italian websites.
If anyone would like to participate in adding any useful and relevant information to this KYPP post on the Attack Punk record label, or the Bologna punk scene in the early 1980's then feel free to add some comments below and I will cut and paste them to this post along with a credit. Thanks.
Oh just a note on the recordings if you hear long gaps starting a side or between the tracks that is the record itself, not my recording of the record!
"Attack Punk Records was born as an offshoot of the Attack fanzines from 1980 and 1981 that dealt primarily with the punk scene of Bologna. The Attack Punk record label was born in Bologna in 1981 with its first release 'Schiavi nella città piu libera del mondo' compilation 7″. The record was self-financed by the four groups that participated: Anna Falk SS, Bacteria, Stalag 17, and RAF Punk.
The cost at the time was almost 500.000 lire (roughly £200). The compilation was an example of punk self-production and self-sufficiency. The label's first release was done in the cheapest way possible, printing the covers on an offset belonging to an anarchist group. The most important thing was that self-production was possible, an escape from the market logic of capitalism. Our concept for self-management wasn't limited to the group that produced the record… we were a self-run label because we functioned completely inside of the scene".
Photograph of RAF Punk and Bologna punks taken by Tony D September 1980 and from Tony D's collection.
"Though the idea of the label was created by Gianpaolo Giorgetti AKA Jumpy from R.A.F Punk, it involved all the punks were in 'il Cassero' (an anarchy centre). Soon RAF Punk's guitarist (later on a member of the band C.C.C.P Faithful To The Line) also joined. His contribution was important because he was an excellent graphic designer who created lots of record covers, and he was also a wizard with an offset press".
"We were fascinated by the Crass Records label. Though we didn't share the rigor, we totally agreed with the utopia that came out of their messages. We felt ourselves a step away from anarchy in Italy at that time. All the principles that we had always pursued finally seemed to come true. We wanted to internationalize ourselves and we made the second record 'Papi, Queens, Reichkanzlers & Presidennti' compilation, with four Italian bands, one German band, and one English band".
"The releases that followed were 'l'Affaire Marat Sade' split 7″ (the title of which was inspired by the theatrical work of the same name) with Cracked Hirn and Rivolta dell'Odio, the 'Nè buoni nè cattivi' split 7″ with Irah and Stalag 17 from Bologna, the 'Africani' EP by Underage, the 'Ortodosia' 7" and 12″ by C.C.C.P Faithful To The Line, and the final release,  'Corpus Delicti' 7″ by U.B.R. from Yugoslavia". "
"Totò Alle Prese Coi Dischi the sub-label of Attack Punk records takes it name from Totò, a famous Italian comedian of the 1950s".
"Tony D in Bologna with RAF Punk 1980. Tony was stopped by the police and he had to go to the Questura the day after. We gave him some money to show at the police, if not he would have to leave Italy. In that period we have a place in Borgo Panigale. I have pictures with Tony D in that place".
Laure De Lauris (red stockings in Tony D's street photograph above).
FIRST ATTACK 1982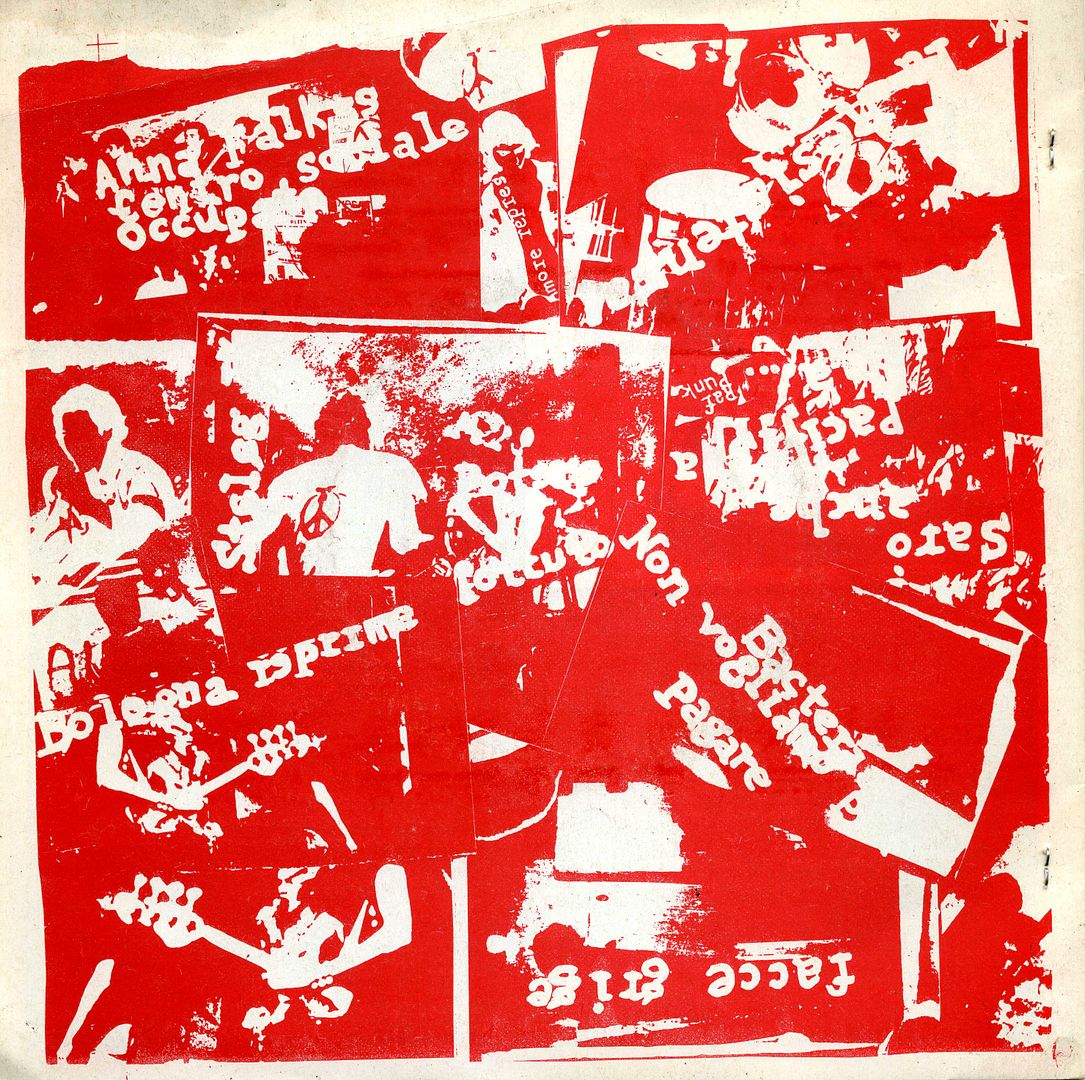 Anna Falk SS – Centro Sociale Occupato / Amore Represso – Bacteria – Non Vogliamo Più Pagare / Facce Grigie (Dub Version)
R.A.F. Punk – W La Resistenza! /  Sarò Anche Pacifista, Ma – Stalag 17 – Potere Fottuto / Bologna Reprime
Four hardcore bands from Bologna share this raw record. R.A.F. Punk sounds like a cross between Crass and Discharge; Stalag 17 are a bit more primitive, with tremendously course vocals; Anna Falk SS sound more like a typical Britpunk aggregation; Bacteria make Flipper sound wonderfully melodic. A great EP.
Tim Yohannon (from Maximum Rock'n'Roll #4, January / February 1983)
SECOND ATTACK 1982
Irah – Fotti Il Sistema  – Total Chaos – Revolution Part 10 –  5° Braccio – Mai Piu' Tortura
Stromsperre – Alltag – Kaaos – Isänmaalliset – Sottocultura – Attack – Kollettivo – Lotta Per Il Potere
From Italy with interesting sleeve packaging, a 7-song sampler that presents bands from many free-minded European lands. Italian bands Sottocultura, Kollettino, and 5° Braccio jolt forth a momentous thrash attack of havoc. Speed merchants Stromsperre wail from Germany and Kaaos fire a split-second barrage from Finland. Also, there's Total Chaos from the U.K. and a slower, more relaxed song by Irah of Italy. Impressive.
Pushead (from Maximum Rock'n'Roll #6, May / June 1983)
THIRD ATTACK 1982 
Rivolta Dell'Odio – Una Vita / Realta' / Ripetizione-Inganno / Casa Rossa
Cracked Hirn – Uomo E Terra / Chi Ha Da Perdere Qualcosa
Side one of this compilation EP features Rivolta Dell'Odio, who are sort of a sparser version of Crass; the flip presents Cracked Hirn, who have a fuller sound which is nevertheless extremely raw. Both bands share an anarchist/pacifist outlook, as have all the other bands on this label's two earlier releases.
Tim Yohannan (from Maximum Rocknroll #9, October / November 1983)
FOURTH ATTACK 1983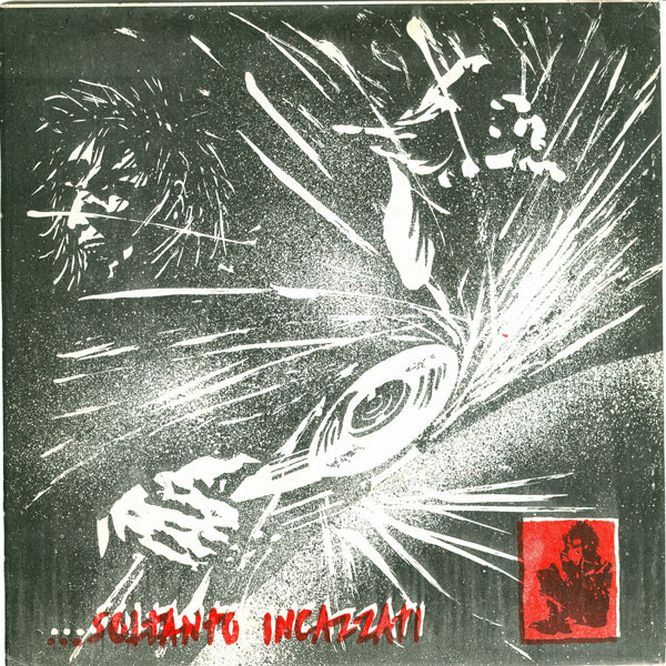 Stalag 17 – Nobel per l'orrore /  Anarchia nella mia vita /  Diritto alla casa / Sposiamoci
Irah – Poseurs e dintorni / Burattini in divisa con pistola / Marconi occupato / Vivisezione
These two Italian bands describe themselves as anarchists, and from what I can gather, they are to be admired for their dedication and efforts. Stalag 17 play pretty good thrash and slower, ballad-type songs; Irah do pretty intense, fast songs that are catchy. Even though translations of the lyrics would be nice, musically this is a record worth tracking down.
Ruth Schwartz (from Maximum Rocknroll #16, August 1984)
FIFTH ATTACK 1983
Underage – Entro domani / Kids / Lager / Marijuana punk / Senza leggi
Underage – Sporca naia / Thanks U.S.A. / Tre settembre / Underage
The most applicable adjectives here are rhythmic, savage, and raw. This is mainly fast-paced thrash which is driven by steady drumming, and topped off with a totally fuzzed-out guitar and insistent, intense singing. The Underage are an anarchist band and, judging from this, have an abundance of commitment. Excellent.
Tim Yohannon (from Maximum Rock'n'Roll #10, December 1983)
SIXTH ATTACK 1984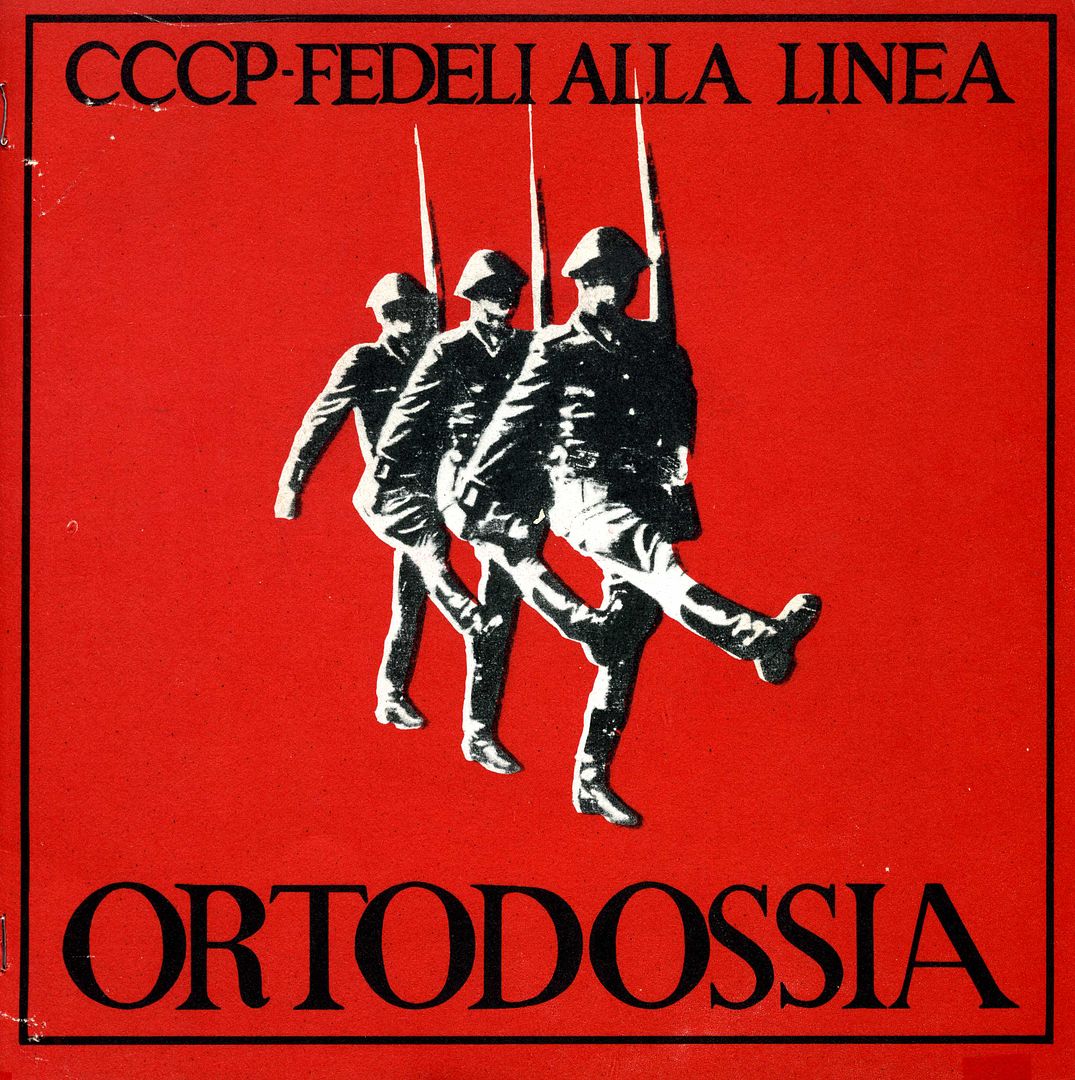 CCCP Fideli Alla Linea – Live in Pankow / Spara jurij
CCCP Fideli Alla Linea – Punk Islam
This EP has one band with three songs. "Punk Islam" has lots of effects and an ethnic style that paints a vivid picture of Middle Eastern strife–it's slowish, slightly catchy but still intense. The other two songs are better, mining a sort of UK peace punk style: "Spara Jurij" is the best, most rocking song here. An enclosed booklet discusses international war tactics: I wish I could understand it. Interesting and worth tracking down.
Ruth Schwartz (from Maximum Rocknroll #19, November 1984)
SEVENTH ATTACK 1984
UBR – Utrujenst / Od Tod Do Vecnosti / UBR / Harmonija
UBR – Corpus Delecti / Frustracja / Posrazitev
This Yugoslavian thrash outfit sustains the requisite speed and aggro for a credible effort, but little of the distinctiveness their geographic origins might suggest. This is churning, repetitious hardcore which, oddly, sounds somewhat Italian–until you realize it was pressed in Bologna. Fine booklet sleeve.
Steve Spinali (from Maximum Rocknroll #24, April 1985)
TOTÒ 1984
Raw Power – Fuck Authority / Burning The Factory – Rivolta Dell'Odio – La Danza Del Sangue
Rappresaglia – U.S.A. / Rappresaglia – Pedago Party – Lo Spazio Che Ci Resta / Morire A Beirut
If you would like to read something on the decades of Italian anarchism there is an interesting essay entitled 'At the Intersection of Anarchists and Autonomists: Autogestioni and Centri Sociali' by Pierpaolo Mudu right HERE