Today I have uploaded seven 7″ singles from Bologna's Attack Punk record label and a 7″ single on the Toto record label. All the 7″ singles are in glorious red vinyl and quite aesthetically pleasing to the eye. The second release especially looks like the sleeve and booklet was screen printed in the same way as the first three Kill Your Pet Puppy fanzines, lots of clashing colours and text!
All the bands on all these releases are no doubt committed to the causes that they are involved with. Myself not being able to read (the booklets and posters) or understand Italian and the other nationalities screamed out from some of the bands vocalists featured on these records I am unsure of what causes they are. Browsing through the pictures and the (small amount of) text that is written in the English language in all the booklets and posters that are an integral part of all these 7″ singles, it becomes obvious that the generic Crass / Discharge peace punk themes are common with most of these bands. That can not be a bad thing!
In my opinion the pick of the bunch on the compilation records is the band Sottoculture with 'Attack' from the 'Papi, Queens, Reichkanzlers & Presidennti' EP (SECOND ATTACK 1982). Simply blinding. But my firm favourite from the whole Attack Punk catalogue is the 'Ortodosia' 7" by C.C.C.P Faithful To The Line. (SIXTH ATTACK 1984) This record reminds me more of bands like The Ex or The Rondos rather than either Crass or Discharge. Again not a bad thing!
There is very little information that I can get regarding the Attack Punk record label, or indeed little I could find out on the Bologna punk scene in the early 1980's. The small snippet of information I did get, and placed below, I unceremoniously ripped off the Kill From The Heart site. I am sure there is more information out there that would be useful and relevant to this post but it might all be written in Italian and on Italian websites.
If anyone would like to participate in adding any useful and relevant information to this KYPP post on the Attack Punk record label, or the Bologna punk scene in the early 1980's then feel free to add some comments below and I will cut and paste them to this post along with a credit. Thanks.
Oh just a note on the recordings if you hear long gaps starting a side or between the tracks that is the record itself, not my recording of the record!
"Attack Punk Records was born as an offshoot of the Attack fanzines from 1980 and 1981 that dealt primarily with the punk scene of Bologna. The Attack Punk record label was born in Bologna in 1981 with its first release 'Schiavi nella città piu libera del mondo' compilation 7″. The record was self-financed by the four groups that participated: Anna Falk SS, Bacteria, Stalag 17, and RAF Punk.
The cost at the time was almost 500.000 lire (roughly £200). The compilation was an example of punk self-production and self-sufficiency. The label's first release was done in the cheapest way possible, printing the covers on an offset belonging to an anarchist group. The most important thing was that self-production was possible, an escape from the market logic of capitalism. Our concept for self-management wasn't limited to the group that produced the record… we were a self-run label because we functioned completely inside of the scene".
Photograph of RAF Punk and Bologna punks taken by Tony D September 1980 and from Tony D's collection.
"Though the idea of the label was created by Gianpaolo Giorgetti AKA Jumpy from R.A.F Punk, it involved all the punks were in 'il Cassero' (an anarchy centre). Soon RAF Punk's guitarist (later on a member of the band C.C.C.P Faithful To The Line) also joined. His contribution was important because he was an excellent graphic designer who created lots of record covers, and he was also a wizard with an offset press".
"We were fascinated by the Crass Records label. Though we didn't share the rigor, we totally agreed with the utopia that came out of their messages. We felt ourselves a step away from anarchy in Italy at that time. All the principles that we had always pursued finally seemed to come true. We wanted to internationalize ourselves and we made the second record 'Papi, Queens, Reichkanzlers & Presidennti' compilation, with four Italian bands, one German band, and one English band".
"The releases that followed were 'l'Affaire Marat Sade' split 7″ (the title of which was inspired by the theatrical work of the same name) with Cracked Hirn and Rivolta dell'Odio, the 'Nè buoni nè cattivi' split 7″ with Irah and Stalag 17 from Bologna, the 'Africani' EP by Underage, the 'Ortodosia' 7" and 12″ by C.C.C.P Faithful To The Line, and the final release, 'Corpus Delicti' 7″ by U.B.R. from Yugoslavia". "
"Totò Alle Prese Coi Dischi the sub-label of Attack Punk records takes it name from Totò, a famous Italian comedian of the 1950s".
"Tony D in Bologna with RAF Punk 1980. Tony was stopped by the police and he had to go to the Questura the day after. We gave him some money to show at the police, if not he would have to leave Italy. In that period we have a place in Borgo Panigale. I have pictures with Tony D in that place".
Laure De Lauris (red stockings in Tony D's street photograph above).
FIRST ATTACK 1982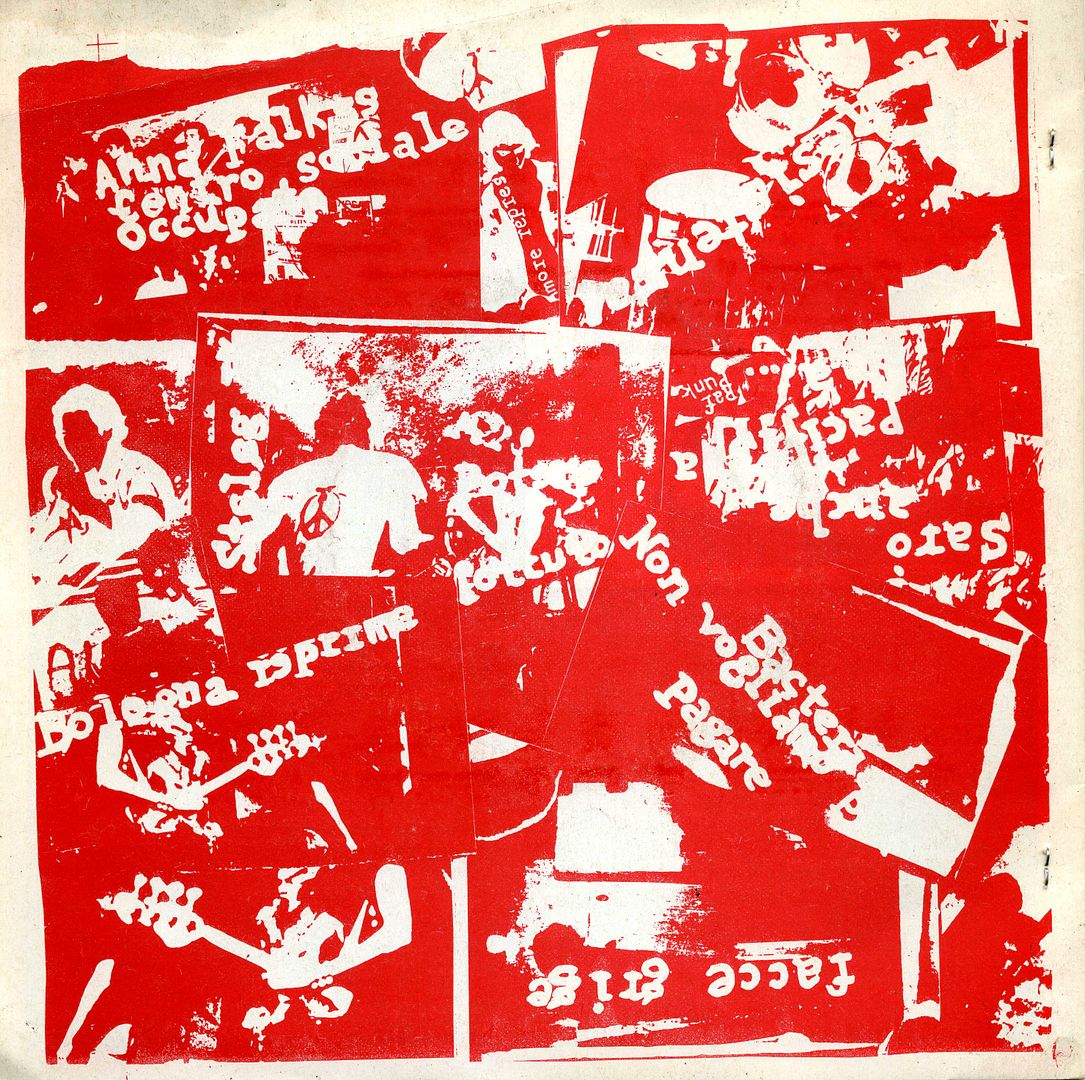 Anna Falk SS – Centro Sociale Occupato / Amore Represso – Bacteria – Non Vogliamo Più Pagare / Facce Grigie (Dub Version)
R.A.F. Punk – W La Resistenza! / Sarò Anche Pacifista, Ma – Stalag 17 – Potere Fottuto / Bologna Reprime
Four hardcore bands from Bologna share this raw record. R.A.F. Punk sounds like a cross between Crass and Discharge; Stalag 17 are a bit more primitive, with tremendously course vocals; Anna Falk SS sound more like a typical Britpunk aggregation; Bacteria make Flipper sound wonderfully melodic. A great EP.
Tim Yohannon (from Maximum Rock'n'Roll #4, January / February 1983)
SECOND ATTACK 1982
Irah – Fotti Il Sistema – Total Chaos – Revolution Part 10 – 5° Braccio – Mai Piu' Tortura
Stromsperre – Alltag – Kaaos – Isänmaalliset – Sottocultura – Attack – Kollettivo – Lotta Per Il Potere
From Italy with interesting sleeve packaging, a 7-song sampler that presents bands from many free-minded European lands. Italian bands Sottocultura, Kollettino, and 5° Braccio jolt forth a momentous thrash attack of havoc. Speed merchants Stromsperre wail from Germany and Kaaos fire a split-second barrage from Finland. Also, there's Total Chaos from the U.K. and a slower, more relaxed song by Irah of Italy. Impressive.
Pushead (from Maximum Rock'n'Roll #6, May / June 1983)
THIRD ATTACK 1982
Rivolta Dell'Odio – Una Vita / Realta' / Ripetizione-Inganno / Casa Rossa
Cracked Hirn – Uomo E Terra / Chi Ha Da Perdere Qualcosa
Side one of this compilation EP features Rivolta Dell'Odio, who are sort of a sparser version of Crass; the flip presents Cracked Hirn, who have a fuller sound which is nevertheless extremely raw. Both bands share an anarchist/pacifist outlook, as have all the other bands on this label's two earlier releases.
Tim Yohannan (from Maximum Rocknroll #9, October / November 1983)
FOURTH ATTACK 1983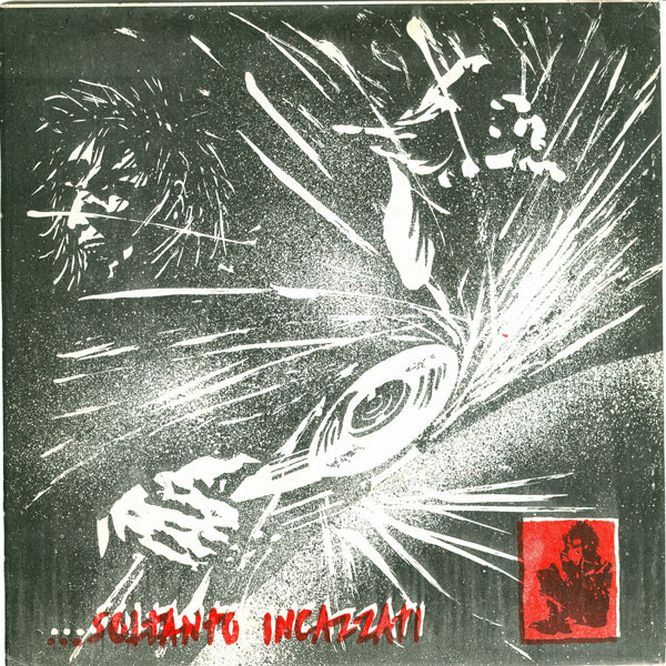 Stalag 17 – Nobel per l'orrore / Anarchia nella mia vita / Diritto alla casa / Sposiamoci
Irah – Poseurs e dintorni / Burattini in divisa con pistola / Marconi occupato / Vivisezione
These two Italian bands describe themselves as anarchists, and from what I can gather, they are to be admired for their dedication and efforts. Stalag 17 play pretty good thrash and slower, ballad-type songs; Irah do pretty intense, fast songs that are catchy. Even though translations of the lyrics would be nice, musically this is a record worth tracking down.
Ruth Schwartz (from Maximum Rocknroll #16, August 1984)
FIFTH ATTACK 1983
Underage – Entro domani / Kids / Lager / Marijuana punk / Senza leggi
Underage – Sporca naia / Thanks U.S.A. / Tre settembre / Underage
The most applicable adjectives here are rhythmic, savage, and raw. This is mainly fast-paced thrash which is driven by steady drumming, and topped off with a totally fuzzed-out guitar and insistent, intense singing. The Underage are an anarchist band and, judging from this, have an abundance of commitment. Excellent.
Tim Yohannon (from Maximum Rock'n'Roll #10, December 1983)
SIXTH ATTACK 1984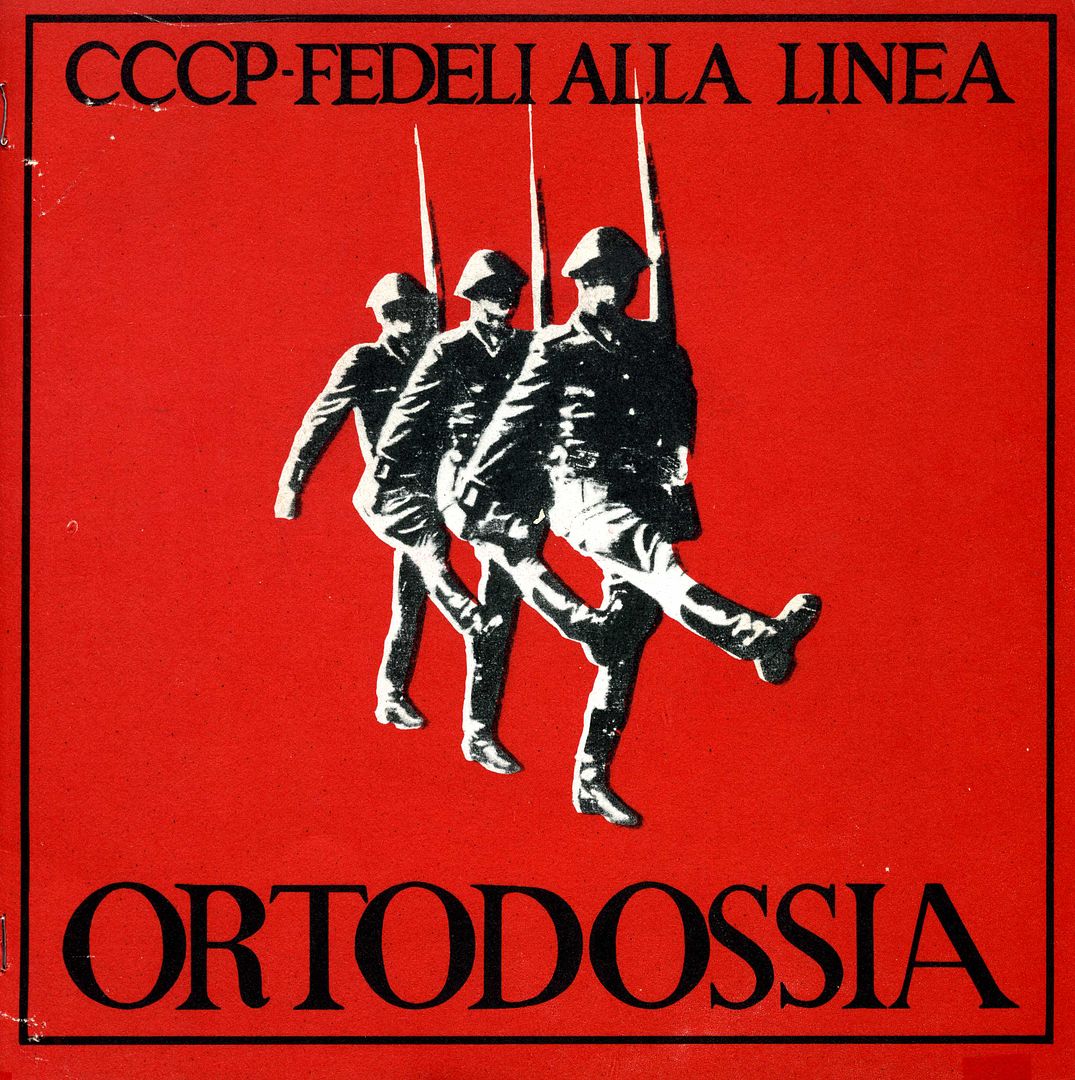 CCCP Fideli Alla Linea – Live in Pankow / Spara jurij
CCCP Fideli Alla Linea – Punk Islam
This EP has one band with three songs. "Punk Islam" has lots of effects and an ethnic style that paints a vivid picture of Middle Eastern strife–it's slowish, slightly catchy but still intense. The other two songs are better, mining a sort of UK peace punk style: "Spara Jurij" is the best, most rocking song here. An enclosed booklet discusses international war tactics: I wish I could understand it. Interesting and worth tracking down.
Ruth Schwartz (from Maximum Rocknroll #19, November 1984)
SEVENTH ATTACK 1984
UBR – Utrujenst / Od Tod Do Vecnosti / UBR / Harmonija
UBR – Corpus Delecti / Frustracja / Posrazitev
This Yugoslavian thrash outfit sustains the requisite speed and aggro for a credible effort, but little of the distinctiveness their geographic origins might suggest. This is churning, repetitious hardcore which, oddly, sounds somewhat Italian–until you realize it was pressed in Bologna. Fine booklet sleeve.
Steve Spinali (from Maximum Rocknroll #24, April 1985)
TOTÒ 1984
Raw Power – Fuck Authority / Burning The Factory – Rivolta Dell'Odio – La Danza Del Sangue
Rappresaglia – U.S.A. / Rappresaglia – Pedago Party – Lo Spazio Che Ci Resta / Morire A Beirut
RECENTLY PUBLISHED BOOKS ON THE RAF PUNK BAND AND BOLOGNA PUNK SCENE
Laura Carroli
Below are two reviews of Laura Carroli's book about the Bologna punk scene, the band's, the music, the squats and the tribulations for the people around that punk scene.
"Who rekindled the spark of protests after the seventies? Who started the LGBTQ battles? How did the CCCP come about? From the cellars of a Bologna in full creative explosion, the story of a musical and political band destined to change the rules of popular culture and that will end with the discovery and self-production of the first CCCP album. In the early eighties Raf Punk were incredible precursors, the magazines and records they published created from scratch a community of very young resistants', aware of the disruptive force of rebellious utopias. A band armed by an iron will built on a real mission: to shatter the ideological bases of the entertainment society and propose new principles of equality between gender and class. Laura, drummer of Raf Punk and counter at the post office, tells the origins of that outbreak conceived in the suburbs of Bologna, born thanks to John Cage and a hitchhiking trip to the Reading festival with Patti Smith and Sham 69. The story of an impossible transgender love and four friends with fluorescent Mohican, assault slogans and dressed in rags, subjected to the harassment of right-thinking, police repressions and beatings of fascists. Concerts at the intersection of provocative performances and insurrectional rallies capable of inflame the brains of the kids under the stage and then many trips to Europe aboard a wrecked car, in search of those few similar creatures with which to share the dynamite of their ideas. A testimony full of hilarious episodes and borderline situations to be read at the same speed as a punk song, a female point of view absolutely unprecedented in the publishing scene".
And another review below.
"Living in Bologna and attending punk circuits, it is difficult not to have come across a lady with a small and resigned appearance, but who never fails to be bothered by some enthusiast, perhaps with an ordinance notebook in hand, aware of the mine of information extractable from that precious blond head. Laura Carroli is much more than a veteran/survivor: she is the historical memory of an entire scene, a living library that has finally decided to open its boundless archive of materials and memories. The picaresque trips to London, the meeting with Jumpy, the clash protest in Piazza Maggiore, the RAF Punk concerts wandering around Emilia, the pilgrimage to the "Dial House" of Crass in Epping, the foundation of Attack Punk Records, the decisive meeting with the CCCP, the battle of Comiso, but also the demeaning shifts at the Post Office, the misunderstandings with the parents, the insecurities about one's appearance, the friendships and loves that blossom and wither: this and much more is "Slaves in the freest city in the world", the perhaps definitive text on the history of the Bolognese anarcho-punk, inevitably titled as the rough EP that in '82 baptized the movement. Rare feminine story from a province of the Empire that knew how to make itself the centre, chronologically rigorous but detached from historicist pretensions, propped up as it is by philosophical digressions and open-hearted confessions. Between coming of age with loose hormones, generational amarcord anti-rhetoric and Squinternato road trip, Carroli inhales a writing with a diary cut, vivid without being crowded, indeed well cleared, not disdaining libertine incursions and imaginative flare-ups of beat inspiration, some particularly happy (one above all, the motorway vision of the mirrors of the trucks "like shiny bison horns. Precisely this "cold-minded" prose is the greatest quality of a serene and ironic novel-essay, which leaves no escape to self-celebration in telling a story in which anyone can identify whether they are private self-analysis or public upheavals (massacre of August 2 included), everything flows in an existential flow devoid of emphasis but not of passion. The punctuation holds, but here and there it is gladly thrown, pandering to the compulsions and convulsions of these pioneers hungry for new air, beautiful and damned like that great black sun that was punk. As for the hot erotic parenthesis, swollen with foaming flesh if they were fantasized by a Bataille or an Apollinaire, they bear the irrefutable mark of a life devoured until the last groan. A tender naivety shines and yet a dazzling awareness among these Mohicans who "eat cans and spit razor blades", nourished by the latest record epiphanies as well as by evergreen heretical readings, not at all afraid to claim a continuity with the avant-gardes that before them loved those forbidden novels (and you want to see that the poor Greil Marcus of "Lipstick Traces" did not deserve so much acrimony, with all due respect to that rogue Stewart Home?) All to enjoy, then, the inevitable internal soundtrack, which rumbles between the pages as if it were spread by special speakers, propagating far and wide Patti Smith, Ultravox!, Wayne County, Sham 69, UK Subs, Negative Trend, in a tight playlist that you will not find on any streaming service. Exciting, for those who know the protagonists, certain backgrounds away from the spotlight (the revelation in the bedroom of a Jumpy already intent on stealing his mother's clothes), while it is a thrill for everyone the often fortuitous collision with events that have redesigned the Western costume (the debut concert of Public Image Ltd. at the Rainbow in London on Christmas eve of '78, baptism of the new wave). And if the appearances of the various Miss Xox, Giorgio Lavagna, Steno, Marco Philopat, Francesca Alinovi, Oderso Rubini, Red Ronnie, "Robertino" are not surprising, much more unexpected are those of Gino Fabbri, Libero Fantazzini, Roberto Roversi, in a transgenerational megaphone of the alternative voice of the city. Finally, the monumental photographic appendix completes with style a volume that is also satisfying for the eyes. If you have always dreamed of a mother with purple hair, you just have to get adopted. In the endless Italian punk literature, a unique book of its kind".
This book by Laura Carreliis is available (written in Italian) from HERE
Laura Carroli
Our very own Tony D is at the moment trying to engineer a deal between his publishing contacts to get Laura Carreli's book translated from Italian to English and to be independently published for the UK.
The message Tony wrote to his publishers is below.
"Laura Carroli from RAF Punk in Bologna contacted me recently about finding a UK publisher for her book about RAF Punk and the Bologna hard core, anarcho punk scene of the eighties. She is also asking for her friend Roberto Colombari's autobiography about Italian punk and skinheads in the early eighties. The books have been published in Italy, in Italian, but she says they have a translator. The punk scene in Bologna in the early eighties was pretty wild, based around RAF punk and their Attack Records company. Noisy stuff!"
Let's keep our fingers crossed and hope that this happens. The video below is a short film compilation of the punk music from Bologna.
Below are three reviews of Roberto Colombari's book about the Bologna punk scene, the band's, the music, the squats and the tribulations for the people around that punk scene.
"What the book promises can already be understood from the cover: a story of punk and anarchy. Tempi Selvaggi is punk and anarchy for what is written and how it is written, graphics and words together, a new punctuation in a different vocabulary… it's punk, it's violence, it's drugs, it's sex, it's anarchy, it's friendship, it's style, it's music and you feel the rhythm as you read it".
"There is no better and more exhaustive concept than Wild Times in reference to those very early '80s. Those years were wild and formidable. No nostalgic rhetoric for times when you were in constant and serious danger. We came out alive and strong. Strong in an awareness that another world is possible. Those who were there will easily find themselves in these pages, those who have not been there, can glimpse their traits by imagining them in their ruthless rawness".
"A tough book. A tough story. A raw style. Page after page, you venture together with Nove – the unsuspecting protagonist of these messed up events – in the streets of Bologna, Reggio Emilia, Irpinia, London. Hear the sound of his heavy steps, declared by slamming amphibians on the pavement. I smelled the stench of rottenness bursting into his brain. You are at his side, jumping, stabbing, elbowing, beating, trying to breathe, sweating and vomiting. Pages full of blood and sweat, of shouted verses and absolutely forgotten chords. Wild Times I kept it good for quite a while. The book came out in April, but I read it in October. I was waiting for the right moment when I would spend days between Bologna and Reggio Emilia. Because I too, like Nove, lived in Bologna my hardest and fullest years, those just after eighteen. Reading her story in those days, I would have felt that anger that blinds your mind and stirs your heart when you are a young punk full of thoughts, drives and music in your brain. In short, I would have lived with him. And I was right to wait, because everything fit together perfectly: the book, the places, the records, the people". *Read more of this review by Francesca Vantaggiato on this website HERE
This book by Roberto Colombari is available (written in Italian) from HERE
A YouTube video of Roberto Colombari talking about his book (spoken in Italian) below.
Laura Carroli with the red leggings (in Tony D's colour photograph above) alongside Jumpy, with the red straps on trousers, is now known as Helena Velena, and is now promoting transgender affairs.
Check Helena's Wikipedia entry HERE for details.
Two YouTube videos featuring Jumpy are below. The first video is a short film (spoken in Italian) on RAF Punk, the Bologna punk scene, the music, the people, the squats and presumably, the daily tribulations of those days with the authorities. The second video is a live performance of Helena's band.