Perdam Babylonis Nomen by Gregory Bull. 
A tale of growing up in oppressive years of the 1980s. Partly surreal it tells of one young man's agonies over the past, present and future. Contains some strong language and adult themes.
The city's streets are so wet shining and grey. My wasteland. Another car flies past. A rumble. A lorry. Ceaseless noise fills my ears and eats my mind. The flow is broken. So this is where it all started. I suppose that it will end here too. He is sitting motionless. A young man. Long hair. Anonymous. Uninteresting. Average. So much aggression and frustration pressure rising up. In me? Would I cry. I would. Turn up the volume, stand against the intensity of the moment the music, shiver and cry.
Cover illustration by Georgia de la Bertauche.
Reviews.
"This is not an easy book. When you take as your themes death and darkness, give the book a Latin title, and throw in elements of anarcho punk, it's no surprise that there aren't many laughs.
Indeed, the menacing eyes on the black and white cover hover above the title both give a clue to both the seriousness and metaphorical weight of this tome. It's insular and dark – a journey through one man's psyche that reads like Camus stabbing Sal Paradise to death in a gothic cathedral.
We are treated to flashback sequences of (presumably) the authors experiences interwoven with a real time cinematic staring at someone staring at the small details of everyday life. It's not an easy read and it's clearly not meant to be.
Positive memories of early 80s anarcho punk slide by in black clad shards. Joy Division and the Curtis suicide. Jesus nailed to the cross. In detail. Unremitting darkness, almost suffocating, like watching a film with the light set too low on the television. Next to this, Bladerunner looks like the Sound of Music. Flashes of Blake, Death Cult (or was it the Cult?) and Psychedelic Furs struggle to light the corners.
This is a book of shadows. Special brew, drug addiction, gigs that sound more of a chore than a joy. But it's the shadow we need to understand in life – things under the carpet don't stop existing or indeed agitating. There's a contemporary trend towards pretending our shadows don't exist and it's going to come back and bite us. In that context, we need more books like this.
Encounters with Women are remembered in their passing. The 3rd person evokes a French black and white film. Pretentiousness? Perhaps. But noticing is vital; just noticing. There's a lot of memory but not attempt at insight or hindsight. Instead, things are left as they are and were, beneath the cosmetics. This is also not a book you can digest in one easy session (or at least I couldn't). It skips between prose and staccato poetry and demands the reader play close, almost magnified, attention.
It feels like Gregory Bull was searching for something deep within in writing this, a time-stamped map of his psyche. I hope he found it. Reaching into the darkness to shine some light on it. Certainly, death visits this book, a big death, that looms permanently in the background before moving centre stage the more the book progresses.
Ultimately, it's a remarkably brave and insightful book. I'm not sure I understood it all but – maybe like all important art, I'm not sure I was meant to".
George Berger – The Story Of Crass / Dance Before The Storm – The Official Story Of The Levellers
"It means something about waging war on Babylon, in this case referring to the existence and purpose of someone whose eyes were opened to the perfidy of society by the wonders of punk rock and the opportunity it afforded some for a life outside that society, or if not entirely outside, then at least right on the edge inhabited by Crass, CND, the animal rights movement and others.
The detail of the story is autobiographical to the point of placing the reader directly inside the thoughts, only vaguely ordered, of the protagonist, as he considers the innumerable ills of the world and tries to stay alive.
It's a delirious stream of variable consciousness taking the form of what may as well be considered a hundred page epic modernist poem, so it's not an easy read by any description, but what fleeting flashes of clarity come through keep it interesting, at least enough to get us through to the last page without succumbing to the fatigue of undifferentiated information overload; and the imagery is very vivid, and there's a point of focus right at the end which makes sense of it all, and ultimately there's a point to reading the thing.
As accounts of growing up punk go, I probably prefer Ted Curtis's Darkening Light, but this is noteworthy for its ambition, invoking an experience of its subject matter with all the intensity of a religious vision, albeit a religious vision somehow involving Special Brew and the music of Antisect.
I picked this up mainly out of curiosity, having enjoyed a couple of anthologies edited by Bull; and on the strength of this one, I'd probably liken Bull to a modern William Blake were I more of a tool than I probably am; except I'd be basing such a proposition on what is only a very vague impression of Blake's work because I've never actually read any of it and – in all honesty – I'm unlikely to start now".
Lawrence Burton – Gnomeship Blogspot
"Its a strange read (in a good way) atmospheric and genre-hopping – switches voices in an interesting way from sci-fi dystopian to rock n roll noir thriller, memoir and some kind of weird drug tainted dream like one might have in a hospital pumped full of pain killers. Can't explain it, but I like it – it's trippy but not in an acid way, more in a sniffin glue kind of way…"
Amazon review # 1
"I wasn't sure what to expect from this book after reading the product description. I was pleasantly surprised. There are elements of a coming of age novel mixed with nostalgia, but it is the prose and tone of the piece which really drag the reader in. Skilfully written, the text portrays the past like real memories, refracted and filtered in parts or, in other moments, experienced through emotion and sensation. Never lingering on solid ground, Mr Bull's words guide us through a brief but intense journey".
Amazon review # 2
Get from Amazon HERE
Deua Magnus Timor Mortuum by Gregory Bull.
Was it three days since he had been resurrected? It was hard to put the pieces together as he seemed to be alive and living in all places and all times he had ever lived in. And he was dipping in and out of them and the present was just another moment that had happened in the past, would happen in the future or was happening right now. The right now of everyone else, the present moment that you all live in and as each moment passes and explodes it becomes the past tense.
The sequel to Perdam Babylonis Nomen.
Cover art by Ashely Reakes – Website HERE
Get from Amazon HERE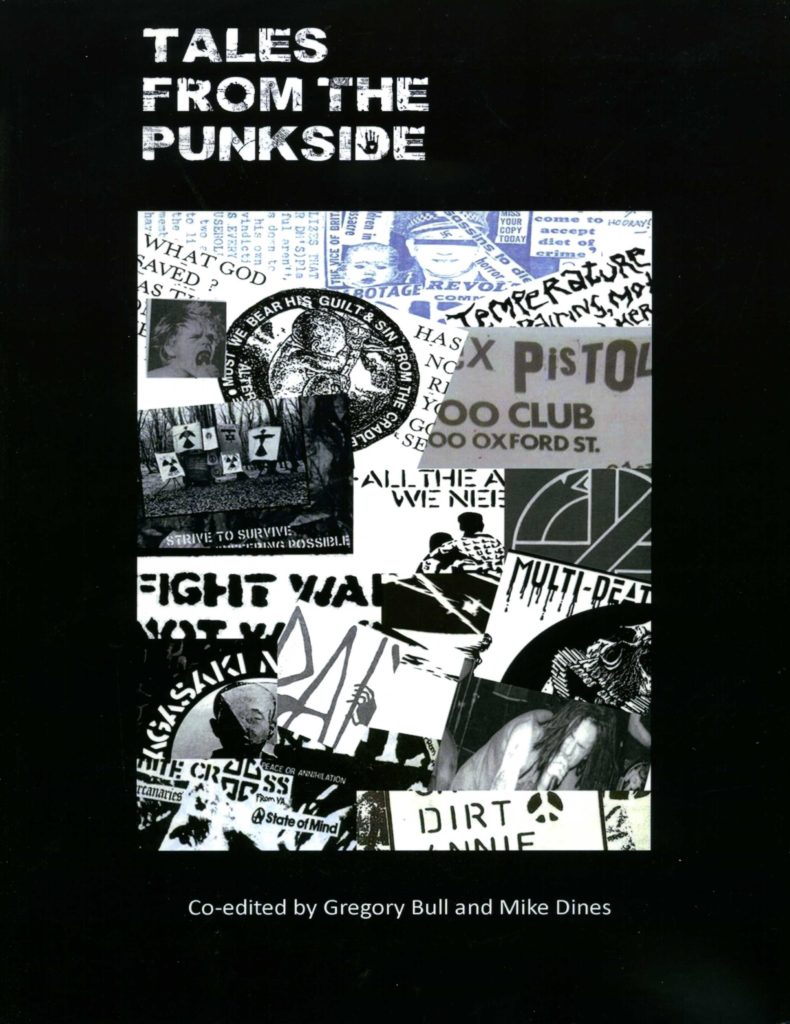 Original A4 book cover.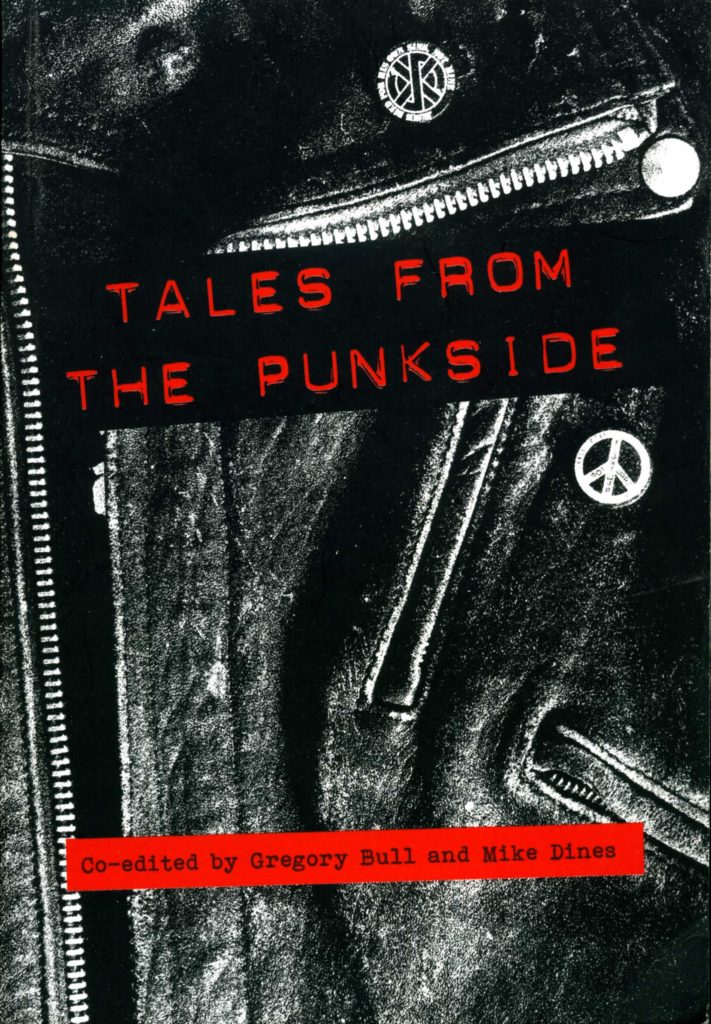 New edition A5 book cover.
Tales From the Punkside by Gregory Bull and Mike Dines.
An eclectic collection of academic articles, personal recollections, short stories, artwork, poetry and more. An anthology of work about Punk written by the survivors and by those who want the world to see not just the writings of those who were in the bands, but by those who were the supporters of the punk movement.
Get from Active Distribution HERE
Get from Amazon HERE
Not Just Bits Of Paper by Gregory Bull and Mickey 'Penguin'.
"We have our own words, scrawled on bits of paper smudged with some grimy hope. Angry chords waver out from the broken cassette-players – and every now and again a curious prisoner comes out for a look and never returns."
Tony D.
A series of recollections, memories, imagined dreams perhaps from the collective memories of those who lived through the punk and anarcho-punk years. Tales recalled of times past and a glorious tribute to the bands and the crowds who made the 1980's so special for so many of us.
This volume focuses on the bits of paper we made to advertise our concerts – we called them hand outs and posters and now we call them flyers. Often these bits of paper were drawn with great pride by enthusiastic young graphic designers to be. It is easy to ridicule some of the content and images, but these were sometimes designed by young punks barely in their teens. These same young punks often organised the gigs themselves and put up the bands in their parent's houses or any other place local. These same young punks would find money for the gig venues hire, for the posters, a P.A and more.
This was a time when nearly everything was done D.I.Y. And the achievements were many. Not huge commercial concerts held at huge venues but real concerts for real people. I hope you will enjoy this mix of gig posters, tickets, hand outs and recollections via some great essays by the contributors of this book.
This is the book that Greg Bull (ex Sedition) and myself (Penguin ex All The Madmen serf) have spent dozens and dozens of hours working together on.
We have been compiling contributions, scanning the flyers and posters, laying out all the pages along with many hours of care shown towards the book in ways that were far less exciting!
At full price the book cost £12, that's three pints of cider in old money.
For the price of the book you will get over 55500 words and over 150 images (hi res scans).
The book is a hefty 227 pages and an A4 size.
A whole load of infamous 'talking heads' are on the contributor list, some contributors so infamous that if you mention their names you immediately turn to dust.
Best leave that there!
Reviews.
"I used to have a great big box of paper. Full of music magazine cuttings, letter exchanges with bands, fanzines, flyers – it was all in there. But then one day during a house move it made its way to the tip. I miss it all to this day. Some others were not so careless as me. They kept all these bits of paper, knowing that they are things that unlock memories, that they changed minds that are still changed from the mainstream view even today.
They provide the backbone of this new book in which Greg Bull and Mickey 'Penguin' collate these fragments and coupled with testimonies from the time create a view into the personal stories behind punk. What I love about punk is the way that you can be part of it all and this book perfectly demonstrates this. Put together by those who had these connections there are stories, pictures and thoughts that to others could seem trivial but to those involved were often life changing.
The stories in here explain why. Pilgrimages to record labels such as All The Madmen, seeing a band like Antisect as your first gig, hand crafted flyers – this book is full of fascinating personal insights that have previously gone unreported and were in danger of being lost. They provide little triggers in the mind about your own experiences – I even found an advert for a gig for my old band that I'd never seen before!
Eighties punk was always about much more than the bands themselves (all of which have been well documented elsewhere). In keeping with the times it's a bargain too, "Pay No More Than Twelve Pounds" for over 220 pages. You can get it directly from Amazon and if it sells enough the authors promise more of the same".
Art Of The State blog.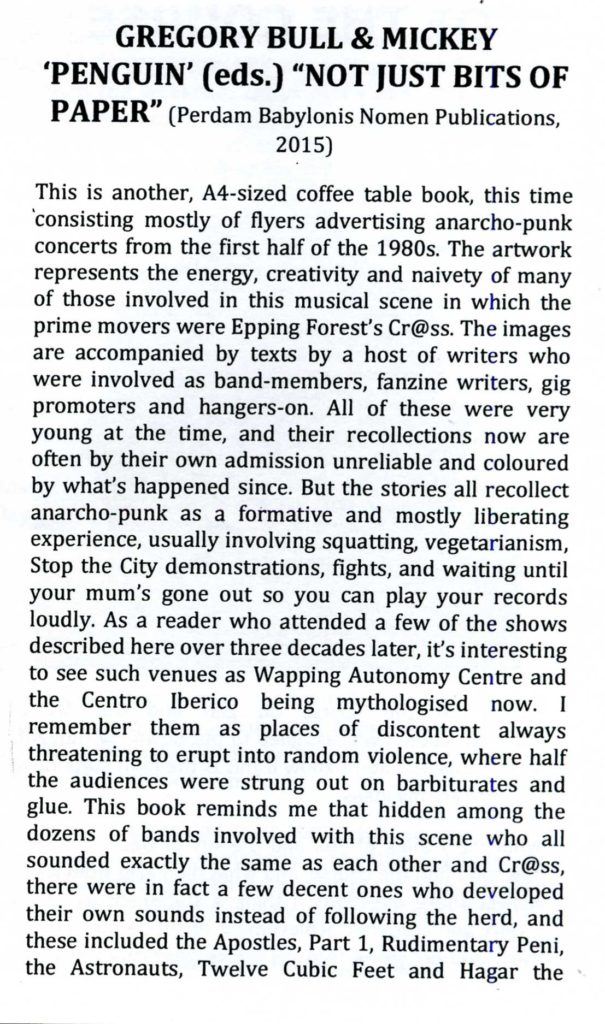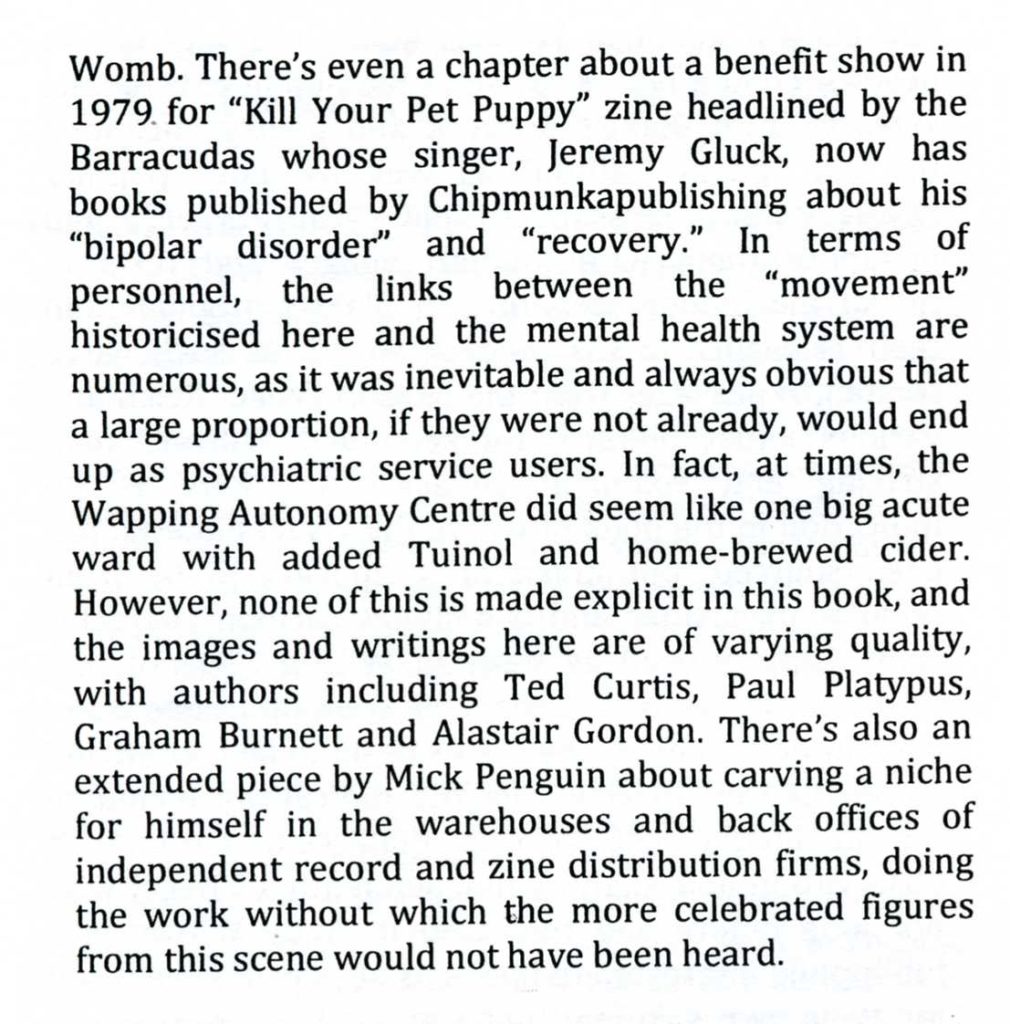 Robert Dellar R.I.P – Southwark Mental Health News Issue 128.
Get from Active Distribution HERE
Get from Amazon HERE
Some of Us Scream, Some of Us Shout by Gregory Bull and Mike Dines.
Review.
"Some of Us Scream, Some of Us Shout: Myths, Folklore and Epic Tales of the Anarcho, is the superior – and second – in the Tales From the Punkside series. Whereas the self-titled first volume encompassed the wider punk scene, Some of Us Scream… brings together the stories, the artwork and the inspiration of the anarcho-punk scene from the 1980s to the present day.
It is also the sister volume to Not Just Bits of Paper.
This is another A4 paperback book full of artwork and text. Many rare and original flyers are reproduced here and many an incisive thought is written by those from the time of the anarcho punk era in the form of flyers and now in the form of column inches. Unfortunately many of the original flyers are in places difficult to decipher but most are understandable and indeed as good a quality as the originals were likely to be. I have my own flyers from the time and many were a trial to read only because of the blurred minute printing. It has been a long time intention here at Active to reprint some classic anarcho punk flyers but one thing that has delayed us doing so has been the time it took transcribing them.
The layout of this book is clear and simple and monotone in keeping with the era. Not much of the adobe photo-shop here. I found it a simple pleasure flicking through checking off which flyers I have either got hidden away or have seen before and marvelling at the ones I haven't. I shall enjoy trying to read the unread ones and see what feelings they stir.
The book stirs many memories of gigs gone to, demos attended and records devoured. Sadly if also reminds me of friends lost. Lance Hahn's s review of an Antisect gig reminded me more of his bright spirit than Antisects dark one. the book is part dedicated to Paco of Conflict, always a friendly voice on the phone, and face at a gig".
Jon Active – Active Distribution.
Get from Active Distribution HERE
Get from Amazon HERE
And All Around Was Darkness by Gregory Bull and Mike Dines.
And All Around Was Darkness is the third in the Tales from the Punkside series; a collection of books whose main concern is to provide a space for stories, anecdotes and various other shenanigans by those persons rarely heard – the fans and everyday participants in the punk movement.
Published by Itchy Monkey Press, the book is A4 size, 288 pages, and full to bursting with essays, reflections, memories, photographs, flyers, poems and drawings.
Get from Active Distribution HERE