1985 – 1986: SOME WORDS – Mickey Penguin.
I am thinking about Genesis Breyer P-Orridge with fondness, after I heard the sad news of his passing during the evening of the 14th March at the age of 70.
I was remembering the times that I spent at Beck Road in Hackney, and the many Psychic TV gatherings that I attended.
In the mid 1980's I would visit Genesis at his home several times a month. I would be picking up records, cassette tapes, books and T-shirts for the customers that had ordered such fare from the ramshakle mail order business and record label that I was helping out with, as being unemployed, I had some time, and more importantly some enthusiasm, to do so.
All The Madmen Records / WOT Distribution mail order, was based just around the corner from Beck Road, in Brougham Road, number 96 to be precise.
I always found Genesis pleasant to deal with, and as a Psychic TV supporter I felt quite privileged to have close dealings with him during this time. Beautiful Paula, toddler Caresse and baby Genesse were all there of course. Several other people would visit and leave.
The toilet in the house with the varnished door should get a special mention. It was an extraordinarly special door! Those that know, know.
Every now and again, Genesis would give me a little something special, knowing that I would be interested, and thankfully for me, Genesis appreciated me being interested.
A demo cassette tape of Getting The Fear, with Bee's original sleeve artwork would be placed into my hands. Several other cassette tapes of Psychic TV interviews. A rare PTV T-shirt. Various booklets and so forth. Genesis also gave me this white label test pressing of 'Godstar'.
'Godstar,' a straight up psych-pop song that ignores the usual Psychic TV mythology in favour of a slightly tongue in cheek, but ultimately sincere tribute to the late Brian Jones of The Rolling Stones.
In place of the group's usual electronic experimentation, 'Godstar' layers electric and acoustic guitars on top of an insistent bass and drum track, colouring the whole with a few tastefully atmospheric keyboards and an inspired female vocal on the choruses, not to mention one little interlude of dub-style sound effects.
It's quite simple and immediately appealing, one of the only songs of Genesis's career that can make that claim up to that point in time! 'Stolen Kisses' and 'Just Drifting' from the debut album, 'Force The Hand Of Chance' would be two others to be fair… But anyway.
Although my white label test pressing has the date; 1 OCT 1985 stamped upon it, I'm sure that the actual 7" single / 12" single / double 7" single pack suffered a long delay in actually being released to the public. I might be wrong, but I'm sure it was 1986, and furthermore several weeks into 1986.
Whenever the release date was, one thing is for certain… 1986 WAS THE YEAR that 'Godstar' blew up, whether in the dozens of interviews partaken for the music papers, television coverage, or throughout Psychic TV's sporadic live performances.
The line up of Psychic TV around the mid 1980's was Genesis, Paula, Mouse, Alex Ferguson. Hilmar Orn Hilmarsson, Dorothy 'Max' and Matthew Best – The Angels Ov Light also included Rose McDowell, Steve Broughton, Micky Groom, Dave McKintosh and Mark Fishlock.
The Psychic TV performances that I managed to attend in 1986 were inspirational, with the exception of the Virgin Megastore performance which was pretty much just busking in between the racks and the cardboard cut-outs of Brian Jones. At these perfomances I would normally be with 'Psychic' Rod from Ipswich. A friend who's interest in Throbbing Gristle and Psychic TV was immense. I must stop and think of Rod now, as I know that he loved Genesis very much. Rod must be hurting at this time.
The Psychic TV performances that I attended in 1986 started in March at the Kilburn National Ballroom with Golden Horde, Annie Anxiety and Zodiac Mindwarp in support.
In April, London's Virgin Megastore. Psychic TV performing next to the record racks for around thirty minutes in the afternoon to perplexed punters walking around. The Hackney Hell Crew turned up in their unwashed glory to pretty much take the piss, throw some 'BRIAN JONES DIED FOR YOUR SINS' stickers around, and to avoid the store detectives so as to thieve some records.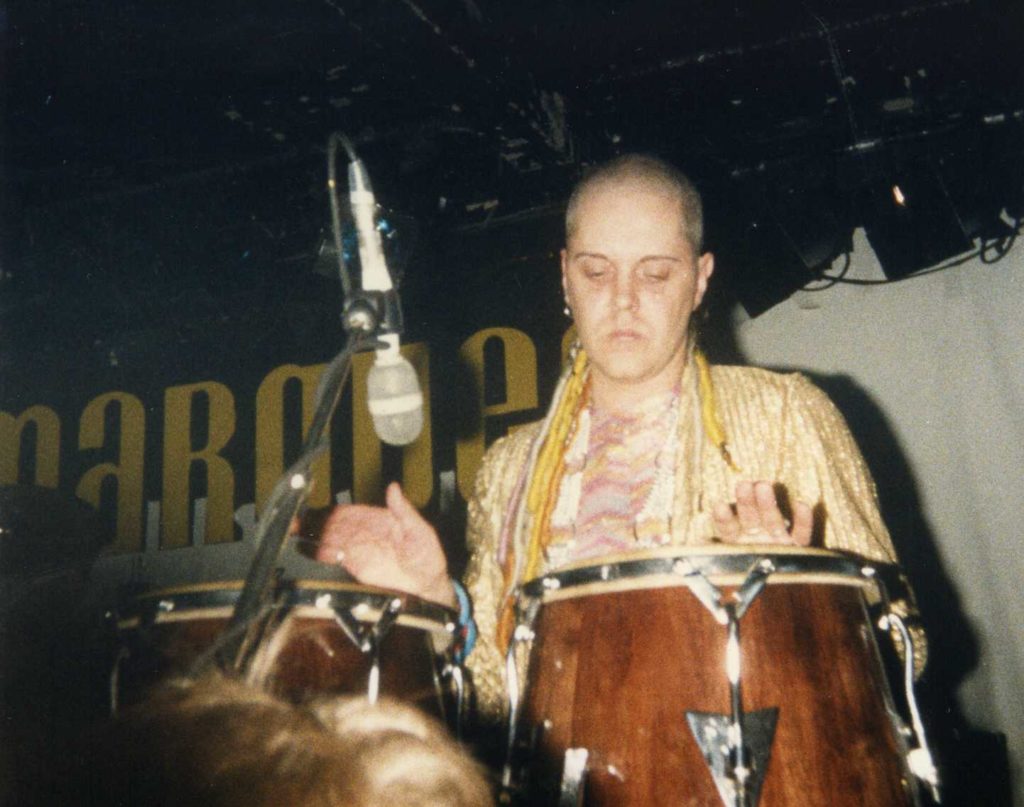 In May at The Marquee in central London supported by Webcore. An International Times benefit. This event also had a couple of artists constructing a cardboard box structure if I recall correctly. A brilliant night.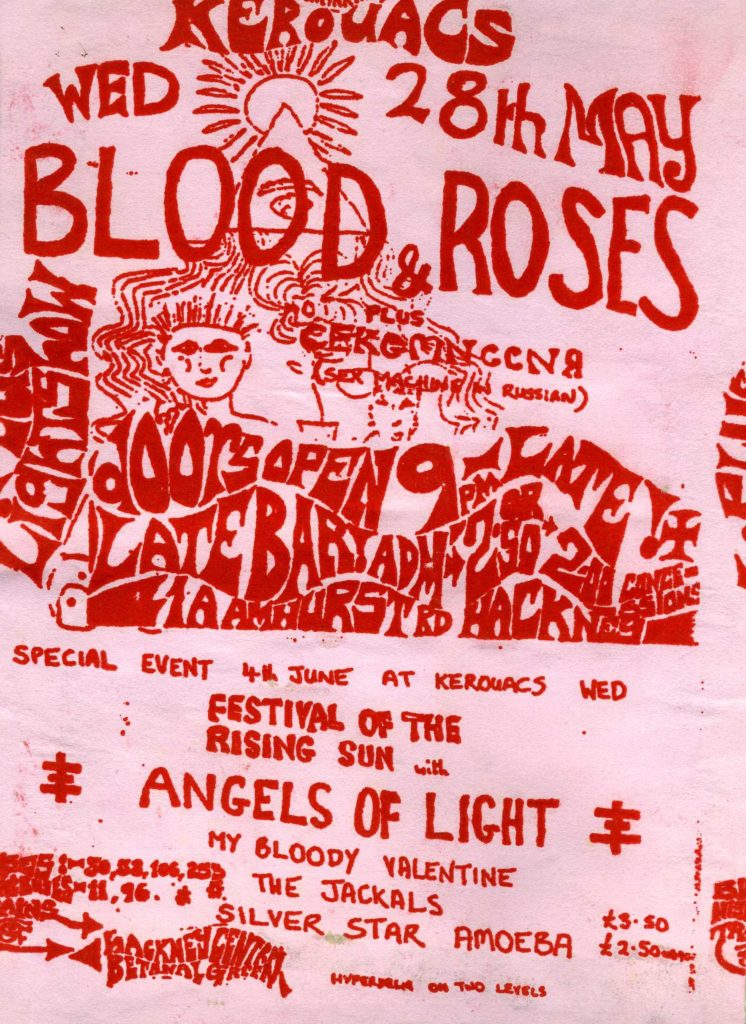 Hackney Mankind Squat all-nighter occured in June with Jackels, Silverstar Amoeba and My Bloody Valentine. Curtis of Blyth Power, and late of The Mob, was there to see Debbie of My Bloody Valentine, his old Yeovil friend. This performance went on late into the following morning.
July there was a trip to the Basildon Peace Festival with Erasure and lots of other bands and artists who I have forgotten about. I recorded Psychic TV's performance that afternoon and there is a YouTube post scrolling further on towards the middle of this post, of the audio from that cassette tape.
September there was a wonderful evening, an intimate boat trip party / performance down on the river Thames celebrating something that I do not recall. Ten years of punk presumably (100 Club punk festival in September 1976 maybe) or a significant Throbbing Gristle date perhaps?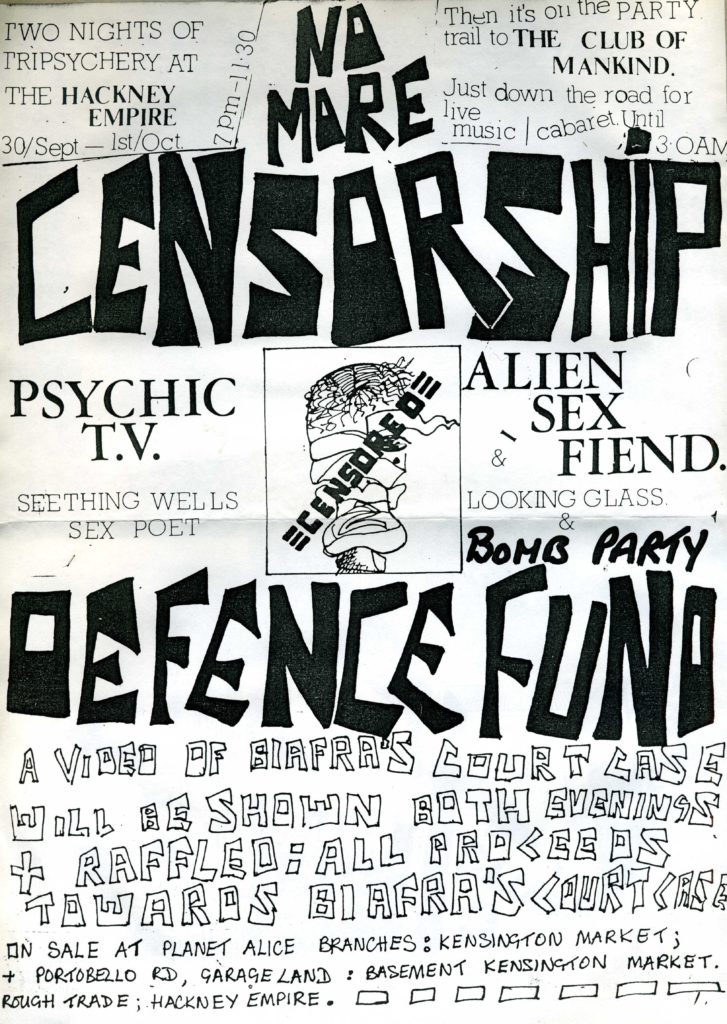 There was another performance arranged in September at the Hackney Empire supporting a 'No More Censorship Defence Fund' money going to the ex Dead Kennedy's vocalist, Jello Biafra's court case in the USA. A great gig this one.
There was a performance in October at the Town And Country Club in Kentish Town with Primal Scream, Shockheaded Peters, ex Lemon Kitten Karl Blake's band, the Shamen (a very early gig for the eventual big hitters in the charts, with 'Move Any Mountain' and 'Ebeneezer Goode', and the Godfathers in support.
That was that for 1986.
I continued to attend Psychic TV performances throughout the rest of the 1980's until the last time ever I saw the band in August 1990 at the Reading Festival weekender.
I witnessed Psychic TV in performance around twenty times throughout the 1980's and 1990. All of these events that I attended were magical in one way or another.
When All The Madmen / WOT Distribution mail order wound down in 1988, I continued to visit Beck Road only sporadically (For King Penguin Distribution) until the P-Orridge's left, first, if I recall correctly, to a temporary home in Stamford Hill, which I'm sure that I visited once, and then to a permanent home in Brighton, or around the Brighton area at least. I never visited Brighton sadly. I'm really not sure why I didn't. Blink and the P-Orridges had moved again as a family, relocating to the U.S.A.
Months turned into years and years into decades.
In November 2018 I was asked by 'Psychic' Rod whether I wanted to go to a Psychic TV performance at Heaven.
I had lost interest in Psychic TV somewhat as a musical group, having not bought any Psychic TV records or videos since 1990, and I only kept up with Genesis from afar, through his various social media channels during the last four or five years.
I decided that perhaps on this occasion, and at this venue (HEAVEN) I would dip my toe back into the world of Psychic TV for the first time since 1990.
I knew Genesis was not in great health in 2018, but at the gig, although somewhat more stationary as a frontman than some decades back, he gave a great performance, and was adored by the hundreds of both older, and younger generation Psychic Youth. I enjoyed the event, and the amazing stageshow. The films projected were stunning and slightly hallucinogenic but Genesis was always going to be the centre of attention. He deserved that attention on that night of all nights.
Sadly, I had a hunch that perhaps this would be the last time Genesis Breyer P-Orridge would perform in London.
This sadly proved to be true, and I am ever so glad to have seen him perform on stage with his band Psychic TV for the very last time.
Genesis was very pleasant to me in the 1980's. I was very shy and a bit awkward around people, but he was always gracious to me, and I will always remember him fondly for that.
I witnessed temper flare-ups from time to time, Genesis telling me off for playing the Italian TOPY band, Rosemary's Baby's album when Caresse was nearby. The album not being age appropriate for toddlers of course. I apologised profusely. Genesis calmed, and explained carefully, and quietly the reasons why I should not have chosen this particular record. I was at Beck Road picking up some records when Genesis returned to the house quite angry and near to tears. His close friend Brion Gysin had sadly passed on that day.
Everyone is human, and Genesis had frailties, and no doubt many faults, as we all do, but he was an extraordinary person.
If you ever met him, you would NEVER forget him.
I'm glad that I did meet him, and that I had the chance to spend a small amount of time with him during those years in the 1980's.
In art, music, fashion, magick, performance and free thought, Genesis Breyer P-Orridge's name will live on for as long as time itself.
Goodbye Genesis.
You were inspirational.
With LOVE always.
MICKEY PENGUIN.
MORE PSYCHIC TV / GENESIS BREYER P-ORRIDGE YOUTUBE POSTS AVAILABLE ON MY YOUTUBE CHANNEL IF YOU USE THE SEARCH FUNCTION.
1977 / 1983: SOME WORDS – Tony D.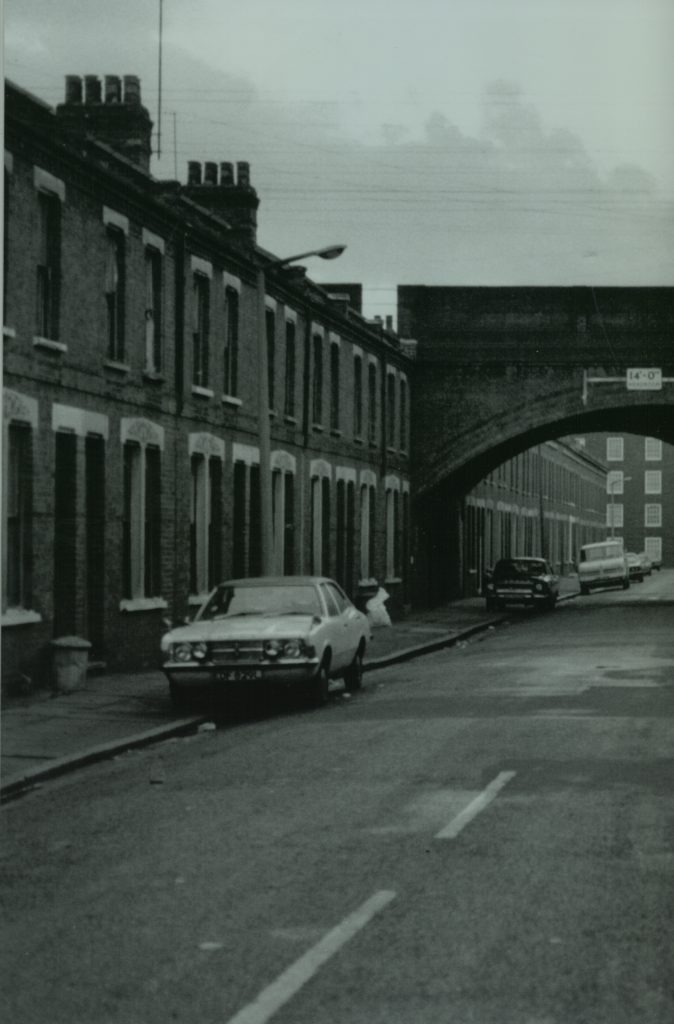 Genesis Breyer P-Orridge, what a person. This cultural icon passed away on 14th March 2020; someone who touched and influenced me since 1975 when I read an interview with him in Melody Maker. As far as I was concerned, living in Glasgow then, Genesis and his COUM / TG were part and parcel of punk rock.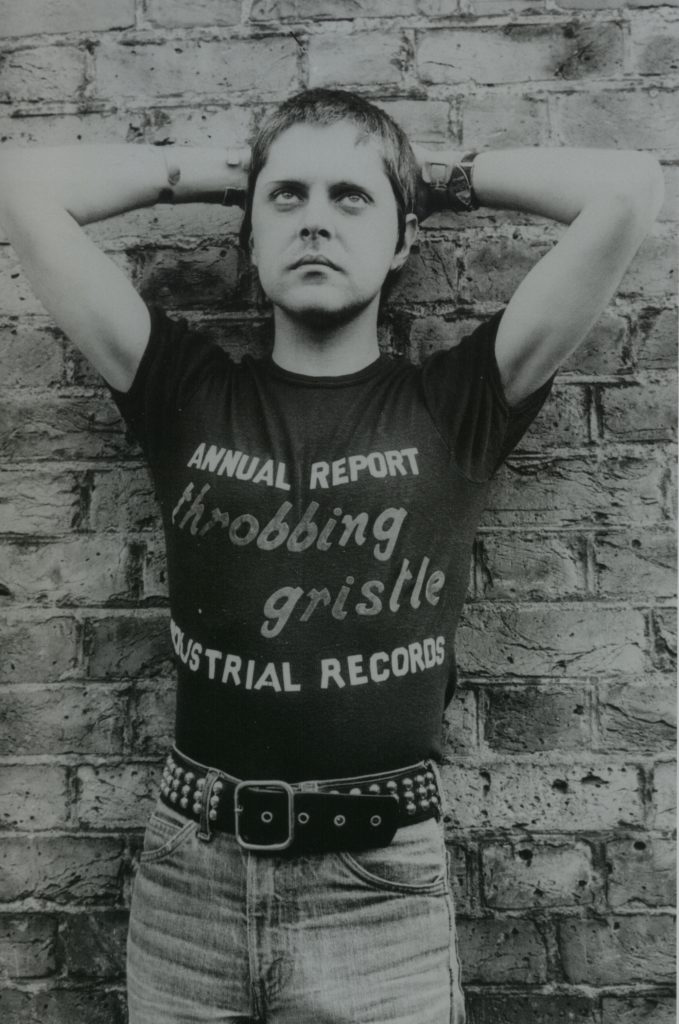 Soon after I moved to London in April 1977 Gen (as we called him) was a constant visitor to our squat at the Trafalger pub in Freestonia near to Latimer Road West London.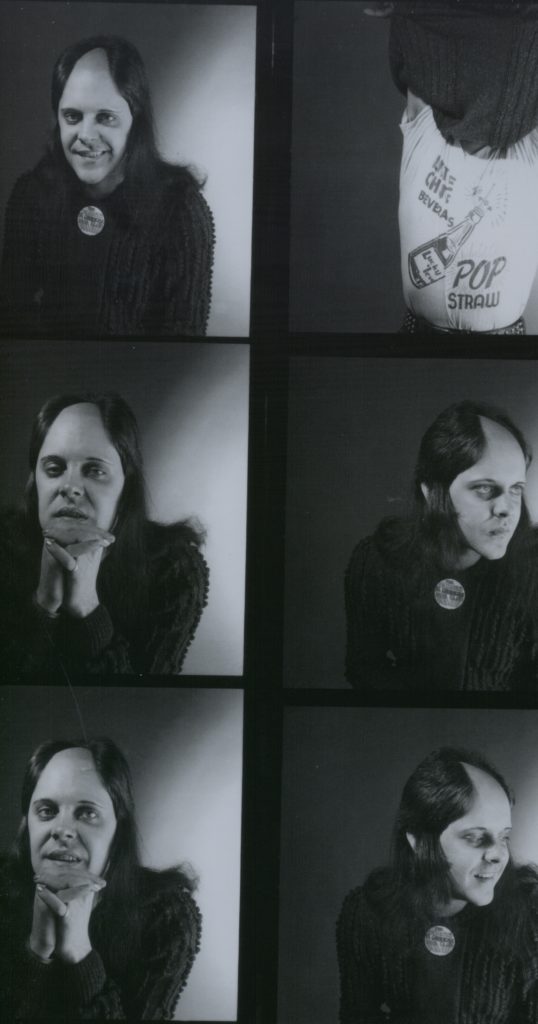 He was a raconteur full of tales that blew my mind. Once he brought round the Beach Boys single with the Charles Manson song on the B-side and talked about the many aspects to the case which at that point I had no idea about. Another time Gen introduced me to Aleister Crowley's work. But really, Gen was coming to see another squatter; Alex Fergusson.
I introduced fellow Glaswegian Fergusson to Sniffin Glue's Mark Perry, and with Gen they were planning to form a new band called Alternatives To Television – Gen on drums if I remember correctly. Alex went on to form Psychic TV alongside Peter 'Sleazy' Christopherson in or around 1982 of course.
You always knew if Gen had been round the squat as the place would be covered in TG stickers, especially the toilet! With Gen around influencing further the Ripped & Torns coming out of this squat, he became part of the fabric of the fanzine.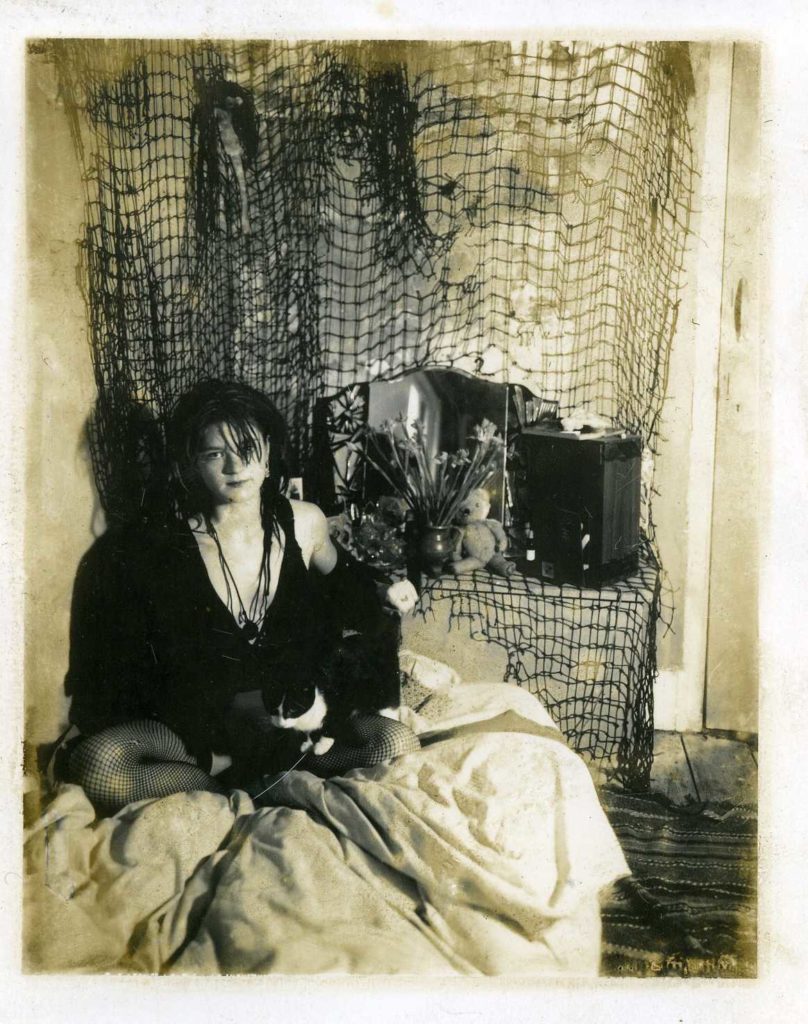 In the early eighties Gen came back into my life through the Zos Kia single, 'Rape', which was released on The Mob's All The Madmen record label, at that time run from a Black Sheep Housing co-op property along Grosvenor Avenue in Islington. I also lived in this co-op house. Min who was in Zos Kia at that time had connections with myself, the co-op house and Gen. Mouse who would later become the bassist of Psychic TV also had connections with both myself, the co-op house and Gen.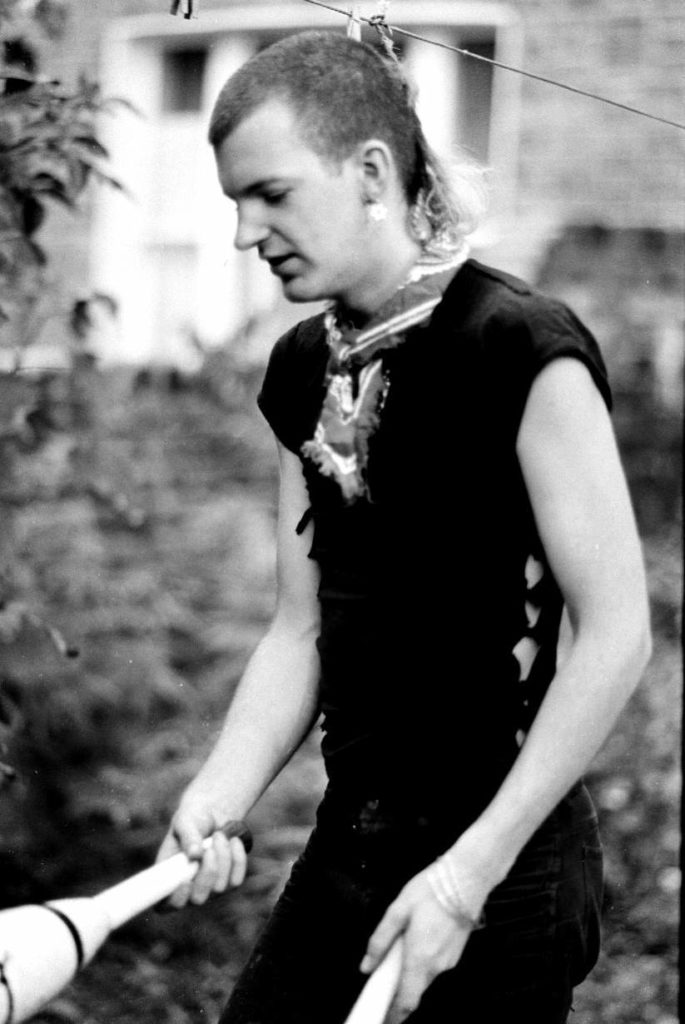 Fod and Sarah who also shared the co-op house were heavily into the Temple Ov Psychick Youth network. Even your humble scribe at one point during those months of 1983, donned the Hare Krisna hair cut that Genesis, John Gosling, Geoff Rushton and Sleazy styled their own skulls with.
One morning I was waiting at Highbury & Islington station to meet a friend. Unbeknown to me John Gosling of Zos Kia was also waiting there in a different area. My friend emerged and I greeted her, then we started to walk back to the house at Grosvenor Avenue. John had been waiting for Gen, who must have arrived shortly after I left with my friend. They caught up and ended up walking a few yards behind us laughing and making naughty schoolboy like comments, then went onto setting their dog on us!
It was only when they came up the steps at the house that I realised they were actually coming to my house! It was then I acknowledged Gen properly with a hello and we all introduced each other to each other. Gen seemed to be in a playful mood, and later on that day, he burst wildly into my room to see what my lady friend and I were getting up to, laughing hysterically and quickly disappearing somewhere else in the house. He had a mischievous side that's for sure!
Of course they were both at the house to discuss the Zos Kia record shortly to be released on All The Madmen Records.
I have known many people while walking on my particular path to punkdom during the latter years of the 1970's and the early years of 1980's, and probably only a handful of those people had both immense charisma and immense vision. Genesis was one of them. Absolutely Genesis was one of them.
Rewinding the year to 1978, I remember that in Ripped & Torn issue 12, I reviewed the Throbbing Gristle single 'United'. This review was VERY RUDE. I can only explain this through my love of Gen and knowing he was capable of so much more.
Apologies for the bad review my friend, and thanks for opening my mind.
TONY DRAYTON – RIPPED AND TORN / KILL YOUR PET PUPPY.