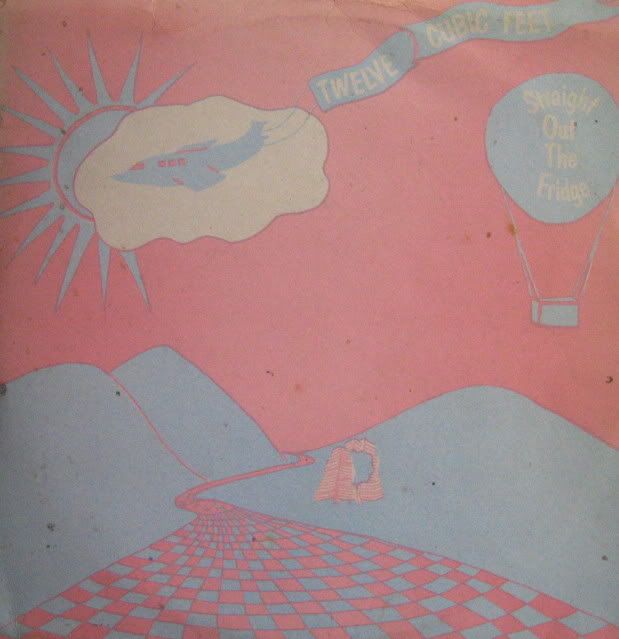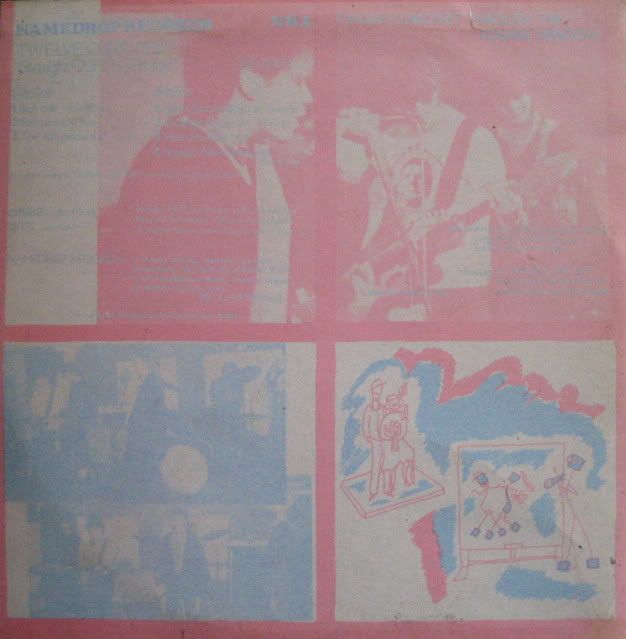 Blob / Evercare / The Almhouse
Mary's Got The Bug / Escaping Again / Hello Howard / Tuesday Afternoon
Indebted to the adorable Stewart for sending me this 10″  mini LP release by Twelve Cubic Feet for keepsies. I did not own this record before, and after a bit of a clean and a spin, I enjoyed it very much. 
Stewart should be safe in the knowledge that this record will be looked after as well as all my other records have been, since starting off a collection in the late 1970's! Here at Penguin Towers nowadays, there are around 6000 of the little (and not so little) spinning discs in the collection to care for…
Thanks again to Stewart…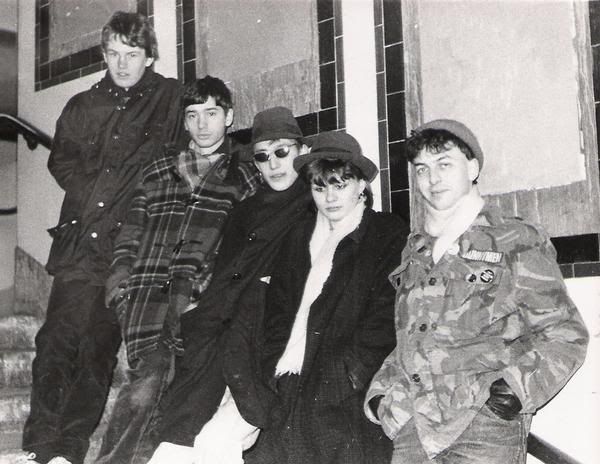 After Exhibit A and a handful of interim projects Paul Platypus, Andrew and Matthew joined Fred, Sally and Glenna to form Twelve Cubic Feet, who recorded the bands second 10″ LP 'Straight Out The Fridge' on Namedrop Records. Included on this mini LP was the popular track 'Evercare', also credited on the sleeve artwork is Mark Flunder, an ex TV Personalities member who has been mentioned on this site quite a few times on posts regarding The McTells, Hertford punk band Onslaught, as well as the Marine Girls and of course the TVPs. 
Namedrop Records was a small struggling indie label who had managed, against all the odds, to release some pretty good material into the post punk public's grasp in the very early 1980's.
NR1 DOOF 'Exist' A 10″ mini-LP which, in its anarchic composition, displays the talents of Paul Platypus and Philip Johnson.
NR2 TWELVE CUBIC FEET 'Straight Out Of The Fridge' – Another 10″ mini-LP and again pretty anarchic, but the beauty of Twelve Cubic Feet is their ability to write good pop songs.
NR3 PHILIP JOHNSON 'Youth In Morning' The first LP from Philip who, over the last few years, has released a selection of cassettes. Carrying on his highly individual reading of music it's an experimental high done on limited resources and the most challenging Namedrop release.
NR4 COLD WAR 'The Machinist' The first and only 7″ record by Cold War, a Hornchurch band that included various 'soon to be' Hager The Womb members, who then evolved in We Are Going To Eat You, and even later started the Stay Up Forever Record label to release tracks by Paul and Chris under the guise of Liberator Sound System. The Cold War release is already uploaded onto this site. HERE
After this Twelve Cubic Feet 10″ and a cassette release they fell in with Alan McGee's Creation / Communication Club crowd, and met Dave Evans (Biff Bang Pow) who replaced Matthew on bass. The late Duncan Jack (What is Oil?) replaced Glenna on guitar, Dave Morgan (Take It, The Loft) came in on drums… shortly Twelve Cubic Feet cut a final Joe Foster-produced demo. Plans for a new band foundered, and Paul checked into a commune (temporarily); Fred went to university, Dave Morgan got famous, Dave Evans became a roadie for Jesus & Mary Chain, Shop Assistants and later, Belly; Sally sang in Khmer Rouge, and Matthew and Dan formed Solid Space…