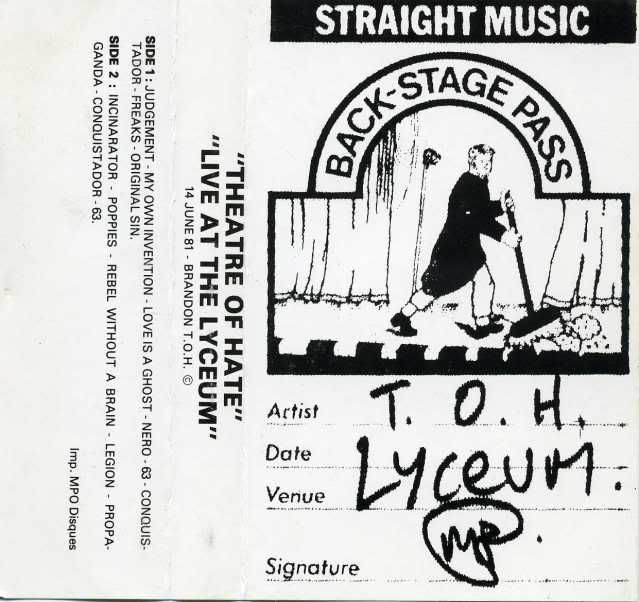 Judgement / My Own Invention / Love Is A Ghost / Nero / 63 / Conquistador / Freaks / Original Sin
Incinarator / Poppies / Rebel Without A Brain / Legion / Propaganda / Conquistador / 63
Continuing through the collection of Jon From Bromley, we have here a fine set of songs from Theatre Of Hate, recorded at London's Lyceum in June 1981. Not too surprisingly, the recording is  far superior in sound quality and performance to the Discharge set recorded at the same venue in the same year on the post below this one. Text below ripped from wikkipidea.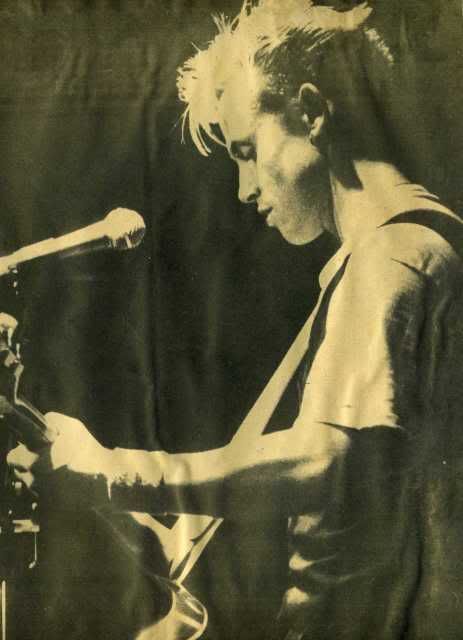 Theatre of Hate were a post-punk band formed in Britain in 1980.
 Led by singer-songwriter and ex-member of punk band The Pack, Kirk Brandon, the original group also consisted of: guitarist Steve Guthrie, bassist Stan Stammers (The Straps / Epileptics), saxophonist John Lennard and drummer Luke Rendle from Crisis / The Straps.
Inspired of Antonin Artaud's book 'Theatre and its Double', the band took its name from the concept of the 'Theatre of Cruelty': "Artaud called for the emotional involvement of the audience. Singer Brandon borrowed the thespian term because "he was trying to do the same."
The first Theatre of Hate release was the 'Original Sin' single released in November 1980, which reached 5 on the UK Indie Chart. Theatre of Hate garnered much early attention as a live act and after their debut 7" single release, made their album debut in 1981 with the concert LP 'He Who Dares Wins Live at the Warehouse Leeds'.
Shortly after the album's release however, Steve Guthrie left the band and a new guitarist Billy Duffy (formerly of The Nosebleeds) joined the band, then the drummer Luke Rendle left and was replaced by Nigel Preston.
Another concert recording, 'Live at the Lyceum' followed, and in August 1981 Theatre of Hate entered the studio with producer Mick Jones of The Clash to record their first non-live album debut, 'Westworld', which was released on February 19th 1982 and went on to reach the UK Top 20.
The album reached 17 in the UK Albums Chart, and also spawned the Top 40 single 'Do You Believe in the Westworld'.
In February 1982, Theatre of Hate released another live album entitled 'He Who Dares Wins: Live in Berlin', and Billy Duffy left the band to join Death Cult, the band continuing for a short time before splitting up later that year.