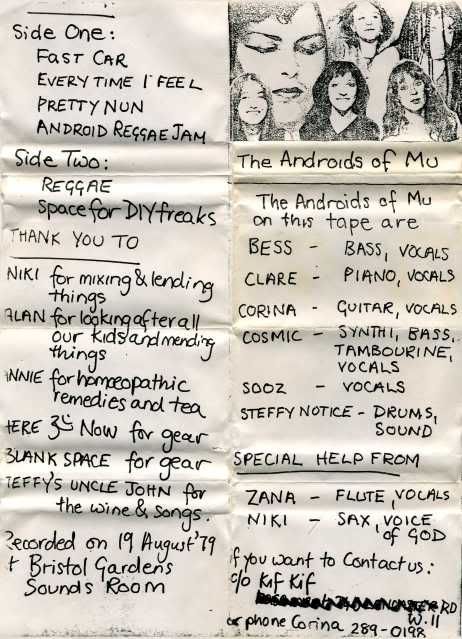 Fast Car / Everytime I Feel / Pretty Nun / Android Reggae Jam
Reggae / Space For D.I.Y Freaks 
Another gem from the collection of Jon From Bromley, the first (and only?) Androids Of Mu cassette on Fuck Off Cassettes.
This original F.O. cassette is a C30 which means fifteen minutes a side.
This fifteen minutes is actually not enough time for all the tracks listed on the sleeve to be completed in full, so expect a very sudden cut off with the last track on each side. Not sure what F.O. Cassettes were up to, perhaps it was a financial decision to avoid paying out for the blank C60 cassettes.
The material on this tape is not quite as fine as the LP that was released on the same label late on in 1980, but is still sweet enough. The Androids Of Mu LP 'Blood Robots' is uploaded on this site HERE
Text below written by Kif Kif and lifted from herenow.be
By popular request, here is a brief description of Suzy and her life:
Suze was born in Lancaster on Feb 11th 1950. Her family moved to Ealing in West London about 2 years later. In the early 70's Suze attended Exeter University where she graduated with a degree in Greek Mythology.
While in Exeter she joined the band called Tribe.
In the mid 70's she moved to the famous Latimer Rd/Frestonia area in Notting Dale, West London.
I first met her in Bath, on the way to Trentishoe (Pinhoe) free festival in Devon, in early summer 1976. She danced on stage with us (Here & Now) at the festival, and gradually joined the band over that summer, and we became partners. There are more tales about those free festival days on various pages at the main website: http://www.herenow.be/
Suze was also a member of Planet Gong, along with Daevid Allen, Gilli Smyth and the rest of Here & Now in 1977. Planet Gong completed a European tour in Nov/Dec 1977, and released the Album "Floating Anarchy 1977" and the single: "Opium for the People" early in 1978.
Suzy had two children: Lily-Rose, our daughter, was conceived during the Planet Gong tour, and born in August 1978 during a Here & Now british tour. Tommy, our son, was born in December 1979.
Suze left the Here & Now band in January 1979.
By 1980 she had formed all girl band The Androids of Mu with Corrina, Cozzie and Birsen. Although a collaborative project, Suzy shared lead vocals with Corrina and wrote much of their material. The Androids were well received by all, including the music press of the day. They were an integral part of the post punk scene and released one album "Blood Robots", with one music paper headline proclaiming it as "Android Genius". The Androids often performed with other West London squatland heroes including The Mob and toured in Britain and Europe until about 1983.
Suzy lived in London's Shepherds Bush from the early '80's until around year 2000, when she moved to Devon for a year, then Tottenham in North London, and more recently in Leominster and Hammersmith.
Outstandingly creative, Suze was a living artwork, frequently wearing clothes she designed for herself. She designed wonderful clothes, some of which featured on the front cover of Melody Maker magazine in 1988. Suze was aesthetically gifted and naturally talented in many media, including drawing, painting and ceramic work (she learned techniques from potter John Churchill).
A brilliant astrologer, having been a student of Liz Greene in the 1990's, Suze was also great at Tarot, and several well known folks sought her out for Astro as wall as Tarot readings.
Mainly during the 1990's, a lot of Suze's time went into organising theatrical events at various venues and camps, including co-ordinating week-long performing arts camps for the rainbow circle in the UK. She was particularly good at working with folks who had never performed before, inspiring them to recognise and express previously hidden talents. She also directed 'Astro-theatre' at astrology camps and often performed with Alan Dogend's fun Little Majic Theatre.
Suze was a great originator of ideas. Many of us alternative-minded folks try to think for ourselves. But Suze just couldn't help it. She was simply incapable of following the norm. She always saw things the way she saw them, and gave it to you straight. I think this was the essence of her marvelous creative talent.
I remember in France 1976 when we pulled up in the snow on the edge of the Alps. We were excited beacause none of us had seen snow for a few years. Suzy just took all her clothes off, ran out of the bus and started literally rolling around in it!
She was some girl.
Kif Kif