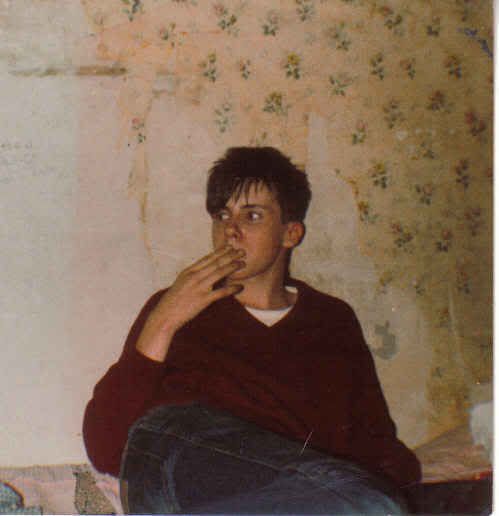 The Apostles / Primal Chaos / Black Flag / The Heretics
Man about town, obscure punk enthusiast and general good guy, Chris Low late of Political Asylum, The Apostles, Oi Polloi, in the 1980's and The Parkinsons in 1990's, handed this tape to me on his birthday along with a load of others. I have uploaded this late because it is unfortunately been dubbed / copied onto tape by horrid mono means, i.e it only comes out of one speaker…bummer! Two other tapes Conflict at Brixton Ace 1982 supplied by Mark 'Vegas' Palmer starts off stereo then clicks into mono. Sadly to say Lugworm supplied a cassette tape recorded from Spaceward Studios of The Mobs LP recorded there. Not interested in The Mob LP as such but there is an alternative mix of 'Stay' which I was absolutely interested in. This track also plays on one speaker. Point of fact – nothing wrong with my cassette playback system!
Any how, I do not like putting up faulty or mono cassettes onto this site, but this has to be an exception because of the rarity value. The Apostles, Primal Chaos, Black Flag, and The Heretics all for the price of…well nothing. Not sure of the history of the tape, no doubt Chris will comment on it. Not sure of the line up, track listing or anything else. Again I hope Chris or his chum Nic will comment. On the B-Side of the tape is a Flux live gig and a Napalm Death practice. All I the info I got what was written on the tape itself, just band names basically. I actually have not heard this tape yet cos wifey needed me to do something so I just let it play…hope Bucks Fizz does not come on half way through the recordings!
Info from Nic:
The Apostles:
Pete The Plectrum (later formed part of 'The Hunt' on the first LP)
Some Men Are Born To Rule (the first song the group ever wrote)
Antichrist
? (This isn't from this time period if I remember correctly – it features the drum machine: is it 'The Island', Chris?)
Solidaridad Proletaria (This is the original title at the time of recording: it was later changed to 'A New World In Our Hearts' and was re-recorded on both tape and vinyl)
Killing for Peace
Proletarian Autonomy (later re-recorded on tape and vinyl)
Time Bomb
Stoke Newington 8 (later re-recorded on tape and vinyl)
Primal Chaos – Rehearsal 1982:
Systems Slave (This isn't part of their 'Fighting for a Future' rehearsal tape)
Black Flag – Rehearsal 1981:
The Master Race   (Earliest version of this song that I heard)
Waiting for the All Clear (later recorded by The Apostles, but this version features Matt Mcleod on vocals
The Heretics – Rehearsal 1980:
No Character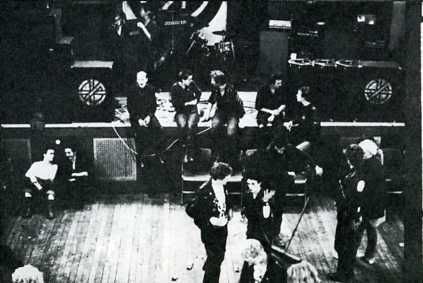 Jake from Heretics on stage with Iggs of Crass 1979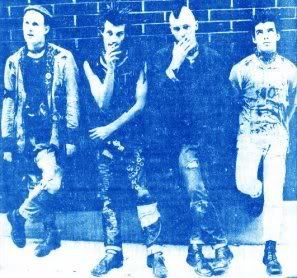 The Heretics