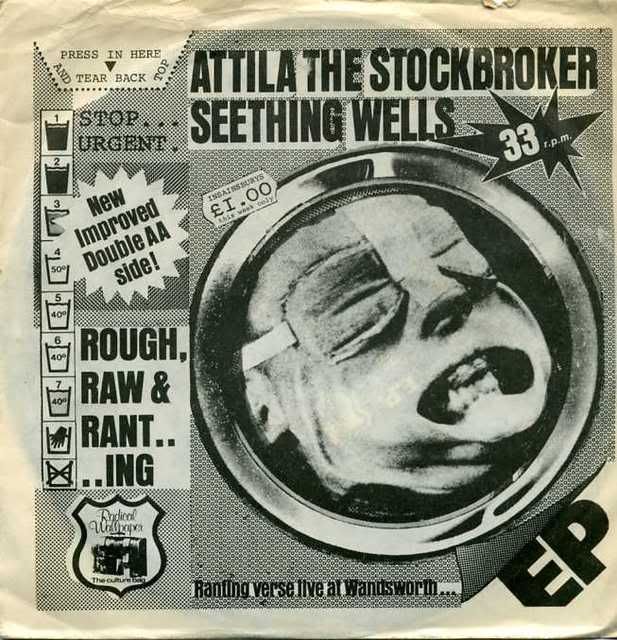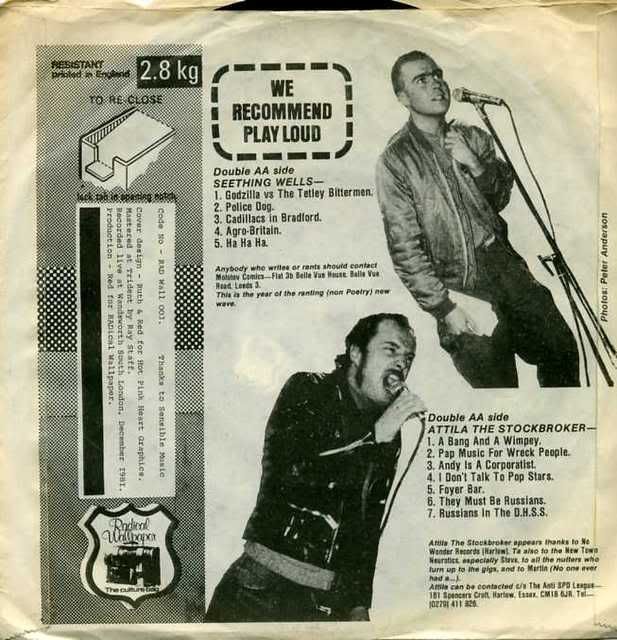 Seething Wells– Godzilla Vs The Tetley Bittermen / Police Dog / Cadillacs In Bradford / Agro-Britain! / Ha Ha Ha
Attila The Stockbroker– A Bang And A Wimpy / Pap Music For Wreck People / Andy Is A Corportist / I Don't Talk To Popstars / Foyer Bar / They Must Be Russians / Russians In The D.H.S.S
Never forget this genre is 'Ranting Verse' not poetry, a side each of snippets from a Wandsworth gig with these two 'Punk Poets', uggghh! Horrid term but there you go…Everyone needs to be pigeon holed in the mainstream music media.
Quite amusing some of the poems, oppps, sorry, 'rants' on this EP, the last couple recited by Seething Wells are great. I am pretty sure that I never had the pleasure of seeing Seething Wells perform live, but I witnessed Atilla loads of times in Harlow and around that area, normally with The Newtown Neurotics. The Atilla side is OK, but I know he is much better performer and poet than this EP reveals.
Not a classic record, though a decent effort for the material offered I suppose, the Swells side wins hands down!
Seething Wells (Steven Wells) died yesterday after several years of coping with cancer. 
The text below is James Browns piece on Steven published in The Guardian newspaper:
It is, perhaps, fitting that in the week that the NME editor joined the BBC to develop the multi-platform brand of Top Gear magazine, the most political and confrontational NME writer of the late 1980s and early 1990s should die from cancer. Steven Wells, or Swells as we knew him, was the most impossible person to work with because he knew no form of compromise, had little true interest in music, was narrow-minded and his personal hygiene and dress sense left so much to be desired that the company nurse once appeared and ordered him to remove and burn his stain-covered tracksuit bottoms. Naturally all of this made him a provocative and popular NME writer.
Swells worked at the NME because it gave him a voice — he had joined at a time when it featured articles about Right To Work Marches and CND and he expected it to stay like that forever. If he had any connection with music, it was as a medium to express political comment and also occasionally to give him an adrenalin rush. If he ever did discover a new band he felt passionate about, it was usually after they'd already had a hit album.
He smuggled himself into the Live Reviews pages in the mid-80s posing as a woman, Susan Williams, covering the anarchist bands and punk poets of his hometown, Bradford. These were the same acts he was appearing with night by night as ranting poet Seething Wells. His poems were vitriolic rants against Tetley Bittermen, police dogs and leftwing new men. Pretty much anyone who had irritated him appeared in his poems, which appeared alongside others by Joolz Denby and Little Brother in his fanzine Molotov Comics, which was handwritten and illustrated by Jon Langford and Kevin Lycett of the Mekons.
It is to their credit that the NME didn't fire him when they discovered they'd been duped and the ranting firebrand championing bands like the Sid Presley Experience and Chumbawamba was, in fact, a man.
Swells had helped me start my fanzine and given me my first NME review to do. He also helped open the door for my staff job there as a 21-year-old. I repaid him by bringing in a generation of fanatical music obsessives and great writers like Steve Lamacq, Bob Stanley, Stuart Maconie and Barbara Ellen and giving them all the work. He welcomed the revolution but not the smaller pay cheques. As an NME writer, he was obsessed with class war, masturbation, dogs, cancer, Jello Biafra and the multiple use of the exclamation mark. His work was littered with it. Almost creating his own language. '(SUBS LEAVE THESE LAST THREE SENTENCES IN)' was a regular sentence in his copy.
Aside from the surreal comedy column he co-wrote with David Quantick, Swells was increasingly marginalised in a more-music, less–politics NME until he took up the offer of interviewing Phil Collins. Asking questions no one else would dare to, the end result was brilliantly funny and he realised that if he delivered a great interview it would piss the rest of the staff off, which seemed to be his main purpose in life.
There followed a series of superb interviews with mainstream rock acts, the terminally unhip, the forgotten and the ignored. Anything loud or unhip became his domain, writing cover stories on Def Leppard and T'Pau. He discussed dwarves with Ozzy Osbourne, played tennis with Mike Oldfield and went flying with Gary Numan. They were fantastic articles that kept his NME stock high and helped drive the sales over the 120,000 mark. The irony for this card-carrying SWP member was, the better the paper was, the more money the capitalist bosses made. But his political timing wasn't the greatest. On the day of the poll tax riots in Trafalgar Square he was boating in the Serpentine wondering what the smoke in the distance was.
You always knew when Swells was in the office, he was like a mad old man in the pub. I never heard him mention 'multi-platform brand development'. But mention Chumbawamba and he could go on for hours.