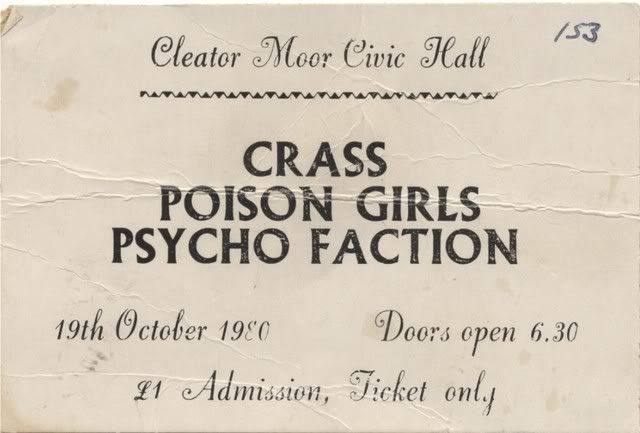 Practice November 1982 – Attack The System / Country Life / Working Man / Picked Up / Mail Order / No Such Thing As Sin / Last Hours Of Peace / Absolute Rage / Life We Live / Right To Live / Oppose War Oppose Law x 2
Live – Carlise Old City Hall 10/12/82 – Attack The System / Picked Up / Mail Order / No Such Thing As Sin / Last Hours Of Peace / Absolute Rage / Life We Live / Obiedience Training / No Reason / Question Everything
A tape sent by the band many moons ago to punk guru, Chris Low, who lent it to me to upload here.
Decent pogo fare with a vocalist who on some tracks on the practice side reminded me of Jake Burns from Stiff Little Fingers with a sore throat.
The practice session was recorded and sounds quite tinny, but sounds the better for it, youthful untamed punk rock…myself and the infant boy were enjoying this material, the live side I did not listen to as I had things to do. Will listen to it later, I assume it is of a decent quality. The line up for this era was Sean on vocals, Buttler on bass, Grotsky on guitar, Richard on drums. A strangely named guy called Lutent Stigma is also mentioned on the cassette insert.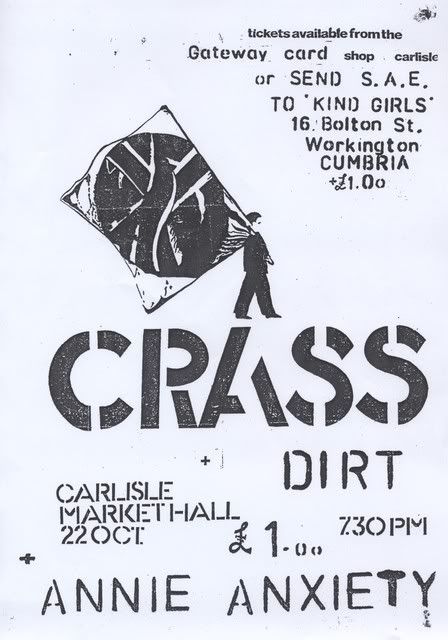 Ticket and poster courtesy of Trunt. The poster above was not the same Psycho Faction gig as uploaded, the gig uploaded was with Poison Girls and Rubella Ballet and is mentioned further below.
I personally knew nothing of this band at the time, except they got a mention in the booklet that was issued with the 'Christ The Album' box set by Crass. I know little more 25 years later.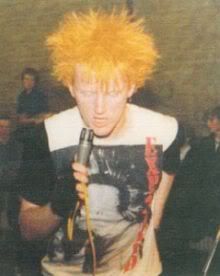 Kill From The Heart blog does have some information on Psycho Faction written by Trunt and reprinted here:
Psycho Faction began life in Spring 1979 from the ashes of the Whitehaven punk band Anti Climax. With no instruments, save one cheap Woolies electric guitar, no musical training but lots of enthusiasm, they debuted in Summer 1979 at a riotously disorganised gig at Whitehaven Grammer School where their set comprised of very very bad versions of Crass' "Do They Owe Us a Living?", Buzzcocks' "Boredom", PIL's "Public Image", and a host of dreadful originals. Truly they had nowhere to go but upwards. A couple of personnel changes in late '79 and early '80 saw the band settle into the line-up that was to play most of their larger gigs: Sean McGhee on lead vocals, Kieran McGhee on guitar, Brendan McGhee on drums and Edmund Butler on bass (although the band always went by nicknames or their own invented punk names). With the addition of Vittorio Miotto on shared vocals for a short period – including their first appearance onstage with anarcho-punk legends Crass in October 1980 – this line-up through occasional shambolic practices started to slowly and painfully develop.
They were approached by Crass in early '81 with an initial query on putting together a split single with fellow Cumbrian anarcho-punks Counter Attack for release on the fledgling Crass label. Although this would have been the first release on Crass Records (bar their own material and several months prior to the Zounds single), the idea never really got off the ground. This was a recurring problem for the band throughout their period together, as lack of money (they were all teenagers and for the most of the time unemployed) and lack of equipment meant the band never ventured into a studio to record properly. Several years later a kind offer by local Fanzine editor Martyn Cockbain to fund a split single by the band also fell through as the original bassist of the band had spent all the money they earned from a BBC TV appearance on drink!
Although suffering badly from lack of resources and disorganisation, Psycho Faction did manage to play around 35 gigs in their existence from 1979-1984. Not a lot at all by today's standards, but back then almost all punk gigs were self-promoted/organised affairs. Along the way the band shared the stage with Crass, Poison Girls, Flux of Pink Indians, Conflict, Rubella Ballet and others on the anarcho-punk scene. They reached a sort of enigmatic fame via their thanks credit on the book that accompanied Crass' Christ – The Album, being the only band of eight mentioned who remained unrecorded and unreleased (officially), and so it remains until this day. They were one of the bands asked to play the opening night of the long-lost legendary Gateshead punk venue The Station, and also appeared at Sunderland's The Bunker. They were also unfortunate enough to be the target of organised right wing aggression that came to a head at a gig disrupted and stopped at Carlisle's old City Hall alongside Rubella Ballet and the Poison Girls.
After years of grappling with their instruments (they initially didn't know how to tune guitars, and once they had mastered that art it was another six months before bass and lead guitar were actually tuned together!), the band did manage to create some decent numbers – most notably their anti-nuclear weaponry anthem "Threat," with its curious lead guitar solo inserted at the beginning, "Oppose War-Oppose Law," "Right to Live," "Money Kills," "Windscale is Deathscale," "Last Hours of Peace," and "Ruled," amongst others. With the addition of new guitarist Wayne Stephens (Nelly) for the last couple of gigs, the band were able to do justice to the songs. The posthumous Proud to be Punk – Live Oct. 6th 1983 tape release gives an indication of this with a noticably more melodic edge to the songs.
After the TV show in early '84, the disappearance of money and subsequent disappointment within the band saw original bassist Butty being asked to leave. The heart soon went out of the band, with original members having children with their partners and people moving away. Today there are often requests and rumours of Psycho Faction reforming but this is very very unlikely.