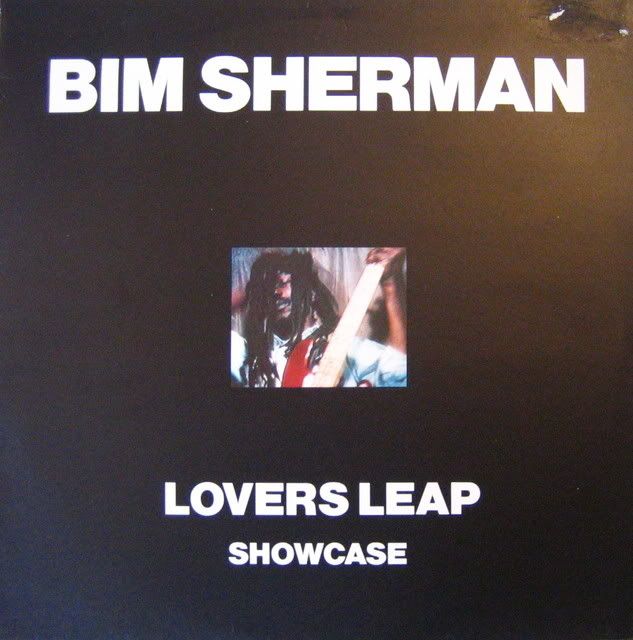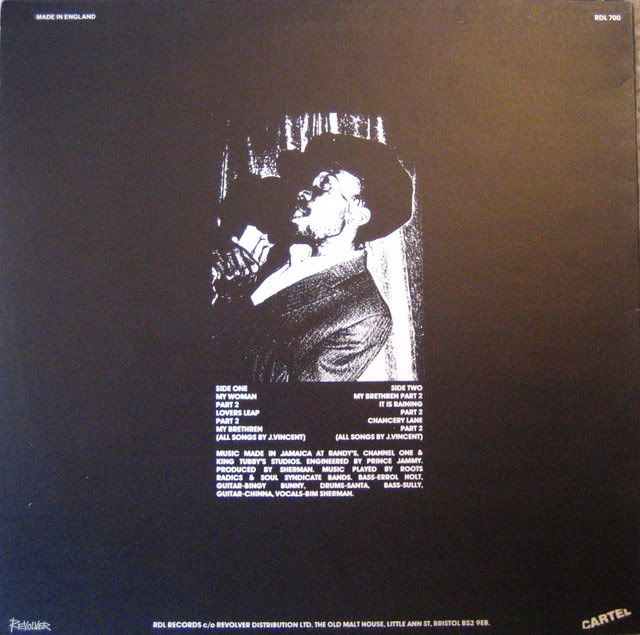 My Woman / Woman Dub / Lovers Leap / Lovers Dub / My Brethren
Brethren Dub / It Is Raining / Raining Dub / Chancery Lane / Chancery Dub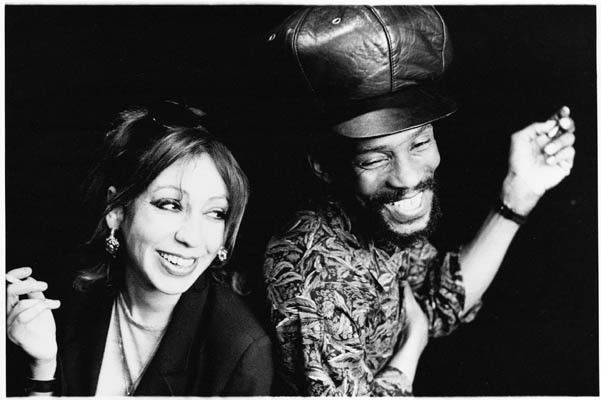 Bim Sherman (whose aliases include Jarrett Tomlinson, Jarrett Vincent, Lloyd Vincent) was mostly better known as an ONU Sound artist, but before relocating to London in 1981, he had already recorded a fair sized body of work.
The 'Lovers Leap' LP from 1979 (re-released in 1987 on R.D.L.) Bim's second long playing release is strictly speaking his debut LP, as the 'Love Forever' LP released originally on the South London Tribesman label in 1978, was a compilation of tracks from the Red Sea and Scorpio record labels that Bim owned in JA.
'Lovers Leap' was a critical success in reggae circles, ably backed by the Roots Radics and Soul Syndicate outfits, record at moody Channel One studios, and not so moody Randy's studio in North Parade right where the buses turn around and scatter every which way.
Through this body of work, he released a few 12″ singles on Adrian Sherwood's Hitrun Record label, and thus in 1982 released the majestic 'Across The Red Sea' LP, plus voiced several tracks for Singers And Players, an ONU Sound label reggae supergroup, on Adrian's next label ONU Sound.
Bim would feel equally comfortable performing at Club Dog nights at The George Robey in Finsbury Park and the Culture Promotion nights at the Pied Bull in Islington, as he would in the many Reggae festivals throughout Europe that he was invited to play.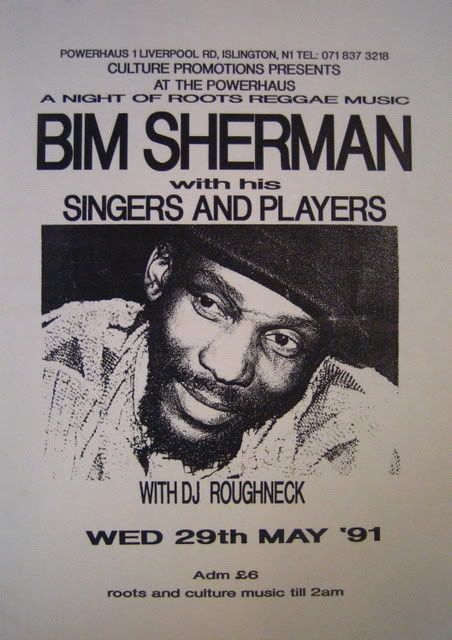 Bim even performed at my works christmas party at the Brixton Fridge in 1991 along with a host of other artists inc Chumbawumba and Babes In Toyland. Adrian and the ONU Sound System also performed that night. Gold ticket symbolises free drinks (and ?) all night.
Bim passed on in November 2000, a few years after successfully relaunching his 'Century' record label through our distribution service, and getting critical acclaim for his work, in the broadsheets as well as music press, with the 1996 LP 'Miracle'.
I knew Bim very well, and remember him with great fondness, we would both giggle at the fact that at some of his gigs that I attended, I would end up with an Italian girlfriend during the show, no other country, just Italians – not that I am complaining! One of the Italians I met and hung out with for over a year was (for extra KYPP points) Andi Sex Gang's ex squeeze…Sweet Lara L!
I was privileged (if that is the correct wording) to be invited to his funeral in New Southgate, and afterwards dining and a celebration of his life with family and friends at the African Caribbean Centre in Hornsey, London, N8.
A genuinely pleasant man who's beautiful vocal stylings will be missed by many.