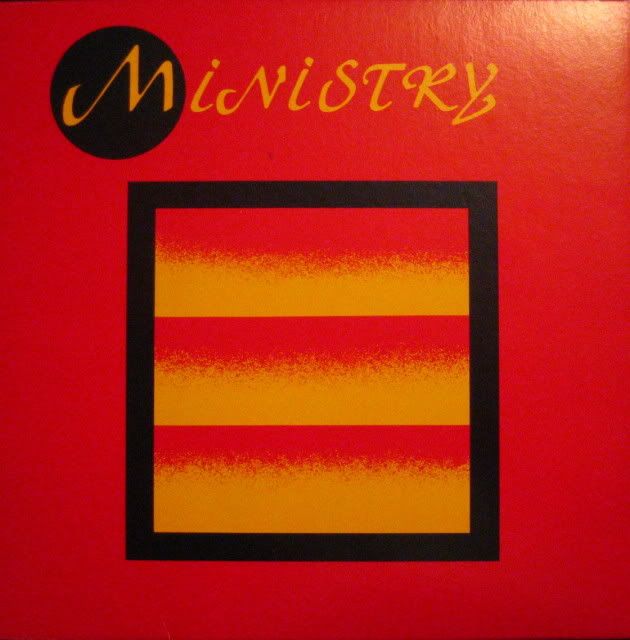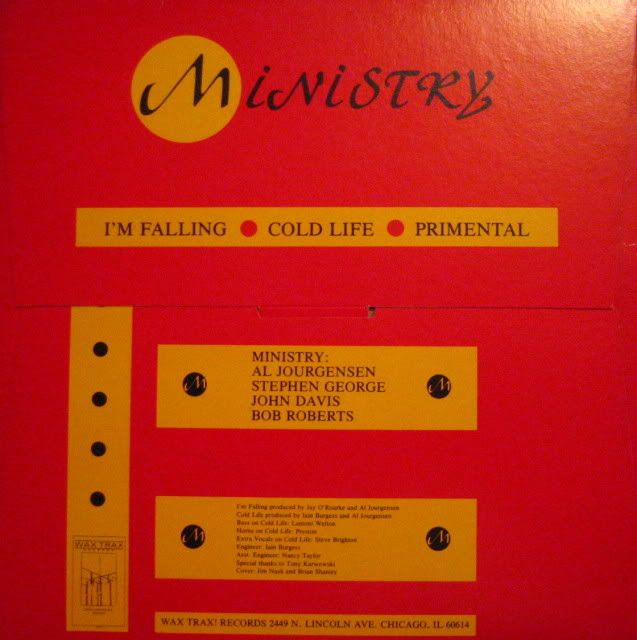 Debut 12″ record by Ministry released  on Wax Trax Records from Chicago. A very different sound to the heavy industrial guitar based sound that Al Jourgensen and Ministry have made popular for the last 20 years. Prepare to be mildly surprised at this debut release by the band.
Text from All Music Guide.com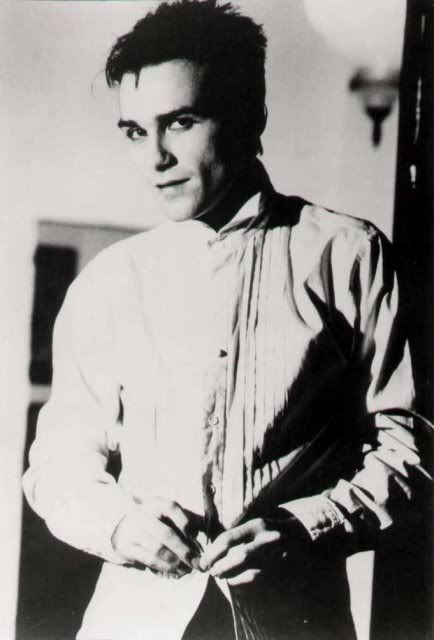 Until Nine Inch Nails crossed over to the mainstream, Ministry did more than any other band to popularize industrial dance music, injecting large doses of punky, over-the-top aggression and roaring heavy metal guitar riffs that helped their music find favor with metal and alternative audiences outside of industrial's cult fan base. That's not to say Ministry had a commercial or generally accessible sound: they were unremittingly intense, abrasive, pounding, and repetitive, and not always guitar-oriented (samples, synthesizers, and tape effects were a primary focus just as often as guitars and distorted vocals). However, both live and in the studio, they achieved a huge, crushing sound that put most of their contemporaries in aggressive musical genres to shame; plus, founder and frontman Al Jourgensen gave the group a greater aura of style and theater than other industrial bands, who seemed rather faceless when compared with Jourgensen's leather-clad cowboy/biker look and the edgy shock tactics of such videos as "N.W.O." and "Just One Fix." After 1992's Psalm 69, which represented the peak of their popularity, Ministry's recorded output dwindled, partially because of myriad side projects and partially due to heroin abuse within the band, but the band continued to resurface through the rest of the decade.
Ministry were formed in 1981 by Alain Jourgensen (born October 8, 1958, Havana, Cuba); he had moved to the U.S. with his mother while very young and lived in a succession of cities, eventually working as a radio DJ and joining a new wave band called Special Affect (fronted by future My Life with the Thrill Kill Kult leader Frankie Nardiello, aka Groovie Mann). Featuring drummer Stephen George, Ministry debuted with the Wax Trax! single "Cold Life," which — typical of their early output — was more in the synth pop/dance style of new wavers like the Human League or Thompson Twins. The album With Sympathy appeared on the major label Arista in 1983 and followed a similar musical direction, one that Jourgensen was dissatisfied with; he returned to Wax Trax! and recorded several singles while rethinking the band's style and forming his notorious side project the Revolting Cocks.
In 1985, with Jourgensen the only official member of Ministry, the Adrian Sherwood-produced Twitch was released by Sire Records; while not as aggressive as the group's later, more popular material, it found Jourgensen taking definite steps in that direction. Following a 1987 single with Skinny Puppy's Kevin Ogilvie (aka Nivek Ogre) as PTP, Jourgensen once again revamped Ministry, with former Blackouts bassist Paul Barker officially joining the lineup to complement Jourgensen's rediscovery of the guitar; fellow ex-Blackouts William Rieflin (drums) and Mike Scaccia (guitar), as well as vocalist Chris Connelly, were heavily showcased as collaborators for the first of several times on 1988's The Land of Rape and Honey. With Jourgensen and Barker credited as Hypo Luxa and Hermes Pan, respectively, this album proved to be Ministry's stylistic breakthrough, a taut, explosive fusion of heavy metal, industrial dance beats and samples, and punk aggression. Released in 1989, The Mind Is a Terrible Thing to Taste built on its predecessor's artistic success, and In Case You Didn't Feel Like Showing Up was recorded on its supporting tour, introducing other frequent Ministry contributors like drummer Martin Atkins (later of Pigface) and guitarist William Tucker (as well as featuring a guest shot from Jello Biafra). Jourgensen next embarked on a flurry of side projects, including the aforementioned Revolting Cocks (with Barker, Barker's brother Roland, Front 242 members Luc Van Acker and Richard 23, and many more), 1000 Homo DJs (with Biafra, Rieflin, and Trent Reznor), Acid Horse, Pailhead (with Ian MacKaye), and Lard (again with Biafra, Paul Barker, Rieflin, and drummer Jeff Ward).