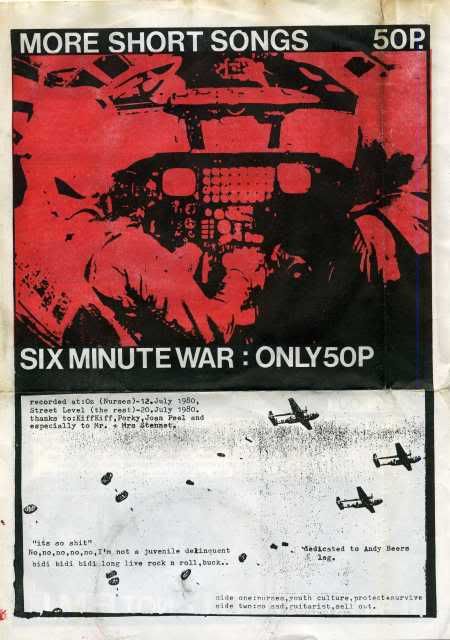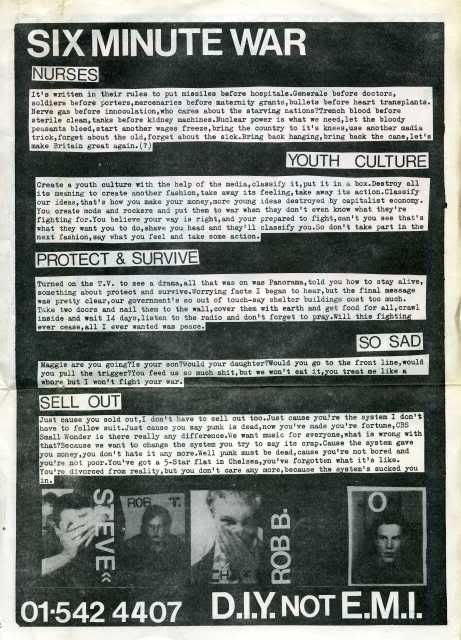 Nurses / Youth Culture / Protect And Survive
Six Minute War arrived on the scene in 1980, exploring minimal lengths as well as minimal lyrics and instrumentation. It might not be too wicked to call them the poorer relation to Crisis or the thinking man's Heretics, but you get the idea. Their 11-song debut was entitled 33.3: the next release was More Short Songs (though there were only 5 of them and relatively long in 3 minutes a piece roughly). Their 4-track swansong was (naturally) Slightly Longer Songs. After that a couple of them ended up forming Fallout, and Rob Taylor later joined Andrew Beer in Concrete and 400 Blows.
The majority of these tracks were recorded at Street Level Studios and engineered by Kif Kif, who at that time had left Here And Now and was performing in 012. Both of these bands are featured on this site somewhere, as is more Fallout material.
My copy of this record was actually pressed up in 1984, the original release had the same sleeve but printed in plain black and white.