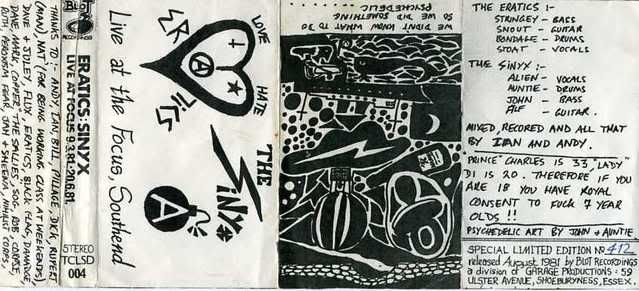 The Eratics – Big Boss Big Toss / You Shame Me / Russia / Kamikaze / God Save Our Gracious Queen / Taking Tablets / Free Hour Spirit / National Service / Parasite
The Sinyx – Animal / Britain Is A Mausoleum / Zulu / Therapy Through Violence / 9 To 5 Auchwitz / Nausia / Fight / Ex Communication
Two bands that seemed to always be in fanzines and on the bill at gigs in and around London.
For all the correspondence, reviews, and live gigs, the two bands (under these names) only managed one 7″ single between them. That particular victory goes to Sinyx. Both bands had one track each on the original 'Bullshit Detector' LP on Crass Records. That round ends in a draw. The Eratics were mainstays of the St James Church squat gigs in Pentonville Road, Kings Cross, N1. I think they organised a lot of the nights there. Victory to The Eratics in that round. That makes, over three rounds, one victory and one draw each. Well done both the bands!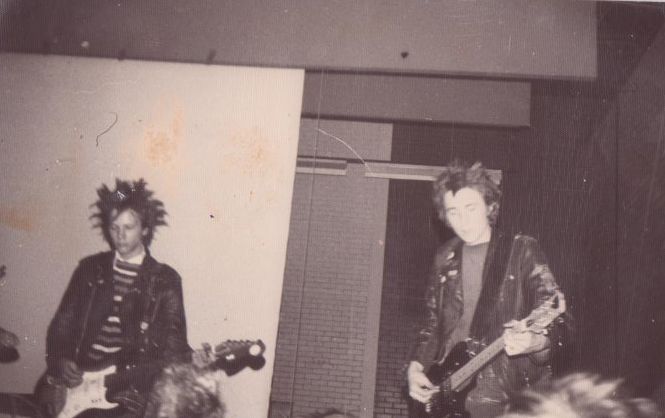 The Eratics from Waltham Cross, just outside North London were pretty ropey music wise though, but they did have a big input into the scene. During this gig they give their special salute to the happy couple, Chas and Di who got hitched a week or so before this gig (not in or around Southend it must be stressed!). The band metamorphised eventually into Look Mummy Clowns but called it a day in 1985. Search for the Look Mummy Clowns only 7″ single somewhere else on this site.
The Sinyx were from Southend and also shared members with Kronstadt Uprising, also from this town. Thanks to Chris Low for the lend of the tape.