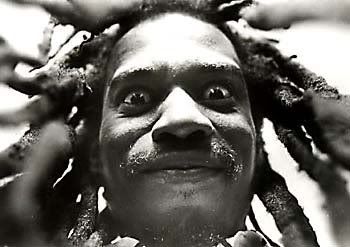 Twenty Something Minutes Of Benjamin Zephaniah
The first minute of this set is very quiet until the soundman realises he needs to turn up the microphone somewhat.
This gig recorded in Doncaster at the Co-Op building with the Passion Killers and The Mob. This gig was also notable as it was the last ever performance of The Mob (search for The Mob's set by entering Doncaster into the search function).
Unfortunatly my tape finished before the end of Benjamin's set…Sorry about that!
Benjamin for a while supported lots of punk and alternative bands. I have seen him perform many times and the majority of those times were within a audience of brightly coloured hair visionaries with dogs barking in the venues! Welwyn Garden City Ludwick Hall audiences always gave a good reaction to his performances.
Last time I saw Benjamin perform was at the Conflict show at the Brixton Academy in April 1987, a show that ended in a mini riot on the streets of Brixton, amongst the damage to this long suffering community was the charity shop Dr Barnardos window getting kicked through, and the shop being looted, all for the good of the 'the cause'. I believe the 'cause' that night were nasty bouncers on the door of the venue…not many rioters fancied pushing their luck with that lot, so the stores would have to do! This was also the last time I saw Conflict perform as well, as it happens…
Benjamin was born in St Elizabeth, Jamaica then travelled to Handsworth in Birmingham and finally settling in London in his early twenties. He has worked with Mad Professor of Ariwa Records and has had material released on Bill Gilliam's Upright Records. He has written many books of poetry and short stories. He is patron to the Vegan Society and has refused an O.B.E from that girl featured on all the stamps…He is also widely travelled having got to Ethiopia, Kenya, China, India, most of Europe and the U.S. and Jamaica of course.
Decent and rightous man…