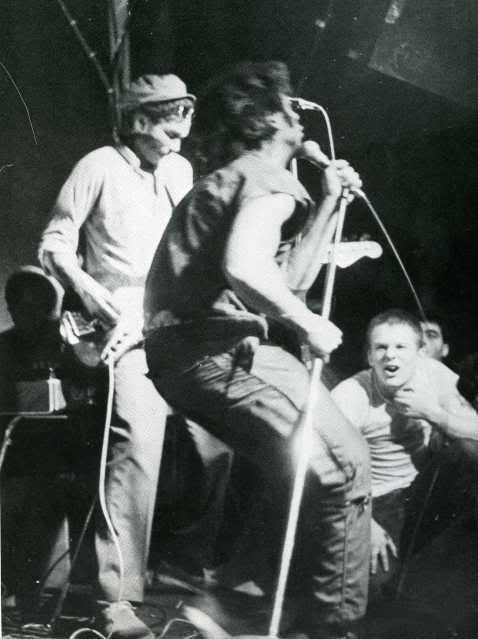 Indebted to Grant Dow for sending me this performance by the mighty Bad Brains performing on the weekly Sunday night punk nights at Stevenage Bowes Lyon House back in the summer of 1983.
A minority of the audience, as you might expect from a small town like Stevenage with the local boneheads that would show up most weeks, make the Bad Brains work for there bread on this particular night, but it all turns out for the best in the end and the band put on a blinding performance.
A slightly muddy sound on Grant's personally recorded cassette, but gold dust never the less for the many Bad Brains supporters that may be browsing this site. As far as I am aware this cassette has not been aired anywhere else so glad that this site gets to upload this bit of rare and early Bad Brains UK tour aural history.
Dedicate this post to Jay Vee. A load more Bad Brains material on this site if you care to use the search function.
Text below ripped from rollingstone.com
The members of Bad Brains started out playing '70s jazz-rock fusion, but took a sharp turn when they began breaking up their live sets into reggae and punk. Together with Black Flag and the Dead Kennedys, the band became pioneers of punk's hardcore fringe, influencing nearly every subsequent hardcore or quasi-hardcore outfit, including the earliest incarnation of the Beastie Boys. As an all-black rock band, they also inspired Living Colour and the entire New York City Black Rock Coalition of the '80s.
By 1977 guitarist Gary Miller (a.k.a. Dr. Know) had grown tired of his fusion noodling and looked to the Sex Pistols and Bob Marley for fresh inspiration. He and his mates viewed punk and reggae as complementary (both musically and politically) and believed that if punk and reggae acts could share the same stages in the U.K. they could share one band's set list in the U.S.
Bad Brains' single "Pay to Cum" remains a classic of the hardcore genre. Unfortunately, the band's music was never well documented on record; "Pay to Cum" was available only in its rare single form and on the band's self-titled ROIR cassette (since reissued on LP and CD). Ric Ocasek produced 1983's Rock for Light, which mingled two reggae tracks amidst the hardcore.
The long-awaited I Against I was an all-rock explosion, leaning more toward heavy metal than punk. It left the band fragmented, with HR and Earl Hudson wanting to do more reggae and Dr. Know and Darryl Jenifer preferring the new hard-rock direction. After years of coming and going, both HR and Hudson left again in 1989 (the two have recorded several reggae albums under HR's name since 1985's It's About Luv on Olive Tree). Chuck Mosely of Faith No More briefly assumed vocals but appeared on no albums. Bad Brains recruited Trinidadian-born singer Israel Joseph-I and Mackie Jayson on drums to replace HR and released Rise.
In 1995 HR and Hudson returned and the band released God of Love. That same year, the band was booked to tour with the Beastie Boys and seemed poised to finally reach beyond its lingering cult following. But on the tour's first night in Montreal, HR brutally attacked manager Anthony Countey and was arrested (he was released later that same night). The band regrouped in time to participate on the tour's final dates, but HR was arrested on a subsequent club tour after allegedly attacking a fan in Lawrence, Kansas, with a microphone stand (charges were later dropped). Bad Brains split up again, seemingly for good. But in 1999 the quartet reunited once more as the Soul Brains, a name HR reportedly chose to separate the band from the bad vibes of the past. The reunited band toured throughout 2000 and began recording in Woodstock, New York. The dub album I & I Survived, released in 2002, also gave fans a healthy portion of remixed sounds from the band's '80's history. They subsequently made several appearances at the infamous CBGB's just before the legendary dive of New York punk history closed on October 15, 2006. The band released the new Build A Nation with the production help of the Beastie Boys Adam Yauch in the summer of 2007.