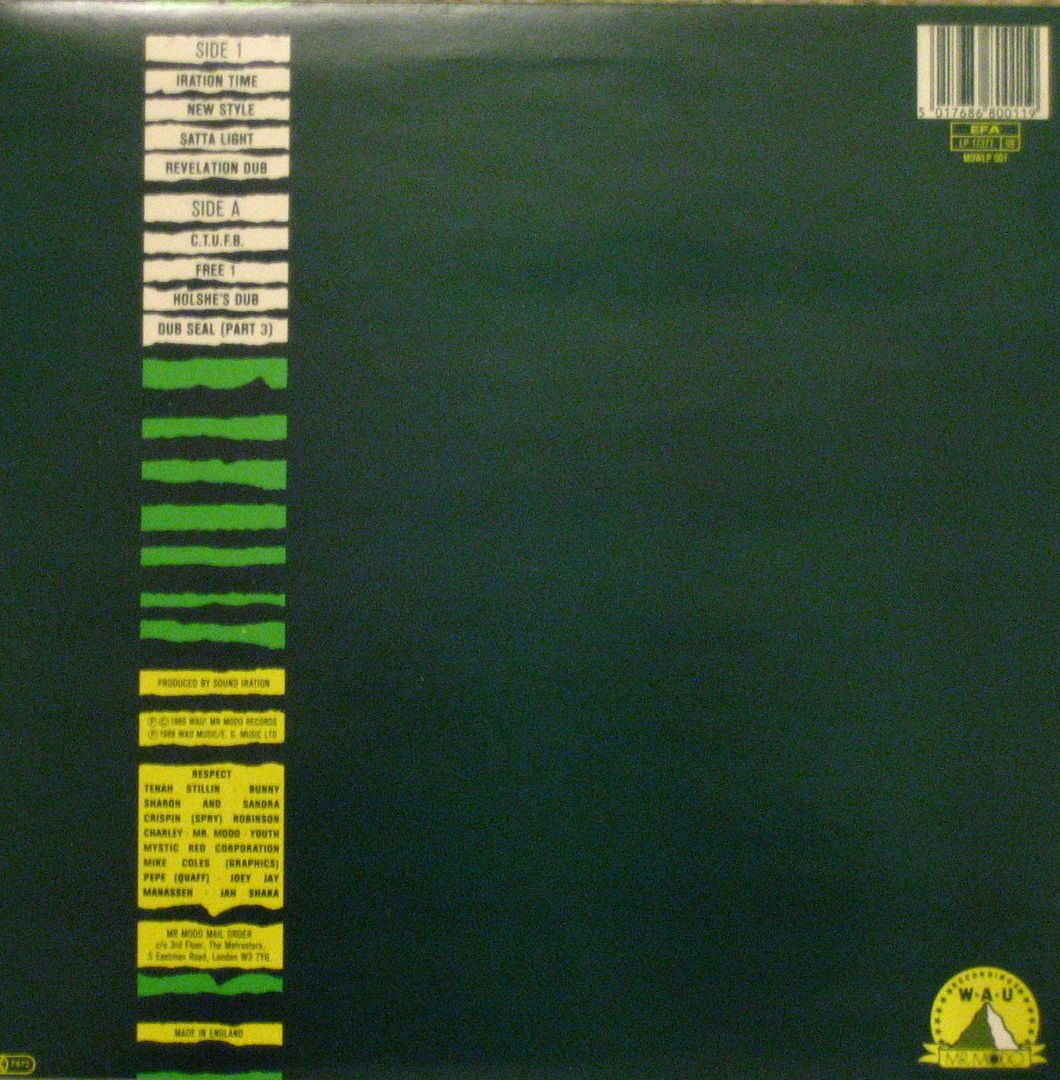 Iration Time / New Style / Satta Light / Revelation Dub
C.T.U.F.B. / Free 1 / Holshe's Dub / Dub Seal Part 3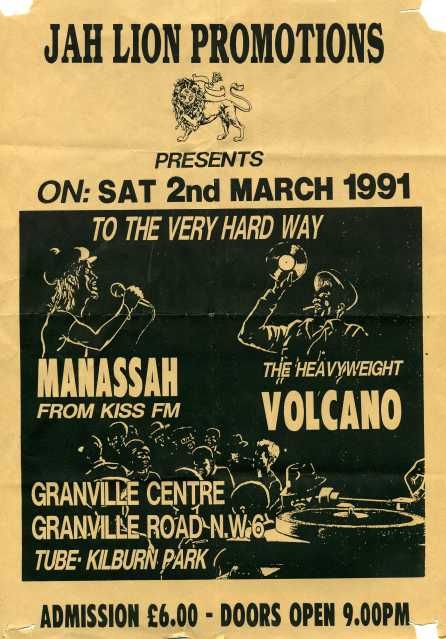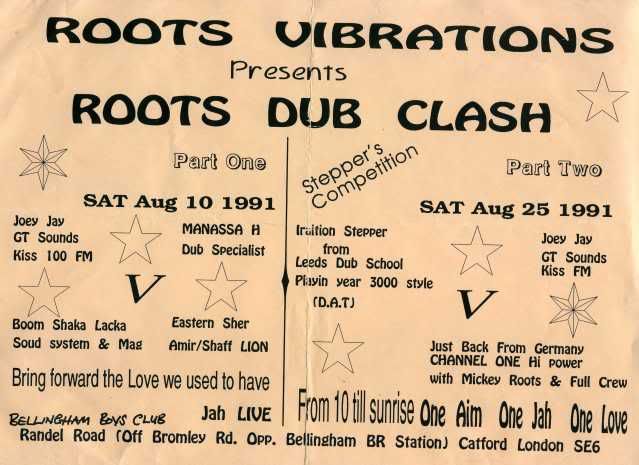 Marvellous debut LP from Sound Iration (A.K.A. Nick Raphael from Manasseh Sound System) on the W.A.U. Mr Modo imprint that also brought the world the first Orb releases*. Manasseh Sound System nights were always good fun and the KISS FM slot on Sunday mornings was the perfect comedown after a good night out.
* Search for the debut Orb release which is uploaded on this post 86 section.
The informative text below was written in 2002 by Nick Raphael from the Manasseh Sound System.
MANASSEH SOUND SYSTEM EARLY DAYS Manasseh first played out at Notting Hill Carnival 1985. The sound was literally finished that Sunday and we found someone with a vehicle pass (all you needed in those days) and blagged some power off somebody in McGregor Rd and we played all that day, and in a basement flat across the road, all that night. Although this was the beginning of a Sound System, it was also the culmination of a good few years of planning and hoping. The speakers were all hand made and the amps and pre-amp were custom built by the veteran amp builder 'Jah Tubbys'. Right from the start our sound has specialized in Roots Reggae Music. Although we play all types of reggae and always have done, the roots is where we're coming from and is the reason why we started the sound, (especially in the middle eighties when Roots music was not being heard). The original crew consisted of Nick as the Selector and Operator, Eddie as the box designer / Tech, and Billy T as the overseer and voice of reason. Based in West London, Shepherds Bush, it wasn't long before we were playing all kinds of parties and blues around the place.
It was when we hooked up with Femi (later with the Young Disciples) and the brothers Joey and Norman Jay that we started to provide reggae music at some big warehouse parties in the middle to late 80s. Apart from playing at some great nights and finally making a bit of money, this association had one big consequence: Joey and Norman got us a late night show on the pirate station Kiss FM.
MANASSEH ON KISS FM began in February 1987 after Nick and Jeremy Armstrong returned from a trip to Jamaica loaded up with rare oldies, brand new music and some dubplates from King Tubbys. The new show ran from 3am to 7am or whenever somebody else turned up! Along with Joey Jay's Sunday evening show these were the first hardcore roots shows on the radio and their popularity revolutionized Manasseh as a sound system. Manasseh was now playing to the people who wanted to hear and we started to do some big roots dances. In 1988 we clashed with the mighty Jah Shaka which was a big dance and a memorable night in Hackney (we did pretty good!). We also played three dances with Jah Warrior (won the first two, last one debatable!), sessions with Coxsone, Observer, Jah Tubbys, Fatman, Abbashanti and again with Shaka (where he dropped us with two tracks from our first album) and even Soul 2 Soul inna dubwise style.
Kiss FM finally went legal and on air in September 1990 and until early 99 we did the late Saturday night 3 till 6 slot. With various changes of personnel the final Manasseh Djs on Kiss in 1999 were Nick Manasseh, Eddie Rocksteady, Oxman and Jeremy "Equalizer" Armstrong. Our and Joey Jay's shows helped to create the climate for today's Roots Scene with new artists like Luciano, Sizzla and (the late great) Garnet Silk becoming massively popular; as well as huge interest being generated in revival roots music, there now being an important re-issue 45 industry based in Jamaica and several labels in the UK re-issuing hard to get LPs and compilations (Blood & Fire, Pressure Sounds etc). We hear of Manasseh radio tapes from all over the world and know of vast collections going back years; it's quite common to meet somebody of 25 who has listened to the show since they were 13 or 14!
NICK MANASSEH PRODUCTION I began producing music for sound system exclusives around 1986 and after hooking up with Scruff Guilder in 1987 started to concentrate on a particular project, which eventually became Sound Iration in Dub. The first single "Seventh Seal" was cut on the 8/8/88 and was big on the roots scene (and Shaka's sound!), and was widely credited with being the first new wave UK dub track. The album was released in March 1989 on W.A.U. Mr. Modo records, a label which was the brainchild of Alex Patterson (The Orb) and Youth (Killing Joke). The album sold well and the label went on to release some other notable roots/dub albums produced by me and Scruff such as Tena Stelin's first LP "Wicked Invention" (a vocal set to S.I. in Dub); Lidj Incorporated: Black Liberation and the Dub album to it as well as various singles.
In the early 90s I set up Riz Label along with Gil Cang (music and production with me), Eddie Rocksteady and Mak Gilchrist (who ran the label) . The first releases were Orville Smith's Leaving Rome, Bob Skeng's Education and Earl 16's Natural Roots. 16's track went very well and the label quickly established itself as one of the leading UK roots labels. Other big things on Riz were Admiral Tibet "Permission", Marcella French "Be Still" (on a funky vibe) and Manasseh meets the Equalizer "Soul Jah" from the album Dub The Millennium. Riz is still occasionally active, more recently releasing 45s with Johnny Osbourne (Rise Up) and Devon Russell (Underground), although the momentum and vibe were dampened due to unrelated personal issues.
When Riz released the Manasseh meets the Equalizer LP (the Equalizer being Jeremy Armstrong – my writing partner on this and the other M meets E albums) on vinyl a lot of interest was generated and the album was soon licensed to Acid Jazz records who were getting into putting out some roots music and tuned into the slightly jazzy flavour of the record. This began a period of major label interest in Manasseh productions with Columbia/Sony releasing Danny Red's album "Riddimwise" in 1994 (co-produced with Pepe Acunzo and Martin Madhatter). B.M.G became involved when I met up with the Stereo Mcs and their manager Keith Cooper to sign a deal for a more leftfield dub record for their new label Natural Response which was in itself signed to B.M.G. This project became "Spectre : The Missing Two Weeks" and was recorded solo by me with James Style as the vibemaster and overseer. This was recently re-issued by Echo Beach records based in Hamburg. Another Manasseh meets the Equalizer album for Acid Jazz came out in late 96 called "Shining" and although a great piece of work it suffered a lot from the problems which troubled that label and led to its (temporary?) demise. Both the Manasseh meets the Equalizer LPs were released in America on Hollywood records and are still available. Me and Jeremy Equalizer have recently finished a new album and have just lined up a deal for it . The last record out was the Skenga EP, which features some music from the new album, and which mashed up the place in the summer of 99 . I also work as a producer and remixer and recently produced an album for one of Portugal's top bands (musica exotica para filmes, radio e televisao: Cool Hipnoise) and I played on the Dido album "No Angel" on the track "Honestly OK" (melodica and additional production). Remixes are too numerous to list but labels worked with recently include: Guidance (Chicago), Interchill (Canada), Soundtrees (London) and Butterfly / Dubtrees (London). A full (ish) discography is available. SPRING 2002 – 10″ on Impact / Jammyland from New York "Forward the Bass ", and a 10" on P.I.A.S. records Super Discount – "Prix Choc- Manasseh real cloudy mix"
MANASSEH NOW We stopped playing on our actual sound system a few years ago , partly because of losing some equipment but really because most of our work did not involve using our own sound and if we need one now, we often use RDK sound from Brixton (due to the kindness of my good friend Markie Lyrics) . When we play now , it's me (Nick) selecting with, usually, Brother Culture on the mic .
We now play all over Europe and the UK. Having played at Rodigan's Reggae as resident for a year and a half (99-2001), we now play this night at Subterrania occasionally and play in Edinburgh, Dublin, Derry, Brighton and Manchester all 1, 2 or 3 times a year. We also do one off nights in Paris with the Dub Action crew and toured Germany and Austria through September and October 2001 alongside the Blood and Fire sound. There are occasional Social Centre gigs in Italy (Rome, Milan) and Portugal: Lisbon, Porto (Boom festival 2002 coming up end August 2002 in Portugal), and we are regulars at the Essential Festivals and at the Glastonbury Festival. There are too many underground gigs to mention but those who went to the Junction in Brixton on Thursdays last year to check Manasseh at Jerry Dammers's Weird Science nights will remember them well … We are also regulars at 100% Dynamite; a night run by Soul Jazz records and related to that great series of compilations of the same name. Through the spring of 2002 we also played at a great series of nights for Earl Gateshead at Plastic People in London, Dj-ing as well as selecting the tracks for some heavyweight P.A.s by Big Youth, Little Roy and Junior Delgado. At the Souljazz B'day bash in 2001, I selected for Horace Andy and then did the same show with 100% Dynamite in Dundee. Going back to the early 90s, Manasseh played the first ever night at London's Dub Club and has continued to play there since. I'm mentioning here the gigs that I do regularly, sorry if anyone who we've played for feels left out!
This post is dedicated to Jah Pork Pie whose birthday it is today. Many happy returns to him from all at Kill Your Pet Puppy and from his friends that browse this site.