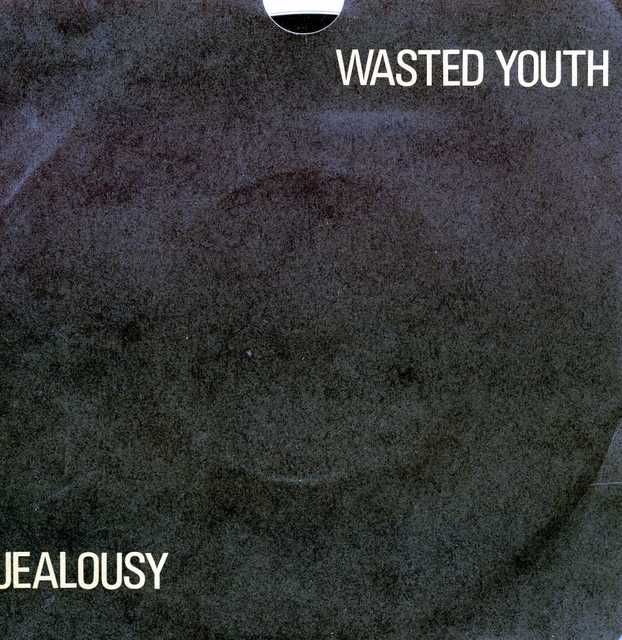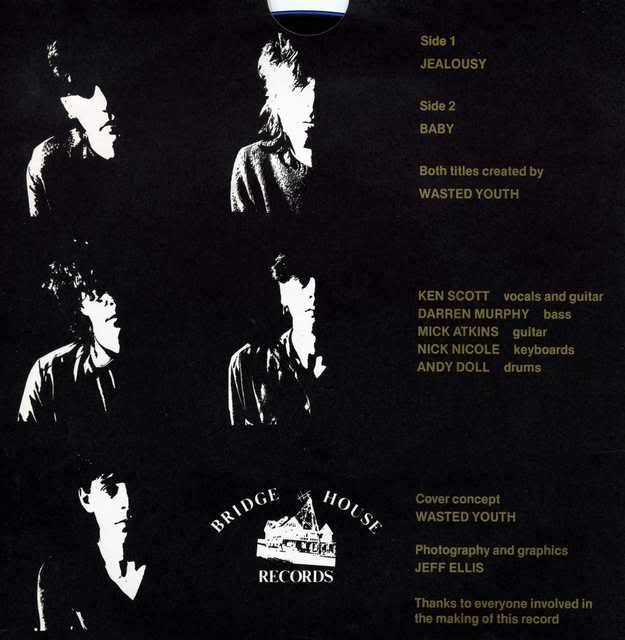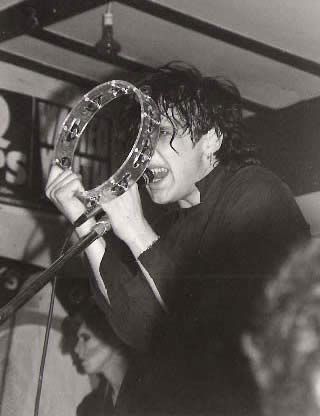 Wasted Youth were a popular post-punk band between 1979-1982, playing a dark psychedelic bohemian rock. Wearing all black clothes and some in shades and make-up but pre-dating goths, they embodied cool whilst paying homage to their numerous influences from the Velvet Underground to trash-garage bands. In that fertile early post-punk era, Wasted Youth threw down a marker with their unique approach.
Singer Ken Scott and drummer Andy Scott had been in East London punk band The Tickets, who appeared on the Live at the Roxy album, and released a single 'I'll Be Your Pin-Up' on Bridge House Records – they often played the renowned Bridge House pub venue in Canning Town. They teamed up with guitarist Rocco Barker, keyboards Nick Nicole and bassist Darren Murphy to form Wasted Youth, and evolved from their punk roots into a dark, decadent, androgynous style.
Their debut single 'Jealousy' had an instant impact. Simple and dramatic, it got them immediate attention from the music press and a number of national radio DJs gave it regular radio play. Seemingly coming from nowhere, suddenly they spent months in the indie charts. They capitalised on it with charismatic live gigs, and quickly showed it wasn't a one-off. A second single 'I'll Remember You' was produced by the Only One's Peter Perrett and with the help of an Only Ones tour support, they built up a strong live following. The band certainly loved to tour and feed off audiences rather than just exist in the sterile environment of a studio.
More tours, such as with Classix Nouveau followed, and soon the band were gigging full time on their own, not just in the UK but across Europe. A single 'Rebecca's Room' was produced by Martin Hannett and issued via Fresh Records; in France a 12" was released on Underdog of their first two singles. Playing festivals and getting movie offers, they issued an album 'Wild And Wandering', followed by two more singles 'Wildlife' and 'Reach Out'. Eventually they decided to go out with a bang – a big gig at the London Victoria Venue was their 1982 swan song. Rocco then went on to form Flesh For Lulu.
THIS POST IS DEDICATED TO VAL DRAYTON WHOSE BIRTHDAY IT IS TODAY. HAVE A GREAT DAY VAL.
MANY HAPPY RETURNS TO YOU FROM ALL AT KILL YOUR PET PUPPY ONLINE.
The artwork featuring Val Puppy in 1981 drawn and coloured by the late Jo Brocklehurst.