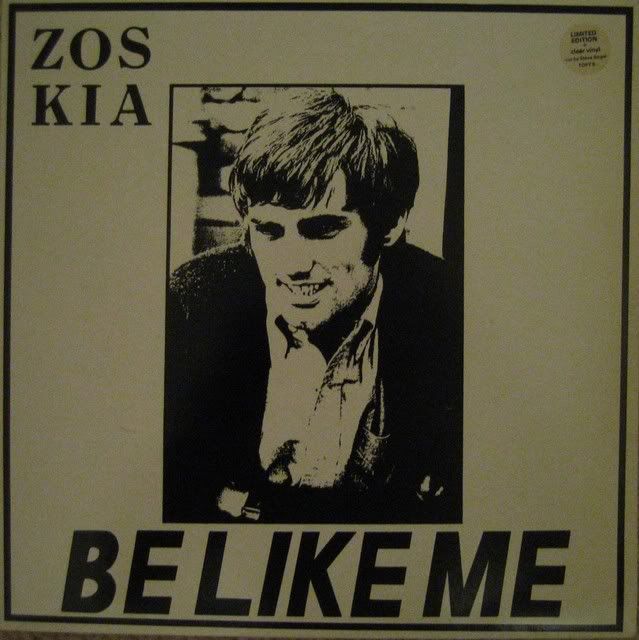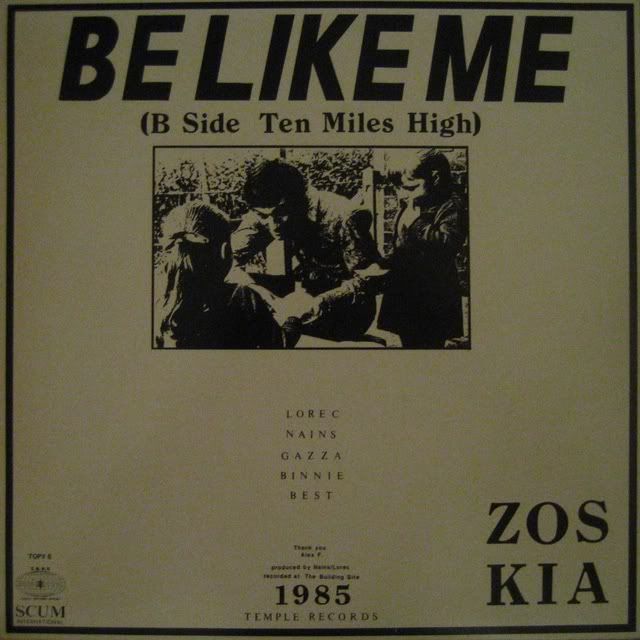 Another year rolls away and we are now in 2011. For the first  post of this new year I have chosen Zos Kia's essential second vinyl release on the Temple record label run by Genesis P Orridge of Psychic TV out of his Beck Road base in Hackney.
This record was played to death at the time of it's release in a much younger Penguin household. The track 'Be Like Me' being a real foot stomper, after a couple of minutes introduction of pleasant piano, with lyrics courtesy of the Reverend Jim Jones, infamous leader of San Francisco's Peoples Temple that met a sudden and violent end in 1978 with the suicide of more than 900 Temple members in Jonestown, Guyana along with the killings of five other people at a nearby airstrip.
Play this record at maximum volume and then some…
The debut single from Zos Kia 'Rape' released on the All The Madmen record label which was also based in Hackney is also available on this site right HERE the third and final Zos Kia release, also released on Temple Records, may be listened to HERE
Photographs below courtesy of Min and Andrew Rawlings, black and whites from the Psychic TV's Sordide Sentimental booklet that accompanied the 'Roman P' single and an image from the Psychic TV 'Transmissions' video inserted into 'The Grey Book'.
John Gosling 2006 interview text below robbed from barcode.com.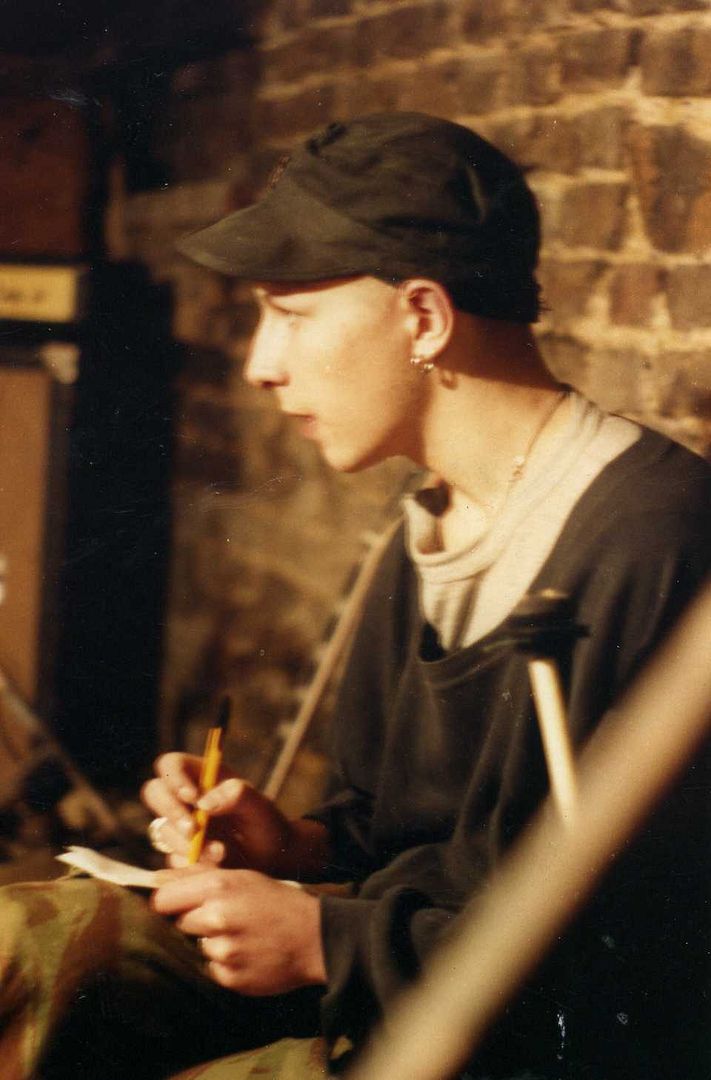 Zos Kia was initially formed by John Gosling along with John Balance and Min. This trio, along with Peter Christopherson on sound and other guests, recorded and performed several concerts in 1982/83 under the names Zos Kia and Coil and some of this material is available on the Coil/Zos Kia release 'Transparent'.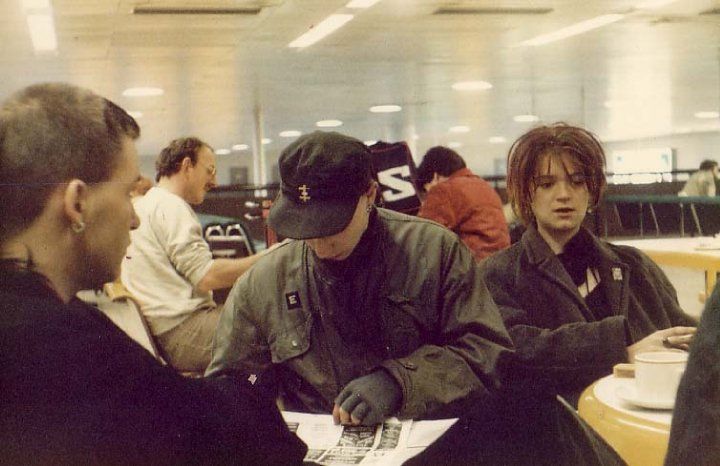 In 1983, Balance and Christopherson left to concentrate on Coil full-time. All material released under the Zos Kia name alone was primarily the work of John Gosling. After retiring the Zos Kia name after two singles 'Rape' and 'Be Like Me', Gosling went on to record with Sugardog, Psychic TV and work solo as Sugar J and Mekon.
John Gosling evolved from being a bit-part member of Psychic TV into an influential remixer and producer of big-beat techno throughout the mid-90s.
Partly responsible for the uprising of the British breakbeat sound, originally influenced by American hip-hop culture, associations with "Mad" Frankie Fraser (Revenge of the Mekon) and Schoolly D (Skool's Out), followed Gosling's 1994 debut, Phatty's Lunchbox.
Gosling's third solo album, Some Thing Came Up is arguably his best – featuring strong collaborations from Roxanne Shante, Marc Almond, Afrika Bambaataa, Alan Vega, and Bobby Gillespie, via artistic direction from Alexander McQueen.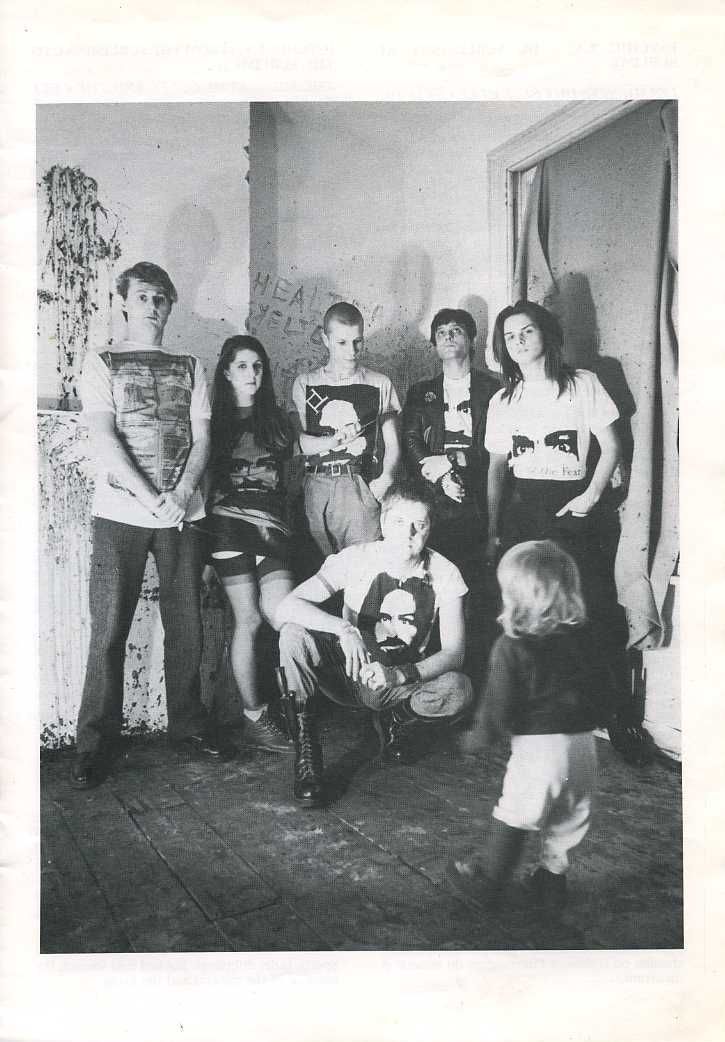 Can I first ask how you became involved with Psychic TV and what your role in the band was? I got involved with them through being a big Throbbing Gristle fan basically, I used to come up with drum loops, just any kind of loops – that was my obsession at the time, just looping up bits of tape and providing backing and rhythm tracks.
Was that the days before sampling and drum machines? No, I think drum machines had just come in. Just when they started getting good anyway, it was a DMX (Oberheim) the first one we had.
Was Genesis P. Orridge your introduction into the band? Yeah, through Throbbing Gristle, going to their gigs basically.
And what was your introduction to music? I guess I always go back to James Brown and The Velvet Underground, they were my real early loves, the two bands that made me wanna make music. It was quite unusual to like both of those when I was a kid, because you were either this or that. I'm going back a long way (laughs). But that's how it was then, you were either like a skinhead or a greaser. I was kinda like a druggy skinhead (laughs).
A skinhead who liked James Brown? Yeah, I loved James Brown. When I was about 14 I used to take magic mushrooms and trip out to James Brown.
You studied saxaphone and bass guitar didn't you, at first? Saxaphone was the only instrument I really had any lessons in, sax and drums. But I was not really any good at either (laughs), which sort of led me into being more experimental. I realised that I was never going to be the world's greatest saxaphone player or drummer.
But something must have led you towards bands such as Throbbing Gristle? That whole scene? I guess through bands like 23 Skidoo and Cabaret Voltaire, there was quite a big scene going on in the early eighties. Clubbing was not what it is now, if there was a club on in London that was good, y'know that would be the one. You would see the same fifty people at that club as you would at the next; it wasn't like the mass thing that it is now.
So what was it like working with Genesis P. Orridge? The last time I saw him he'd got himself a new pair of tits. Yeah, someone told me something really funny. Some old TG fan went to see them recently when they played at the Astoria – it was Andy Weatherall that told me this story, I said "what did you think of Throbbing Gristle?" and he said "that wasn't Throbbing Gristle that was Eddie Izzard."
I can see what he meant. Scary innit? All power to him, he never gives up Gens. You have to kind of respect the fact that he's being doing it so long and he's still as hardcore as he ever was. It must take something to sustain that level of mentalness.
He's completely mad basically, but that's a good thing. I think that's a good thing in an artist, especially these days when things are particularly bland. He's a really clever guy, and he's very wordy – if you ever read his writing it's quite impressive.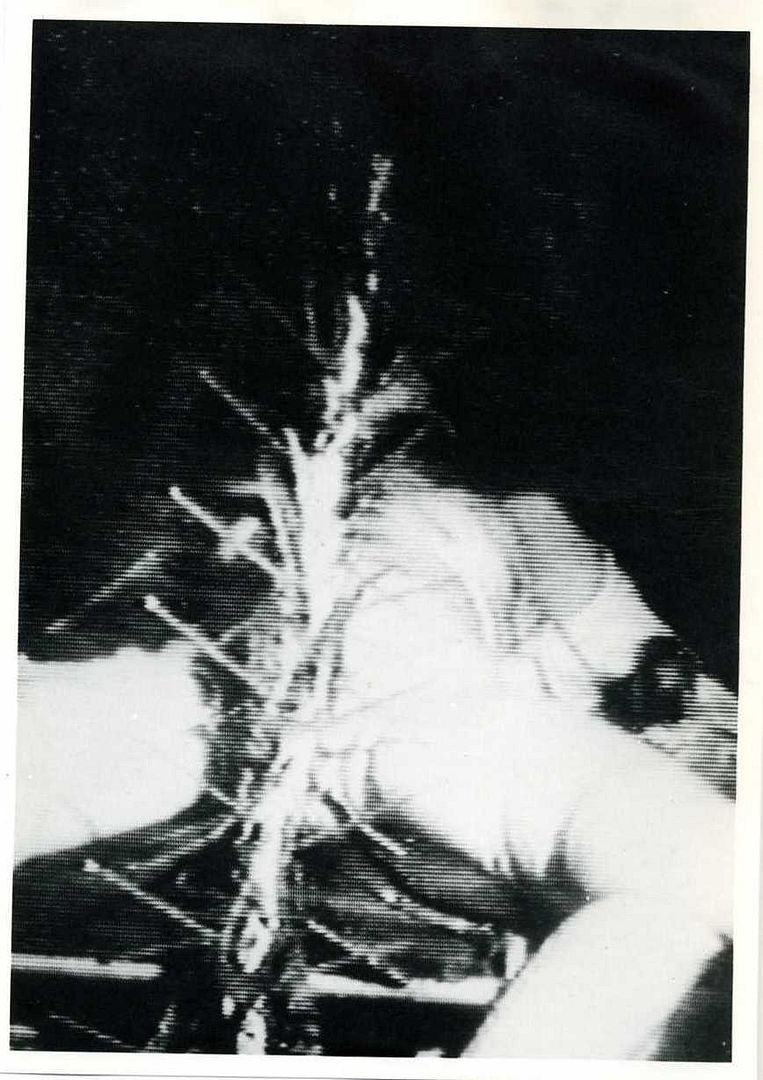 Listening to your new album (Some Thing Came Up), it has a very contemporary electronic sound but also quite rocky as well? It was done quite instinctively; I like all those kind of things. For me the battle is always to try and incorporate all my influences because they're quite disparate and don't give themselves naturally to blending together. When I start out, what I actually end up with is completely different to how I envisaged it. It's not like I thought, right let's make this sort of record; that's just the way it ended up.
When you get this fusion of hard rock and a prominent electronic sound you tend to end up with what people call 'Industrial'. Is that a genre that appeals to you? What industrial? Yeah, very much so, I spent years sitting in damp cellars banging bits of metal (laughs). I do like that whole thing, and on the other hand I like Alexander O'Neill – so that for me is a real challenge! How the fuck do you get those two to work together? To go back to what I was saying earlier, I'm not a naturally gifted musician, so I kind of feel my role is to try and push things that haven't been done before, whether I succeed or not is for other people to say.
The cover art (an image of a rectum) is interesting to say the least? (Laughs)
You got Alexander McQueen to do it – did you need to give him much artistic direction? I didn't give him any, when he presented me with what he wanted to do I was like, "go on then, do what you want mate!"
Did you say you wanted something that was… (interrupts) I didn't say anything, I said will you do my artwork, thinking he would come up with something elegant. But he's like that, he's the kind of guy who'll go "right, I'll fucking show you – you want me to do your artwork for nothing, how do you like them onions mate?" And I sort of double-bluffed him and went "no, that's fine!" and when that was all I ended up with I was like "oh my God!" *(laughs).
Did you give him a copy of the album beforehand? Yeah I did, I gave him a copy to begin with and he was really into it, which was nice.
He obviously picked up on its harsh sound, maybe quite provocative? Yeah, maybe that is the case. He said, "God, I quite like it" – like he was expecting to hate it, which actually quite surprised me. But he very much works like that himself. With the album, I didn't have any money so I just let people do exactly what they wanted. It would have been taking the piss to say, "do this" but I'm not gonna pay you. What I quite like about it is that, in a way, it was like what I was saying earlier about industrial and soul music, because on the outside it looks like a Barry White cover and on the inside it's so not.
I was going to say, it's such a contrast – let's just hope the disc art's not a self portrait. It's definitely not me, and it's not him actually – it was actually part of a series of about ten of them in a gallery, and the guy who took the original photograph said "you know what, I don't recognise that one". I'm like, it's kind of just as well mate, it's be a bit worrying if you did!
Well from listening to the album, I noticed the beats and drumming were quite fluid. Would I be correct in saying there's a mixture of live drums and programming? Yeah, true and the guy who programmed it is a drummer first and foremost.
So you're getting a drummer to drum and then sampling the end product? Yeah, exactly that. We did go into a half decent studio and record lots of live drums and then chopped them up and made them sound variable. I really liked that period in music, I think things have become too digital and tight. I like it when the electronic thing wanders out here and there, wanders out of time, because it adds longevity to things. Stuff that's really precisely programmed only has a certain shelf life. I don't know why that it is.
Maybe because people get over-reliant on using sampled loops and you start hearing the same loops on dozens of different records. Exactly, and it's just so much more fun as well working with live musicians. Plus things are so geared to digital now, I think you have to try and have a bit of analogue in there. I think it's amazing what you can do with a computer now, it's completely mental. The kind of thing you'd have paid a grand a day for you can now have in your front room – I'm all for that, but it can get too much.
The technology can sort of lead you rather than the other way around? Yeah, and you tend to end up doing what a lot of other people are doing because of the way the programs are designed.
One of the best tracks is Blood On The Moon, maybe even one of the best tracks I've heard this year. I understand has quite an interesting concept behind it, lyrically? Probably (laughs). It was sung with Alan (Vega), but I didn't have any idea what he was going on about basically until I read a piece he had written about me and I realised "oh, that's what it's about."
I read somewhere that it was about a colony on the moon, or America building bases on the moon, which makes the title fairly self explanatory. Yeah, I'm sure that is what it's about (laughs). He's quite political Alan, certainly not shy.
So it's Alan Vega from Suicide on there and also Bobby Gillespie from Primal Scream? Yeah, he's no shrinking violet either.
When you heard their contribution you must have been delighted? Oh god yeah, over the moon (laughs). Absolutely, to me, to hear people singing passionately is really exciting. When I took it in to Wall Of Sound, they were like "that's a bit strong", and I was like "well, if not now, when?" It's great for me to hear people doing something that is not just, I don't know, saying nothing! I'm quite surprised there's not more songs like that out there really. Where's the voice of anyone in the music world? No one's saying fuck all about what's going on, and what's going on is really quite out of control and horrendous and scary. You can't imagine previous generations putting up with it, or not having some say about it.
"Yeah, I loved James Brown. When I was about 14 I used to take magic mushrooms and trip out to James Brown."
I also like the track Delirious, with Marc Almond? Oh, I'm glad you like that, I really like that one.
Did you write the track with him in mind as vocalist? Erm, yeah – actually we wrote the track around his vocal. We originally gave him a really simple groove to work with and he put the vocal down, so everything was done completely around his vocal, quite organically.
I believe you've worked with Marc in the past? Yeah I've known him years; it's scary how long I've known him – something like 20 years, going back to the Psychic TV days when we were both on the same label.
Is there an element on this album of taking these artists and deliberately putting them in unfamiliar surroundings? Yeah, there is, that's very astute.
I was wondering how contrived it was or whether they're just mates of yours and you wanted to use them? Both really, they're mates, people I respect, or a better way of putting it – a big fan of. But I also wanted to put them in environments I hadn't heard them in before, because that's more interesting to me.
The final song, K Blues, written with Kevin Mooney – once of Adam & The Ants – is very interesting, a sort of electronic/country music hybrid? Yeah, I basically just gave him a drumbeat, and the original thing he came up with was this sort of heartfelt blues. And I know the guy and I know his life story and what he's singing about is very… he's not making it up. I didn't want to just do a blues song, so again, we built the track around it, and hopefully no one else would think of doing it in that kind of way.
I mean, that really is an example of an experimental approach to combining electronic music with other genres of music? I don't think I've heard many songs like that before. Well that for me is a success then in that case, even if it's no good – as long as you've never heard anything like it then I'm happy (laughs).
The only thing I think I could compare it to was maybe Depeche Mode's Personal Jesus? Yeah, that's actually quite true. That's certainly no insult because I like that song a lot; I like Johnny Cash's version as well.
There's also a banging techno track with Afrika Bambaataa? Yeah, god knows what that's all about.
Is this someone you've always wanted to work with going back to your days as a hip-hop DJ? Absolutely, yeah, totally – he's the leader of the Zulu Nation (laughs). To me, he represents all that's good about hip-hop – that era for me is particularly golden – so to actually work with him, I'm sitting there thinking, "wow, this is amazing!"
With all these collaborations, was there a lot of file swapping going on or did most of them come down and work in the studio with you? For (Roxanne) Shante and Bam, I went over to New York and recorded them, just because it would be crazy not to. Alan sent his in the post, but actually sent me the wrong vocal the first time – he sent me the track but without the vocal on it (laughs). Bobby came down because he lives round the corner and he's a big Alan Vega fan and really wanted to do it.
So there must have been a lot of data to wrestle with, did this represent any problems to you? Yeah, it did take a long time – at least 3 years. That's partly down to the fact that I didn't have a deal so I was doing it all off my own back.
You've remained on Wall of Sound; didn't they give you any backing? No. They couldn't see it at all. When I had taken it in there they were like "what the fuck is this?" It's hard out there, especially when you're an old git like me (laughs). Now it's like a package, then people can see it, but when you're schlepping round with a bunch of tracks on a CD people just don't get it. People like you who are going to write about it might say "oh yeah, it is good record", but, honestly, they haven't got a fucking Scooby Doo most of these people.
A lot of labels would welcome the sort of stuff you're doing. Really? Well put me in touch with them, cos it's only on license (laughs).
Are you a Pro Tools man? Both, Tools and Logic. Because I worked with these two ridiculous drummer/programmers – one of them works in Logic and one of them works with Tools, and they both swear that the one they work on is completely superior to the other one.
Do you use a lot of hardware or is it mostly software-based stuff? Quite a mixture of both basically. I've got a kit set up and old analogue synth; it's my favourite synth, which actually used to belong to Throbbing Gristle, a Roland SH5, which I pretty much use on every track. It's my favourite thing in the world and it's the only thing that I've got going back that long because I've sold everything else down the years. The bass lines are 99% from the Roland.
Now you've also remixed over the years for the likes of Madonna, Peter Gabriel, and Goldie. Is this an area of production that you still get involved in often? Not as much as I'd like to, because I really like remixing, I like that whole process. This is the reason for putting records out, it gets you a bit of exposure and then people come to you and give you remixes. I still keep my hand in, but it's not like people are beating down my door for remixes like they used to (laughs).
I've often wondered, with these so-called "big name" artists, do you have total freedom to just disappear and put your angle on a track or does the artist or the label channel you into a particular direction? Well, they generally like to hear a version with the vocals, so what I normally do is give them that and then give them a version I like. But it depends on whether I like the vocal to begin with. But generally they want to hear some element of the song in it, and the bigger the artist the less freedom you get.
I understand you did a track with that old gangster, 'Mad Frankie Fraser', Revenge of the Mekon wasn't it? Yeah, that's right – he was really easy to work with. He's kind of like old school – trots about, I suppose after 40 years of prison you learn a little routine.
He did rapping did he? I don't know if you'd call it rapping (laughs). He just sort of told various stories; then I chopped it up and added a menacing soundtrack.
What sort of music are you listening to in your spare time? I really like Justice, Klakons, and The Sunshine Underground. I like that band, The Knife?
What direction do you think music should be going in now? I think people now have got very broad tastes, which is reflected by iPod culture. You can't really say, right, I'm gonna be a rock band and ignore dance music, people want to hear something that covers all the genres – that's what you've got to give people.
In modern music there doesn't seem to be any scenes emerging from anywhere; like you used to have house, acid, techno, jungle, but in the last four or five years nothing at all. I'm sure something will happen, because that's always like the best time, when it seems like nothing's happening. But something's bubbling up and a void's being created that everyone's just going to fall into. I mean I'm hoping (laughs).
Do you ever get the impression that electronic music has become so sophisticated that it's reached an impasse and has to go backwards to go forwards? I think you're right yeah, I think it has to be pulled apart and destroyed, and to go backwards to go forwards people will have to become a bit more primitive