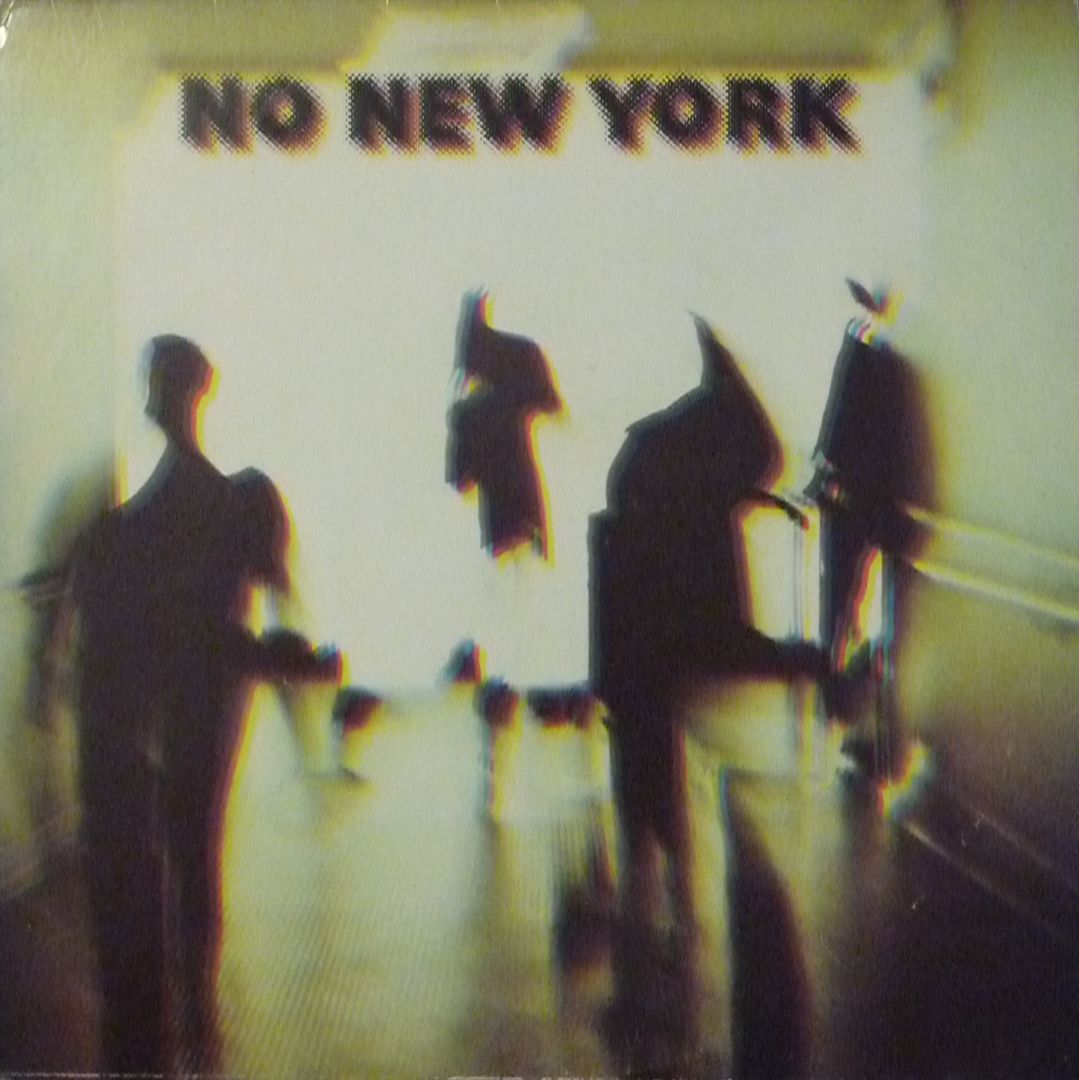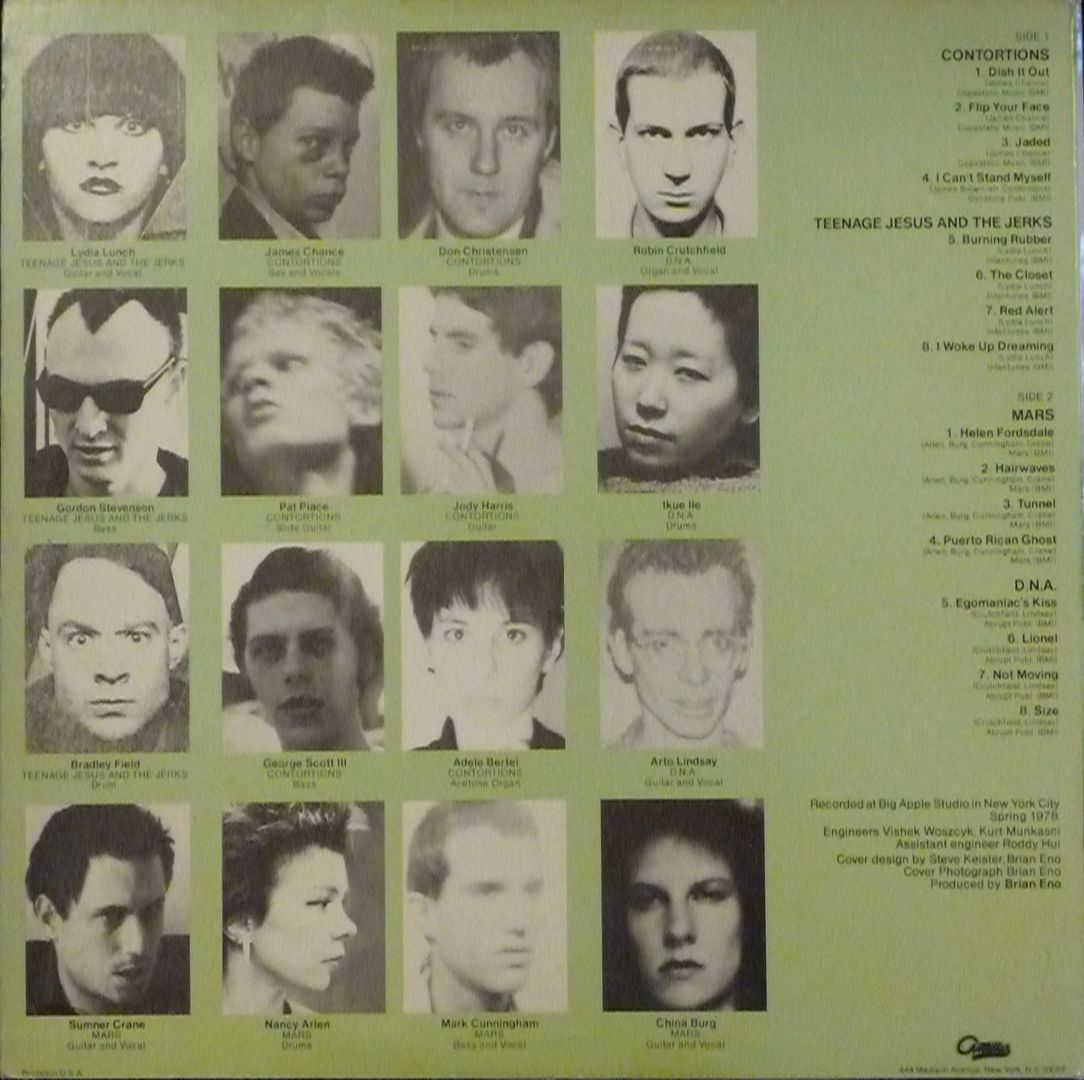 CONTORTIONS: Dish It Out / Flip Your Face / Jaded / I Can't Stand Myself      TEENAGE JESUS AND THE JERKS: Burinig Rubber / The Closet / Red Alert / I Woke Up Dreaming
MARS: Helen Fordsdale / Hairwaves / Tunnel / Puerto Rican Ghost      D.N.A: Egomanics Kiss / Lional / Not Moving / Size
A rare slap of noisy vinyl uploaded onto KYPP today, the original album that bought to the public the sounds of the small 'No Wave' scene exploding in New York during the latter part of 1977. The album was produced in New York by Brian Eno, of Roxy Music fame in 1978 and released on the Island Records spin off Antilles Records. A completely raw set of tracks by the movers and shakers in that small scene, The Contortions being my pick of the bunch. A glorious noise indeed.
Text below ripped from allmusic.com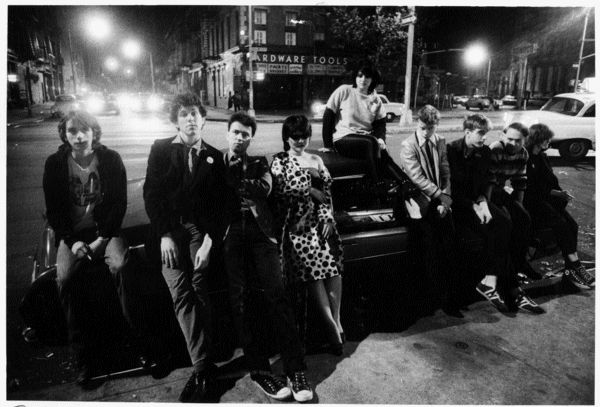 No Wave was a short-lived, avant-garde offshoot of '70s punk, based almost entirely in New York City's Lower East Side from about 1978-1982. Like the post-punk movement that was primarily centered in Britain, no wave drew from the artier side of punk — but where British post-punk was mostly cold and despairing, no wave was harsh, abrasive, and aggressively confrontational. Most no wave bands were fascinated by the pure noise that could be produced by an electric guitar, making it an important component of their music (and oftentimes the central focus). Unlike punk, melody was as unimportant as instrumental technique, as most no wavers concentrated on producing an atonal, dissonant (yet often rhythmic) racket. With its assaultive artiness and theatrical angst, no wave was as much performance art as it was music. Two of no wave's central figures were vocalist/guitarist Lydia Lunch and saxophonist James Chance, who performed together in Teenage Jesus and the Jerks; Lunch went on to a long solo career, and Chance formed an innovative no wave/funk outfit called the Contortions. The defining no wave recording is the 1978 Brian Eno-produced compilation No New York, which features material from Chance and the Contortions, Teenage Jesus, DNA (featuring avant-garde guitarist Arto Lindsay), and Mars. Although none of the no wave performers ever really broke out to wider audiences (Lunch's prolific, collaboration-heavy solo output brought her the closest), Sonic Youth fused no wave's distorted cacophony with the more meditative noise explorations of guitarist/avant-garde composer Glenn Branca, and became underground legends after adding more melodic structure to the sound.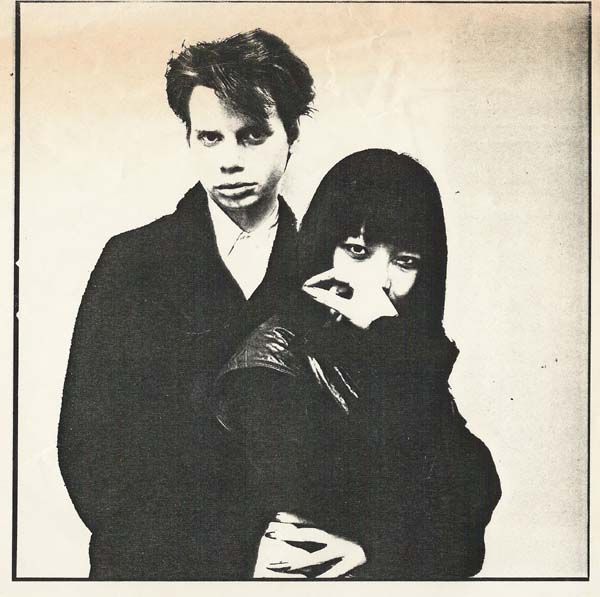 THE CONTORTIONS
One of the central figures of the No Wave movement of the late '70s, James Chance & the Contortions formed in New York City in 1977. They were led by vocalist/saxophonist Chance, a Milwaukee native (born James Sigfried) who also answered to the alias James White. After relocating to the Big Apple to play free jazz, he fell in with the city's avant-garde community; upon adopting the surname Chance and acquiring a wardrobe of outrageously loud suits, Chance formed the Contortions, an abrasively chaotic funk-noise outfit featuring organist Adele Bertei, guitarists Pat Place and Jody Harris, and drummer Don Christiansen.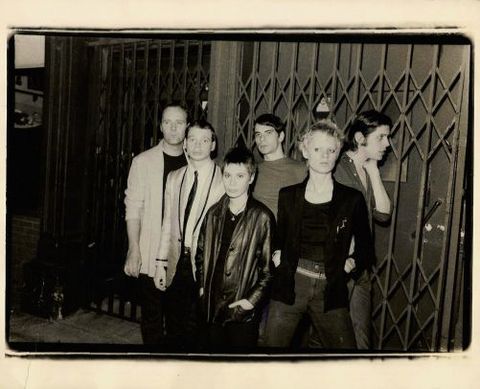 After winning acclaim and notoriety for their wild, often combative live shows (the aggressive, nihilistic Chance often picked fistfights with audience members), the Contortions entered the studio with producer Brian Eno to record four tracks for the No New York compilation. After cutting enough material for an LP, 1979's Buy the Contortions, the group crashed along with the No Wave scene; as James White, Chance soon resurfaced fronting the Blacks, a bizarre disco outfit comprised of most of the Contortions alumni, albeit with the notable exception of Bertei, and released Off White. In 1982, the highly regarded Sax Maniac album was released on Chris Stein's short-lived Animal label. Unfortunately, the label disappeared quickly taking the album along with it. Chance recorded his final studio project Flaming Demonics in 1983, again for ZE, under the James White moniker.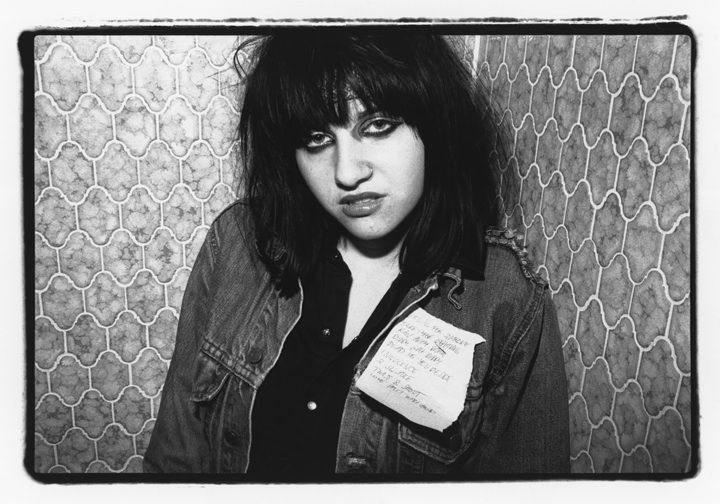 TEENAGE JESUS AND THE JERKS
The first band formed by vocalist/guitarist/provocateur Lydia Lunch, Teenage Jesus & the Jerks were the center of New York's short-lived no wave movement. Cacophonous, confrontational, and fiercely inaccessible, Teenage Jesus generally played ten to fifteen minute shows, never released a full-length album, and disbanded after a relatively brief existence. Even so, they were instrumental in laying the groundwork for the noise rock movement of the '80s, and their work still sounds as forbidding and uncompromising as anything their spiritual followers recorded. Born Lydia Koch in Rochester, NY, Lunch founded Teenage Jesus & the Jerks in 1977 when she was just 16. Initially, the group included saxophonist James Chance (who soon left to form the Contortions), Japanese bassist Reck, and drummer Bradley Field. In 1978, Reck returned to Japan and was replaced by Gordon Stevenson; thus constituted, the trio recorded four tracks with producer Brian Eno for the 1978 compilation No New York, the seminal no wave document.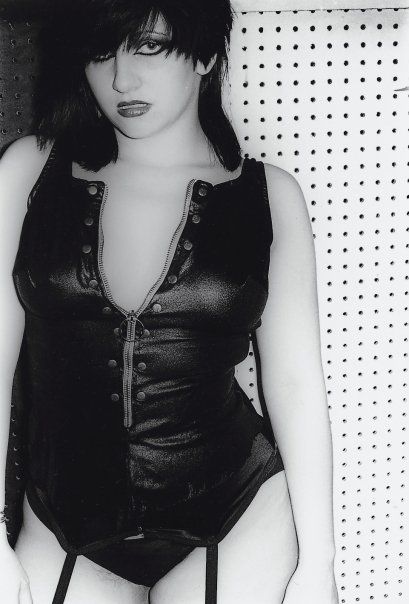 By 1979, when the band issued a couple of EPs on the Lust/Unlust label, bassist/percussionist Jim Sclavunos had joined the group; however, they disbanded by the end of the year, as Lunch moved on to other projects.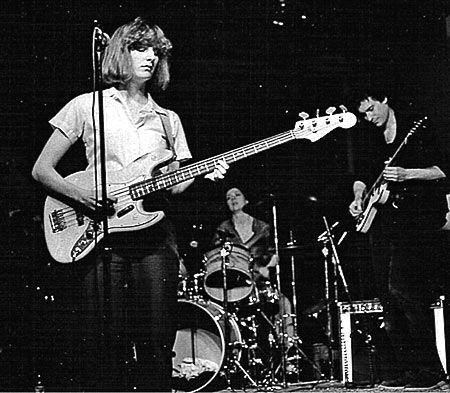 MARS
Best known in noise circles as the one band on Brian Eno's No New York compilation that had no musical experience whatsoever, Mars first appeared on the New York noise radar in 1977. Originally called "China", and formed in 1975, the band that would become Mars would play only a handful of shows in their short career and would be limited to a handful of recorded tracks. The band was headed for split up in 1978 — regardless of their appearance on No New York — but managed to stay together long enough to record material for an EP, a self-titled affair, posthumously released in 1980. That release may be listened to on this site HERE.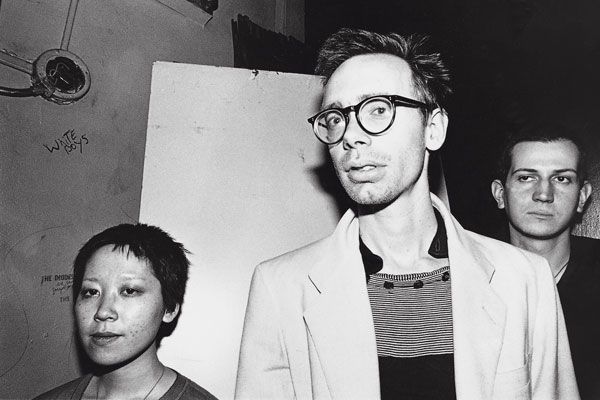 D.N.A.
One of the great bands of the short-lived, New York City-based, late-'70s "no wave" avant-garde punk scene, DNA had what barely amounts to a recording career, yet still managed to produce some crucial music. Originally comprised of guitarist Arto Lindsay, keyboardist Robin Crutchfield, and drummer Ikue Mori, DNA's music was sparse, loud, and noisy — washes of keyboards punctuated by Lindsay's atonal, free-form guitar explosions. DNA made their recording debut in 1978 on a sampler of no wave bands produced by Brian Eno No New York, and, along with being one of the more interesting bands on the record, also exhibited the most promise. By the time they released their first record, Crutchfield had formed a new band, the far less interesting Dark Day, and DNA had replaced him with bassist Tim Wright, an original member of the seminal Cleveland band Pere Ubu. Now a power trio, and with Lindsay's guitar the manic focal point of their challenging music, DNA seemed poised to become one of the most exciting bands in American avant-garde rock. Instead, they became increasingly enigmatic, rarely played outside of New York, and never recorded again. After breaking up in 1982, Lindsay formed the exciting Ambitious Lovers, who have released three tremendous albums fusing noise rock with slick pop/soul and Brazilian music (Lindsay is a native of Brazil).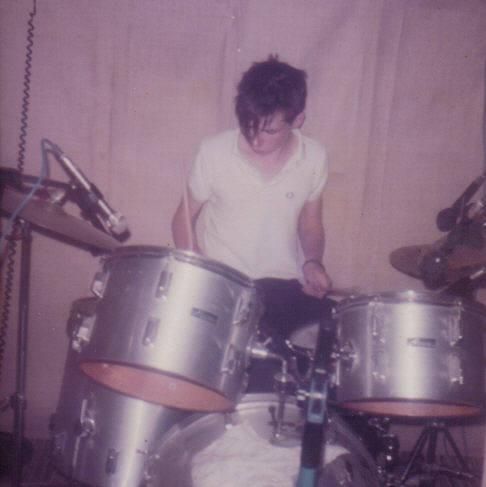 Best wishes go out to Chris Low who is celebrating his birthday today and  irritatingly enough (for me at least) the lad still looks the same as he did twenty five years ago…The 'Peter Pan' of The Apostles for sure.  Happy Birthday to you from all at KYPP online.