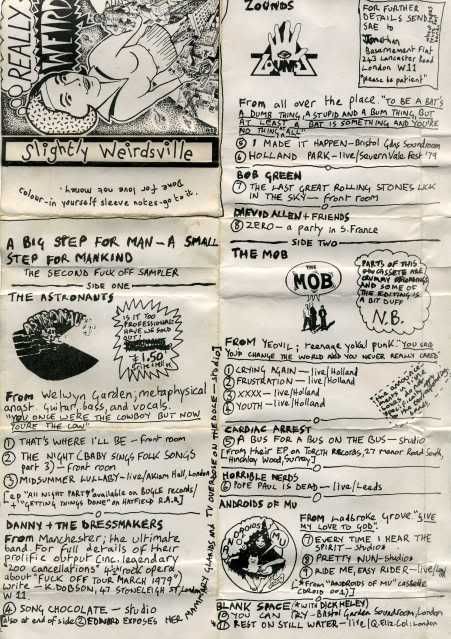 Astronauts – Thats Where I Will Be / The Night / Midsummer Lullaby (live) – Danny And The DressMakers – Song Chocolate – Zoundz – I Made It Happen / Holland Park (live) – Bob Green – The Last Great Rolling Stone Lick – Daevid Allen – Zero (live)
The Mob – Crying Again (live) / Frustration (live) / Never Really Cared (live) / Youth (live) – Cardiac Arrest – A Bus For A Bus – Horrible Nerds – Pope Paul Is Dead (live) – Androids Of Mu – Every Time I Here The Spirit / Pretty Nun / Ride Me Easy Rider (live) – BlankSpace – You Can Try – Rest On Still Water (live) – Danny And The DressMakers – Edward Exposes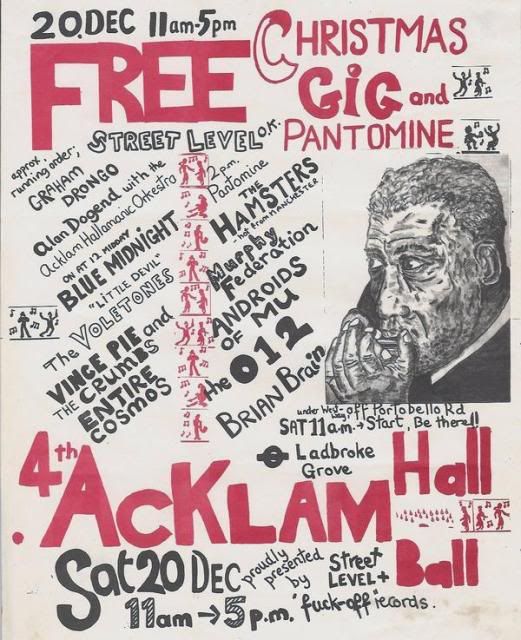 This tape supplied by Jon From Bromley, has some good moments held within its 90 minutes playing time. Unfortunately it also has some proper stinkers.
To be fair the cassette sleeve actually has a small warning hidden within the artwork 'Parts of this cassette are crummy recordings and some of the editing is a bit duff'. Fair enough, Daevid Allen and Danny And The Dressmakers both suffer with the crummy recording curse. 
The Mob tracks are also pretty poor, BUT luckily I have the original mixing desk tapes that ended up on this F.O. cassette so if you want a little better quality on your 1979 Mob live tracks then go to the bottom of this post to find links for two of the gigs that the band performed in Holland.
The best tracks on this cassette are courtesy of The Astronauts, with a 15 minute epic entitled 'The Night' and the two Androids Of Mu studio recordings. The Zounds tracks are fair, but you can hear better material on the 'Tribute To Bert Weedon' cassette which is uploaded on this site and can get quick access to, on the link below.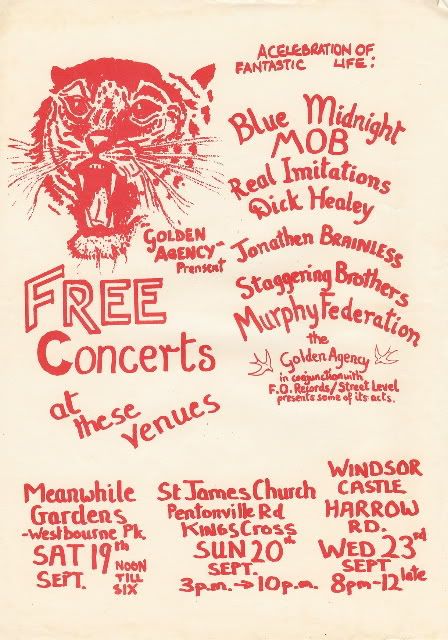 The Mob mixing desk recordings from the 1979 Holland tour with Here And Now are well worth listening to and available HERE  and HERE
Zounds – 'Bert Weedon' tracks HERE also the Free Freak Out tracks HERE
Flyers courtesy of the Vince Pie collection
It may interest folk based in London that Mark Astronaut and Steve Lake from Zounds will both be appearing at :The Whitechapel Gallery, 77-82 Whitechapel High St, London, E1 7QX on Thursday 28 May 2009 – 19.30 – 22.00 – Nearest tube is Aldgate East.