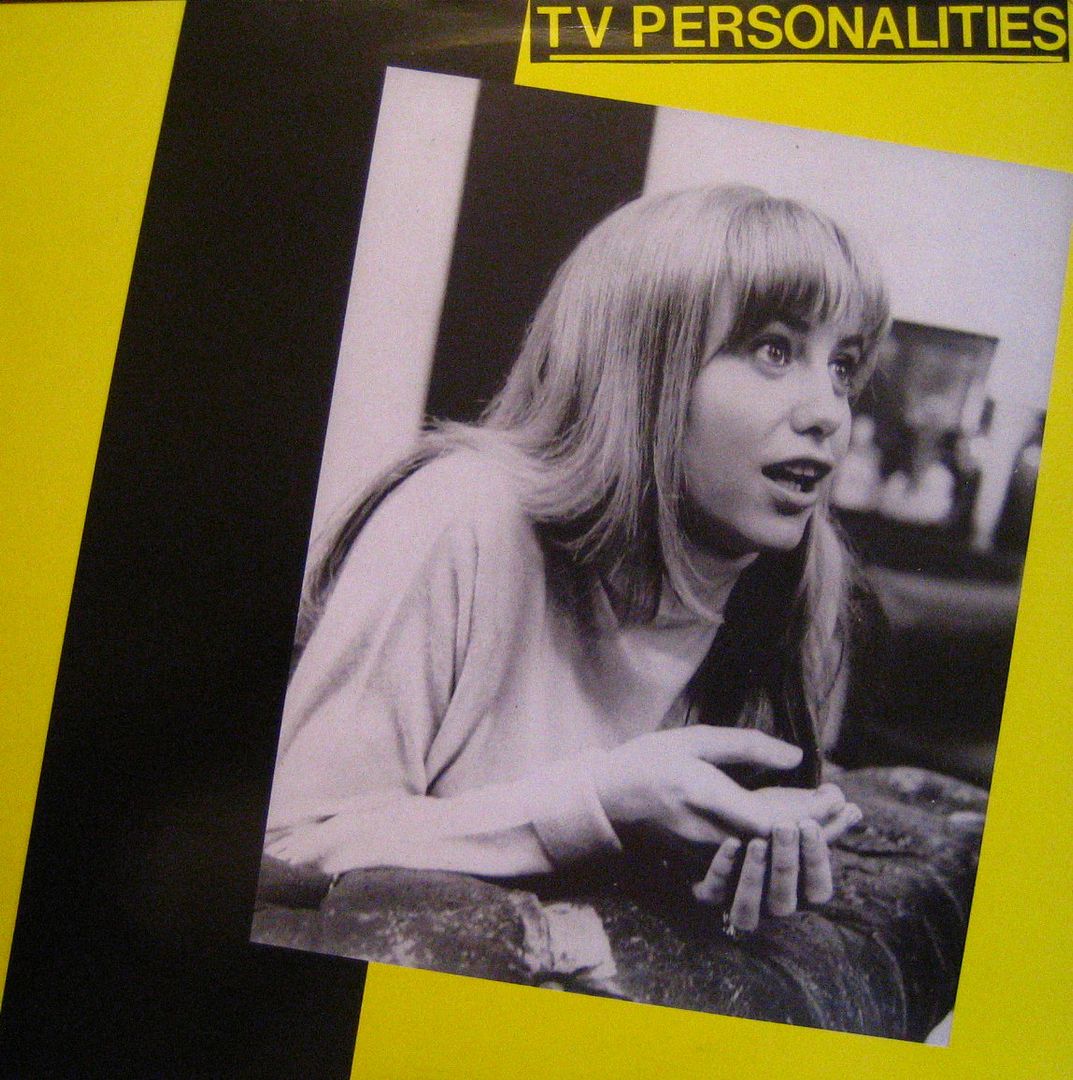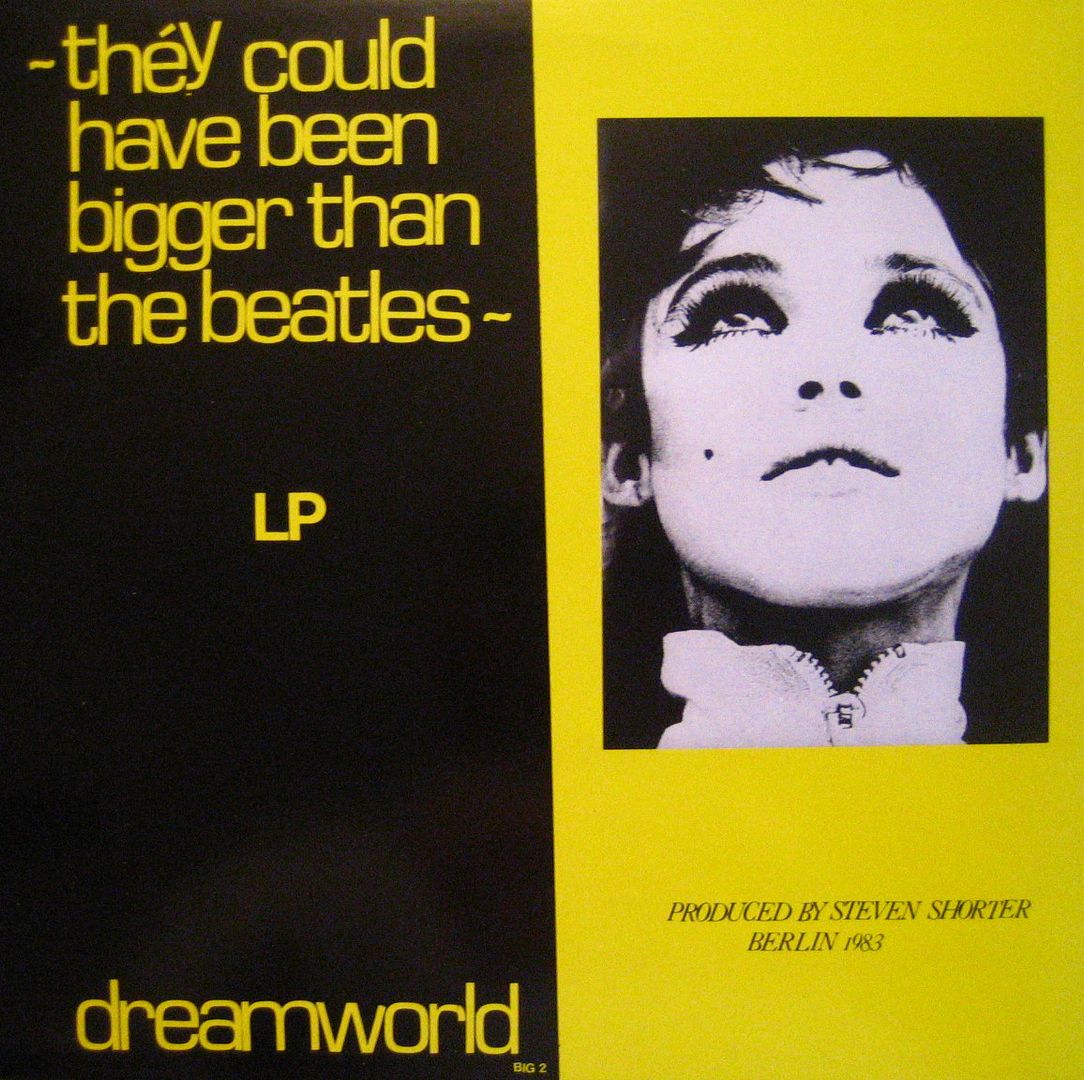 Three Wishes / David Hockneys Garden / In A Perfumed Garden / Flowers For Abigail / King And Country / Boy In The Paisley Shirt / Games For Boys
Painter Man / Psychedelic Holiday / 14th Floor / Sooty's Disco Party / Makin Time / When Emily Cries / Glittering Prize / Anxiety Block / Mysterious Ways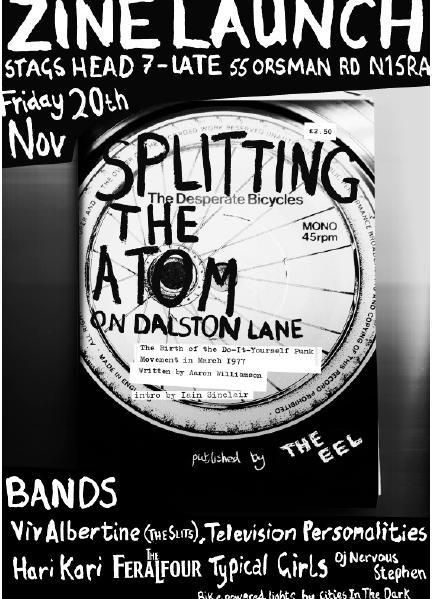 This post is dedicated to Aaron Williamson who helped organise the TVP's and Viv Albertine performance last night at the Stags Head in Hoxton, a gig which saw half a dozen Pet Puppies brave the cold winds and attend. A nice touch during the night was Dan Treacy having  a recollection of being interviewed by Tony D in 1977 for Ripped And Torn fanzine, an interview that took place right up on the 14th Floor of Dan Treacy's council block.
A busy night indeed, as this small traditional pub was packed with an apprieciative audience for the whole night witnessing not only the two headliners, but also Typical Girls, Hari Kari and the Feral Four. 
The stage lighting and twirly props were powered by various crowd members riding a bike fixed on the covered pool table!
Aaron was also hawking his fanzine on the night, which flicking through looks a very interesting read. Still a little hung over today so I have not read any of it properly! 
The details for his website at the foot of this post if anyone would like to browse that. If anyone is interested in seeing if any copies of this A5 sized fanzine are still available then contact eelzine@yahoo.co.uk . The fanzines are limited to 500 numbered copies, so will run out fairly soon I guess.
Please note: My copy of this LP  'They Could Have Been Bigger Than The Beatles' is the reissue released on Dreamworld Records  in 1986, not the original 1982 release on Whaam Records which has different sleeve artwork. There are several other Television Personalities downloads available on this site if you care to find them using the Search function. Ensure you enter the band name in full though!
Below text and Melody Maker review of this record when it was originally released courtesy of  the absolutely wonderful televisonpersonalities.co.uk site.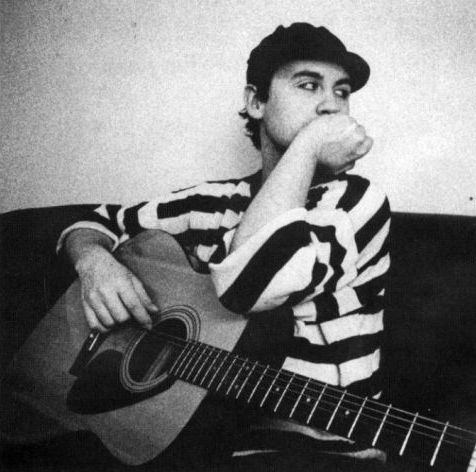 Chelsea, London, in the mid-70s. Schoolmates Dan Treacy, Ed Ball, Joe Foster, John Bennett and his brother Gerrard rehearsed together in their spare time, playing covers by the likes of The Who and Pink Floyd.
Inspired by the punk movement, Dan, Ed and the Bennetts went into a recording studio in August 1977 and emerged with '14th Floor' and 'Oxford Street'. Lack of money meant that only a handful of white label singles were initially pressed. Dan originally thought of calling the band Teen 78; whilst writing out a label to send a copy to the DJ John Peel, for a joke he listed the members of the band as famous television stars of the day, and the name TV Personalities was born. Peel played the single a number of times, and eventually Dan scraped together enough money to press 867 copies.
Dan returned to the studio with Ed Ball in the Summer of 1978 to record a follow-up single, the 'Where's Bill Grundy Now?' EP. This was an instant hit with John Peel, who played the track 'Part Time Punks' many times. The success of the EP led to a deal with Rough Trade, who reissued the single and a follow-up, 'Smashing Time' (recorded again by Dan and Ed). Throughout these early years, Ed Ball had his own projects, O Level and then the Teenage Filmstars. Although Dan and Ed helped out with each other's groups, they were always separate bands.
In the middle of 1980, the TVPs made their live debut following the recruitment of Joe Foster on bass and Mark Sheppard (known as Empire) on drums. This line-up was short-lived, reportedly due to differences in opinion between Foster and Sheppard, resulting in Joe's departure. Prior to this, Dan and Mark helped out with Joe's solo project, the Missing Scientists, which also included Mute Records boss Daniel Miller. The group's 'Big City Bright Lights' 7″ was released by Rough Trade in September 1980.
In October 1980, Dan and Ed Ball returned to the recording studio with Empire to create the TVP's debut album. Issued in January 1981 by Rough Trade, 'And Don't The Kids Just Love It' was a considerable improvement over the early ramshackle recordings. The influence of Sixties pop culture was apparent from the LP's sleeve, which featured supermodel Twiggy and Patrick McNee from the Avengers. The songs included Kinks-like social commentary ('Geoffrey Ingram'), domestic drama ('This Angry Silence', 'A Family Affair') and one of their most famous (but not typical) songs, the rather whimsical 'I Know Where Syd Barrett Lives'. Simultaneously, Rough Trade issued the latter as a single, albeit a different version.
In early 1981, Dan and Ed launched their own record label, Whaam! (named after the Roy Litchenstein painting). The first release was the debut single by Ed Ball's new outfit The Times, followed by the Gifted Children's 'Painting By Numbers'. This was recorded during winter sessions by Dan and Empire, with Bernie Cooper on bass. It seems as if Dan toyed with the idea of breaking up the TVPs (not for the first, or last time) and continuing under this name. However, this single, and a track on the Whaam! compilation LP 'All For Art' were the only Gifted Children releases. Bernie Cooper apparently then disappeared, leaving Ed Ball to fill in on bass, notably during a joint Times / TVP UK tour in the Spring of 1981. The TVPs second LP was released in January 1982. 'Mummy Your Not Watching Me' combined tracks recorded during the 'Gifted Children' sessions with later material recorded with Ed Ball. Both Dan and Ed were leading figures in the contemporary psychedelia revival, and the influence is evident, particularly on the lo-fi pop psyche of 'A Day in Heaven' and 'David Hockney's Diaries'. Elsewhere, songs with Pop Art references, such as 'Painting By Numbers' and 'Litchenstein Painting' sat alongside the enduringly popular 'If I Could Write Poetry' and 'Magnificent Dreams'.
A third album followed shortly afterwards; 'They Could Have Been Bigger Than The Beatles' compiled unreleased tracks, material recorded during the 'Gifted Children' sessions, alternate takes and another airing of '14th Floor'. Despite this, the album was a surprisingly cohesive and entertaining collection of songs.
In early 1982, Ed Ball left the ranks to concentrate on his own band The Times. Mark Flunder was recruited to play bass and the trio of Treacy, Flunder and Sheppard gigged until the Spring of 1983, when Mark Sheppard departed. The TVPs expanded with the return of Joe Foster and the addition of Dave Musker (keyboards). This drummerless line-up recorded the TVPs next LP, 'The Painted Word', a dark masterpiece considered by many to be their best. The overall tone of the album was heavy, with some angry political songs such as 'A Sense of Belonging', 'You'll Have to Scream Louder' and 'Back to Vietnam'. In contrast to these were the melancholic beauty of 'Stop and Smell the Roses', which invited comparison with the Velvet Underground, and the touching 'Someone to Share my Life With'.
With the album recorded, the band reunited with Rough Trade in 1983 for the acerbic protest single 'A Sense of Belonging'. Controversy over the sleeve, which depicted a battered child, probably influenced the label's decision not to release 'The Painted Word'. A legal dispute with a pressing plant prohibited Dan from putting out the record on his own Whaam! label. Delayed by 18 months, the album was finally granted a limited release on Illuminated in mid-1984, a label that promptly folded. Further line-up changes occurred. Drummer Jeff Bloom joined the band and Mark Flunder was replaced by ex-Swell Maps bassist Jowe Head. After a tour of Europe in early 1984, the five-man TVP line-up came to an end with the departure of Joe Foster and Dave Musker.
Television Personalities then enjoyed their longest period with a settled line-up, comprising Dan Treacy, Jowe Head and Jeff Bloom. Although short of money and lacking a recording contract, the band concentrated on live work, especially in Europe where they enjoyed greater popularity than in the UK. Dan set up the Dreamworld label as the successor to Whaam!, initially to reissue the early TVP albums. He soon began releasing recordings by other bands, including the Mighty Lemon Drops and Hangman's Beautiful Daughter. This label also issued a new TVP single, the psychedelic protest song 'How I Learned To Love The Bomb' in 1986. Aside from that, TVP output was limited to occasional tracks on compilation albums. During this period, Dan also promoted gigs at the Room at the Top club.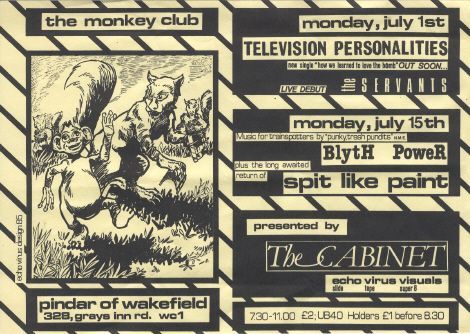 THEY COULD HAVE BEEN BIGGER THAN THE BEATLES
On his first LP, ". . . And Don't The Kids Just Love It", Dan Treacy sang one of the most moving songs I've ever heard. But the media and public alike chose to overlook the sweet, almost suicidal sadness of "Diary Of A Young Man" for the obvious and attractively twee "I Know Where Syd Barrett Lives" and the kitsch John Steed, Emma Peel cover.
On his second LP, tentatively titled "Mummy, You're Not Watching Me", Dan Tracey went mad in a way that I find as harrowing and exhilarating as any pop music I've ever experienced.
On his third LP, "They Could Have Been Bigger Than The Beatles", Dan Treacy's finally thrown in the towel . . . or, to be absolutely precise, he's packed the paisley back in mothballs. Confused, frustrated, maybe even defeated by the inability of the press to resist a snide broadside at anything remotely psychedelic, Dan has folded his TV Personalities and so "Beatles" is his final farewell to the genre he chose as his medium of communication.
And let's get (this) straight: Dan Treacy's psychedelics have always served as a canvas on which he splattered his neuroses and not as any naively idealistic attempt at revival.
Let's get (this) straight too: "Beatles" is over 50 minutes of outtakes which span his whole career, straddling both previous albums and staggering wide-eyed, witty and weighed down with worry, towards some indefinite future. It's nowhere near perfect – it doesn't purport to be – but its scope is incredible, its ambition outstanding and its heart damn near broken.
"Boy In The Paisley Shirt" is a Jilted John wink at the Groovy Cellarites – satire born of sympathy – "Three Wishes" ("If I had three wishes I'd wish for three more") is characteristic of Dan's ability to expose nerves while tickling your fancy, "King And Country" takes on McGuinn's solo from "Eight Miles High" and presents a strong case for the reinstatement of electric guitar as the expressive instrument and "Anxiety Block" sounds like Abba ill-coping with "Mother's Little Helper".
I should go on, but I can't so I'd better just tell you that on his last album, "They Could Have Been Bigger Than The Beatles", Dan Treacy sings a naked song called "Mysterious Ways" which floods me with adrenalin. Don't allow any preconceived bias to prevent you from listening. In other words: stop being stupid and get tuned in.
Steve Sutherland August 1982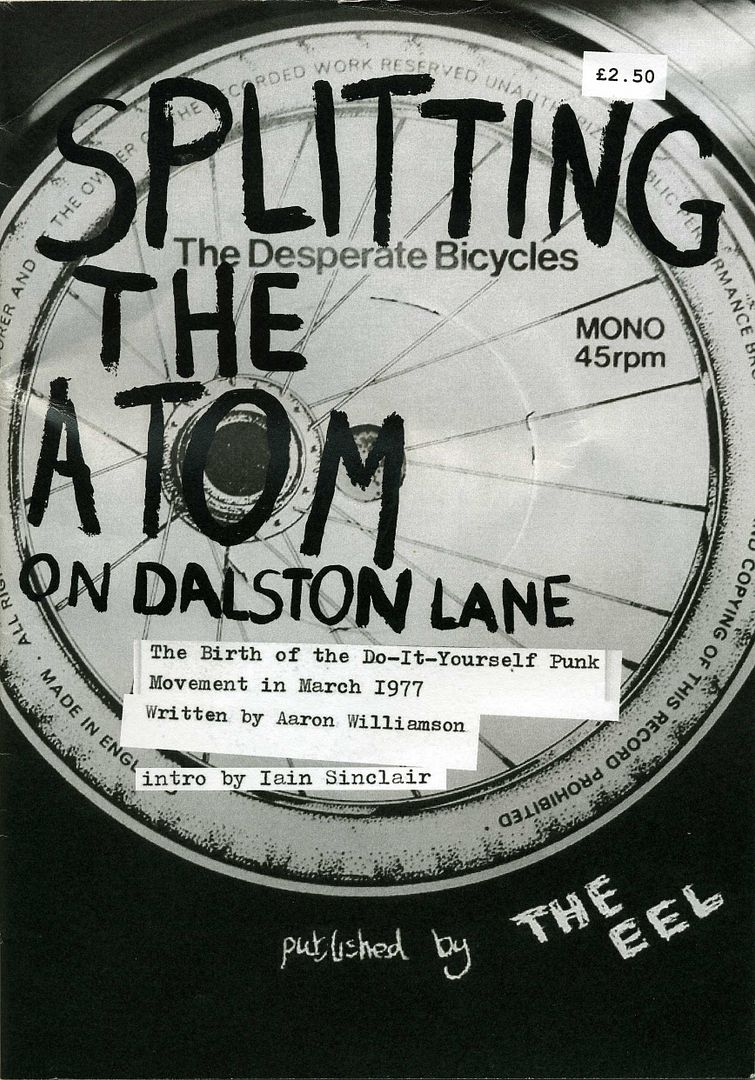 Possibly still available from the publishers contactable at eelzine@yahoo.co.uk
Aaron's personal website HERE but do not contact him for getting the fanzine. Use the email address above.