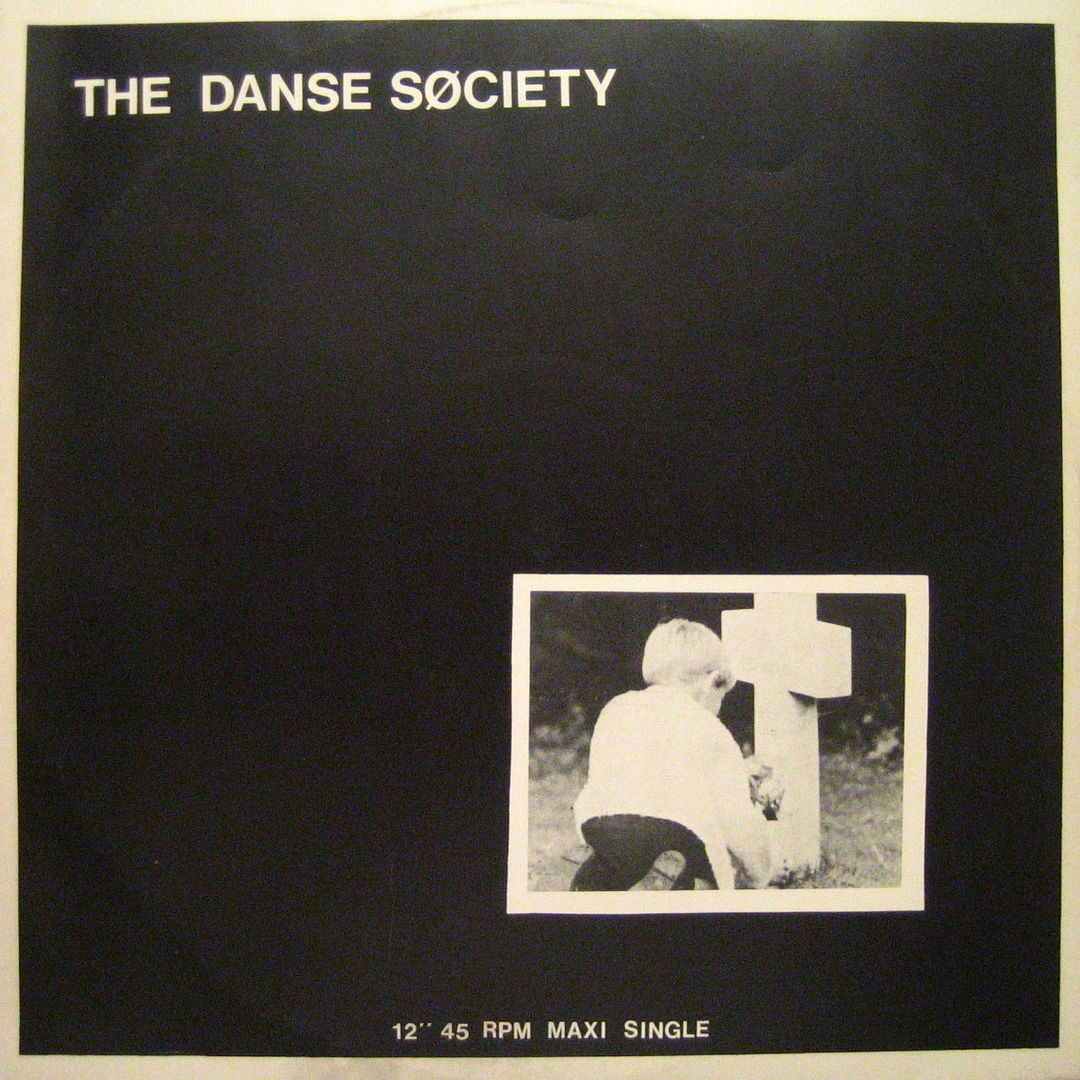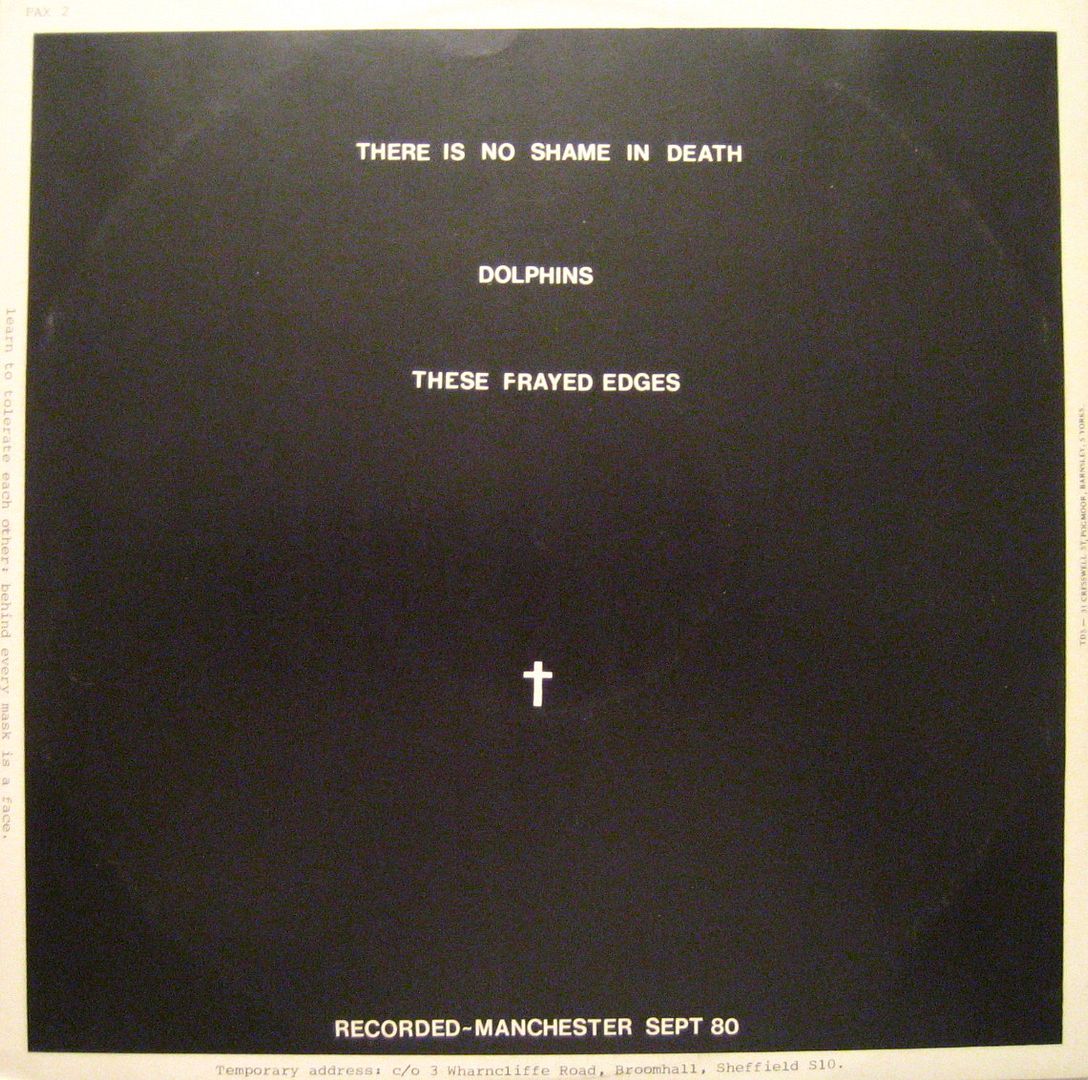 Excellent debut 12″ record by Danse Society, recorded in 1980 and released on Pax Records in 1981.
Nice and gloomy, the A side clocks in at over 12 minutes playing time. A seriously epic dark dirge. The B side, also recorded during the same sessions in Manchester are slightly more upbeat, but not much!
Text below from personal1.iddeo.es/blancinegre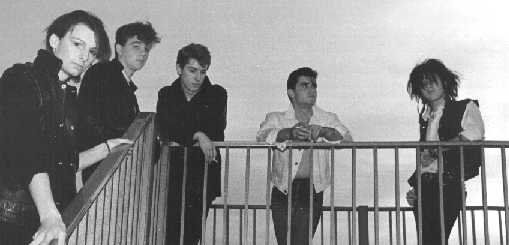 The forerunners of The Danse Society can be found in 1979 when Steve Rawlings (voice), Paul Gilmartin (drums), Paul Hampshire (known as Bee) (keyboards), Dave Patrick (lead guitar) and Bubble (bass) formed a band simply called Y? which had the track 'End Of Act One' included in the compilation LP 'Bouquet Of Steel' released in early 1980. By 1979 Lyndon Scarfe and Paul Nash had a band called Lips-X, the mutual ideas with the people of Y? lead to the joining of both bands by June 1979 to form the real forerunner of The Danse Society, a band called Danse Crazy. This band played at the Futurama Two Festival (popular name for "The World's Second Science Fiction Music Festival") held at Queen's Hall, Leeds in September 1979. Other groups playing at that festival were: Joy Division, Cabaret Voltaire, A Certain Ratio, OMD, Public Image Limited, Soft Cell among others. The complete festival was filmed by the BBC and in November 1981 was aired. Danse Crazy were shown playing 'Sink', although they were listed as The Danse Society.
A few days before they played at Futurama, the band was in studio and recorded two tracks 'There Is No Shame In Death' and 'Dolphins', shelving them for a future release.
The nucleus of Danse Society was formed in January 1981 when Bee left Danse Crazy. Bee was later involved in other bands such as Panache, Getting The Fear and Into A Circle. Patrick also left. The four remaining members went on with the band but by March 1981 they changed the name to The Danse Society. The first line-up were Steve Rawlings (voice), Paul Nash (guitar), Lyndon Scarfe (keyboards), Tim Wright (bass) and Paul Gilmartin (drums).
In September 1980 they recorded their first 12″; it was called 'There Is No Shame In Death' although it was shelved, releasing 'Clock' instead, on their new own label SOCIETY RECORDS.
You can read on Paul Nash´s own words how the first record was released:
"Clock / Continent was originally released as a one off 7″ single with a pressing of just 1000 financed by the band. We each of us put in about £200 to paid for the recording, pressing etc. and I designed the sleeve which was a wrap around white card with lyrics printed by my girlfriend liz at the local college ( she later became my wife! ).This was then inserted into specially made plastic bags and had an interesting clock logo for the label of the 7". The single was subsequently re-released, with a different sleeve and label and I believe the original is still hard to come by. It was never released as a 12″, although we did used to play longer versions of it live".
With a contract with PAX RECORDS 'There is No Shame In Death' finally saw the light and the first 7″ record ('Clock') was re-released in March 1981. Soon after, and prior to breaking the contract with PAX RECORDS later on in 1981, the band released a 12″ 'Womans Own' , which contains four songs recorded originally as John Peel sessions, and a 7″ 'We're So Happy / Woman's Own' , edited both by PAX and SOCIETY RECORDS.
By that time they were respected by public and musical press mainly due to their great live shows. Their tunes, with Steve's typical distance voice and painful atmospheres, excited a public who found them far more accessible than other gothic bands. Their popularity quickly grew up as their shows improved. One of the reasons of their quick success was the opening of several shows for major goth bands of the day, like UK Decay, Killing Joke or Theatre of Hate.
Their musical career reached mature in 1982, when a six-track album 'Seduction' was released by SOCIETY RECORDS. This record contained only six songs but with the initial copies it was given a free bonus 12″ with two remixes of a popular songs by the band: 'Danse / Move'.
A rare tape of that musical moment was edited semi-officially by the fan club. You can read Paul Nash´s comment on that:
"As far as live stuff goes there was only one official / unofficial live tape – released entirely through the fan club, of a gig at The Hague in Holland containing mainly the seduction album stuff. Again not many copies were done so it's pretty rare"
The success of this work was big enough to make the band a point of interest for some major labels. Soon after releasing their last independent single, the glorious 'Somewhere / Hide' (December 1982), the band signed to ARISTA in January 1983.
A compilation of all their first singles was also released with the homonymous title 'The Danse Society'. It was edited in two different versions during 1983, one in Canada with a free bonus 12″ and a simple edition in France.
The first singles with the new major label didn't deceive, they were even better than the past material. 'Wake Up' released in June 1983, and mainly the great 'Heaven Is Waiting' brought them to the top of their popularity.
Their new major album appeared in December 1983. The record was called 'Heaven Is Waiting'. A different edition of this record by Great Expectations Records can be found. This edition and adds four songs to the common edition by ARISTA, although it seems to be from the early 1990's. The album contained great tunes like 'Red Light', 'Where Are You Now', 'Come Inside', and the two previous singles 'Heaven Is Waiting' and 'Wake Up'. It also contained a song which, according to musical press opinion, didn't fit with their style: the epic version of the Rolling Stones '2000 Light Years From Home', also edited in 1984 as 12″ and as a limited edition double single.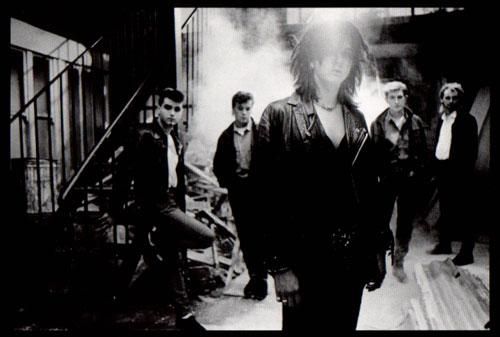 During 1984 they toured extensively to promote their record, even playing in Madrid and Barcelona. A highlight performance during this tour took place on April 7th 1984 at the Hammersmith Palais, London, sharing the night with the German band from the stable of artists on 4AD records, X-Mal Deutschland.