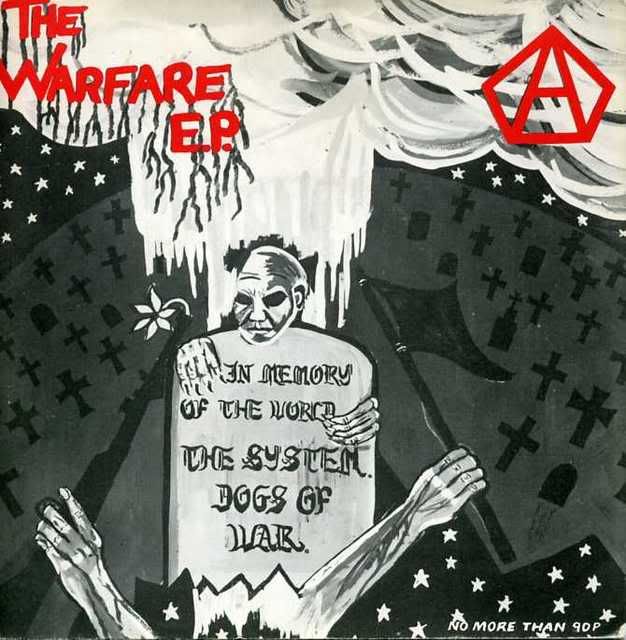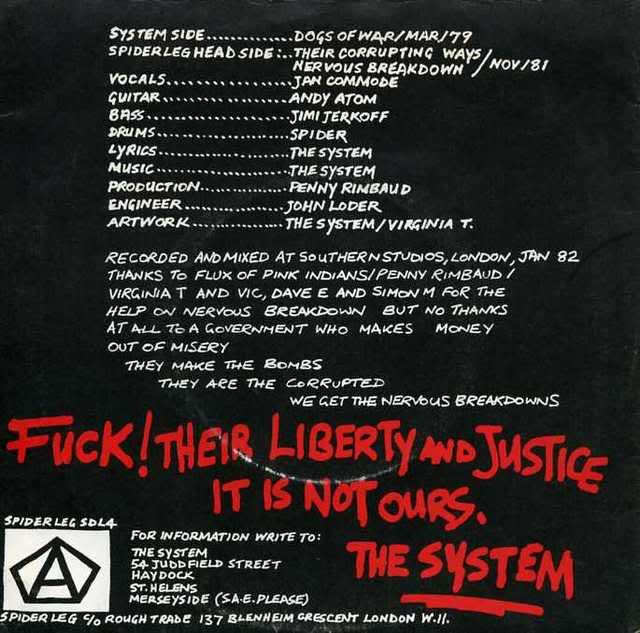 Their Corrupting Ways / Nervous Breakdown
Straight out of Wigan to Southern Studios, Wood Green, London, N22, to record the class material on this bit of plastic. Released on Flux Of Pink Indians label Spiderleg, it was an immediate favorite here at Penguin Towers, and I am sure most other places it reached.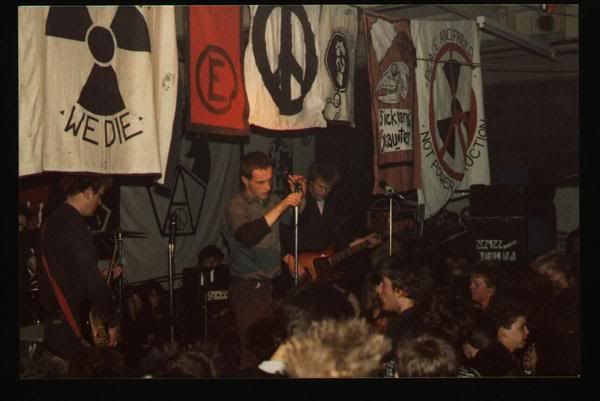 In 1980, The Lethal Objects and the Atomz joined together as a five-piece and named themselves The System. Jimi, Jan, Maki, Andy and Spider played their first gigs in a car park. At one gig there they caused an outrage when the played during Prince Charles and Lady Di's wedding day, but where stopped halfway through their set by police. Once The System heard the 'The Feeding of the 5000' 12″ they met up with Crass and began playing gigs with them.
Further connections with Flux of Pink Indians led to The System playing their first real show at Sheffield's Marples on 7th September 1981. Flux of Pink Indians were so impressed that they helped the System release their first two singles on their label Spiderleg records. Marcus Featherby, promoter at Marples and head of Pax records was impressed with the band and asked them if he could include their song 'Their Decisions' in his anti-war compilation 'Wargasm' LP.
Their debut E.P 'Dogs of War' was going to originally be released on Crass's label, but Spiderleg insisted, releasing it in April on 1982. It became a success, and was followed by their E.P 'The System is Murder' later that year.
Flux of Pink Indians and The System toured nationally in April of 1983 to promote it (Gigs were going to be played in Europe, but Dick Lucas who was in charge of those gigs was hit by a bus, cancelling the gigs).
The system played around 60 gigs and travelled from Inverness (on that night they slept over a fans croft home, in the middle of nowhere) to Aberdeen. At one gig, Crass came by surprise and asked them if they could burrow their equipment to play at the Triad in Bishops Stortford, Essex, to support them in the summer of 1982.
The band had an interesting way of making music, seeing as they did not have a practice room. Jimi the bass player wrote most of the songs and Andy would add his bits on guitar. Afterwards, they would all work together on the their songs during sound checks and play them on those nights at gigs. 'Struggling' is a song that was created that way, and is featured in their album "Thought Control" released on the German label Skuld Records.
The System split in November 1983 after vocalist Ian decided to leave.
Andy(guitar), Jimi(bass and vocals) and Spider(drums) reformed in 1986 as Fear of Music, wrote new material, played old System songs, recorded a live set at Wigan Transport Club on 27th June 1986 but split again around the end of the year.