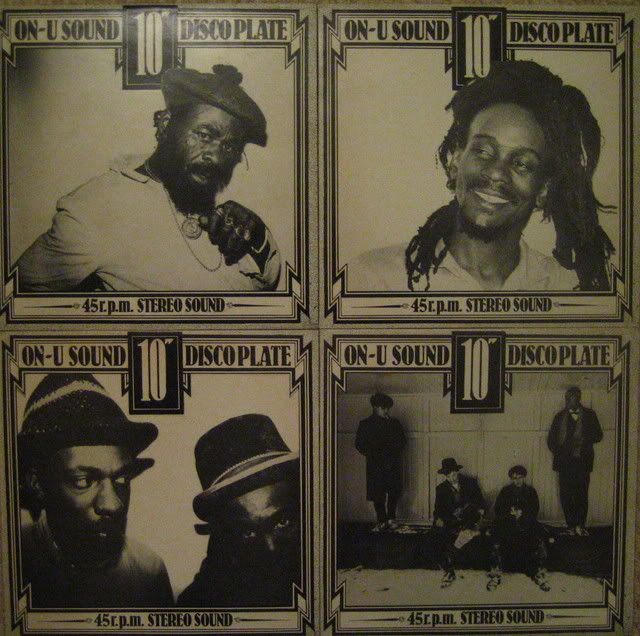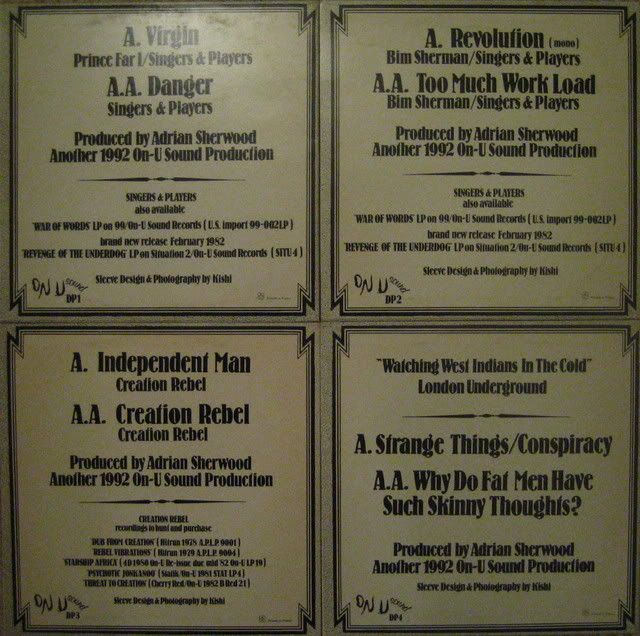 Prince Far I – Virgin   Bim Sherman and Singers And Players – Danger
Bim Sherman – Revolution   Bim Sherman – Too Much Workload
Creation Rebel – Independant Man  Creation Rebel – Creation Rebel
London Underground – Strange Things / Conspiracy   London Underground – Why Do Fat Men…?
A clutch of goodies from Adrian Sherwood's ONU Sound label. Absolutely huge later on in the 1980's with a string of great LP's which were appreciated by B-Boys, Rastas and Punk / Hippy crossover types alike. The list of collaborators on the recordings from this label included artists, Ari Up, Mark Stewart, Jah Woosh, Judy Nylon, Keith LeBlanc,  Annie Anxiety, Prince Far I, Ashanti Roy, Jah Wobble, Bim Sherman, Keith Levine and members of the Roots Radics.  
These, the first four 10″ 'disco plates' were available in very limited editions. The first track of the first release is a rant by Prince Far I slagging off Richard Branson for the Front-line Records fiasco in the late 1970's. Would have been a pretty one sided fight if Prince Far I and Branson had met after Far I was ripped off! Bim Sherman and Creation Rebel releases are of the highest quality as anyone knowing anything about these artists would expect. The fourth release by London Underground, a band fronted by Pete Holdsworth (who runs the excellent Pressure Sounds Record label nowadays) who, with Adrian Sherwood himself, took a huge load of inspiration in reggae as a youth, was a companion of The Clash and visitor to Gunter Grove in Chelsea, John Lydon's party house way back in the 1970's. Real Dread At The Controls types! You can hear a slight PIL / Pop Group thing going on in the tracks on the London Underground 10″. All these artists contributed to further releases on ONU Sound, Creation Rebel, and London Undergound had a couple of full length LP's, Bim had only the one, but he was a main figure on the four Singers And Players LP's released. Try to check out the releases on ONU sound and Pressure Sounds labels from Amazon or local stores, it is all good.
All these tracks are dedicated to Paul Wilson, below left with Val Puppy, brother Mark Wilson and Nicky Puppy. Paul who is now based out west in beautiful Glastonbury, is celebrating his birthday this weekend.