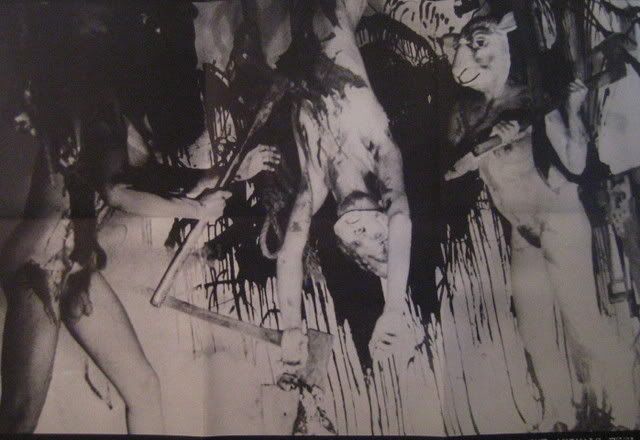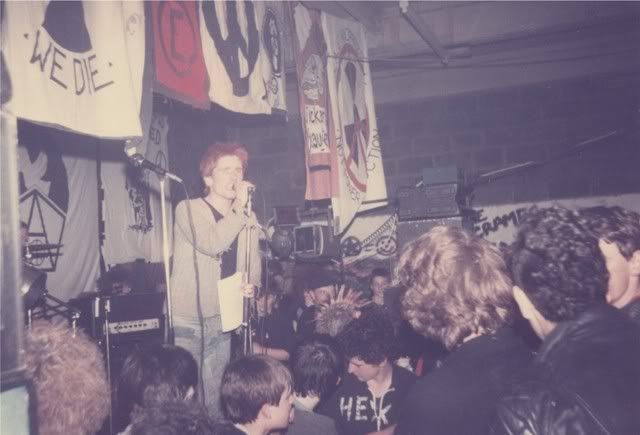 Get That Addict Habit / Phallic Metallic / Mans Life / Vivisection / Chamber Of Horrors / Exploitation / Follow The Sheep / Big Boys / Wasted Life / No Freedom In Escapism / Sexuality / Weary Of The Flesh
Thanks to Andy Thorley for sending this for uploading. An absolutely scorching set of poems set to crowd ambiance and sometimes to a basic drum beat, strip and tear down the traditions of 'the band' and like D & V (search this site for material by D & V) the message really does get through with minimal distractions. Released a single on Crass Records around 1982 also featured on the LP 'Bullshit Detector 1' on the same label. Pretty sure that was all, comment if I am mistaken. Live pic by Trunt. Blood and guts shot from the Andy T 7″ single release on Crass Records.
On a trivial note does anyone know what that bear on the bottom left of Trunts photo was doing at a gig in the North East of England, and more importantly did the bear pay to get in?