Another Day Another Death / Dance On / Raised In A Prison / Our Life Our World / Witch Hunt / Stay / I Hear You Laughing / Gates Of Hell / No Doves Fly Here / Slayed / What's Going On / I Wish / Youth
Thirty five years ago, as crumbling canal side terraces were being cleared in Westbourne Park, a local sculptor named Jamie McCullough wondered if some of the derelict wasteland that was left after the demolition could become a community garden. He asked the local authority (Westminster at the time) for permission to turn the rubble into a park. Westminster gave temporary permission – hence the name, Meanwhile. The name stuck and the Gardens prospered. Meanwhile Gardens is still there today and is still a nice day out.
The 'idiot picnics' which were held four times a year at Meanwhile Gardens from the summer of 1977 to the last events in 1988 were organised by the Lancaster Music Co Op and the Street Level studios folk (notibly Kif Kif and Grant Showbiz) with the additonal help of Protag. The Meanwhile Gardens events which I attended and jumped around in the sand pit with a bottle of Merrydown cider in hand, were enjoyable affairs with a real mix up bands and performers turning up to play, or to perform for free in the summer sun.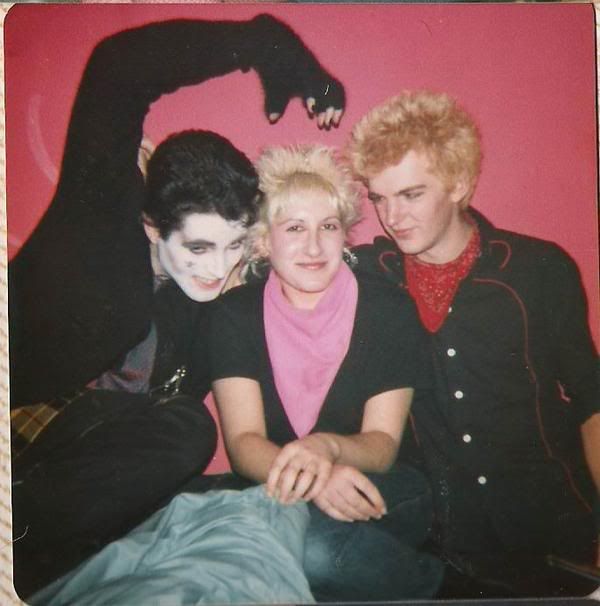 Happy Birthday to Lou photographed here with Brett and Tony Puppy at Puppy Mansion, Westbere Road, NW2 in 1980.
Many happy returns to you Louise, all at KYPP wishing you a relaxing day with the wintery sun streaming through your window in Barnet.
For your listening pleasure, the first of the two blistering gigs by The Mob performed in the summer of 1983 at the Meanwhile Gardens all dayers,  recorded in crystal clear mixing desk quality.