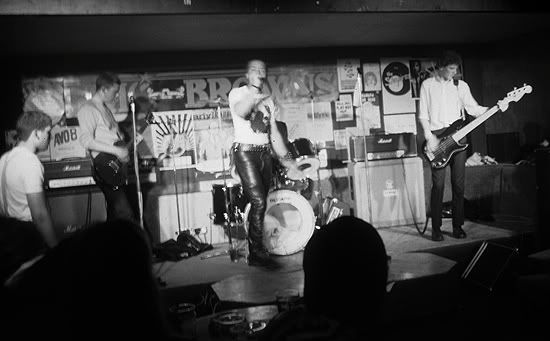 The Expoited's debut single, following on from a post several months ago featuring the band's second release 'Exploited Barmy Army' into that post's text, I had written that I would not like to upload this debut record due to the vile track on the B-side.
That said I feel that the browsers on this site have (just about) enough intelligence nowadays to NOT take up the rallying cry on this dodgy track, 28 years after the initial release, unlike the Exploited fans from 1981 that were involved in the Michael Sobel Centre / Rainbow Theatre, Finsbury Park tear up after the gig when the Jam fans were wondering down towards the station. I am sure that the mods gave as good as they got on the night, but it's not really the point. This track stinks in any language, but the other two tracks are pretty decent attempts at basic pogo fare.
Strangely there seems to be no history of the early line up of The Exploited featuring Hayboy and Mark on the guitars, all sites (including the official one) seem to start at the Big John and Gary line up that were featured on the second single released in 1980, and throughout 1981 for the recording of the 'Dogs Of War' single, the LP 'Punks Not Dead' and 'Dead Cities', the single that was featured on Top Of The Pops.
If anyone has the details of this early line up then feel free to confide the information via the comments.
UPDATE
Here's an early picture of Beki Bondage of Vice Squad for the folks who have mentioned her in the comments attached to this post!