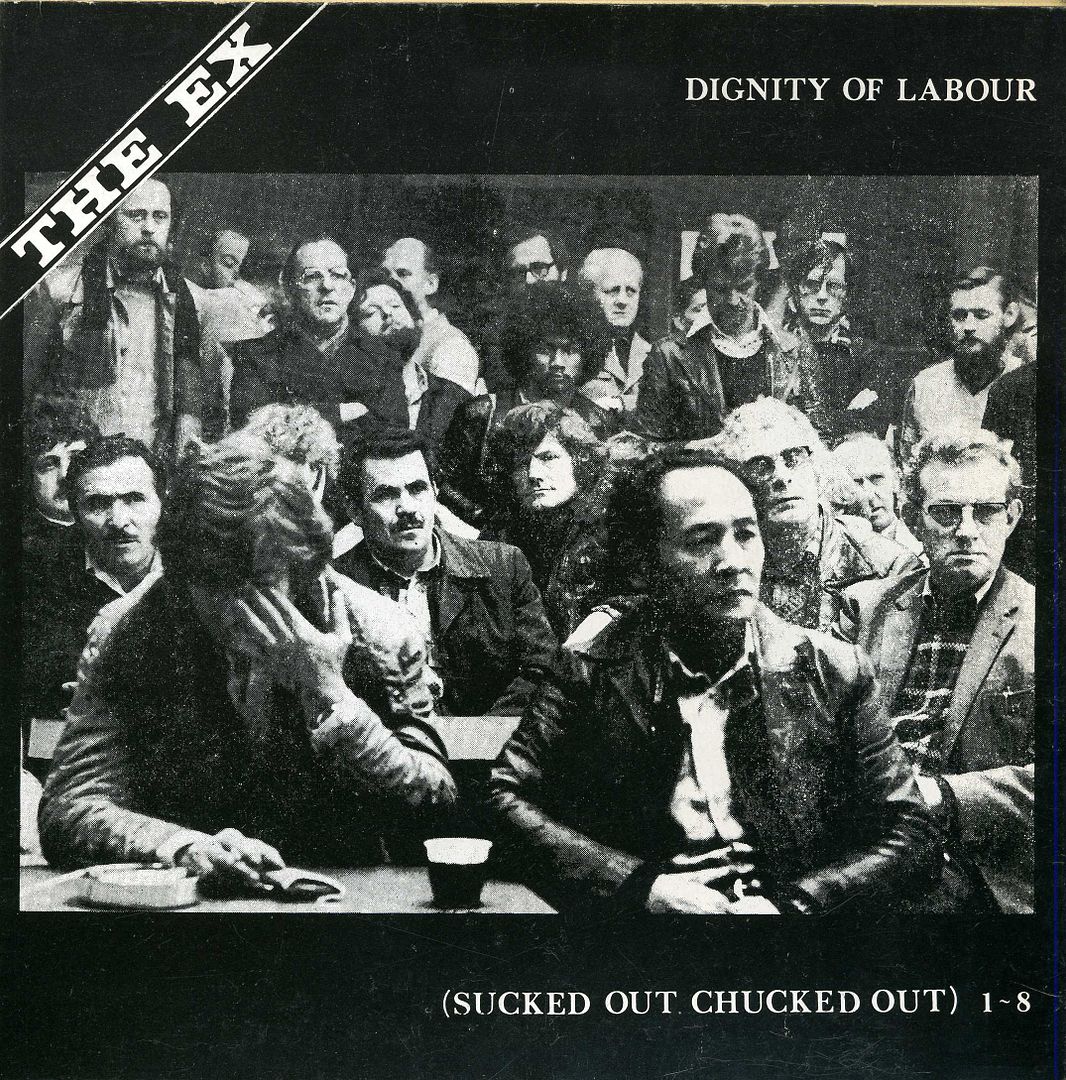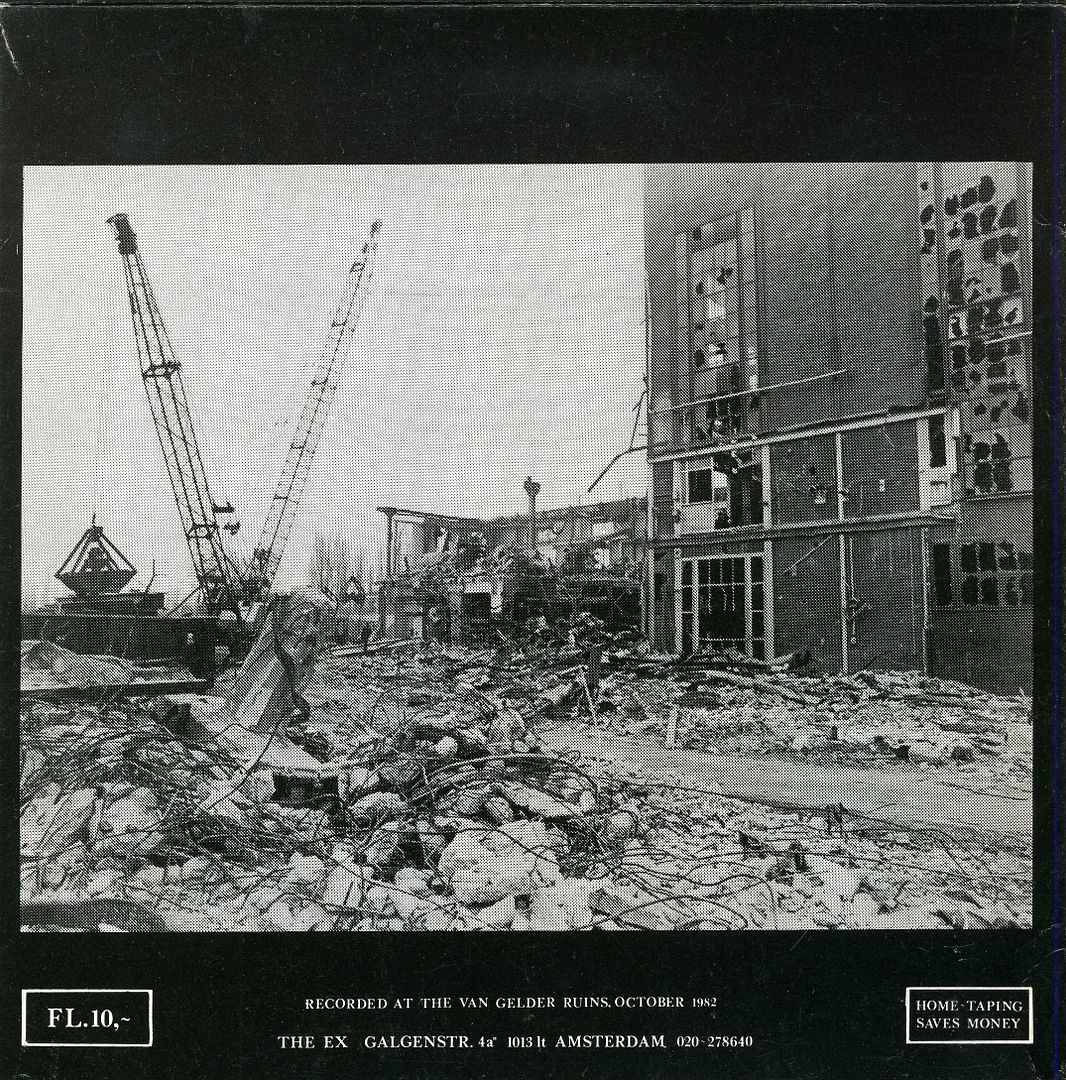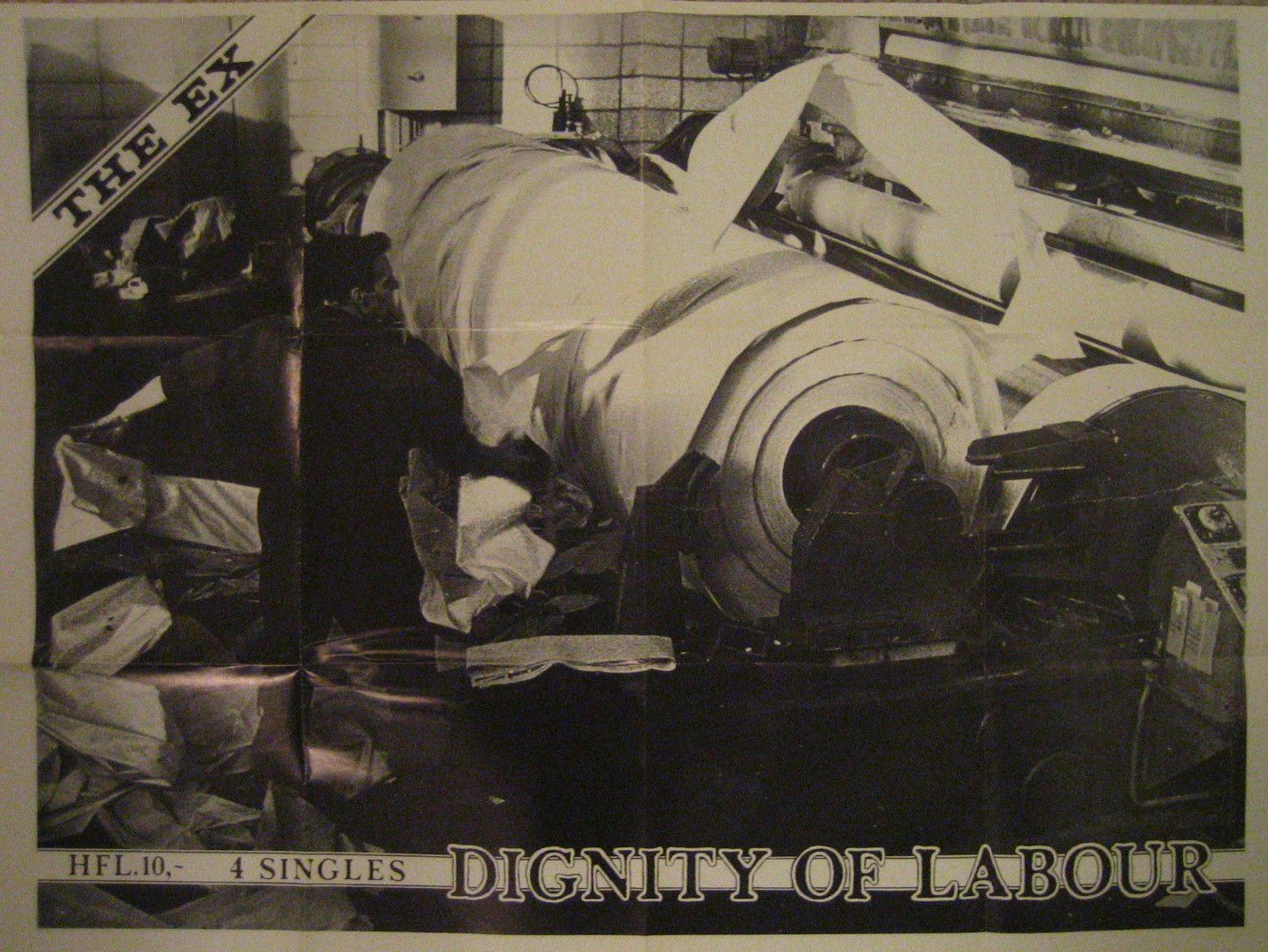 A conceptual project by The Ex concerning the shutting down of the Van Gelder paper and asbestos felt factory in Wormer in 1981 with the loss of 550 jobs. A bullet point dated history for this factory is written out below for anyone that cares to shift through any of the facts.
The Ex's sound is much more industrial on this release, hardly surprising given the subject matter. I also believe that some members were squatting in the ruins of this old factory. The band recorded some of the tracks within this old industrial site so it is not too unlikely that some of the band may have lived there for a while.  
The recorded tracks for this project form eight sides of 7″ vinyl. All four 7″ records are nicely housed in a thin cardboard box with a large poster / lyric sheet, and a booklet explaining the closure and the illnesses which occured in some of the workforce from the mishandling of asbestos felt.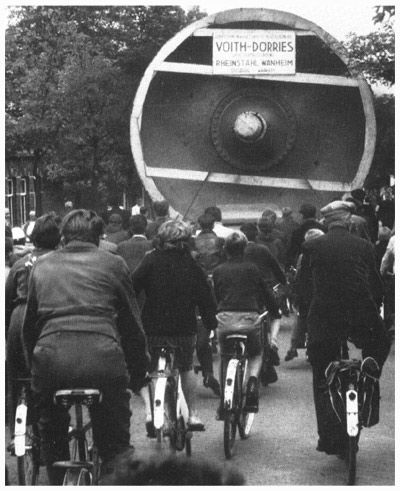 Prehistory (1685 – 1784) created by industrial activity

1685
Wormer gets the oil mill to wind law (Simon Pzn. Fent)
1728
Sales for 1350 fl, – to Jan Pzn. Coopman, conversion to exchange paperwork had numerous owners, including several times in the hands of members of the family Honigh.
1775
Maarten Schouten Wormerveer to buy the mill for fl 3150, —
 1783
Schmidt Pieter van Gelder, son of a preacher, married the daughter of Martin Schouten
1784
Pieter and is his father-in law Eendragt listed as co-partners
From hand to create paper (1784 – 1864)

1803
Purchase of packing paper mill Bok
1817
Purchase the paper mill Kruiskerk
1820
Purchase of packing paper mill Soldier
 1837
Purchase paper mill Fortune
1838
First paper made in Fortune, devoured many years the profit
1839
Sales breakdown for the Soldier
1840
Omhouw of the white-to brown paper Eendragt
1841
The Kreuzkirche activity (sold in 1843)
1845
The Eendracht is wrapping machine works under the name Van Gelder Zonen
1855
Sales at Fortune Honig
1858
Commercial Paper to Amsterdam (OZ Voorburgwal)
1863
Scrapping the Bok, the production Eendragt
Expansion (1864 – 1914)

 1869
Purchase the paper Eendracht in Apeldoorn manufacturing white paper, handmade
1876
New paper mill in Wormer
1881
Imported wood pulp and cellulose
 1887
Paper Trading to OZVoorburgwal Singel Amsterdam
 1888
Second paper in Wormer
 1889
Eendragt demolished the old mill and a flour mill rebuilt Emst
1890
Wormer makes white printing paper for newspapers
1892
Wormer rotation is current pressure for the News of the Day
1895
Current construction paper in Velsen
 1899
First paper mill in Apeldoorn
1900
SA created (office Velsen), fl capital 2,500,000 —
1901
Construction plant cellulose Velsen
1904
Drafting paper scoop in Apeldoorn
 1905
Scriptures in Apeldoorn
1907
Purchase paper Renkum (Renkum I)
1908
Construction dust timber plant in Velsen
1911
Construction sulphite cellulose factory Velsen
1912
Construction paper in half courant Renkum
(Renkum II, the Rhine)
1912
Establishment Timber Hollandse Maatschappij NV
1913
NV office moved from Velsen to Amsterdam (Singel)
Between two world wars (1914 – 1945)

1915
London office founded his own steamship De Eendracht
 1917
Holland Timber removed
1918
London office and own ship for disposal
1920 —
1924
Weakness, abundant supplies, German competition
1924 – 1929
Stabilization, develop markets, new paper machines in Wormer, and I Renkum Apeldoorn (Wormer 1928, 4 PM)
1929 —
1939
Heavy crisis, competition in Scandinavia, restrict production, unemployment, until around 1937 some recovery; new current paper Velsen
1940 —
1944
Production is declining and finally put everything stop, Renkum I and II heavily damaged by war, German soldiers plundered Wormer, Velsen under threat of destruction, partly plundered
Recovery (1944 – 1949)

1945
In September Apeldoorn, Velsen, Wormer again no timber production, working with straw, wood pulp and cellulose
1946
Renkum end of the year in business, imported wood begins to run anything
1947
Little wood available, use of straw stopped
1948
Gains in commodity supply
Period 1949 – 1979

1949
Paper 13 in Apeldoorn
1950
9 paper machine in Apeldoorn
 1952
Paper 11 in Wormer (Yankee paper machine)
1954
Timber planting plans in Suriname
1956
Paper 21 in Velsen; agreement with Suriname, test plantings
1957
Paper 24 in Renkum 22 paper machine in Wormer, acquisition CIB Brussels, Belgium
1958
Coater in Renkum (III); pulp mills Velsen removed and scrapped
 1959
Processing Arnhem, transferred from Renkum
1960
Acquisition Gebr. de Jong, Westzaan, zakkenfabrikage
1962
Acquisition EZC, Westzaan (cardboard); acquisition Berghuizer Papierfabriek to Wapenveld and its related companies in Rotterdam (CatsNeparofa) and Rhoon, milk processing plant for packaging in Veenendaal (75%); houtlosinstallatie in Velsen, pilot stopped in Suriname
1963
6 PM in Apeldoorn, in Wapenveld PM 38, PM 51 in Velsen-Zuid, 50% Crown Zeller bach, Friborg sales (50% CZ)
 1965
Research paper mills (Stadler Hurtter)
 1967
Distribution South-Amstel, glass skins production machine 103 in Apeldoorn, production stopped Mopavi (trade only); first paper mills Restructuring Report
 1968
Acquisition Leeuwarder Papierwarenfabriek Franeker and Leeuwarden. Headquarters for Parnassusweg Singel (Amsterdam Zuid). Asbestos Felt Production on paper 10 in Wormer
 1969
Establishment Flevo Wood (25%), Plastic Film Industry Apeldoorn (50% CZ), glass fiber nonwoven machinery production plant in Apeldoorn 104; stopped Gebr. de Zaan Westzaan de Zaan Westzaan
1970 –
1971
Failed merger talks Royal Dutch Papierfabriek – KNP Maastricht
1971
Concentration tape Intergun Naarden (33%), Crown Zeller Bach owns 50% of CVG Van Gelder, Velsen and Friborg, Apeldoorn, Van Gelder FPI be 100%, construction paper 52 in Velsen
1972
Coating Machine 4 in Arnhem, Handelmij branches. Repealed; EZC Westzaan sold divisional structure
1973
Intergun Naarden from 33% to 50%
1974
Establishment Van Gelder Recycling Velsen (40%), establishing Van Gelder GmBH Düsseldorf (sales)
1975
Acquisition Epacar wholesale Brussels, transfer to Arnhem Apeldoorn
1976
Creation Tape Systems Apeldoorn (51%), current construction decision paper Renkum III (80%)
1977
McKinsey research, restructuring Apeldoorn paper, Wapenveld, Wormer, Rotterdam, OVA
1978
Witpapieronderzoek; research cardboard and flexible packaging; privatization Trade Division;
Wormer produce 40,673 tonnes of paper, 28,444 tons of asbestos flooring felt
1979
Wormer, 4 PM – 4 m wide production of asbestos paper
1980
McKinsey study on business opportunities for 4 m wide asbestos felt, SFPD – factory Wormer
May 13, 1980 decision of the Board of Directors for paper production Wormer stop per liter in July 1980, production on an asbestos felt machine – 2-m wide with 84 workers will continue provisionally
1981
July 9, 1981 communication from the Board of Directors: Van Gelder Papier no support from the government.
"We see us through this practice forced on Friday, July 10 held a request to grant suspension of payments to be submitted to the District Court of Amsterdam