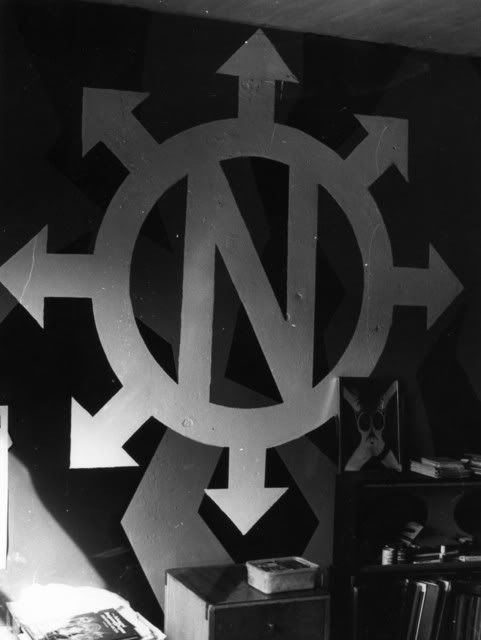 I have not uploaded any Apostles material for ages, so thought I would put this up tonight. For the guy who asked for the U.S. released LP by The Apostles entitled 'Hymns Of Pan', I will upload that up in the post 86 section at some point soon. There may well be another four Apostles LP's uploaded in that section soon, as only the first two were released before the end of 1986, so keep checking. I own thirteen demo cassettes, six singles, seven LP's and three 'personal' cassettes by this band, so plenty to be uploaded!
Actually, saying that, the singles may be re-released at some point on CD so they will not be uploaded on this site, unless the CD release falls through.
The first five demo tapes are up already, also uploaded are the first two LP's if you use the search function you will find them.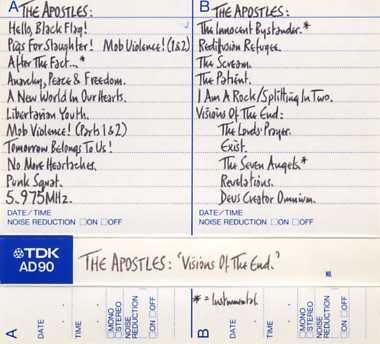 Side One: Random older tracks possibly some unreleased
Side Two: Live At The Recession Club / Visions Of The End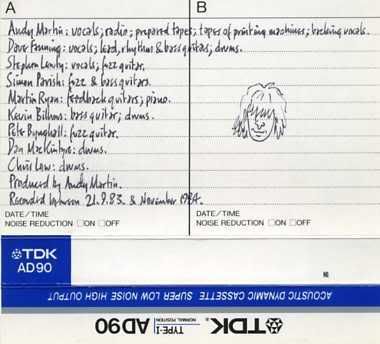 The uploaded cassette above was given to me in the mid 1980's by Andy Martin, one of several I own, each with a picture of me (what I looked like at the time) on the sleeve! This cassette has unreleased versions (I think anyway, Chris, Nic?) of older tracks on the first side.
On the second side he put the more experimental work on. Firstly the Recession Club gig which has a wonderful climax in The Apostles version of Simon and Garfunkels 'I Am A Rock' which goes straight into 'Splitting In Two', the old Alternative TV anthem. These two songs seem to have been written specifically for Andy Martin, and he gives a very moving and respectful rendition of them both. 
Originally these tracks came out on a cassette release by Protect And Survive Products.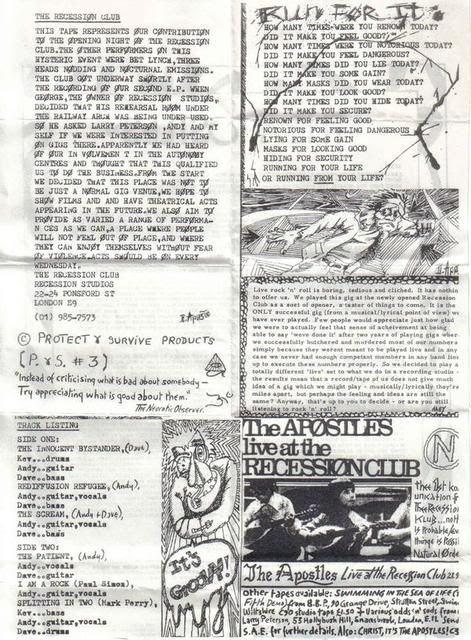 The second selection on Side 2 is entitled 'Visions Of The End'. Interesting stuff on this session, I like the 'monks going to pray' style backing vocals on some of the tracks. Some tracks reminiscent of the harder edged Psychic TV noise (bits of Terminus or the second part of Breakthrough by PTV spring to mind). Has this ever been released officially? I can not recall seeing it at any time, but I may be wrong (Chris, Nic?). Anyway something for everyone on this cassette.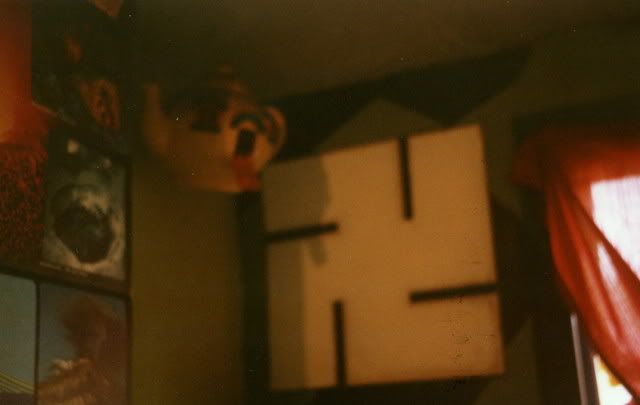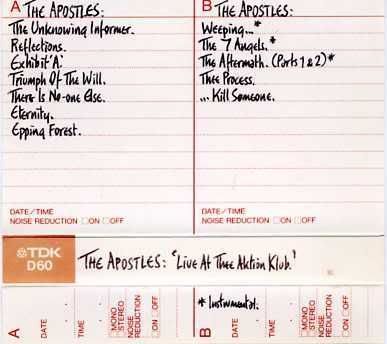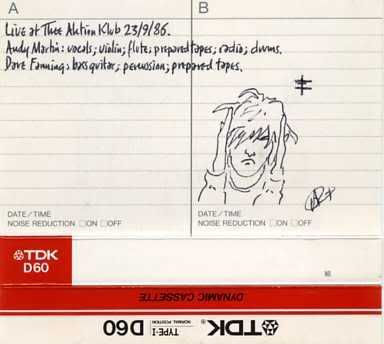 The tape above, as far as I am aware is not released but I may be mistaken, it was given to me in 1986 by Andy Martin, perhaps other friends and acquaintances of his also received copies at this time, and possibly released it without my knowledge.
Andy and Dave from The Apostles trying out some fully experimental material in the practice room at 108 Brougham Road, Hackney, London, E8 and the results are not that bad at all. I like it anyway, but perhaps I may be of the minority!
My photographs of Dave Fanning's old bedroom artwork in 108 Brougham Road, Hackney, London, E8 above. Please note: the corner artwork is of an Indian peace sign used for many hundreds of years in and around the Indian subcontinent. It is NOT a Nazi Swastika…
Andy Martin and Dave Fanning are still well and happy and performing in the band UNIT.