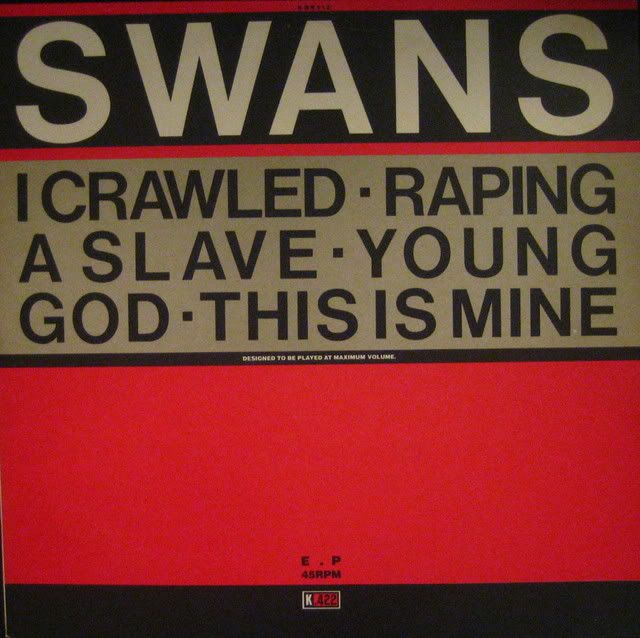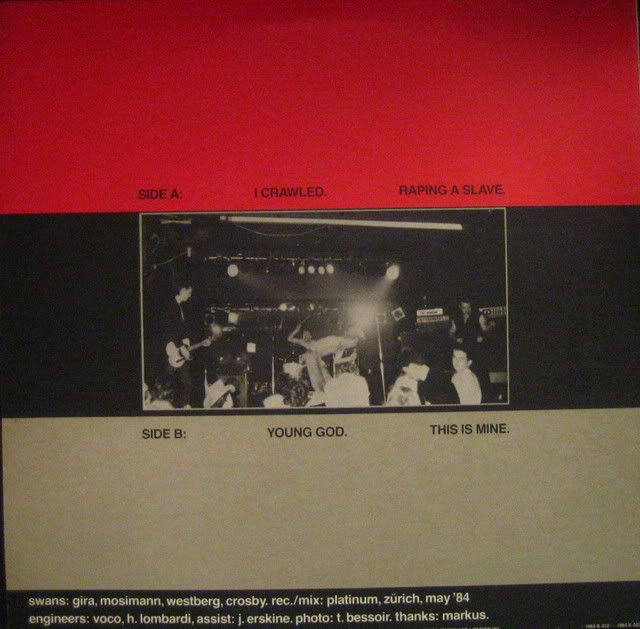 An early slab of noise from New York's Swans released in 1984, four real grinders to settle your nerves to. Great stuff, get everything you can get your hands on by this band.
Text below by the ever helpful wikki pee diah?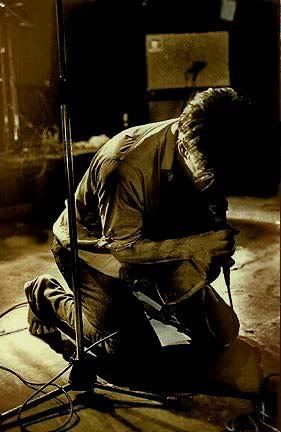 The earliest known lineup of Swans comprised Gira on bass guitar and vocals, Jonathan Kane on drums, and Sue Hanel on guitar. Hanel's only recordings with the group are on the compilation Body to Body, Job to Job, but the ambiguous personnel credits do not make it clear on which songs she performed; Kane stated that "Sue was the most fearsome guitarist we'd ever heard in New York. She was unbelievable."
Hanel did not stay long in the group, and by the time of their recording debut, she had been replaced by Bob Pezzola. This lineup of the group also featured saxophonist Daniel Galli-Duani. The debut EP, Swans, released on Labor, is markedly different from anything they would do later. The plodding tempos and distorted, detuned guitar work is reminiscent of such post-punk outfits as Joy Division. However, the minimal chord structures owe more to blues, while the jazz instrumentation and awkward time signatures are evidence of Swans' roots in the No Wave scene of the late 1970s, which had more or less collapsed by the release of Cop. The closest reference point to the early Swans sound, as pointed out by one internet reviewer, is probably The Birthday Party, although far less overtly satirical.
In the same article cited above, Kane compares Swans to blues icon Chester Burnett, a.k.a. Howlin' Wolf. While this comparison might initially seem unlikely, there are in fact some similarities worth noting — the music of early Swans was often based on a single riff, played repeatedly to hypnotic effect. Some of Burnett's songs — especially the songs penned by Burnett himself — have a similar structure and quality. Their early music was typified by slow and grinding guitar noise, and pounding drums, punctuated by Gira's morbid and violent lyrics (inspired by Jean Genet and the Marquis de Sade), usually barked or shouted. Critic Ned Raggett describes Swans' early recordings as "aggressive beyond words."
Their first full-length release, Filth (1983), featured driving, choppy rhythms and abrasive drums. The whole is reminiscent of earlier No Wave bands, such as Mars, and the work of Swans' contemporaries, like Sonic Youth's Confusion Is Sex and Kill Yr Idols; but Raggett contends that "early Swans really is like little else on the planet before or since." Filth was the first album to feature guitarist Norman Westberg, who would play a vital role in much of Swans' music, and would be featured on every subsequent studio album other than Love of Life.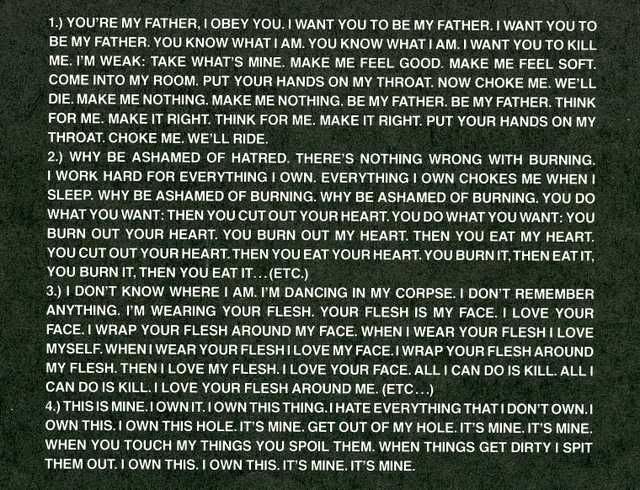 Lyric sheet to these tracks uploaded
Cop (1984) and the originally untitled Young God EP were both released in 1984 and re-released together on CD in 1992. This release has been known by several names, usually by one of its two A-sides, such as "I Crawled" or, infamously, as "Raping a Slave". This release is often confused with their self-titled debut. The music continues in the same vein as Filth, and is again vaguely reminiscent of heavy metal music played in extreme slow motion. Swans were, in this era, comprised of Gira on vocals, Westberg on guitar, Harry Crosby on bass guitar, and Roli Mosimann on drums. Gira's vocals had changed slightly, becoming slowly more melodic, although the snarl still remained. Some of the songs on the EP, particularly "Young God" and "I Crawled", have an actual vocal melody, if rudimentary, hinting at the sounds of future releases. Young God is considered by many to be the best of their early albums for this reason.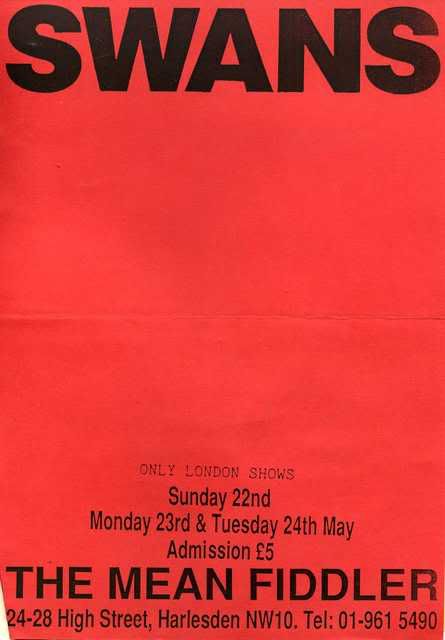 A good night out…