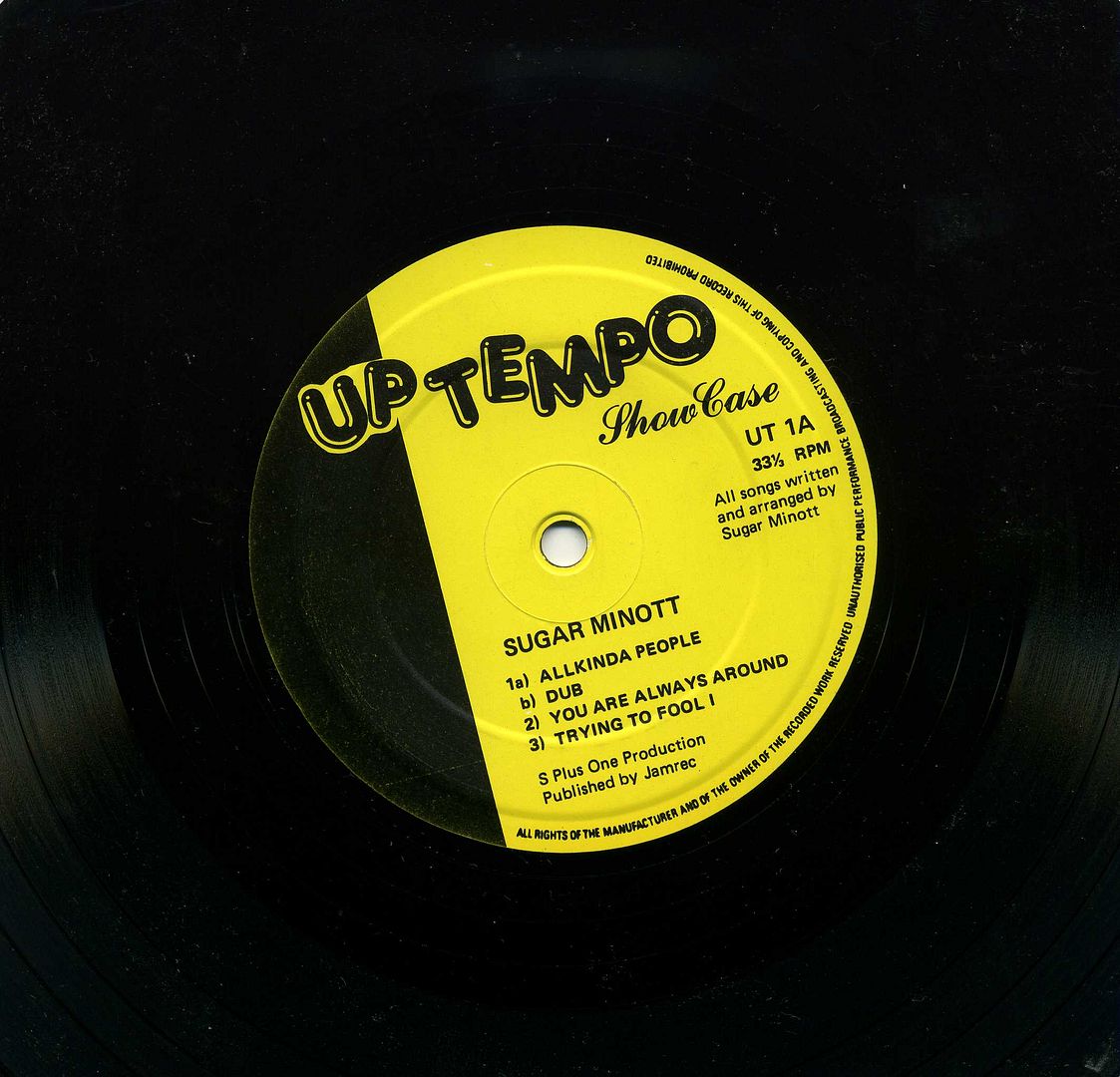 All Kinda People / People Dub / You Are Always Around / Trying To Fool I
Fight Against Dread / Dread Dub / The Love We Had / Love Dub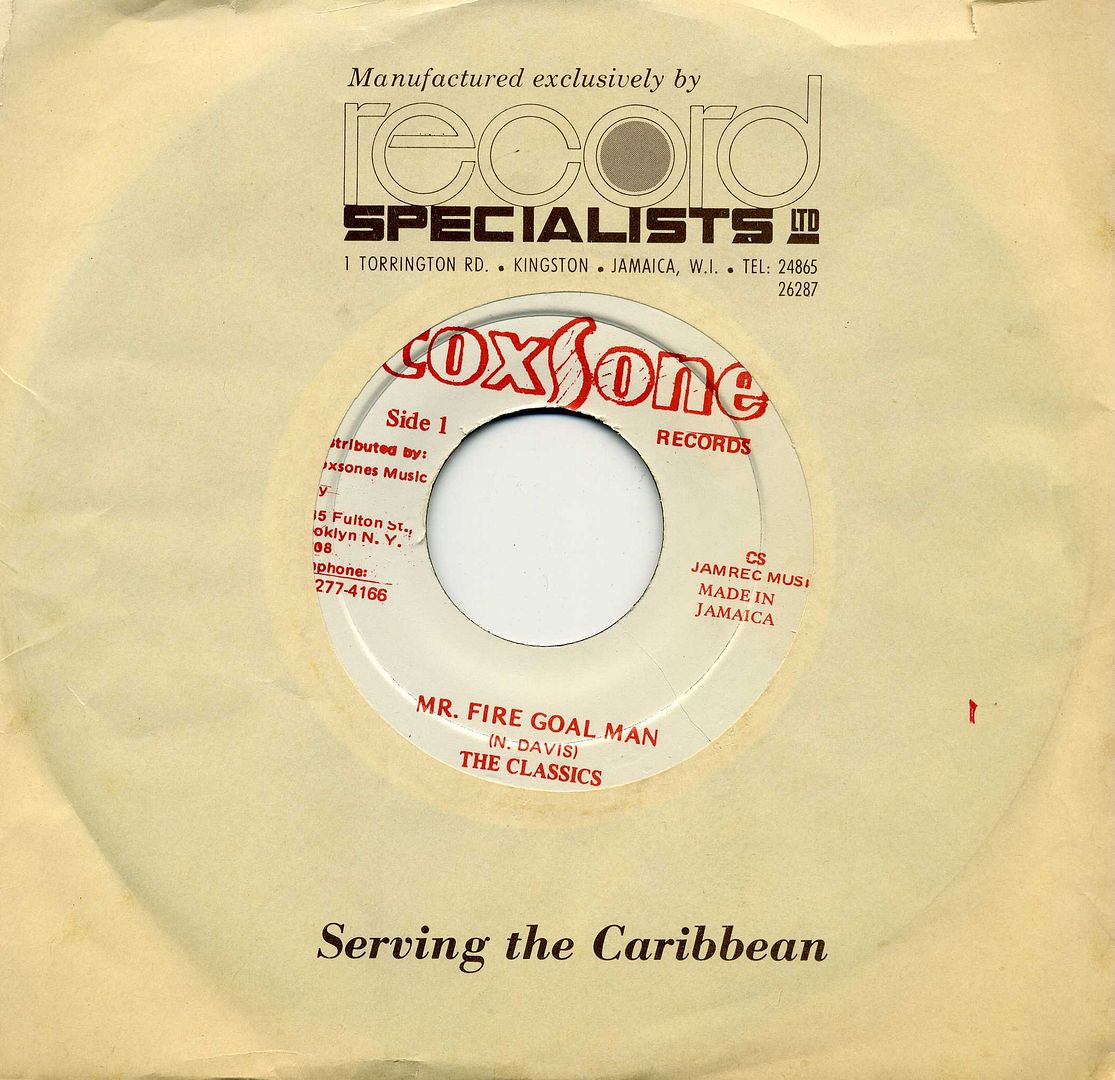 Mr Fire Coal Man – The Classics A.K.A Wailing Souls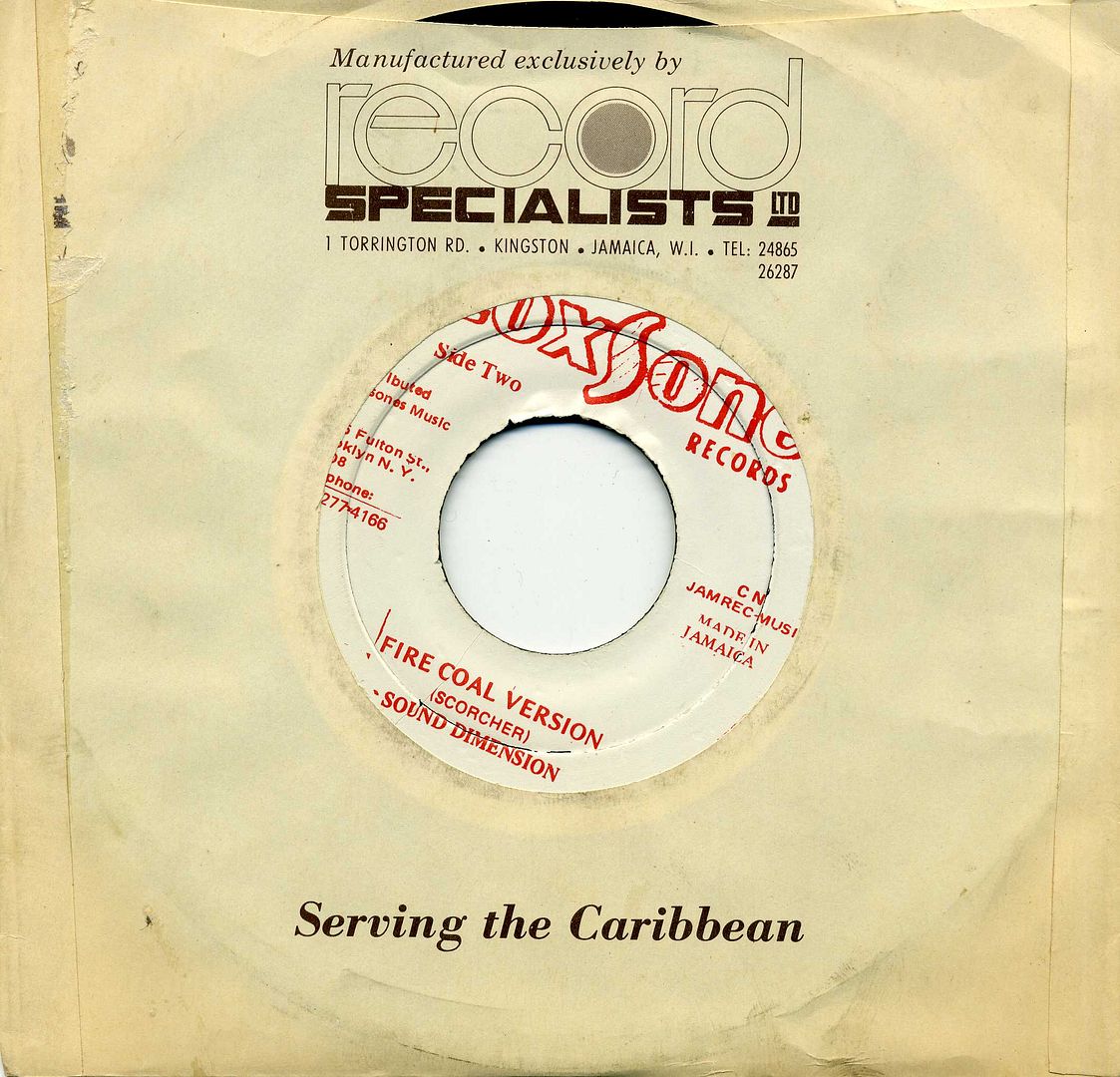 Fire Coal Version – The Classics A.K.A Wailing Souls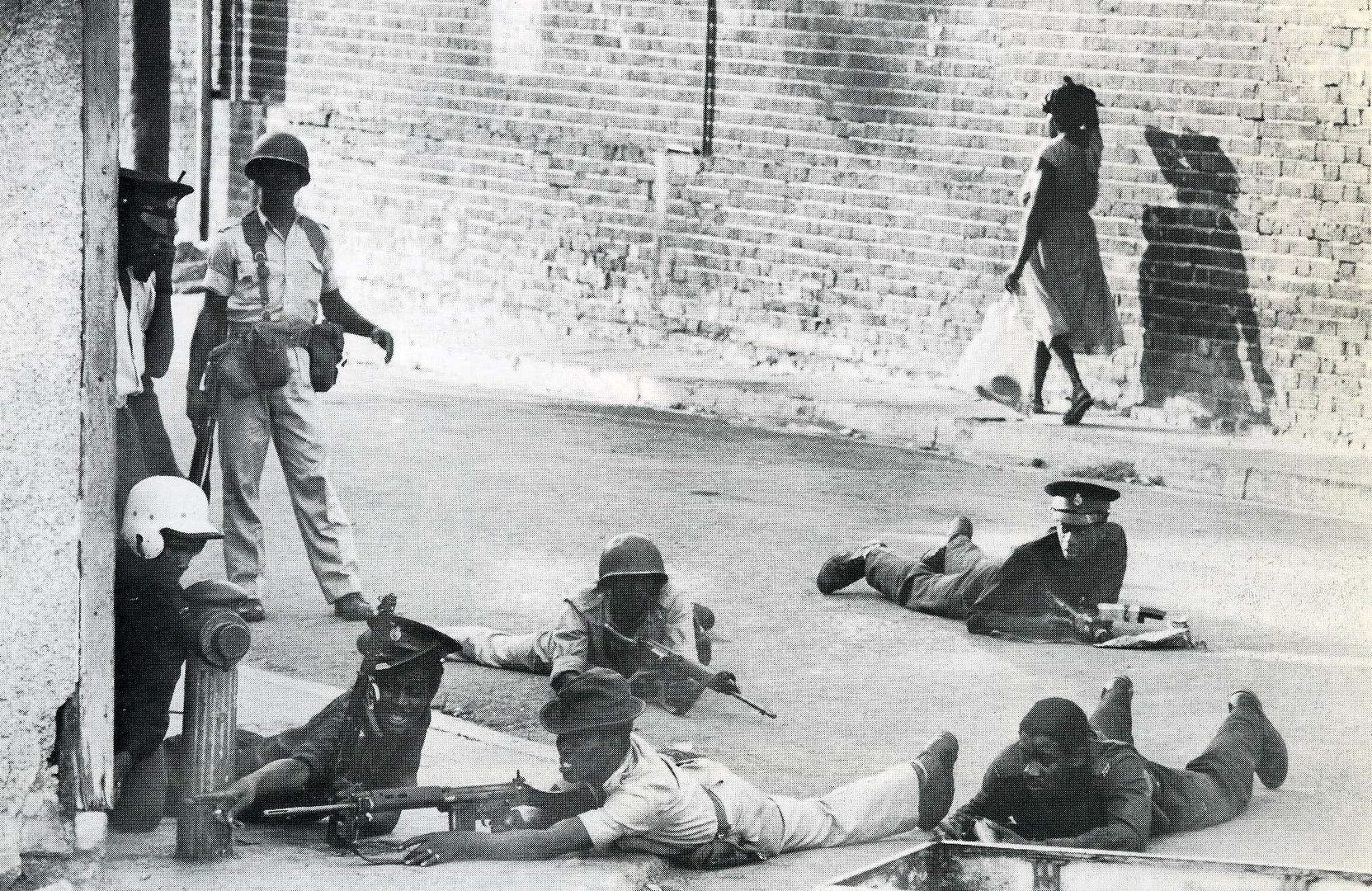 Sugar Minott slogging it out with the finest Studio One rhythms in 1979 just before the streets exploded in violence with a loss of over nine hundred lives and many many more casualties in the months leading up to that October 1980 election.
These are my absolute favorite Sugar Minott tracks uploaded tonight on this Uptempo 10″ vinyl showcase, and with the amount of great material that was released featuring Sugar Minott, that is some statement from myself!
These tracks are uploaded sadly a couple of days after Sugar Minott's passing on from this world. He died in Jamaica on 10th July after feeling 'slightly ill' at the age of 54. Heart problems supposedly. A great shame and a great loss.
'All Kind Of People' and the dub version may be a familiar rhythm to those old punkers out there. If you do not recognise this old Studio One rhythm straight away, then check out the older version 'Mr Fire Coal Man' by The Classics from 1971, a vocal duo that went on to form Wailing Souls a couple of years later. Hopefully you will then realise that there is a well known cover version by Stiff Little Fingers recorded in 1980 as the B side to 'Back To Front'. The Stiff Little Fingers version was the first version I ever heard, so thanks to them!
The text below is written by Small Axe contributer Ray Harford several years ago.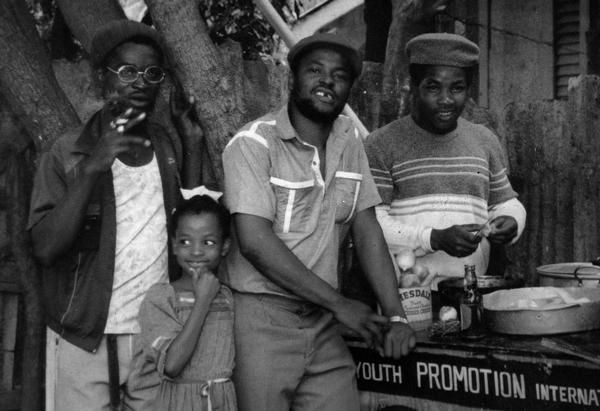 Sugar who? That could have been a typical response from reggae fans around the beginning of 1978. Reggae music's like that. You can be enjoying the current sounds or waiting for something due, and out of nowhere – an artist will just come along and change everything. Sugar didn't do that. That honour went to Barrington Levy. And the reason for that is simple. The timing of Sugar's debut album on Studio One — 'Live Loving', released in the UK by Peckings, was out by about a year. It wasn't until the end of 1979 that people were into recutting old rhythms with new songs, or in the case of 'Live Loving' re-voicing original rhythm tracks.
Now, with hindsight, you can say this was Coxsone at his best. Then it just sounded a bit strange. Studio One did not have the same fascination then as it does now for certain people. Yet apart from this, it is still a very good album. Old rhythms and melodies are taken by him and redefined. Sugar's voice just seems to float in and out of these rhythms with such ease, that you start to wonder how hard it is to sing over such rhythms. Although really and truly when you come across this effect in any art form, you know you are experiencing something special. If someone knows what they're doing, it should seem easy.
Sadly, the 'Live Loving' album didn't do a lot for Sugar. This is another common experience of Studio One artists. More often than not they have to have a hit with another producer, before they get a hit with Coxsone. The best explanation for this would be that Studio One with it's highly defined style does not always fit in with current trends.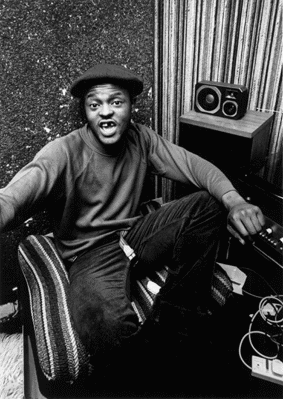 Lincoln Barrington Minott emerged towards the end of 1978, as one of Ja's gifted. His years at Studio One, with whom he made many tunes including 'This Old Man' 'Vanity' 'Peace Treaty Style', and the 'Live Loving' album, provided him with the ability to make outstanding records like 'Man Hungry' (Black Roots) one of his first tunes on Black Roots.
The same theme was pursued in a belated Studio One release, 'Oh Mr D. C.', which told a vivid story of a typical encounter between the Police (District Constable) and a small grower up from the country to sell his herb. 'Hard Time Pressure' (Sufferers Heights) seems to put the whole situation in perspective with it's unforgettable line, "Babylon ah put on the pressure, Hard Time Pressure." Cultural awareness also figures in Sugar's lyrics, and a better example couldn't be found then 'River Jordan' (Black Roots) although 'Rome' (Black Roots) comes close. 'Every Little Thing' (Mandingo) returned his thoughts to oppression, which continued on to 'World Of Sorrow'(Lightning). Studio One then issued 'Love And Understanding' featuring a new Studio One rhythm, which must rate as one of Sugar's best.
A production from Mikey Dread, 'Bright And Beautiful' also did well. If any doubt of Sugar's ability remained after such a steady stream of success, it must have been dispelled with 'Lovers Rock' (Black Roots) recorded here in the UK. Lyrically, the record was soaked in emotion. The rhythm though was something else. It proved that, with care, UK reggae musicians could play up to the standards of Ja musicians -something which certain UK players had always claimed, yet there was very little proof of it. All that was needed was care and attention to detail. And Sugar gave the record that.
Which brings us to Prince Jammys, his kingdom still many tape reels away. Jammy then was just looking for a sound, or a style. At the time, no one producer had a grip on the market, so Jammy with his new-found link with the Ballistic/Warrior label was very well placed to move into a good position.
The sound he came up with for the 'Bitter Sweet' album was a very slow rockers sound supplied by Sly and Robbie, along with a lot of other talent, that had a production built around selected phasing. It was an Interesting sound, but Lee Perry's wilder use of the phaser had made it too familiar. You really do need a totally new sound to make major breakthroughs. Even so, it was a good sound that Jammy had produced. It had a style. On the singing/songwriting side, Sugar didn't let him down at all. Every song on the album is well up to standard. With the better tracks being ' Never Too Young' and 'I'm Not For Sale' and the stunning 'This World'. Jammy and Sugar worked very well together on the album, and it was a shame that it took so long for them to do so again.
Youth Promotion was the biggest stepforward for artist control since Derrick Harriott decided to form his own record label back in the early sixties. Youth Promotion stood along with Freedom Sounds, and Tapper Zukie's Stars, set up as something that is positive in ending producer rip-off's. All of them have had a great deal of success. It shows it can be done, and in a society where opposition means open warfare, not just a word in the ear of a pressing plant manager.
Then it was early days, but to become established doesn't mean you become better. Only Studio One has survived intact from the early days. Although Youth Promotion is not as active as it was and Freedom Sounds is gone, their achievement still remains. It is possible to set up a record Co-Op that can act for the good of the community. And that's what it's all about, isn't it, apart from making money. To have more control when the money is made, and to use it positively for the good.
"I started singing when I was about 12, in an amateur talent festival, near where I live, Maxfield Park, in Kingston. Reached the final with two others, but didn' t win, it gave I some encouragement to go on really. Stayed home from school and ting, I was just following up this music thing all the way, cause from when I was young, I used to make up sound box and.. . I use to always talk about music and dream of doing it. Admired people like Ken Boothe, Dennis Brown, Delroy Wilson, to youth them was our idol.
"So I met this brother named Tony Tuff and Derrick Howard and we formed the African Brothers. That was in 1972, but it was a struggle. The funds that came in were really meagre, and they had to be split three ways and it was small already. That's why we decided to each try individually as solo artists."
When did you make that decision? Well about 1974, we did a tune for Mr Dodd, and the group broke. And from then he (Coxsone) know me, and so he get new guys to sing over old rhythm track, I had this music 'Love Me Girl' by the Heptones and he like it, and gave it some more listen. I guess the main aim of Coxsone to have those rhythms, and feel that they was from the past, and it would be nice to provide them in a different form.
"I'am not saying the same thing. I have to write some different lyrics to the same melodies, the same rhythm. I signed a one year contract with him, and even after the one year contract, I was still trying to build a form of reputation, because through them time you see, if you do some tunes for everybody, nobody, will promote you, I decided to stop with Studio One and bear out all the rough going, but I then reached a stage that I cound'nt see nothing coming out, I was getting famous, still financial wise…
"I decided to get some musician friend, knew a long time, and pay them on trust, I didn't even have no money to pay them, that's the way I get to do this album 'Ghetto-olgy'."
How many tunes did you cut for Studio One? "Quiet a few, enough for another album." Sugar continues. "I get together with a bredda called James Brown and Keith Hartley an form a company called Black Roots Production and Youth Promotion."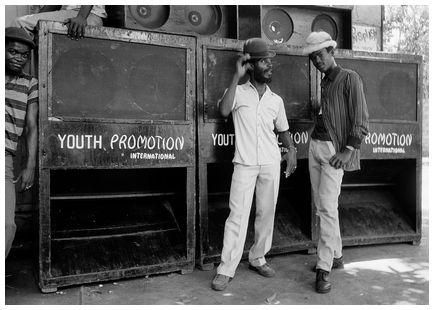 "The Youth Promotion Organisation is really to help youth from going through the same struggle like me. You see, them is a whole heap of youth, like Captain Sinbad, Little John, Tony Tuff, Barry Brown, Rod Taylor, Michael Prophet, Ashantiwaugh, Freddie McGregor, Albert Malawi, Barnabus, Michael Ashley, Earl Walker, Sangie Davis, Tony Chin, Arnold Brackenridge, Roy Grant, Triston Palmer, Henry Frncis, Earl Sixteen, Madoo, Don Carlos, Lacksley Castell, and last but not least Trevor Hartley.
"We team up right as an organisation, we get fund raising dance, and get help from sound like Stereograph U.Roy's sound, Socialist Roots – Trevor Ranking. We get funds you know, we can buy shoes and pants, for the people of the ghetto that can't afford it. The Youth Promotion them a band also, but really we don"t have the instument as such you know. We use studio instrument.
Sugar doesn' t mind being a spokesperson for Youth Promotion, but he will not accept any form of leadership. He is a part of Youth Promotion. All the time, he wants to remind me of the fact. So explanations of the wider role of Youth Promotion are personalised. He can't say what a wider role of Youth Promotion is, would, or could be, other than it promotes sports and art.
"Everyman can't be a musician. If you study Reggae music, it's always crying out for something, or it can't stand something. It's just what the people feel, you see the atmosphere it so, that it's 'Feel Tough'. Everytime my inspiration come, it always something like that, you see. Always something cry out, man hungry, can't stand the pressure, directly what's happening. 'Rome' you know. You see a man deal with vibration and inspiration that go on most of the time. If you write a love tune, and you not in love, you're dealing with an imaginary thing, see, or, you imagine a next person situation, it just kinda hard sometime. "I wouldn't expect a man too… do a tune like 'Man Hungry' , if him no hungry see, so him no hungry it don't appeal to him really, but if him check it again, him see brother and sister. . . No matter what colour, man is just man. When I talk about black people and dem a suffer, but I feel against this prejudice business, man is just man and God make everyman.
"Right now we need a whole heap of help, no one to offer no help towards the youth. . .and boy I really feel for youth and youth, the inspiration I keep getting I can't reject them you see. Once a thing come into my mind. It's hard for me to push that aside, and say I won't sing like that, it will just keep coming back, all the while.
As stated, Sugar couldn't define the wider role of Youth Promotion, but he had no hesitation in stating that –
"I & I organisation is strictly non-political, even rasta religion, we naw try ram it down no one throat, if you want to accept, that's up to you, but if you try and and force it on people, it never get them. I and I are rasta, but not everyman can accept it as so, that's why you have so much blame on rasta now. Whole heap of man say him a rasta, just dread up you know, and they just go on and do all kind of wrongs. It just fall upon next man.
He also sees Youth Promotion operating outside of Jamaica. His use of the Birmingham band Aaara was criticised by some, although Sugar maintains though that someone must give the youth a chance. "Otherwise you just keep going over and over, someone must take that risk."
And that's what the 'Ghetto-ology' album was about, promoting a whole new line up of talent, as well as Sugar of course. It was released on Trojan in 1979. How Trojan Records became involved in anything as forward as this had a lot to do with the people who were running it then. Those involved were Dave Hendley, Chris Lane and Clive Stanhope. With this album and other Youth Promotion produced albums, which include Tony Tuff and Barry Brown, they showed that the company could be a major force in the music again.
More importantly, Youth Promotion / Black Roots were given a chance to get their music released outside of Jamaica. The 'Ghetto-ology' album was successful on every level. In terms of production, it showed that the talent YP / Black Roots could draw upon was as talented as anything that the major producers / labels could put together in Jamaica.
Due to the large line up of musicians though, they didn' t have a sound, which is a plus and a minus. Nearly every track has its own sound, but most albums released by major producers have just one sound, due to the album being recorded with one set of musicians. Thankfully, with the music in a state of flux, due to the incoming 'Dance Hall Style', most people welcomed the wide variety that can be found on the album. And it is pretty varied. On how many albums can you find Freddy McGregor on drums for instance! Great contributions also come from Chinna who along with the Soul Syndicate band also made a contribution.
Quickly following the 'Ghetto-ology' album was the 'Black Roots' album released by Mango Records in the U.S., also in 1979, This was really 'Ghetto-ology' 2′ in every respect, it had the same varied sound, and more or less the same incredible line up of talent.
Youth Promotion at the time was made up of the following talent – Don Carlos, Lacksley Castell, Ashanti Waugh, Jah Lee. These are the artists named on the 'Black Roots' . You can also add Tony Tuff, Barry Brown, Captain Sinbad, Little John and many many more.
That was why everyone was so excited by the release of Sugar's albums. The reasoning was that if Sugar could breakthrough, so could the others
Included on 'Black Roots' were two of Sugar's biggest hits, 'Hard Time Pressure' which Sufferers Heights released in the UK on 12″ and ' River Jordan' a very big hit on 7″ in Jamaica. The rest of the album was really built around these tunes, it was real roots music.
With two YP / Black Roots productions now out, the next thing that needed to happen was for an album to actually come out on the label. And that finally happended in 1980 with the release of a showcase album (6 tracks) 'Roots Lovers'.
On 'Ghetto-ology' and 'Black Roots', Sugar really concentrated on message music. On this album, he displays once again his great talent for putting over love songs. The three love songs on the album truly are exceptional. 'Lovers Rock' is the huge UK hit, recorded in the UK, with overdubs at Wackles (possibly the first occasion he worked at the studio) . It took 'Lovers Rock' the style, up a step. "My Love Is True' comes from a Studio One session, and is a superb example of late seventies Studio One, 'My Devotion' was cut at Channel One with a mix of the YP and Studio One bands. Of the reality tunes, the most interesting must be the tune cut with Amara in Birmingham, England, 'Death Trap'.
Out of all the Youth Promotion / Black Roots albums released during this time 80/81, 'African Girl' seems to be the only one that is lacking not only lyrically from Sugar, but in the production style that made the other albums special. The reason or reasons for this are hard to define 'African Girl' the title track is the only track with a edge to it, and was a hit in the UK on 12", and fully deserved to be. It being a phaser mixed cut of 'Shank I Sheck'. The only other tune with the same kind of energy is 'Penny For My Song'. Outside of that, only 'Ghetto Youths' is in the least bit memorable, mainly due to the chorus. Thankfully better music was to come.
The next stage of Sugar's career was going to see him move into the more traditional role of the artist, rather than artist / producer. After four self produced albums for Youth Promotion / Black Roots, perhaps he felt he could help the organistion more by stepping aside, or going low profile.
His first stop was the Channel One studios of the Hookim brothers. They were also on a very good run around the time (1983) Sugar recorded the 'With Lots Of Extra' album for them. Dan Carlos, Sammy Dread and Barry Brown all were working with the studio or already had music released by Channel One,
With the Radics on the rhythms, Solgie and Scientist on the board, and Niney producing – who had only recently been installed as the producer for the studio, the album could only really be successful, and it was on every level. Sugar provided excellent songs including one of his most powerful reality songs 'No Vacancy', just one of nine superb tracks.
Ray Harford