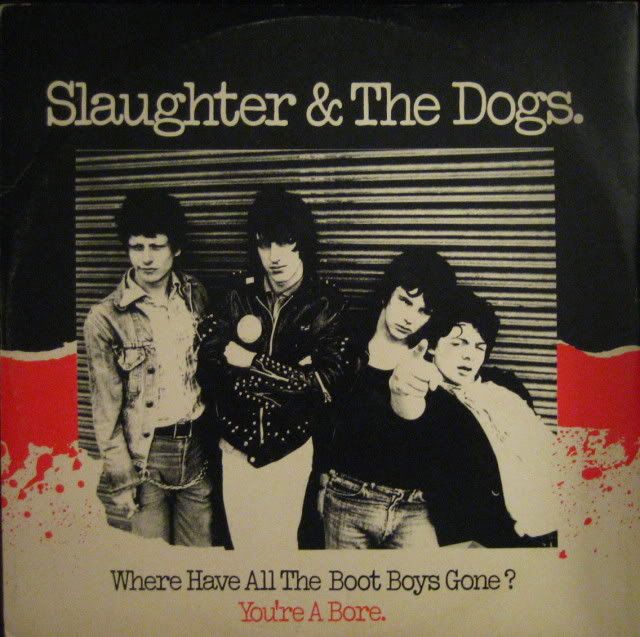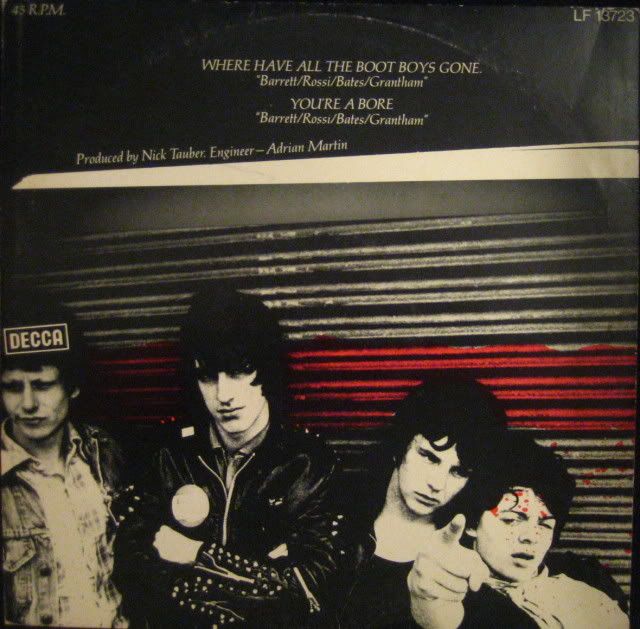 Where Have All The Bootboys Gone?
One for the old timers browsing the site, snotty punk rock at it's snottiest…text below courtesy of punk77.co.uk.
Hailing from the notoriously tough Manchester suburb of Wythenshawe (once the skinhead capital of the North) Slaughter & The Dogs originally formed when Wayne Barrett (vocals) and  drummer, Brian (Mad Muffett) Grantham, got together with bassist Howard 'Zip' Bates joined them in late 1975. Originally twin guitars, Mick Rossi became the sole guitarist when Mike Day left. Wayne thought up the name for the band whilst lying in bed prior to their first gig…. a mixture of Diamond Dogs by Bowie and Slaughter on 5th Avenue By Mick Ronson…hence Slaughter And The Dogs!
They did the usual rounds in local clubs and working men's clubs doing covers of Lou Reed, Bowie and started writing their own numbers. Going from strength to strength and picking up good press they found themselves at the forefront of the Manchester punk scene along with the Buzzcocks and The Drones mirroring the London scene. 
They blagged their way onto the bill of the  Free Trade Hall gig with The Sex Pistols and Buzzcocks and managed to get themselves as second on the bill and first on the posters advertising the event and missing out The Buzzcocks!
They came on stage with long hair, satin, guitar poses a la Ronson etc and were hammered by the press and audience. "We really deserved the slagging we got when we first started, but I think its gone on a bit long, we should given the chance to show what we can do." Wayne. Shy Talk 2. Manchester Fanzine.
But after seeing The Pistols and their look and sound and after taking to heart the criticisms they were astute to enough to see which way the wind was blowing as they cut their hair, changed their clothes and took on the new style like so many other bands of the time. 
Glen Matlock: "I liked them…I thought they were a fun kind of band. I didn't consider them to be a punk band although they got involved in that 'coz that was what was going on at the time."
Tony Wilson: "They probably had a little bit too much Bowie and a little too much Mick Ronson but nevertheless they were good." 
On Maclarens advice they set of for London and The Roxy club Mike Rossi "The aim after the Free Trade hall thing was for us to try and hit London."
Their gigging schedule grew heavier and they were soon playing at leading London punk venues like The Roxy and Vortex as well as others like the Marquee and Nashville. Live they were quite a sight with Wayne's predilection for talc in the absence of smoke generators !!! The Roxy gave the band their first recording break when they appeared on its live album with two songs 'Boston Babies' and 'Runaway'
This led to a one off classic punk anthem single Cranked Up Really High / The Bitch (Rabid 1977 ) which in turn led to the band being signed by Decca. 3 singles followed in quick succession: Where Have All The Boot Boys Gone / You're a Bore (1977 Decca) , Quick Joey Small / Come On Back (1978 Decca with Mick Ronson their hero),  and Dame To Blame / Johnny T (1977 Decca). However disillusionment at poor sales caused the band to split days before their classic album Do It Dog Style (1978 Decca) was released.
A brief attempt as the Studio Sweethearts featuring Billy Duffy ( ex Nosebleeds and later to reappear in The Cult) and Phil Rowland (ex Eater) along with Bates and Rossi released one single I Believe / It Isn't Me on DJM to  total silence. Unable to get gigs  and realising there was a market still for Slaughter, the band reformed with Phil Rowland on drums and released the raucous Ready Now / Runaway (DJM 1979).  Wayne Barrett then left again and Ed Banger (ex Nosebleeds) was drafted in.