I have brought this post forward from August 2009 as I hear today of the sad news of the passing of Neville Beckford A.K.A. Jah Woosh.
All my reggae LP's, 7″ and 12″ singles are in storage at the moment so I can not easily go and get one of my many original pressing Jah Woosh records to upload in the memory of this man that I will always consider my friend.
Respects and feelings go out to his children, family and friends in the UK and Jamaica.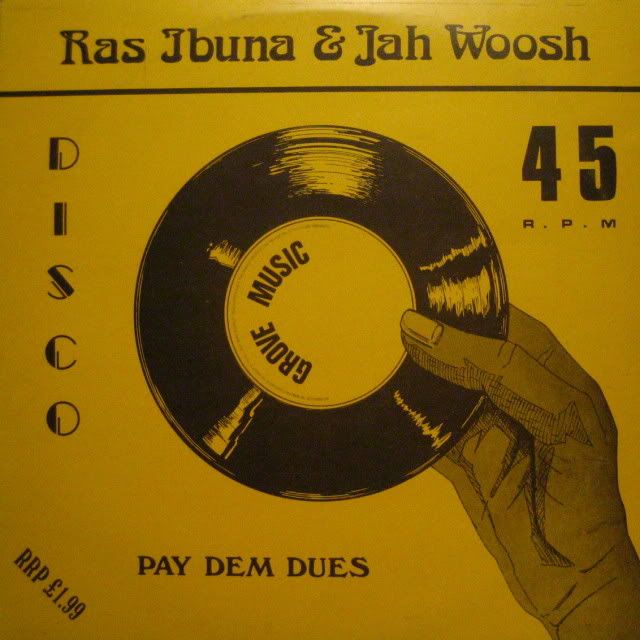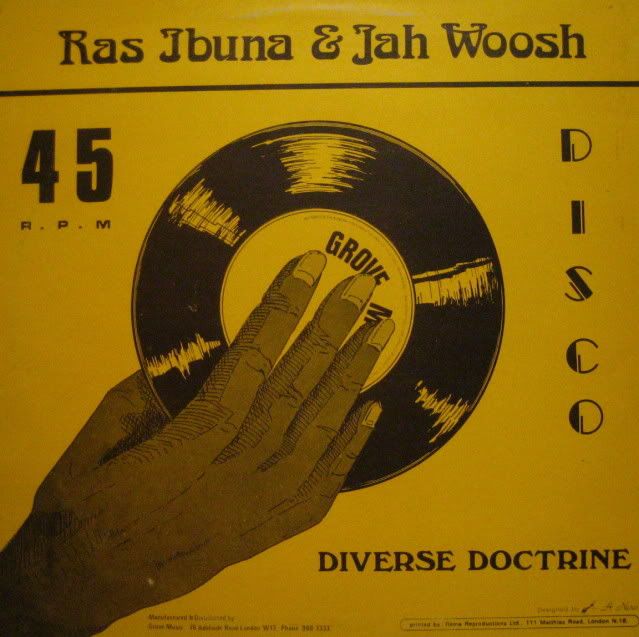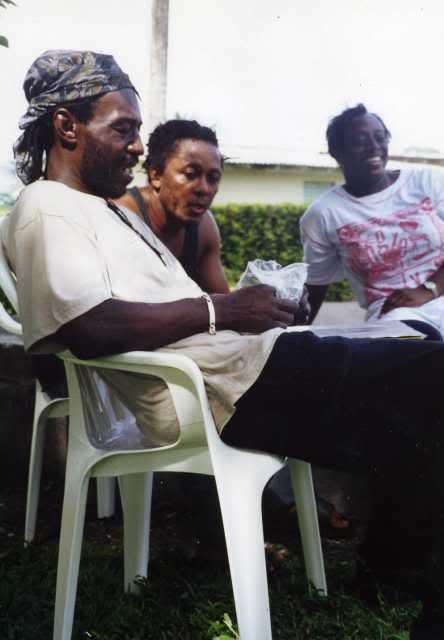 Two heavy weight roots tunes from Ras Ibuna and Jah Woosh, the first 'Pay Dem Dues' produced by King Sounds, the Grove Music owner who brought the UK the first Aswad releases, and more recently according to Jah Woosh, serving at her majesty's pleasure for being caught with some serious weights of gak. For this crime he is doing some serious porridge…many many many years.
The second track is a monster recorded by Karl Pitterson and was originally a 7″ released in Jamaica on the Pittsburg record label in 1977.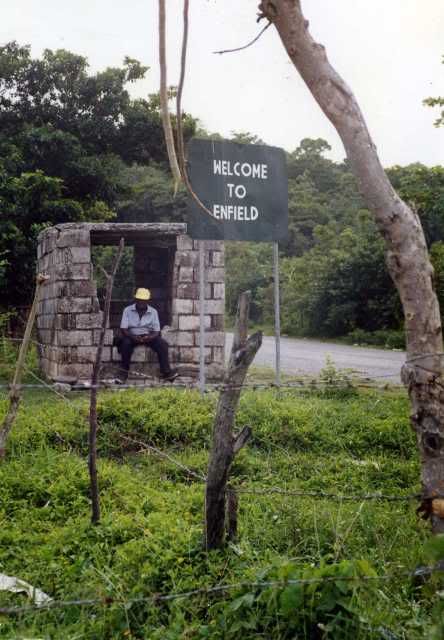 The photographs above show Jah Woosh at his mothers home in Trinity, St Mary with a local DJ named Jah Messenger and my better half Bobbly Jax Bird. The second photograph is my London borough Jamaican style, also in the parish of St Mary.
Below is some short text on Jah Woosh via the skysaw.org website.
Neville Beckford (aka Jah Woosh) was born on the 16th September 1952 in Kingston, Jamaica. Before entering the recording studio, Beckford served an apprenticeship as a mechanic. He and his friend Reggae George attended auditions with Jamaica's top producers under the name of Neville And George, but their partnership was short-lived and both went on to pursue solo careers.
Beckford's career took off when he became resident DJ on Prince Lloyd's sound system, and producer George Bell liked what he heard. The result was 'Angela Davis', a tribute to the black freedom fighter credited under his new pseudonym, Jah Woosh. Despite the strong lyrics, it was not a hit, but he was able to impress producer Rupie Edwards.
The sessions with Edwards led to the release of the 'Jah Woosh' LP through Cactus in the UK. He subsequently enjoyed a brief spell of fame recording for a number of producers, and enjoying hits with 'Psalm 121', 'Ital Feast' and 'Zion Sound'. Following his success, he recorded a self-production with the Mighty Clouds Band, resulting in the release of the popular 'Dreadlocks Affair' album.
Other records followed, but it was the release of the 'Religious Dread' set that produced a successful run in the Jamaican reggae charts. With Sydney Crooks of the Pioneers producing and a host of top session musicians assembled, 'Loaded With TNT' was the follow-up. Despite excellent musicianship from Lloyd Parks and keyboard wizard Ansell Collins, the set was destined not to repeat the success of his earlier recordings.
As the end of the 1970s approached, Jamaica was becoming awash with DJs, and with his popularity having peaked, he decided to leave the island. This was achieved by hooking up with a group of UK/Ja musicians who were collectively soon to become the recording and touring unit known as Creation Rebel. Jah Woosh's 'Marijuana World Tour' album, recorded at the Black Ark, Randy's and King Tubby's, and produced by the "Rebels Of Creation", was the first result of this partnership. It was initially released on their own short lived Creation Rebel label and subsequently on Woosh's Original Music imprint.
A key facilitator within this collective was the still teenage Adrian Sherwood, who was just starting to cut his teeth as a producer, technician, engineer and label owner. So it was that by 1979, Jah Woosh had relocated to the UK and joined fellow ex-pats Prince Far I, Bim Sherman (over whose 'Love Forever' riddim Woosh had previously cut a couple of DJ versions) and Prince Hammer in the Creation Rebel-backed and Adrian Sherwood-live mixed "Roots Encounter" tour of Europe.
By the turn of the decade, Sherwood had formed his now synonymous On-U Sound record label, and most of the tour's participants had stayed around and become fully paid(?)-up members of its various groups – joining the many other musicians who had also been drawn to the label by its critical mass.
Jah Woosh was included in their numbers, and contributed vocals to various early Singers And Players and New Age Steppers recordings. Using Creation Rebel's 'Chatti Mouth' riddim, he also voiced his only self-credited On-U work – 'Woodpecker Sound' – which was initially released as the lead track of the label's first ever compilation LP, 'Wild Paarty Sounds: Volume 1' (ON-U LP6).As the 1980s pressed on and reggae music turned digital, Jah Woosh came to dislike the new technology and lost interest in recording.
Consequently, he moved on once again, this time settling in Ghana. Though he is lying low musically these days, he continues to run his Original Music label on the side, ensuring that much of his back catalogue remains relatively easy to uncover.