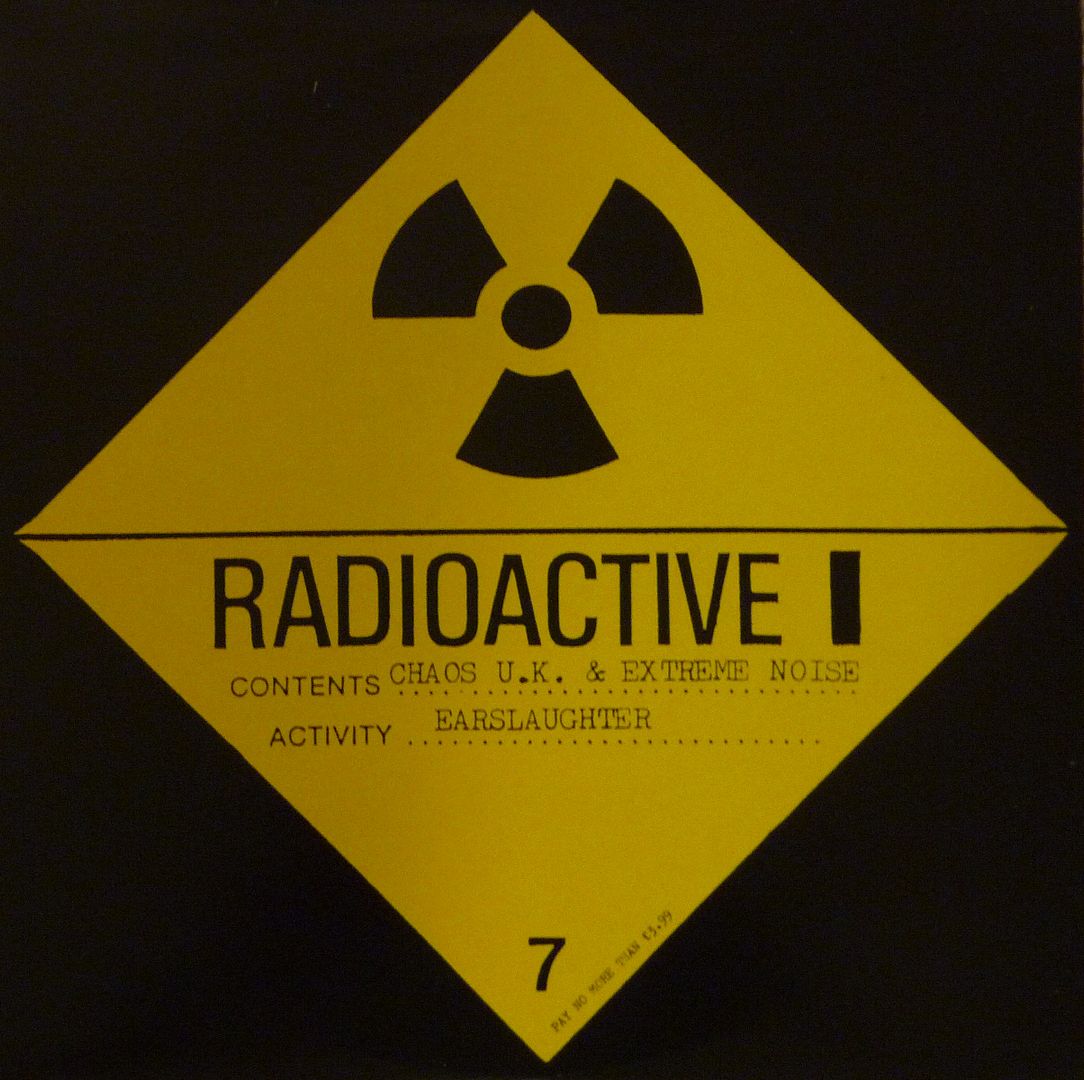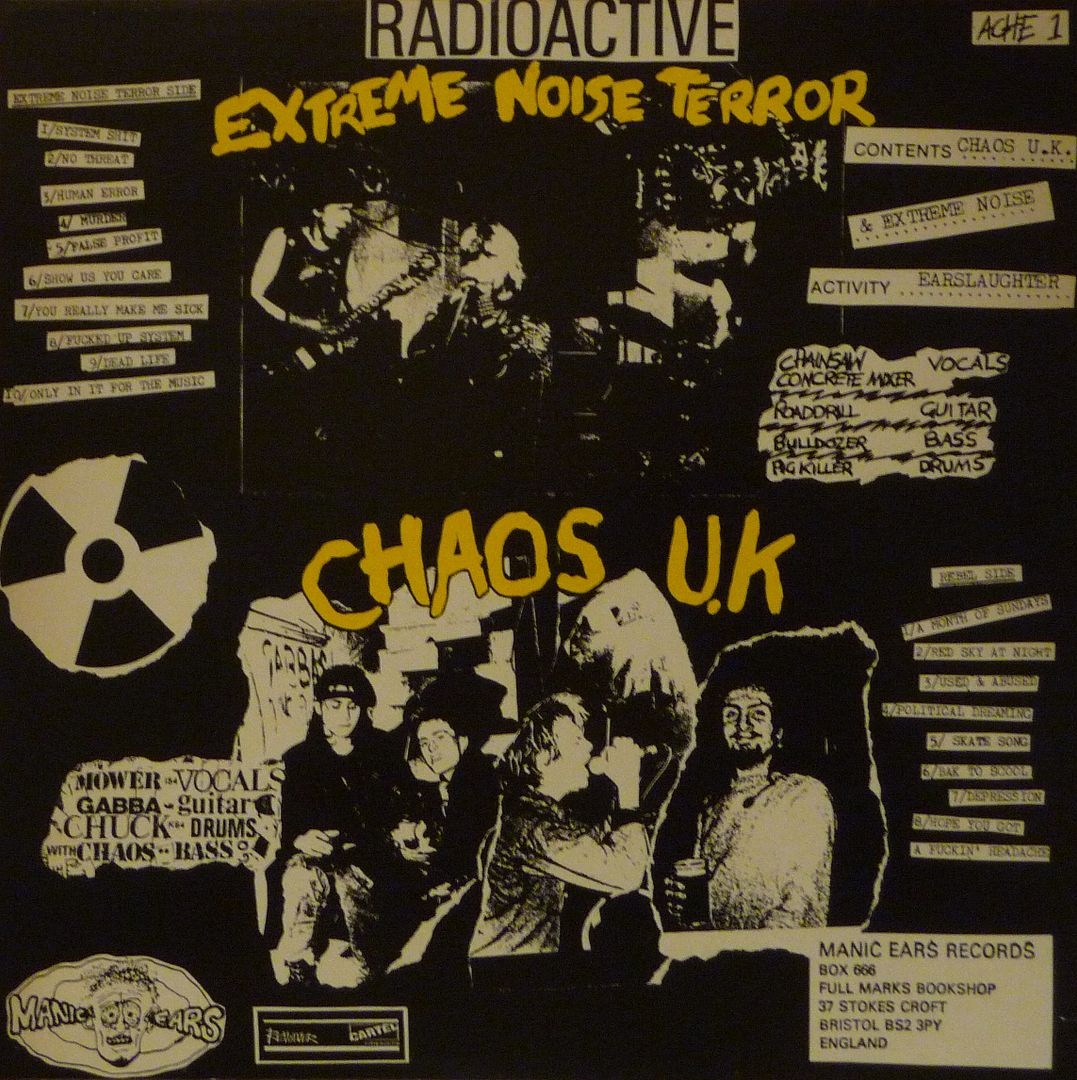 E.N.T – System Shit / No Threat / Human Error / Murder / False Profit / Show Us You Care / You Really Make Me Sick / Fucked Up System / Dead Life / Only In It For The Music
Chaos UK – A Month Of Sundays / Red Sky At Night / Used And Abused / Political Dreaming / Skate Song / Bak To Scool / Depression / Hope You Got A Fuckin Headache
Back in the mid to late 1980's I would travel up to Ipswich a fair bit to visit and stay with my friend 'Psychic' Rod.
'Psychic' Rod was known under that moniker because of his small obsession with Throbbing Gristle and Psychic TV. Rod would take me to the main punk / skinhead pub of the time, a place opposite the Corn Exchange called Mannings. Mannings was notibly shut on a sunday due to the building being built on an old hanging site. Or at least that's what I was told at the time and have always believed.
Rod,  the vocalist of the Ipswich punk band Conflict Of Nations, was fairly popular amongst many of the good folk entertaining themselves at Mannings. Some folk I got to know, and some I did not. One of the people I got to know was Phil from Extreme Noise Terror. Phil was (for me at least) the easiest member of that band to get to know. He seemed to have a relaxed way about him, and would be happy to chatter away about his vast knowledge of punk rock esp obscure bands from Finland or Italy and such places. I witnessed Phil's band Extreme Noise Terror many times in Ipswich and also many times in London, an amazing force to witness at their best… John Peel supported the band and the rest is history.
Sadly I heard from an Ipswich connection today that Phil had passed on, leaving his son and his friends and family to grieve for the loss.
I last saw Phil personally around four years ago when he visited Penguin Towers and we spent most of the evening at the local cider selling establishment round the corner.
A genuinely nice man and a shocking loss, not only to the scene, but also to his family and to his many friends (including Pete A, Chris M, Guy E and Steve K to mention just four that I am still in touch with). My thoughts for the tragic loss of Phil go out to all the members of Extreme Noise Terror past and present and to all the members of the many other bands that performed on the same stage with Extreme Noise Terror over the years.
Apologies for the lack of information on Chaos UK on this post but I will be sure browsers will understand.
Personal photos courtesy of Paul May (black and white) and Daz Monroe (colours, including a rare shot of the first E.N.T. performance at Murreyside Youth Club in 1985).
The first E.N.T. performance flyer courtesy of Chris Mortimer.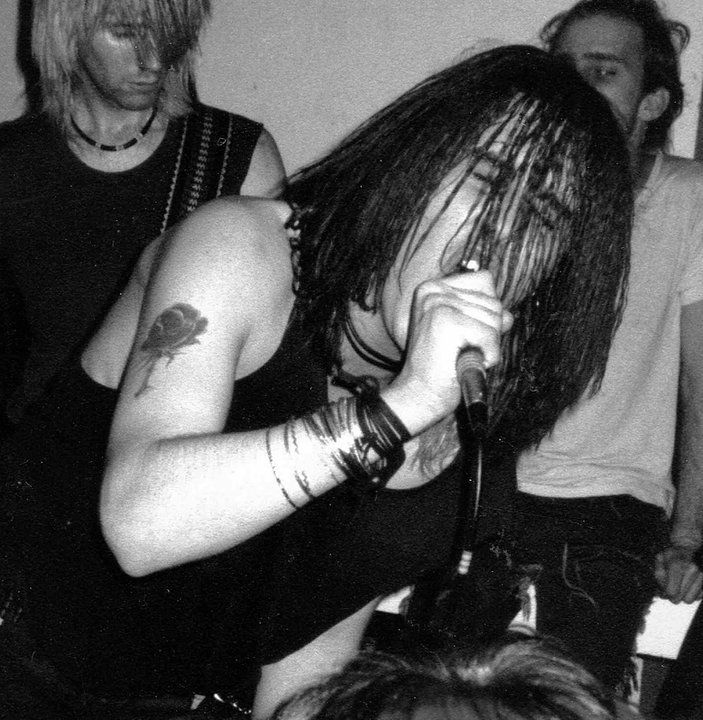 Manic Ears biography by Shane Dabinett courtesy of bristolarchiverecords.com
Between 1983 -1985 I used to produce a fanzine in Bristol entitled 'Manic' which four issues were published. The most popular issues were #3 and #4, partly because the design and layout was finally comprehensive and neat but also because I had worked on getting the zines around the UKHC underground. That is, the UKHC network of fanzine writers, mail order distributors and tape and record label owners. Around 1984 I started and tape label by mail order, Lethal Dose Tapes, which featured demos and live recordings from bands such as Ripcord, Chaos UK, Disorder, Political Asylum, Ad Nauseum and some others. Also, I started distributing fanzines, tapes and records by mail order under 'Manic Distribution'. Manic Distribution and Lethal Dose Tapes was operated in shared office space with Tim Bennett of Children Of The Revolution Records (COR Records) at the back of a left wing political bookshop called 'Full Marks Bookshop'. In 1985 Full Marks Bookshop changed premises and as their was not any office space there for us we had to move all equipment into our homes and bedrooms. Before that, I teamed up with another Bristol fanzine writer, Mark, who produced 'Ears Of A Dead Man' who thought up the name 'Manic Ears Distribution' from the titles of our fanzines and for approximately a year we jointly ran 'Manic Ears Distribution'. Needless to say, Mark moved on and I was left to run it on my own. This was the time that Chaos UK asked me to put out a split LP with Extreme Noise Terror (an unknown band from Ipswich at the time) and the idea to start Manic Ears Records was born.
Finance & Setup
To start the label I needed to gather some finance. Manic Ears Distribution was a semi-profit making service; however, all proceeds went back into buying new stock to sell and tapes to produce. So, I went to a Jobclub that helped unemployed people set up businesses and business plans that also had a link with the 'Prince Of Wales Trust Fund' which changed into the 'Youth Enterprise Scheme'. The business plan and application to the Youth Enterprise Scheme took about a year to get through where I successfully obtained a loan of £2000 to start the label with. A £500 overdraft facility was secured with a bank and the label was ready to record and start in business. Manic Ears Records started officially in business on the 6th September, 1986 with its first release, a Chaos UK / Extreme Noise Terror split LP, in November 1986.
Manic Ears – The Beginning
For the first two years Manic Ears Records was run out of converted room attached to my bedroom in a house share with Chaos from Chaos UK, Bear & Beano (who went on to publish 'Skate Muties From The Fifth Dimension' fanzine from there) and D' Arcy, a friend with smoke. Extreme Noise Terror had delivered their side of the album about one year before its release and recorded it for something ridiculous as £82.00! Chaos UK recorded their songs for nearer £400-00 at SAM Studios in Bristol. When 'Earslaughter' was released it did not get the reception expected from the mainstream music media until at least two years later. John Peel played Extreme Noise Terror then saying on air that someone should talk to their manager! Only two years later with the rise of Napalm Death on Earache Records did Extreme Noise become his favourite band! However, 1500 copies of the 'Earslaughter' split LP where initially manufactured (yellow label) followed by 500 more. I had initially planned two record releases to get the label up and running. The second album was a debut by Civilised Society? entitled 'Scrapmetal'. Civilised Society? were from Yorkshire and had very good friend, Hammy, who used drum for the Instigators, on vocals and also ran a small mail order distribution service called 'Peaceville'. 1000 copies of 'Scrapmetal' were initially pressed followed by a further 500. Civilised Society? and 'Scrapmetal' received some surprising airplay from the Rock orientated Tommy Vance Show and John Peel opened his show with 'The Fairer Sex' from the album on numerous occasions. 'Scrapmetal' was welcomed by the Metal press, Kerrang! and Metal Forces with open arms as hardcore metal crossover was emerging. At this point the label had nothing new to release. Finance had run low and returns from the record sales were not happening. I had a Manufacturing and Distribution deal with Revolver Distribution, who were based in Bristol, and before any returns come to the label all the cutting and manufacturing costs were recouped first. Then, Tim COR announced the closure of his label, Children Of The Revolution Records (COR), and passed over a couple of his releases due on the COR release agenda and the COR mail order service.
Manic Ears – Children Of The Revolution, The Connection.
Manic Ears never actually took over the operation and running of COR as some people were led to believe. What actually happened was that Tim Cor wanted to close his label and already had two releases planned. He passed these two onto Manic Ears to help the bands get their records out on a label. I agreed, I thought it would my release schedule and the COR mail order business would generate some money to prepare a Ripcord debut LP. The 'Digging In Water' compilation was initially started by Tim COR and finished of by Manic Ears. Digging In Water was undoubtly and COR LP, however, it was stylised to incorporate Manic Ears and it was released as co-release on COR/Manic Ears. COR's mail order service was basically handed over to Manic Ears to continue providing this service. So, contrary to popular belief, Manic Ears never actually bought or took over COR Records, it just basically handled a couple of new releases and its mail order service. Myself and Tim COR had worked together on different things for years and were good friends. Basically, we lived in squats with various bands and people, action groups and fanzine writers. We did the same things but mainly separately run by ourselves but with communication and co-operation to fulfill our ideals.
The Arrival Of Britcore
From 1987, The Stupids (COR and Vinyl Solution Records) had been making a big impact upon the mainstream music media. John Peel had become very fond of the band and had recorded various sessions for his show by them and their sub-bands. The next band to make such a big impact on the UKHC scene and the mainstream media were Napalm Death (Earache Records). The weekly music press began to take an avid interest in hardcore, 'Sounds' labeled it 'Britcore' which in turn was taken up by the 'NME' and 'Melody Maker', and John Peel further promoted the music by giving numerous bands such as Napalm Death, Extreme Noise Terror, Carcass, Electro Hippies, Dr & The Crippens and Ripcord. The Hardcore/Metal/Crossover music scene was making quite an impact and this was particularly fueled by John Peel's enthusiasm for the music. The three UKHC labels at the forefront of all this was Earache, Peaceville and Manic Ears. As a matter of fact, all three labels utilised the music press to our own advantages. This was done mainly for the fun of it all but also it helped get the music across to a wider audience. A lot of press 'scams' were organised particularly from Manic Ears to gain attention to the music for the mainstream. The Stupids and Napalm Death had front covers on Sounds and NME further enhancing Britcore and those music papers started writing weekly columns about the current hardcore music scene. John Peel was so excited by this new wave of music that he started releasing some of the sessions, Extreme Noise Terror, Napalm Death, The Stupids and Electro Hippies for example, on his Strange Fruit label which was dedicated to this purpose. He then followed it up with the infamous 'Hardcore Holocaust' compilations which contained tracks from of the hardcore sessions that had been recorded and not released as separate studio sessions. It was also at this time that Manic Ears had been planning (for two years previously) a similar UKHC compilation and was finally releasing. This was the infamous 'The North Atlantic Noise Attack' double LP and first Compact Disc (CD) release on the label. It must be pointed out here that during that 1986 -1990 period hardcore CDs were not a viable product as was 12″ vinyl was, however, this was to change with this release and the 'Hardcore Holocaust' LP/CD. In 1998, most hardcore can be found on CD! By 1988 – 89, Manic Ears Records had firmly established itself as one of the leading UKHC labels along with Earache Records, Peaceville and Vinyl Solution. However, behind all the publicity and hype, Manic Ears was suffering financially. By this type the label had built up a reputable catalogue of UKHC bands such as, Extreme Noise Terror, Chaos UK, Civilised Society?, Ripcord, Concrete Sox, DR & The Crippens and Sore Throat. Besides the Chaos UK / Extreme Noise Terror LP 'Earslaughter' being cited as a landmark in hardcore history by Napalm Death, 'The North Atlantic Noise Attack' made that category as well. What made this new wave of hardcore/metal/punk/crossover brand of music most appealing (particularly to John Peel) was the extreme nature of the music and its actual brevity. It broke down the convential barriers of song writing and mutated it the most extreme version. A song can now be 3 seconds long and have meaning. Another factor that aided the scene was the vast network of underground fanzine writers, record and tape distributors and labels that were the foundation of it all. This was partly inspired by the fanzine 'Maximum 'N' Roll' which provided communication on the underground from all parts of the world. The scene was not restricted to Britain only, it was occurring all the world in various different aspects under different government control systems. The bottom of the cover for 'The North Atlantic Noise' depicted this as a pastiche of the 'World Of Music, Arts & Dance (WOMAD)'.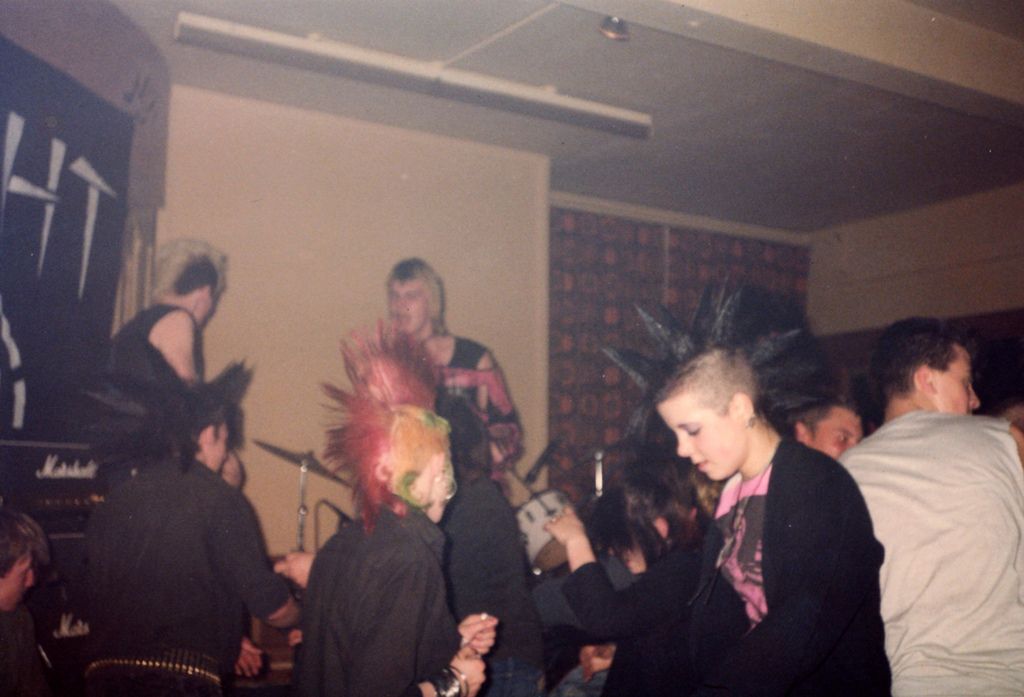 Extreme Noise Terror biography courtesy of desecration.crucialweb.net
Extreme Noise Terror formed in early 1985 in Ipswich, England, originally consisting of dual vocalists Dean Jones and Phil Vane, guitarist Pete Hurley, bassist Jerry Clay and drummer Darren Ollie (Pig Killer). Prior to ENT, Phil and Pete had played with Discharge influenced acts Victims of War & Freestate, whilst Dean had been singing with Raw Noise along with Pig Killer on drums.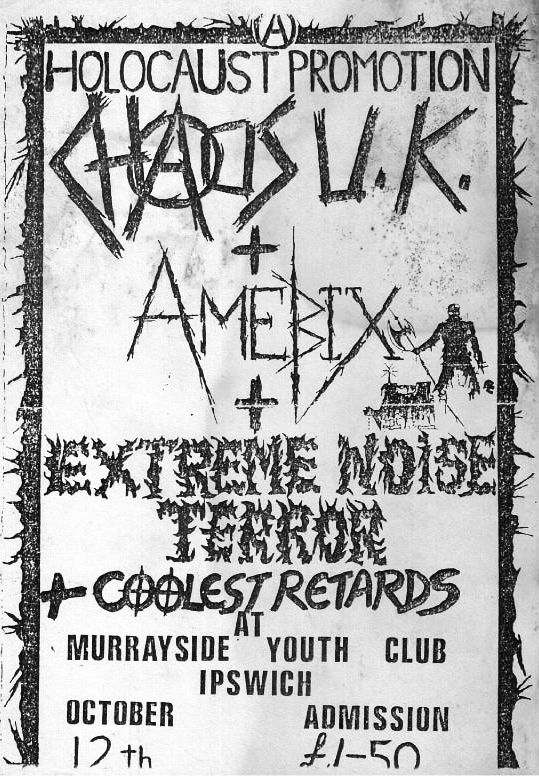 Shortly after a solitary gig with fellow punks Chaos UK the band signed up to the small UK based indie label Manic Ears. Their first & only release for the label was a split LP with Chaos UK in 1986 entitled "Radioactive / Earslaughter" which firmly stamped their caustic arrival all over an unsuspecting music scene, mixing metallic aggression with punk attitude, leaving an indelible impact, helped in no small way by (at the time) a totally original barbaric double vocal attack.
The band name came from a design on an insert to an album by the Dutch band Lärm: "It featured a hardcore character wearing a bandanna with the words 'Extreme Noise Terror' surrounding him & those three words summed up exactly what we were aiming at". Aside from Discharge, the band cite as early influences Anti Cimex, Rattus and Antisect, another early proponent of the "one high, one low" vocal approach. ENT were already beginning to twist hardcore into what would later become known as "grindcore" but band members have however expressed misgivings about the use of the term:
"We were known as hardcore punk. Then it became this 'Brit-core' thing that Sounds and NME came up with, grouping together bands like the Electro Hippies, Napalm Death, Carcass and Bolt Thrower because we were all playing the same shows and then Napalm Death made up the word/term 'grind' but we didn't really know what this word 'grind' meant"!
In 1987, ENT came to the attention of John Peel, on the recommendation of fellow Ipswich group The Stupids. After seeing them live at the Caribbean Centre in Ipswich, Peel offered them their first (of four) Peel Sessions for BBC Radio 1, which was released through Strange Fruit. A second Peel Session was recorded the following May. During this period, the drum stool was filled by former Napalm Death drummer Mick Harris, although he left soon afterwards and was replaced by Tony "Stick" Dickens (from the band Doom). Bassist Jerry Clay was replaced by Mark Gardener, and in 1988 this line-up recorded the aptly titled debut album, "A Holocaust in Your Head". Many years later the album was later voted number 3 in the magazine Terrorizer's essential European grindcore albums, describing it as "marrying a thick crust-punk crunch and vitriolic lyrical assault with the newborn, clattering fury of grindcore, 'Holocaust…' followed Napalm's heroic uppercuts and haymakers with a Doc Martin in the goolies".
In 1990 bassist Mark was replaced by Pete Nash (also of Doom) but shortly thereafter he was replaced by Mark Bailey. The band then undertook a headline tour of both Europe and Japan in support of the album & on their return from Japan, they were invited to perform their third Peel Session,which was released along with their first as a full-length LP by Strange Fruit. The band then embarked on another European tour, after which they released their sophomore record, "Phonophobia", on Vinyl Japan and returned to tour Japan once again.
Further radio support from John Peel brought ENT to the attention of Bill Drummond of The KLF. The two acts got in touch and Drummond asked ENT to re-record a version of KLF's hit single "3 a.m. Eternal", with the intention of the band performing live on Top of the Pops at Christmas 1991. The BBC, however, felt that the song was inappropriate for broadcast on daytime television and thus refused to air the track, leading to the KLF boycotting the show. The single eventually saw limited edition release through KLF Communications in 1992 and won Single of the Week from both the NME and Melody Maker. ENT also worked on the abandoned KLF album The Black Room (the KLF had previously released an ambient album called The White Room), but when Drummond and KLF co-member Jimmy Cauty announced the band's retirement, they also deleted the recordings. The two bands were later asked to appear at the 1992 BRIT Awards, at which they caused controversy by firing blanks from a machine gun above the heads of the audience, a performance that the NME listed at number 4 in their "top 100 rock moments".
The band went on touring throughout 1993-1994 although underwent further line-up changes; drummer Stick left to join DIRT and was replaced by former member Pig Killer, Lee Barrett (founder of Candlelight Records and also member of Disgust) took over on bass from Mark Bailey and Ali Firouzbakht (Raw Noise) joined on lead guitar. In 1994 they signed to Earache releasing "Retrobution", essentially a compilation album of re-recorded material from the band's earlier days which was released in 1995, following it up with a full US Tour. The motivation behind this release was due to the band's dissatisfaction with their earlier recordings and saw ENT take a slightly more crust metal direction. A short UK & full European tour followed but a further line-up change occurred with Pig Killer being replaced by former Cradle of Filth drummer William A. "Was" Sarginson.
The line-up changes continued with the departure of founder member Phil Vane, who left to join Napalm Death in late 1996 but in an example of trading places, Napalm Death front man Mark "Barney" Greenway agreed to join ENT during the recording of their next album, "Damage 381". The album, whose title comes from the BPM recorded on the title track, saw ENT moving further into death metal territory, reincorporating some of the blast beats and screamed vocals that had been missing from their previous two releases.The album also benefited from production from noted metal producer Colin Richardson. At the same time Napalm Death were having a hard time getting the vocals that they wanted from Vane and asked Greenway to return, which he agreed to do, leaving ENT once again lacking a second vocalist. Phil subsequently returned to the band in 1997.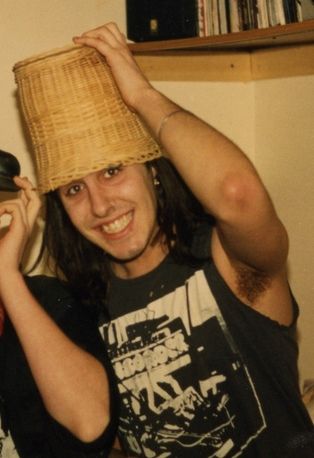 Now resting in peace  – Phil Vane 1967 -2011