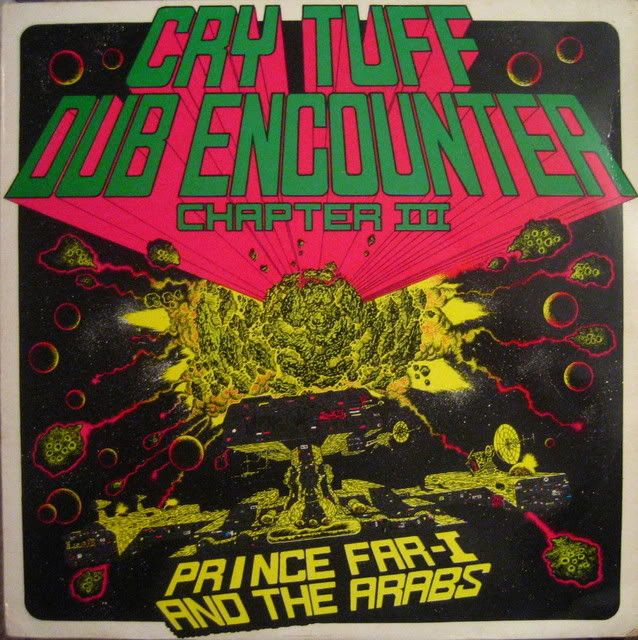 Plant Up / Back Weh / The Conquest / Final Chapter
Shake The Nation / Homeward Bound / Low Gravity / Mansion Of Invention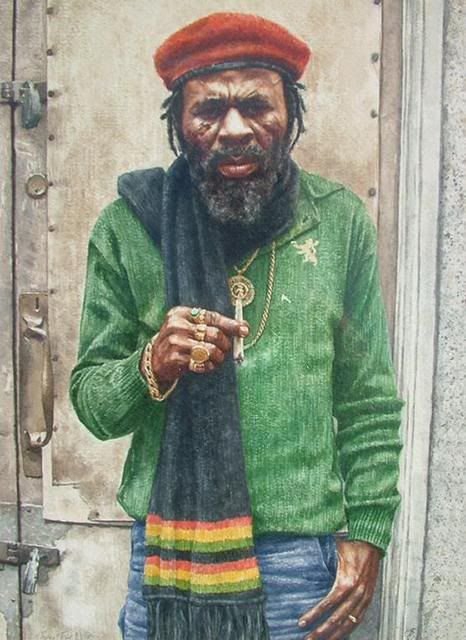 This beautiful water colour painted and displayed on wwwcarolinebinch.co.uk – go and have a look at this amazing artist's other work on that site .
25 years ago in September 1983 Prince Far I was murdered at his home in Kingston during a robbery possibly over a dispute over some monies, he was 39 years old.
Roy Cousins of The Royals was working on the 'Spear Of A Nation' (Umkhonto We Sizwe)  recordings with Far I at the time of his death, this would be the last work that Far I recorded and the work (originally on Kingdom Records) is still available on Tamoki Wambesi Records.
Several years before this disaster for the reggae world occured, Far I finished some fine material, this LP uploaded tonight is the third in a series of Dub Encounters, this one released on Daddy Kool Records, and being one of the best and a groundbreaking UK reggae release to boot, with the emergance of ONU Sound in it's wake, and a new dawn for UK roots music worldwide.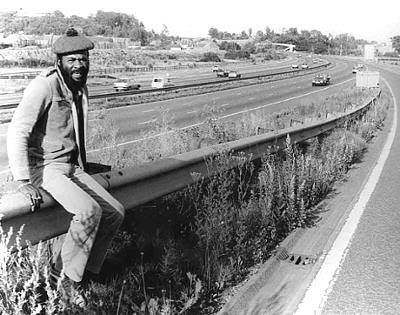 The seventies is the decade recalled as the golden age of roots reggae, primarily due to the fact that during these years many legendary artists came to prominence. Amongst those singers, DJs, vocal groups, musicians and producers perhaps the best-loved by the UK audience was the man known as Prince Far I – not so much a DJ in the classic style – but more a chanter of words.
Prince Far I was born Michael James Williams in Spanish Town, Jamaica in 1945. Growing up in the Waterhouse area of Kingston he attended dances MC'd by the early DJs who would become his inspiration. With confidence and experience he assumed the role of lead DJ with the Sir Mike the Musical Dragon Sound System.
It has often been written that his early DJ name, King Cry Cry, was derived from either the pleading nature of his delivery or the righteous content of his lyrics. The actual explanation of the "nom de mic" is much more prosaic. The Prince had a strange habit of breaking out in uncontrollable sobbing on becoming angry!
Bunny Lee first recorded Far I in the early seventies with a tune called "The Great Wooga Booga". He went on to cut tunes for Coxsone, notably "Natty Farmyard" and a version of "Queen of the Minstrels". In 1973 the Cordell's "Simpleton" appeared on the Lion label, with the flip being a strange half-sung half-chanted version by the Prince entitled "Simpleton Skank". In 1974 he voiced "Let Jah Arise" for Enos McLeod at King Tubbys, and it is Enos who can be credited with renaming the DJ as Prince Far I.
After some self-productions which appeared on Pete Weston's Micron outlet, Prince Far I hit a period which included two of reggae's greatest DJ albums.
Firstly the "Psalms For I" collection, a straight chant of bible word, produced by Lloydie Slim on top of a set of ultra-tough rhythms from Striker Lee and Scratch. This album found Far I totally into his own style, distinct from all other DJs, primal yet righteous – the real "voice of thunder". For some reason people remember Far I as a huge man, a gentle giant. On the contrary, he was quite slight – five foot nine inches. His physical build tends to be purely, but remarkably, conjured up from the sound of his awesome voice (and also perhaps his ability to enclose large amounts of bushweed within his fist!).
The second landmark album was "Under Heavy Manners" for producer Joe Gibbs, engineered by Erroll Thompson. It contained the Prince's first big Jamaican hit single, "Heavy Manners", on the rhythm of Naggo Morris' "Su Su Pon Rasta". The 45 had caught the times with its earlier release during the high tension of the Jamaican state of emergency in the mid seventies. The set also included an almighty version of "Deck of Cards" – a lyric to which the Prince would often return.
In 1976 Prince Far I set up his own label in Jamaica, Cry Tuff, with the sub-title Wisdom Man. We will return to this period of his career in a later Pressure Sounds release which will collect the best of Far I's Cry Tuff productions, featuring both on himself and other artists, plus the compulsory x-amount of dub versions. Suffice to say at this stage that one Cry Tuff single, "No More War", was a version of the Little Roy original "Tribal War" (see Pressure Sounds PSCD 006, the Little Roy compilation "Tafari Earth Uprising").
Cry Tuff issued Far I's productions in Jamaica. His UK business ran through the fledgling label Hit Run, created by Adrian Sherwood. This arrangement was almost one of master and pupil, as the Arabs/Roots Radics became Dub Syndicate with Sherwood learning his studio craft as both producer and engineer. The rhythm tracks were laid in Jamaica by Style Scott & Co, the mix and overdubs taken care of in London – creating a tradition which continues to this day. With albums also out on Virgin and Trojan Far I was a regular visitor to the UK in the late seventies becoming a firm favourite within the synergy that sparked between punk and reggae.
Cry Tuff Dub Encounter Chapter III by Prince Far I and the Arabs was originally released in the UK by that most avuncular of record shop proprietors Keith Stone of Daddy Kool. The whole affair was racked out in rapid studio time, conforming with the can-do ethics of the time – not to mention the lack of cash. The set features super-heavy deliveries by the Prince, pre-ambient doodlings and quirky noises from David Toop and Steve Beresford, and backing vocals from the Slit axis of Ari Up together with Viv Goldman and Elizabeth Archer. The album is important for those concerned with the history of reggae in the UK. It marked the handing on of the producer's baton from Far I to Sherwood, soon to launch On U Sound at a time when many critics considered reggae to be a finished force.
Text from Pressure Sounds Records