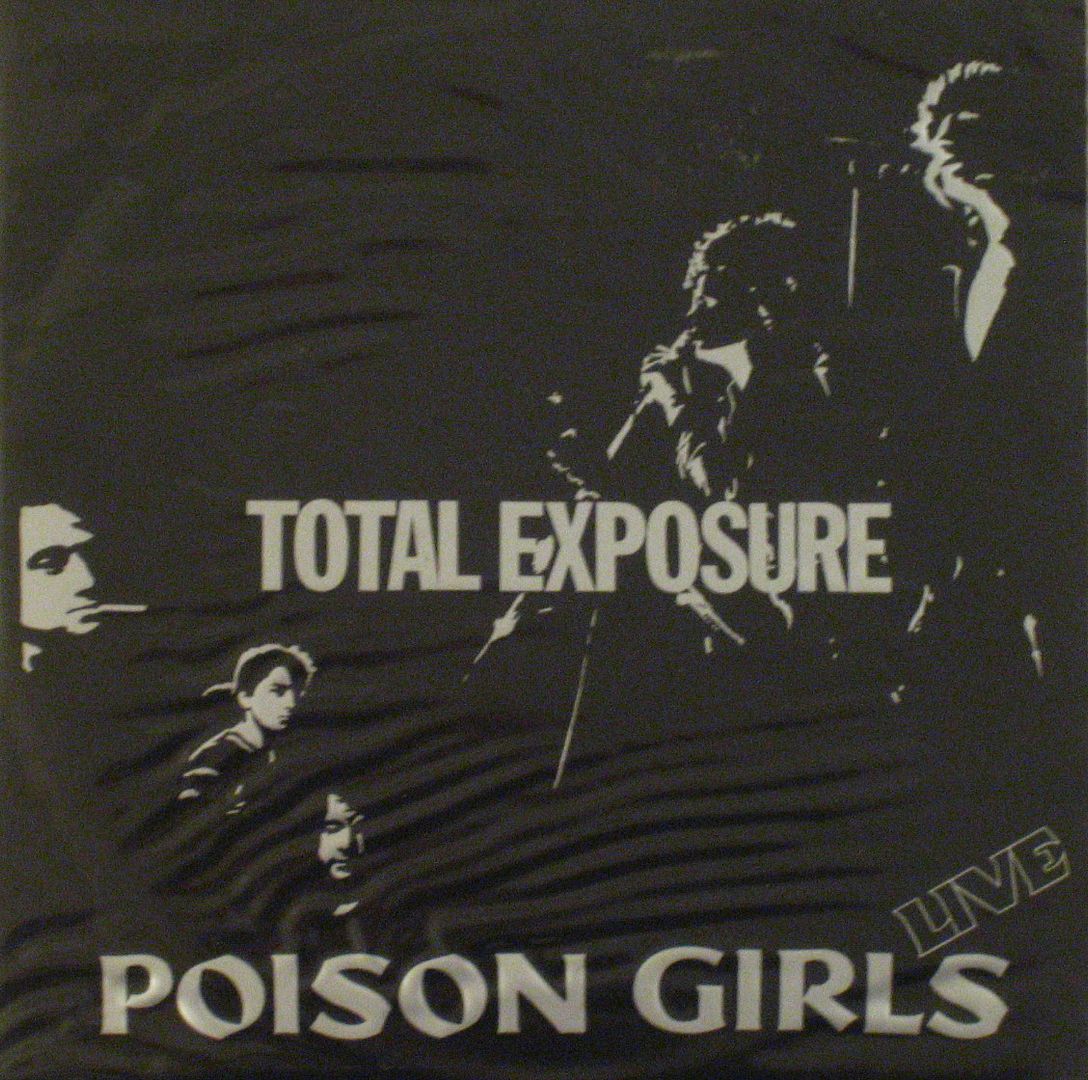 Persons Unknown / State Control / Old Tart's Song / Bully Boys / Tension / Another Hero Bites / Don't Go Home Tonight / S.S. Snoopers
Other / Daughters and Sons / Fucking Mother / Dirty Work / Alienation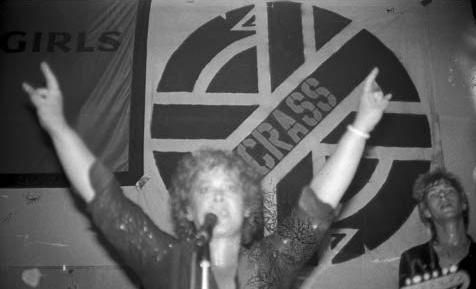 Recorded live at Laswade Centre, Edinburgh in July 1981 with the line up of Vi Subversa, Richard Famous, Lance D'Boyle and Bernhardt Rebours. This marvelous LP was released late on in 1981 and came in lovely clear vinyl, lyric insert and a strange and not very common in those days (or since probably) printed plastic sleeve over a plain black sleeve! Some notible faces actually show up within the packaging. On one side of the insert Fox (original drummer for D.I.R.T. sadly no longer with us anymore) blond spikes is shown going nutty, and Rob Challice (Enigma fanzine, Anthrax and Faction – gladly still with us to this day) to the right of Fox with the Poison Girl 'crow' patch sewn onto his shirt totally coincidental! Live performance photos courtesy of Laura Carroli.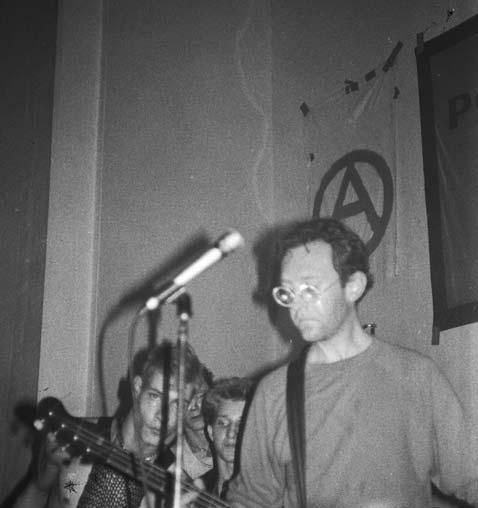 The Poison Girls were an English punk band. The female singer and guitarist, Vi Subversa, was forty one years old and a mother of two children at the band's inception in 1976, and she wrote songs that explored sexuality and gender roles, usually from an anarchist perspective. The original Poison Girls line-up also included: Lance D'Boyle on drums; Richard Famous on guitar and vocals and Bernhardt Rebours on bass, synthesizer and piano.
Poison Girls formed in Brighton in 1976, before moving to Burleigh House in Essex, near to Dial House, the home of fellow anarchist band Crass, with whom they worked closely for a number of years, playing over one hundered gigs with the band. Burleigh House was an abandoned five storey mansion that was condemned to be destroyed by the soon to be built M25.
In 1979 the band contributed to the revival of the peace movement by playing a number of benefit gigs with Crass and paying for the production of the first CND badges since CND's heyday in the late 1960's.
The band released two slabs of vinyl in 1979 firstly 'Closed Shop / Piano Lessons' on Small Wonder Records which was a split 12″ single with Fatal Microbes, a band that contained two of Vi Subversa's children, Pete and Gemma.
The absolutely brilliant 'Hex', a 45 rpm LP was also put out on the Small Wonder Record label in 1979 and through it's popularity was re-released on Crass Records in 1981.
This material is featured on this site if you care to search for it using the search function.
In 1980, and again with Crass, they proved influential to the establishment of the short lived Wapping Autonomy Centre by contributing the track 'Persons Unknown' to a split single with Crass who contributed 'Bloody Revolutions' and raising through the sales of that 7" single over £10,000 for the centre which opened up it's doors in 1981.
'Chappaquiddick Bridge' the debut 33 rpm LP was also released on Crass Records in 1980 plus 'A Statement' flexi disc was slipped into the gatefold sleeve packaging.
Their song 'Bully Boys / Pretty Polly' (flexi disc given away free with In The City magazine) was an attack on violent machismo that led to the band being blacklisted by the left wing Socialist Workers Party and attacked by members of the right wing National Front both these political movements were convinced it was an attack on there organisations. Of course it was!
The band had moved to Leytonstone after the squatted mansion had been destroyed by the construction of the M25 and went on to set up the label Xntrix alongside a publishing arm for the Impossible Dream magazine and recording studios for other artists such as the up and coming Rubella Ballet, Omega Tribe and Null And Void.
The 'All Systems Go' 7" was the bands last Crass Records release and came out in 1981. Poison Girls stopped touring with Crass toward the end of that year to be replaced by Flux Of Pink Indians and D.I.R.T. as favoured Crass support acts that went up and down the country with the main star turn.
Poison Girls did support and perform at the all day Zig Zag squat gig in December 1982 organised by Andy Palmer, Penny Rimbaud, Andy Martin and various KYPP collective members. That was the last time the Poison Girls and Crass shared a stage together. D.I.R.T. performed last on the bill (much to the bands annoyance) and Fox left the stage halfway through the set to be replaced by Martin of Flux to continue drumming along and finish that set! D.I.R.T split up that night with Fox and his brother Vomit the bassist leaving the band and Lou joined Flux Of Pink Indians. D.I.R.T. reformed a year or so  later though with a different line up. Fox as mentioned in the text at the start of this post, is featured on this Poison Girls insert that accompanied the LP uploaded tonight.
The 'Total Exposure' LP was the debut Poison Girls release on Xntrix and a year later was followed by the 'Where's the Pleasure?' LP released in 1982.
Though their last studio recordings were released before 1985 via both the Xntrix and Illuminated Record labels, a number of Poison Girls compilations have since been released, and their songs frequently appear on punk anthologies.
Poison Girls were certainly one of the best bands around in the late 1970's and early 1980's era and the track 'Persons Unknown' still resonates as strongly in 2010 as it did during the height of the Cold War.