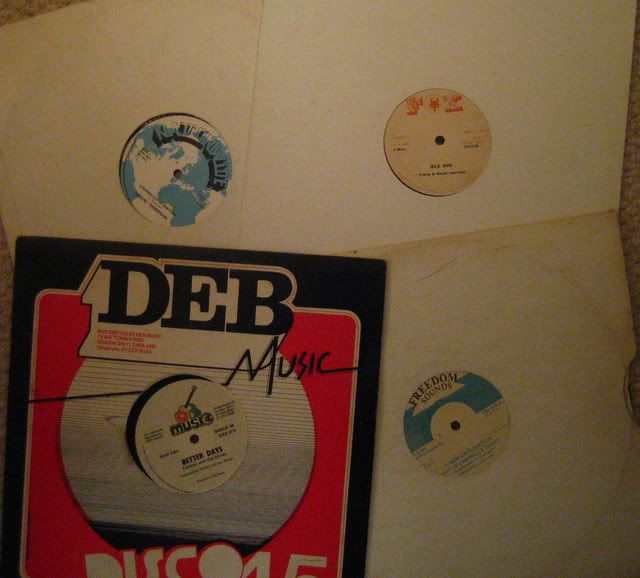 Linval Thompson – Stepping Out Of Babylon / Mind Babylon – Nationwide Records
Clifton Campbell And Trinity – A New Civilisation / The Revolutionaries – Version – Freedom Sounds Records
Carlton And The Shoes – Better Days / Junior Degado And Castro Brown – Trickster  – D.E.B Records
Hoziah Lawrence And Trinity – Idle Dog / Gold Spoon – Fox Records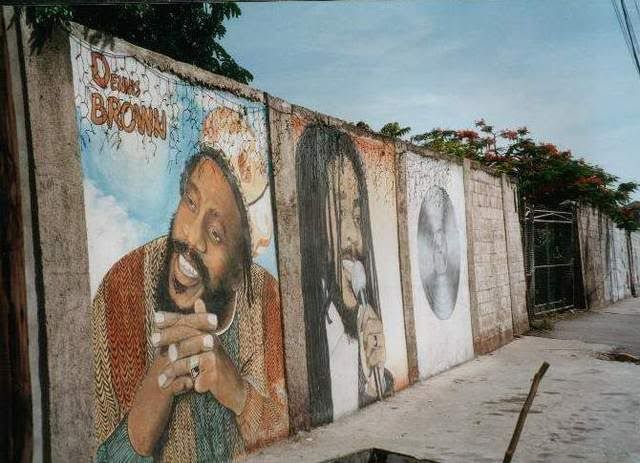 After uploading the Bollock Brothers post, I was in need of some sweet medicine for my aching ears…here is a selection of incredible rare grooves on 12″ from Jamaica, to make me feel better. Worthy of the plastic the tunes were pressed up on, unlike the previous post.
First up 'bad boy' Linval Thompson with his cut of the 'Real Rock' rhythm, made famous in the early 1970's with Coxsone Dodd's studio one session muso's The Sound Dimension, later hi-jacked by Dillinger and many others. Most of the public out there would remember the Willie Williams cut 'Armageddon Time' beautifully covered by The Clash in 1979.
Freedom Sounds released this unknown vocalist (to me anyway) Clifton Campbell with one of the mightiest tunes I own, Trinity running off with 100% pressure on the DJ cut seals it for me. I always drop this tune on any Reggae Nights I used to perform (?) at… 
Carlton And The Shoes remake of their own classic 'Better Days' originally cut for Lee Perry in the mid 1970's, this version is on Dennis Emmanuel Brown RIP label D.E.B and is a lot slower and has a much more 'dread' feel to it. Carton And The Shoes shared members with The Abyssinians. Junior Delgado RIP with his huge UK and JA hit 'Trickster' on the other side of the Carlton And The Shoes track, produced by Dennis Brown.
Hoziah Lawrence I know nothing off, although Jack Ruby's RIP label Fox had the mighty Burning Spear releases on it. One time at Jack Ruby's bar in Ocho Rios, Fatjaw who used to chant on the mic on the Fatman Sound System in the early 1970's almost put a man to death in front of myself and Bobbly Jax Bird, my wife, for the crime of hitting wifey with the wing mirror of the car, as he had attempted to drive past slowly. Luckily Fatjaw pardoned the guy after we told him Jax was fine!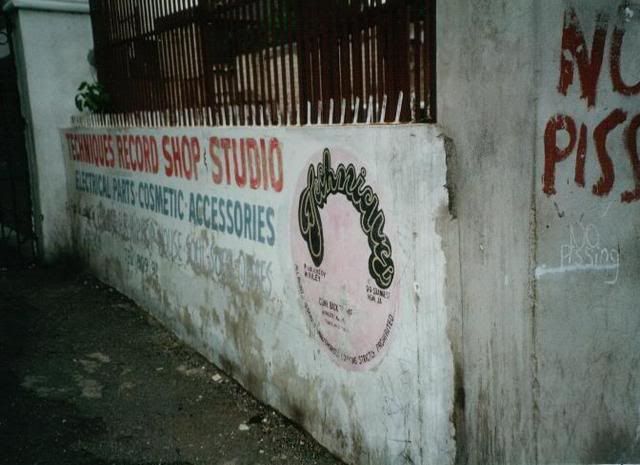 Photos taken down Orange Street, Kingston, JA. Dennis Brown paintings oppersite Augustus Pablo's RIP Rocker International shop, second one of the alley to Winston Riley's Techniques shop and studio.