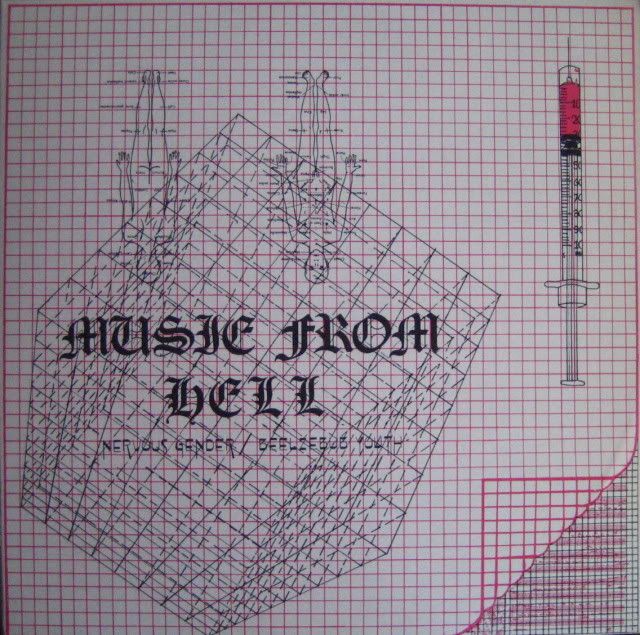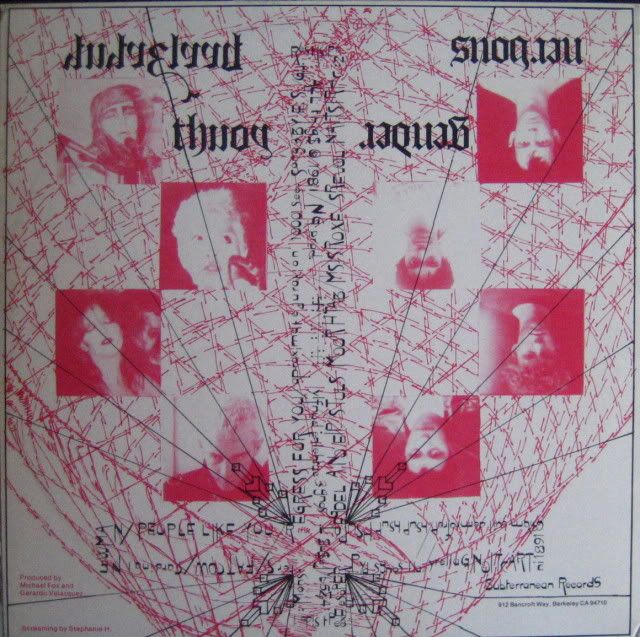 Nervous Gender – Monsters / Alien Point Of View / Cardinal Newman / Fat Cow / Nothing To Hide / People Like You / Regress For You
Beelzebub Youth – Christian Lovers / Exorcism / Bathroom Sluts / Pie On A Ledge / Push, Push, Push / Alice's Song
Music From Hell – Dark Wave Synth Industrial quirkyness from L.A. Well out there if you care to listen to this material. On this LP for some strange reason, Nervous Gender decided to perform the B Side under a different name Beelzebub Youth.
All tracks were performed live in Traetion Gallerie May 30 1981. The entire contents of this album were recorded on a Toshiba RT-8200a portable cassette recorder and a Sankyo STD-1700 cassette deck. This album was recorded and mixed in a span of 36 hours (mistakes and all). The spine on this LP gives the catalog number as SUB 21, labels give it as SUB 666  and the LP Includes three inserts: red and black on white lyric insert with technical details, black on grey card advertising a lyric supplement to the LP, and double-sided black on white Subterranean Records catalog. So now you know.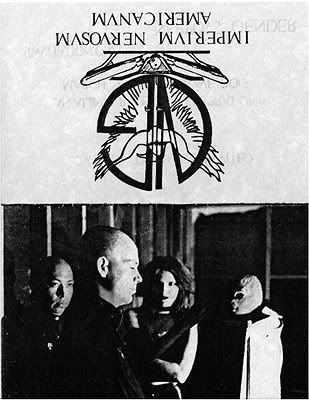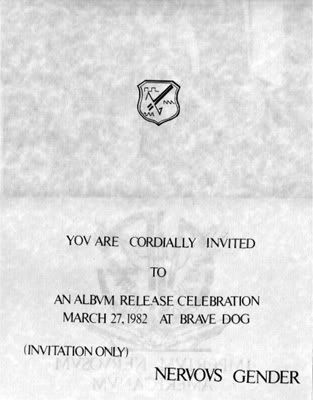 Nervous Gender was a punk band founded in Los Angeles, California in 1978 by Gerardo Velazquez, Edward Stapleton, Phranc and Michael Ochoa.
Their use of heavily distorted keyboards and synthesizers made them, along with the Screamers, one of the original innovators of what is today called "Synthpunk", although they could equally be considered an early industrial group. The group was confrontational and experimental, mystifying audiences of the day.
Phranc's androgynous appearance was the embodiment of the group's name and added to their mystigue, garnering them much press in zines such as Slash . Despite their somewhat high profile, the groups' habit of provoking the audience, obscene material and harsh erotics guaranteeded they would never gain commercial acceptance.
At their first show in 1979, a benefit for the Women's Video Center, Phranc called the audience "pussies" and "dykes" when the band was requested to stop playing, and songs like "Jesus Clone", with lyrics such as "Jesus was a cocksucking Jew" were not destined for radio airplay.
In 1979, Don Bolles of The Germs joined as drummer. The next year Phranc left the band and Paul Roessler of the Screamers joined. At this time they recorded the tracks for the compilation Live At Target, released as an LP and a video, both seminal not only in the punk scene but also as early industrial recordings; fellow contributors Factrix and Zev (listed on this recording as "UNS") were early industrial acts, and Nervous Gender found more acceptance among that scene initially.
All the artists involved in Live At Target were experimenting with atonality, noise and concepts not common until post punk groups emerged later. Nervous Gender played with bands such as SPK, Factrix, Non, Einsturzende Neubauten, and Psychic TV during the early 1980s.
In 1981 they released their LP Music From Hell  and, unfortunately, did not record in the studio again. After the LP came out, Paul Roessler moved to New York to play with the Nina Hagen Band and was replaced by Bill Cline, and Don Bolles left the band to play with 45 Grave. He was replaced by an eight-year-old boy, Sven Pfeiffer. In 1982, Sven's mother took the young drummer back to live in Germany.
During their career Nervous Gender managed to accumulate a certain reputation, being called by one critic, "…the thorn in the side of the L.A. music scene…", which the band revelled in. During the mid 80s, the band was on the verge of breaking up when members of Wall of Voodoo Bruce Moreland, Marc Moreland and Chas Grey, who were fans, stepped in and offered to collaborate with them. It was at this point that a guitar-driven version of Nervous Gender emerged. During this time Dinah Cancer of 45 Grave was a frequent guest performer with them, and they played shows with bands such as Christian Death, Super Heroines and, most often, Kommunity FK at venues such as the Anti Club . Gobsheit , a side project of Stapleton's with Patrice Repose, also rounded out the bill on occasion.
In 1988, Edward Stapleton played his last show with the band, and after this the group played only two more shows, the last one on April 18, 1991 with original members Gerardo Velasquez and Michael Ochoa and newcomer Joe Zinnato. Gerardo Velasquez died on March 28, 1992, at age 33, the final end to Nervous Gender.
Text above ripped from fact-archive.com/encyclopedia