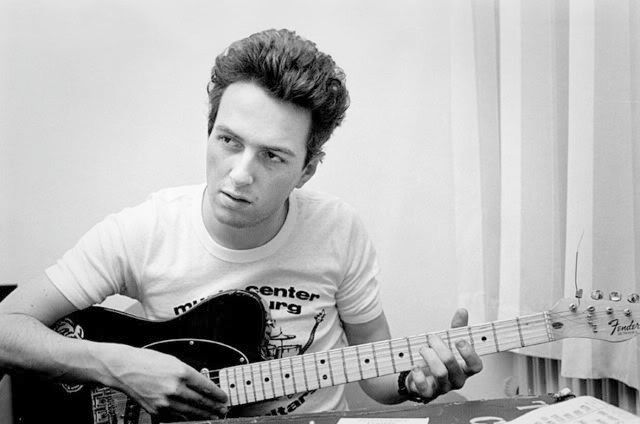 Tribute to Joe Strummer who passed on way way too early, six years ago on this day.
Presenting his finest moment (in my opinion) on record and the orbituary from The Times newspaper.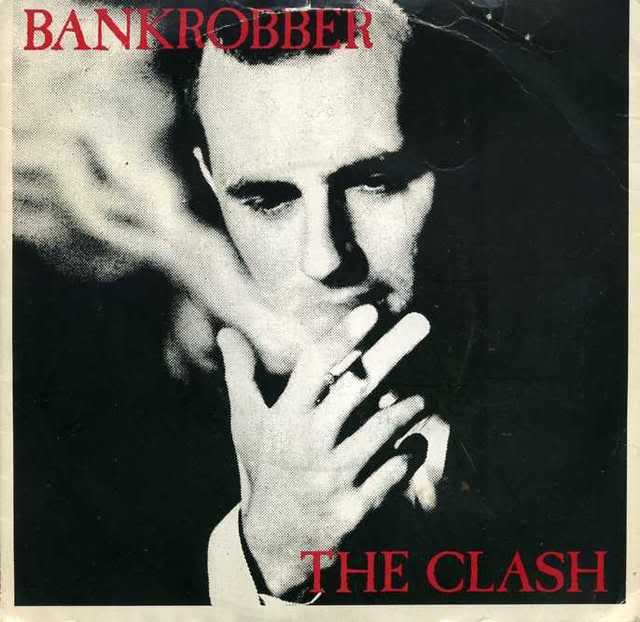 Joe Strummer, rock singer and lyricist, was born in Ankara, Turkey, on August 21, 1952. He died of a suspected heart attack at his home in Somerset on December 22, 2002, aged 50.
His only rival as the main spokesman for the punk revolution which transformed British youth culture in the late 1970s was Johnny Rotten. Yet unlike the Sex Pistols' singer, Strummer maintained his punk radicalism. When he was interviewed in this paper last year about his most recent album, Global A Go-Go, the writer observed that he was "the only rock star of his generation . . . who hasn't mellowed with age". Only last month, he was to be found playing a benefit gig for the striking Fire Brigades Union with his new band, the Mescaleros.
The son of a British diplomat, he spent his early years living variously in Turkey, Mexico, Germany and Egypt. Educated at a Surrey boarding school and art college, he had a spell busking on the London Underground, after which he formed his first band, the 101ers, playing amiable R&B on the mid-1970s London pub-rock circuit.
But he was frustrated by what he saw as the stagnation of the music scene of the time. In April 1976, the 101ers were supported at a London date by an emerging group called the Sex Pistols. Their volatile and nihilistic garage rock sounded crude and unrehearsed. Yet Strummer became convinced that the energy of the emerging punk movement could be harnessed to revolutionise British music. Within two months he had teamed up with the guitarist Mick Jones, the bass player Paul Simonon and the drummer Nicky "Topper" Headon to form the Clash.
Managed by Bernie Rhodes, an associate of the Sex Pistols' manager Malcolm MacLaren, they swiftly built a following at punk venues such as London's 100 Club. Then, late in 1976, they joined the Sex Pistols on their "Anarchy in the UK" tour. With punk already making front-page headlines for its alleged violence and moral threat to the nation's youth, all but three of the 19 planned dates were cancelled by anxious promoters.
Such notoriety only enhanced punk's appeal. Major record labels were soon jumping on the bandwagon and after making some demos for Polydor, in January 1977 the Clash signed to CBS Records. Their first single was the provocatively titled White Riot, a raw, aggressive, streetwise song with Strummer's angry lyrics snarled at breakneck speed.
It reached only number 38 but the band's debut album, The Clash, made number 12 on its release in the spring of 1977. Taking unemployment, alienation and rebellion as its subject matter and recorded in a matter of days, it remains, along with the Sex Pistols' Never Mind the Bollocks, punk's definitive statement.
In many ways, Strummer's songs were responding to the same events and sense of political drift that led to Margaret Thatcher's radical Conservatism. But Strummer moved in the opposite direction and was spotted at gigs wearing a T-shirt supporting Brigade Rosse, the Italian Red Brigades held responsible for the murder of the former Italian Prime Minister Aldo Moro. He also expressed his support for Germany's Red Army Faction, better known as the Baader-Meinhoff gang.
Given the group's provocative attitude, trouble inevitably followed them. During their 1977 White Riot tour, Strummer and Headon were arrested and fined for spray-painting "Clash" on a wall. The same pair spent a night in jail in Newcastle, ludicrously charged with stealing a pillowcase from a local Holiday Inn. They responded by calling their next tour "Out on Parole". The group even managed the not inconsiderable feat of inciting a riot when they performed in genteel Bournemouth.
They put their money behind their political convictions, and in April 1978 they headlined a free Anti-Nazi League festival in London, organised by the pressure group Rock Against Racism. But their politics and growing commercial success were always in potential conflict, as Strummer recognised in the single White Man in Hammersmith Palais in which he struggled with the dilemma of punk rockers "turning rebellion into money".
The group's second album, Give 'Em Enough Rope appeared in November 1978, and went straight into the charts at number two, kept from the top spot by the soundtrack to the film Grease. The recruitment of the top American rock producer Sandy Pearlman smoothed over some of the group's rougher edges but did nothing to lessen their political anger in songs such as Guns on the Roof and Tommy Gun, which gave them their first British Top 20 single. "Protest songs, that's what you'd call them. Folk-songs with an electric guitar," Strummer said at the time.
A four-track EP which included a suitably venomous version of Bobby Fuller's I Fought the Law was released in summer 1979 as a holding operation while they broke America and began planning their third album, London Calling. Produced by the veteran Guy Stevens, the double album is widely regarded as the group's finest, as reggae and rockabilly tunes take their place alongside raw punk aggression on songs such as The Guns of Brixton and Revolution Rock.
London Calling reached only number nine in the British charts, but it remains one of the most influential rock albums. Among those to fall under its influence was Bob Dylan's son Jacob, who now leads his own band, the Wallflowers, and recently cited London Calling above his father's work as the record that "changed his life".
The group's politically charged fourth album, Sandinista!, appeared in 1980. The first to be produced by the group themselves, this sprawling, 36-song triple- album was released at a special budget price, after the group agreed to forgo royalties on the first 200,000 copies in return for CBS's co-operation.
In 1982 Strummer mysteriously disappeared for three months, later claiming that he was in Paris where his girlfriend's mother had been in jail. The mystery helped the next album, Combat Rock, to number two in the British charts and gave the group there first American Top Ten entry.
Strummer still sounded confrontational and the album produced hit singles in Rock the Casbah and Should I Stay or Should I Go?
Yet paradoxically, it was the beginning of the end for the group. Headon left, and when the Clash joined The Who on their farewell tour of America in late 1982, many felt that the latterday punk heroes sounded tame in comparison to the 1960s veterans.
The following year Jones was evicted from the group. Strummer and Simonon soldiered on with two new recruits, Vince White and Nick Sheppard, and played benefit shows for the striking miners. But after the group's final album Cut the Crap was savaged by critics, they called it a day at the end of 1985.
As a rock icon who had achieved everything before he was 30, Strummer appeared unsure what to do next. He played on Bob Dylan's album Down in the Groove, organised a "Rock Against the Rich" tour, played with Latino Rockabilly War and released the 1989 solo album Earthquake Wonder. But that was to be his last album for a decade as he turned to cinema and deployed his chiselled good looks to effect in such films as Straight to Hell, Sid and Nancy, Mystery Train and Lost in Space. He also worked on several film soundtracks including John Cusack's Grosse Point Blank.
After a brief spell deputising for Shane MacGowan as lead vocalist with the Pogues, he spent much of the 1990s resisting invitations to re-form the Clash as various compilations kept them in the charts and a reissue of Should I Stay or Should I Go? became the Clash's first number one single, following its use in a Levi's jeans commercial. Strummer reportedly refused an offer of more than £3 million for the group to tour America. "That was never the Clash way of doing things," he later told The Times. "We all agreed it would have been sickening to have been playing that music with the pound signs hanging over us."
It was not until 1999 that he returned fully to the fray with a new band, the Mescaleros, and the album Rock, Art and the X-ray Style. A second Mescaleros album, Global A Go-Go, followed within 18 months. "It took ten years to recharge my batteries. I felt isolated and wanted to wait until I'd stopped being the singer from a once-famous group and was this guy who needed help," he said.
Although he moved to Somerset to bring up his family, his political fire remained undimmed. "The spirit of rock'n'roll helped to stop the Vietnam War," he told The Times last year. "Perhaps it's a bit crazy for me still to feel like that. But I can't help it. Someone's got to keep the faith."
In March he was due to have been inducted with the Clash into the Rock and Roll Hall of Fame, when it was expected that the group's original line-up would perform for the first time since 1983. Fate has decreed that the Clash will now never reunite. He was also working on a track written with Bono and Dave Stewart for Aids Awareness in Africa.
He is survived by his wife, two daughters and a stepdaughter.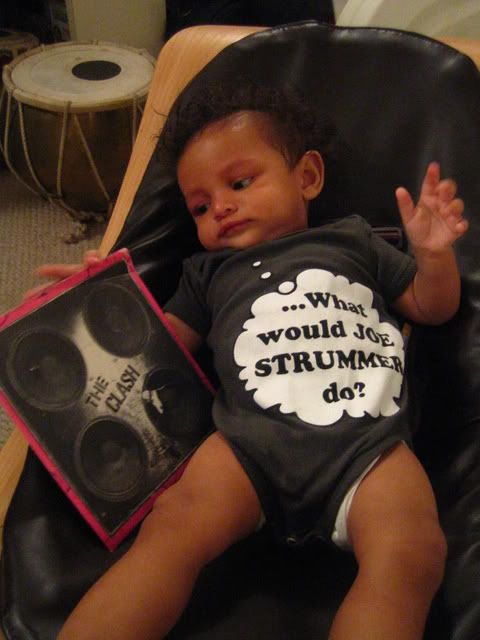 Baby Aaron celebrating The Clash.