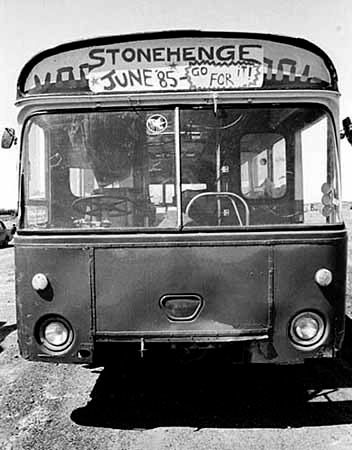 Before Beanfield…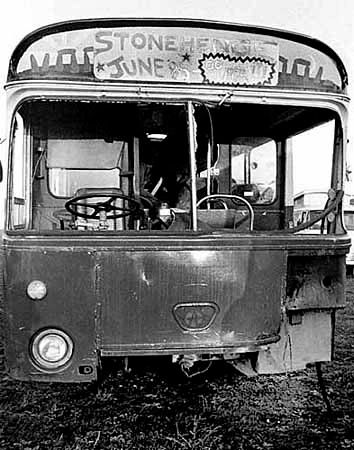 …after the battle of the Beanfield 1985.
June 1st 23 years ago.
Photos: Alan 'Tash' Lodge
Name: Alan Lodge
Date: 1 June 1985
Place: Wiltshire
Facts: Photographer and ambulanceman Alan Lodge was in a convoy of travellers heading for Stonehenge when 1,600 policemen violently tried to arrest them all. Dubbed the 'Battle of the Beanfield' in the media, it fragmented the travelling community. Although he subsequently gained a degree, Lodge has since struggled to find work.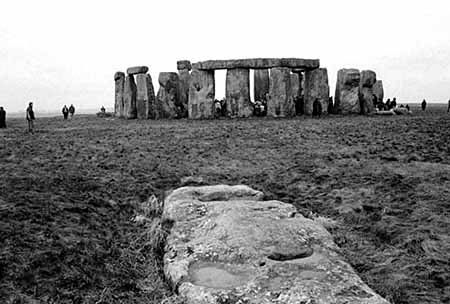 People don't like travellers – we lower their house prices – but we hadn't shown any violence. The police had previous, but the Stonehenge ambush was caught on camera and Dixon of Dock Green don't do this kind of thing, so there were articles as far away as the Tehran Times.
The first free festival I went to was in the Queen's back garden at Windsor in 1972. Basically, you're hanging out with your mates and everyone's smiling. That carried on until 1974, when 600 Thames Valley police waded in. I was sat round the fire with a cup of tea and suddenly – whoop! A truncheon round the head. We got the message, we were scared stiff, so the People's Free Festival moved to Stonehenge.
I could see the way the wind was changing so I became an ambulanceman and got involved with an organisation set up to help youngsters who had got in trouble with the law. First in tents and teepees, and then on buses and trucks, people were now permanently meandering around the country. I had a cottage in Wales with my wife and two kids, and we were out and about for roughly nine months of the year.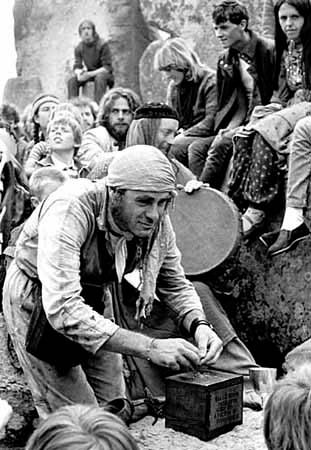 By the 1984 festival there were 30,000 or 40,000 people at Stonehenge living in tents. Everything you look for in human exchange was there: lack of greed, co-operation, looking out for each other, breaking down mental barriers. Bartering was important. People were grateful for me being an ambulanceman: 'Can I do your shopping? Can I look after your kids?' Everything you think about being in a better society was there in the Anarchists' Free State of Albion at Stonehenge.
On our way there the next year we were given papers by the police outside Salisbury stating that we'd be arrested if we went to Stonehenge because of an injunction they had taken out. We were used to this – the existence of the travelling life is an offence – but we didn't know this meant they'd assembled 1,600 policemen on our route. The convoy stopped adjacent to the famous beanfield, well outside the five-mile radius of the court order, so I hopped out of the cab to take some pictures. Suddenly I saw this black cloud coming down the line, a load of coppers with riot shields. They went up to the motors, many with kids in, and were whacking them with their sticks. Two pregnant ladies were dragged out of the broken windscreens by their hair. The screams are with me now.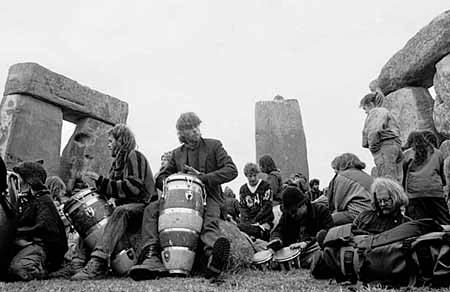 Rather than let them come our way we turned and drove through the hedge into the field by the road. For the next five hours there was a stand-off, skirmishes continued with people trying to get out of the field. I tried to liaise with senior policemen but their attitude was, 'We're going to arrest you all.' I'm bandaging bleeding heads, but then there's truncheon wounds where you can see the skull and I'm getting nervous of people dying. So we get them out on a Wiltshire ambulance.
At seven in the evening all the coppers boiled on to the field, smashing up the vehicles and arresting everyone. ITN were there and took footage of the level of violence. The operation wasn't just about arresting people, but also part of a 'decommissioning exercise', hitting people so hard and ruining their homes so they'll think twice about leading this lifestyle. Overall, 520 were arrested and spread around police stations up and down the country for three days, the biggest single number since the Second World War. Children were put temporarily in care. The charge was 'obstruction of police', which is one up from a parking ticket. The government was cheering on from the sidelines. Douglas Hurd said we resembled a bunch of medieval brigands.
I thought, 'I'm a British citizen whose tribe's been treated badly, we can go through the courts.' We got 24 together to take an action against the police. Five years later, the jury awarded us £25,000 damages but the judge said we'll split the £7m cost of the case in half, so our damages went towards that. Two of the jury burst into tears.
In 1986 parliament passed an act which criminalised 12 vehicles gathering on common land to reside. So we'd gather, stay up all night and have a rave instead. In 1994 Michael Howard's act made this impossible, and then this last lot pass a law that means a traveller parked on the edge of a housing estate is involved in antisocial behaviour. So now a lot of people are shoved into the city where the community splits up, they can't support each other and the kids have chips on their shoulders. The return to the cities hastened the use of serious drugs.