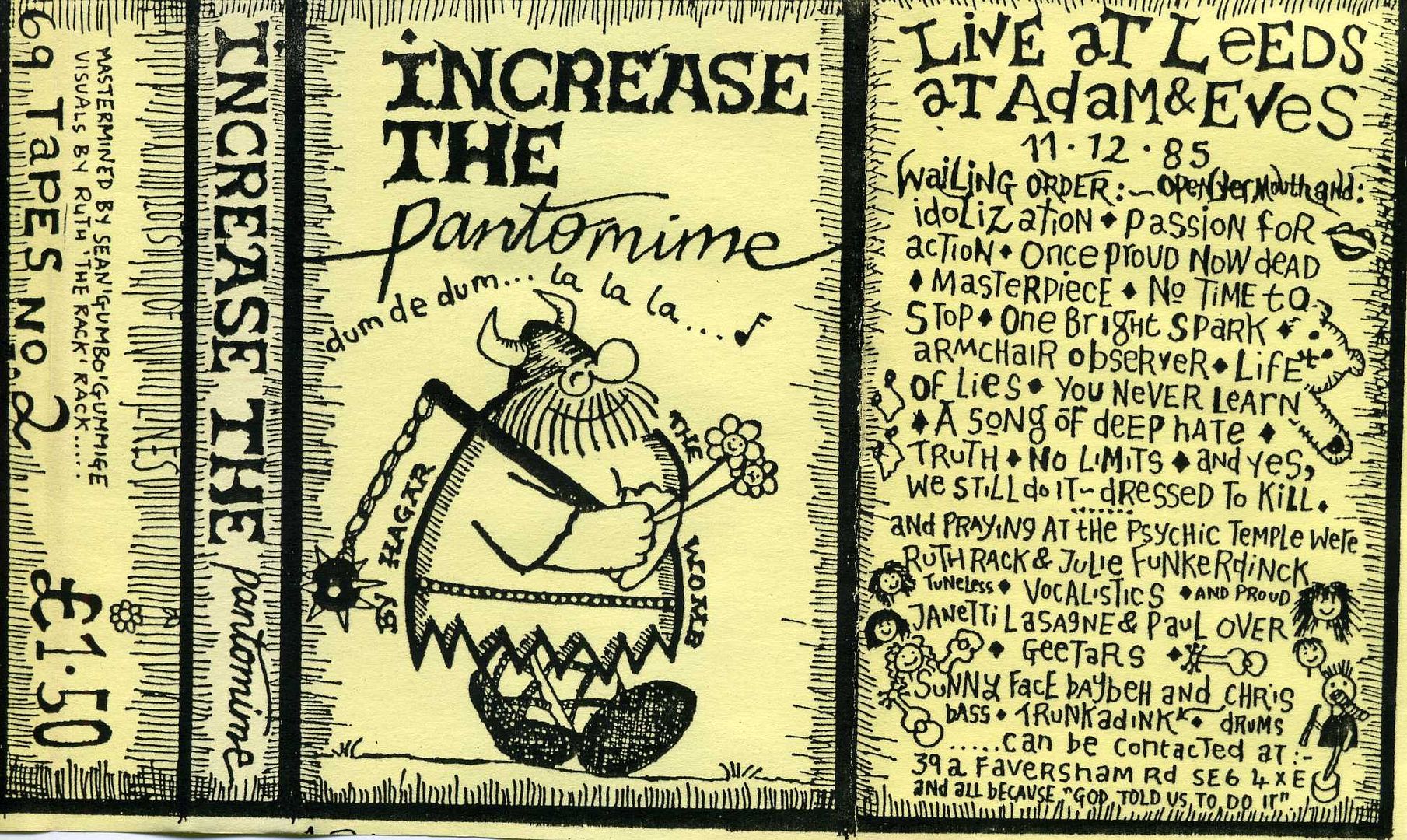 Hagar The Womb – Increase The Pantomime – Adam And Eves Leeds 11/12/85
We Are Going To Eat You – Four Heads Feast  – Side One
We Are Going To Eat You – Four Heads Feast  – Side Two
The very last time that I witnessed a Hagar The Womb performance was in the middle of December 1985 down the Broadway Bar underneath the Clarendon Hotel in Hammersmith. It was a Jon Fat Beast promotion with Wat Tyler and The Shout from St Albans supporting that night. The very next night at the very same venue in Hammersmith, Patrik Fitzgerald performed with the Stitched Back Foot Airman. This was also a Jon Fat Beast promotion and this was the last time I witnessed Patrik Fitzgerald.
I mention this because in a little over two weeks time all roads lead to the Fleece in Bristol for a gig with The Mob, Patrik Fitzgerald, the newly reformed Hagar The Womb along with Shocks Of Mighty!
Shocks Of Mighty! have included in their ranks Veg, who for a while towards the end of 1985 perform bass duties for Hager The Womb. A few months later he would be performing bass duties for We Are Going To Eat You.
Both the featured cassette releases by Hagar The Womb and We Are Going To Eat You uploaded onto this post today were released on Sean Gummidge's cassette label 69 Tapes; a direct turnaround of 96 Tapes then owned by All The Madmen records boss Rob Challice… Rob Challice was Sean Gummidge's (and Mickey Penguin's) boss at All The Madmen records then trading out of Brougham Road in Hackney. Sean was also a member of Wat Tyler who I witnessed that last time I saw Hagar The Womb.
I witnessed We Are Going To Eat You a few times in 1986 but my three favourite memories of the band by far was when they performed at the following three memorable events. The following year in 1987 We Are Going To Eat You performed at Meanwhile Gardens in Westbourne Park, along with The Astronauts which was to be a massive highlight for the following year.
The first time I remember seeing We Are Going To Eat You was at a gig in November that was organised by Club Dog. This was an early promotion from that pioneer organisation that would cross over the hippies / crusties / punks / mutoid wasters / ONU Sound crews and general drugheads in a get together lasting late into the following morning. This venue in Wood Green, north London, was the very first venue that Club Dog was held at. The venue was beautifully made up with all sorts of weird netting and bric an brak hanging from the low ceiling. The vibe was relaxed and both We Are Going To Eat You and Blyth Power performed great sets. The gig went on until about 1.30am and then a sound system kicked off for the remaining couple of hours. A great night indeed. The following year Club Dog out grew Wood Green and moved their nights of celebration to the Sir George Robey venue in Finsbury Park. Several years after that the organisation out grew the 'Robey' and ended up at the Holloway Road Rocket, which was a huge venue allowing around a thousand  Club Doggers into the party to dance and then chillout through to the morning.
A week after the Club Dog night was the second time I remember with fondness. This gig was with Chumbawumba at the Bull And Gate in Kentish Town on a promotion named 'The Timebox'. The Timebox nights at the Bull And Gate were to be the band's spiritual home. Jon 'Fat' Beast, the promoter was to become a sort of spiritual guru. During that night a member of the Hackney Hell Crew (I think) let off some tear gas and the hall had to be evacuated for a short while. That aside the band played great, as did Thatcher On Acid. Chumbawumba performed the (soon to be released on vinyl) 'Pictures Of Starving Children' set in full. Amazing night.
The third performance I remember was a gig in December at the Sir George Robey in Finsbury Park along with Blyth Power and Thatcher On Acid. This was also a great night. That occasion was the last ever Blyth Power performance (with the original line up of Curtis, Andy and Neil in the band) and just a handful of days after my birthday of that year. Sian Lost Cherree, Protag from Instant Automations and Steve Corr Idiot Strength joined Blyth Power in January 1987 to continue with Josef and Sarah…
Both nights were packed to the rafters. Both of those nights were at the time among the highlights of that year for me.
Veg along with Nick Hydra struggled long into the night to remember, and put down into an essay, a snippet of history bridging both Hagar The Womb and We Are Going To Eat You. I thank them both for all the effort you have both put in and also for the collection of  personal photographs and the Hagar The Womb flyers that they have both shared for this KYPP post. I also stole a photograph of Bug and Veg together from Ruth Hagar's collection, thanks to you in advance. I supplied all the We Are Going To Eat You flyers!
Karen had left Hagar the Womb around the same time as Mitch during the last months of 1985 and I was drafted in to play bass. Julie came in as the second singer about six months later.
I was basically a fan of Hagar The Womb. Nick Hydra and myself were from SE London and we both got to know Mitch from the Wapping  Autonomy centre way back at the dawn of the 1980's. Our mate from school knew Martin (Bug) who went on to be in God Told Me To Do It a little later on in the decade. We all hung about  together.
A year later on we would all make the very long journey from South East London to the Centro Iberico in West London every Sunday because it was only one bus ride and it only cost 30p each way. We would meet Mitch and the rest of the Hagar The Womb crowd there on many occasions.
Nick Hydra ended up sharing a flat at the Blackheath Standard with Mitch and Raye (ex Third Door From The Left, then Leech Woman, now in Hydra). I would visit this address regularly.
I had always played bass from a young age, I had been in a band called 'The Decides' in 1979. Mitch got arrested at the Black Sheep eviction (I think – or was it Stop The City?) because Luke threw a brick at the coppers (one black punk with a mohawk looks much the same as another, at least so it appears to the long arm of the law). I performed one gig with Hagar supporting The Three Johns at Thames Poly because Mitch was on remand in prison.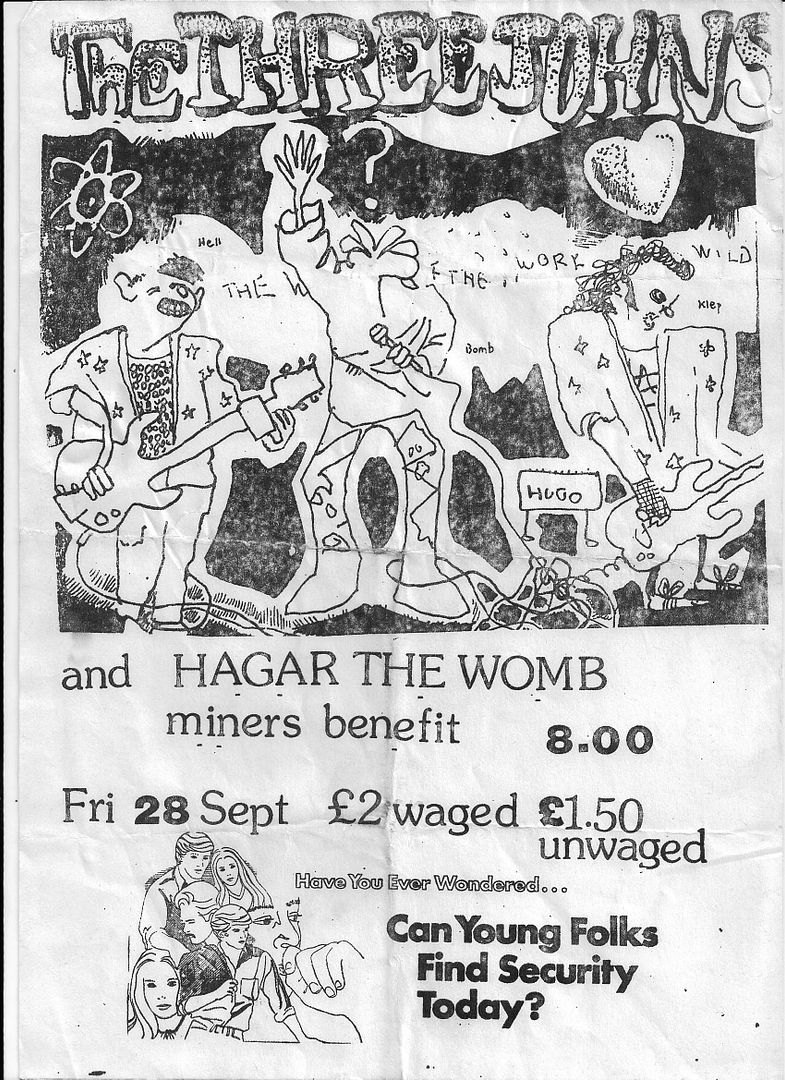 I think the band asked me to join permanently because I am a fine human being and I knew most of the songs. I could also drive, which was a rarity at the time in the circles we all mixed in. That was a skill that was also quite useful.
In December 1985 we played a couple of UK gigs and then travelled over to Holland to embark on a small Dutch tour. Mitch played some of the songs and I played the others (whichever one's I had managed to learn by then).
What was to become the band We Are Going To Eat You splintered off from Hagar The Womb six months or so after this Dutch tour. Chris and Paul had wanted to do something with more commercial potential and Hagar The Womb were never going to be that band.
Julie who was in a relationship with Chris joined as vocalist for We Are Going To Eat You,  and they then asked me to play bass.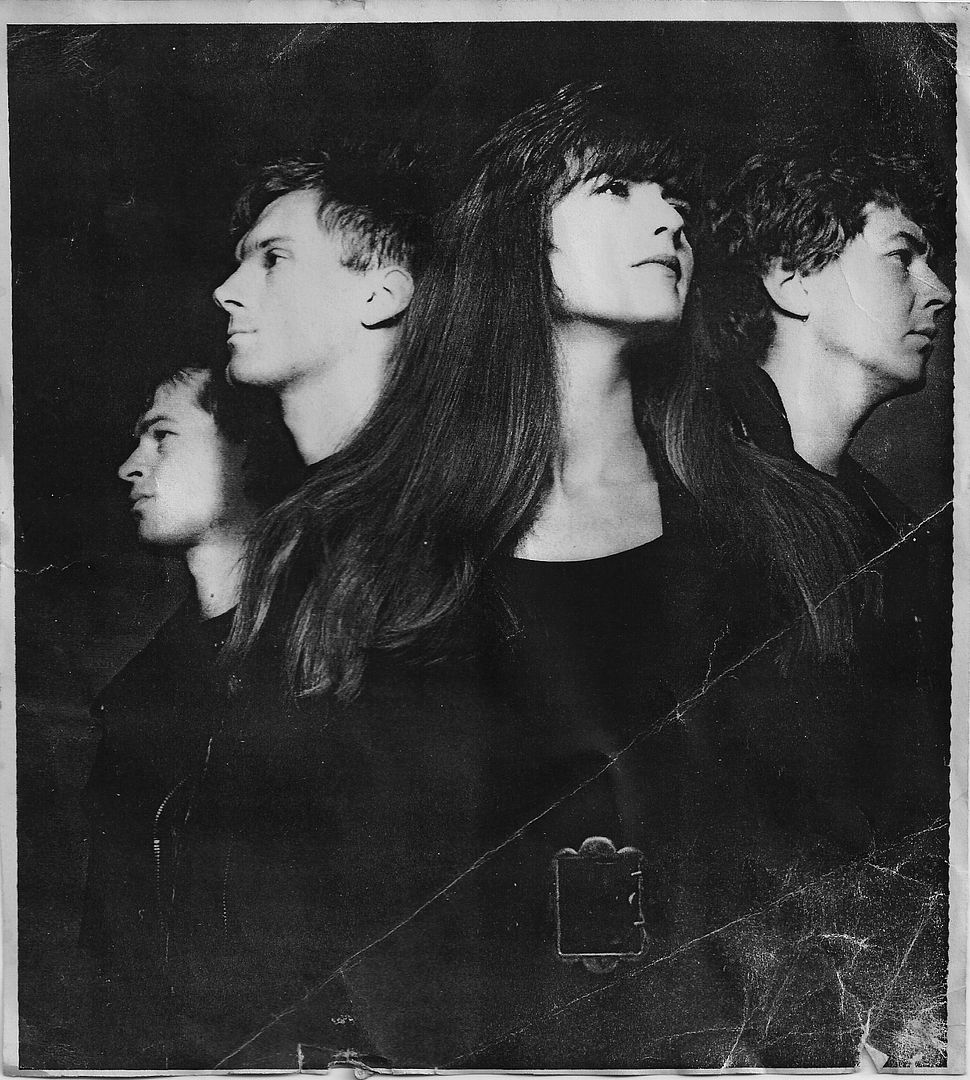 I agreed but insisted that I would continue to play with Hagar The Womb. Unfortunately, the 'Increase The Pantomime' cassette is the only Hagar The Womb recording that I grace with my fabulous bass skills!
For approximately three months I was in the new line–up of Hagar The Womb with Sean Gummidge on drums and John Cooper on guitar along with performing in We Are Going To Eat You. Although Hagar The Womb rehearsed a lot and wrote quite a few new songs we never recorded anything or played any gigs with this line-up. John Cooper was an ex member of Insight, a band who had released a single on Sean's Rugger Bugger records, and had also been a fellow pupil at Penguin's old school!
Relations between the two bands stayed as amicable as they ever can do in these circumstances, even though Chris and Paul took quite a few of the Hagar songs that they had written when they left to form We Are Going To Eat You.
We Are Going To Eat You started gigging almost immediately. Having a ready-made set list of songs that had previously been written for Hagar The Womb helped. The frankly awful name came about after a drunken evening shortly after we arranged our first gig simply because we had to have something to put on the flyers. The first gig was at the Jon Fat Beast promoted 'Timebox' night at the Bull & Gate pub in Kentish Town. This would be a venue we performed in several times.
In the end I couldn't maintain the commitment to both bands and I chose to leave Hagar The Womb. Hagar The Womb carried on for about a year, with Paul Cooper on bass, and his girlfriend Kit on Keyboards. Paul was John's older brother.
There were some gigs and possibly a live tape recorded with this line-up, but they called it a day after a while.
We Are Going To Eat You recorded one track 'Waiting' which was an old Hagar The Womb song for the 'Timebox' compilation LP before doing the tape 'Four Heads Feast'. I was really happy with it at the time. Hearing it again after all these years, it's lost – shall we say – some of its charm.
We recorded the tracks that were released on the tape in the winter of 1986 with the bulk of it being reworked Hagar The Womb songs, and these are (as far as I know) the only recordings of these songs that exist.
In 2011/12 with Hagar The Womb rehearsing for the first time in over two decades, there's a chance that some of these songs might see the light of day again in a live environment.
We Are Going To Eat You went on to be quite successful, recording an EP for All The Madmen records in 1987 and signing to Big Cat records straight afterwards. We released several more 12″ singles, promotional videos and a full length LP. We had some decent tours to perform on, The Godfathers amongst others, but the gigs always lacked the shambolic charm of Hagar The Womb for me.
This is how I remember it, but it is twenty to twenty five years ago now and others may remember it differently. But of course they will be wrong…!
Plenty more Hagar The Womb can be found on this KYPP site, and there is also the first two 12″ singles by We Are Going To Eat You on this post HERE