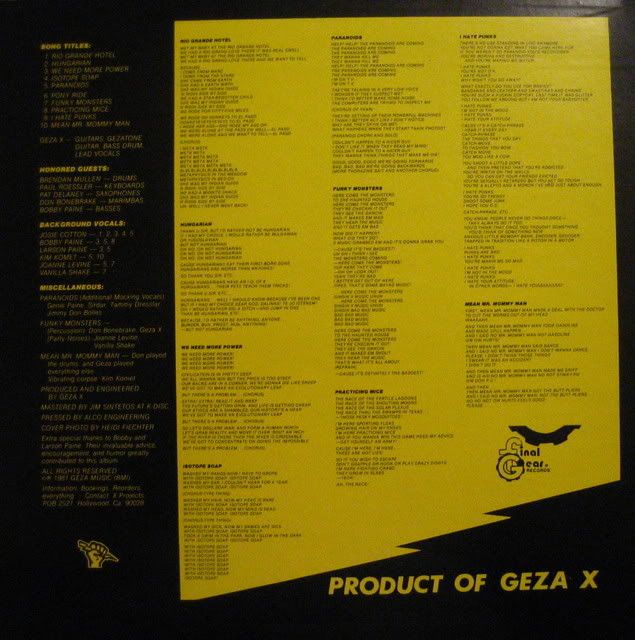 Rio Grande Hotel / Hungarian / We Need More Power / Isotope Soap / Paranoids
Pony Ride / Funky Monster / Practicing Mice / I Hate Punks / Mean Mr Mommy Man
Crazy Zappa influenced LP from one of the inspirational members of the original L.A. punk scene, Geza X.
Text below ripped from allmusic.com.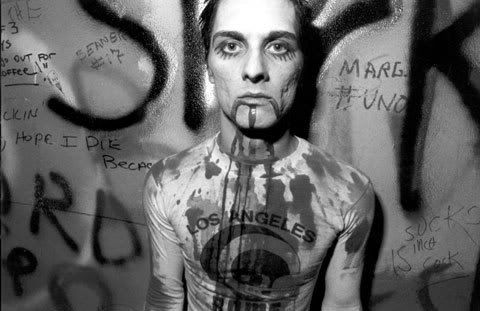 Best known for his work as a producer on the L.A. punk scene, Geza X also cut one bizarre solo album that remains a cult item for scene aficionados. Born to Hungarian parents, Geza (his real first name) adopted the "X" moniker in tribute to Malcolm X, and got his first recording studio job in the mid-'70s.
He soon moved on to become the soundman at the legendary L.A. punk club the Masque, and spread the word that he was interested in producing. The Germs' Darby Crash tapped him to produce the band's landmark debut single "Lexicon Devil," and from there X went on to helm seminal Cali-punk moments like the Dead Kennedys' "Holiday in Cambodia" and Black Flag's "Six Pack." He also worked with the Weirdos, the Avengers, and new waver Josie Cotton ("Johnny Are You Queer?"), among others, and played as an instrumentalist in both the Bags (a female-fronted group who wore bags over their heads) and the Deadbeats.
X started recording his own songs in the early '80s, influenced as much by avant-rock weirdos like Zappa, Beefheart, and the Residents as by punk. His "We Need Power" appeared on the second Rodney on the ROQ compilation, while "Isotope Soap" was included on Jello Biafra's Let Them Eat Jellybeans! sampler.
In 1982, X released his only solo album, You Goddam Kids, on the small Final Gear label. It featured a scenester-heavy backing group called the Mommymen, which included contributions from Josie Cotton, X drummer D.J. Bonebrake, keyboardist Paul Roessler (DC3, the Screamers), drummer Brendan Mullen, 45 Grave drummer Don Bolles, and more. X handled guitar, vocals, and studio treatments, and got a chance to indulge his bizarre sense of humor and his love of dissonant experimentalism.
As the L.A. punk scene wound down, X left town for a while to work through a drug problem. He returned to action first as an equipment reviewer for Spin magazine, then as a house audio engineer for Paramount. He came back to music in the late '80s, working with mostly local rap and alternative rock artists, and several years later opened his own studio, City Lab, in partnership with Josie Cotton.