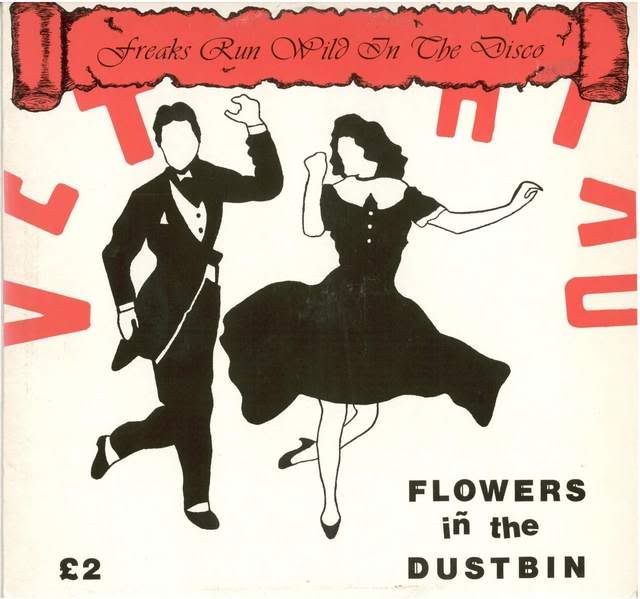 Stuck On A Stick / Pocketful Of Gold / True Courage
The Journey's End / Last Tango In Vietnam
All Fools Day / The Reason Why
The regular browsers to this KYPP site will know of my personal fondness for Flowers In The Dustbin, so it is with great pleasure that I am re-uploading the first two releases by this band. Indebted to Gerard for the informative text below. At one point in time my favourite band from that scene! Shambolic performances and some wonderful vinyl released.
Flowers In The Dustbin were doing a gig at the Roxborough Tavern in Harrow when Mick Lugworm came up and asked us if we wanted to do a record on All The Madmen. It was a complete surprise – we hadn't even considered a record at that point. But it was full of good omens for me. David Bowie's 'mad' brother was in "Cane Hill loony bin", which was my local (so to speak) – so doing a record on a label named after the song Bowie wrote about him was neat, particularly given our fondness for utilising the Doors 'all the children are insane' line.
Freaks was recorded after Si (guitar) and Bill (drums) had been in the band less than a week. Bill had filled in on drums with us before however, and none of the songs required a Jimmy Page level of competence for Si to learn.
Finding a studio was done via that traditional rock n roll grapevine, the local Yellow Pages. I found one just around the corner from my old school, which at the time seemed some kind of fitting, if ill-defined, revenge. We booked two days and invited old friend – and This Bitter Lesson chanteuse – Claire Taylor to put some extra vocals on it. I thought Claire was a Goddess and her   voice was liquid velvet and so could take the edge off my own perceived vocal shortcomings. Also it seemed a good idea to have a woman singing at a time when the only female punk vocals around seemed to be apeing the numbing aggressive shouting of their male counterparts.
Back to the recording. To cut a long story short I lost my voice and consequently missed the two days recording, having to book a third a week later when I was better. So I can't relay too much about it other than to say there was some muso tinkering with the Pocketful Of Gold guitar line I'd written to make it more 'tuneful'. While the cats away, da-da – decays. 
Freaks sold some copies – we were never told how many – and, more importantly to me, was the answer to a clue in the NME crossword. It's funny what you think validates you.
Nails Of The Heart was recorded for Conflict's Mortarhate Records. I've no memory of how this initially came about but can only presume that Colin from Conflict living near me in Bromley at the time is not unconnected.
We were booked into Alaska Studios in Waterloo, which was a big step up for us – 24 whole tracks! Rob Hendry ran the Mr Clean studio we rehearsed at in Bermondsey and was accordingly drafted in to produce. He'd produced some 4-track demos we'd done at Mr Clean and had previously played with all manner of luminaries from Renaissance to Twiggy via Alan Price and the Nashville Teens. Which is nice.
Nails was my paean to feminism and its failure to properly pierce the punk veil of illusion. It seemed a suitable riposte to what I perceived as the macho studded leather jacket crowd who bought records on Mortarhate. (Which may have been unfair of course, but that's how it felt at the time and in the place). Perceptive listeners may spot a Spear Of Destiny guitar solo in the middle – we didn't spot it till maybe 6 months later (apart from Si presumably). The Reason Why was inspired by the beat-talk-poetry of Patti Smith on Birdland (and lashings of teenage angst!) via some graffiti on a wall relayed to me by an artist called Julie Travis. All Fools Day was a miserablist Chas composition from our earliest days. All in all I think it was quite a brave record compared to its peers. On release, Nails Of The Heart leapt into the Sounds alternative charts and the next week leapt out again, lest we get too excited.
By this point we'd all been on the dole for some years and life was getting harder. Si bailed out to pursue his college / career ambitions as the rest of us started to think a bit more seriously about trying to make something resembling a living at music. Sometimes I think it might have happened too if we hadn't lost our discipline in the hedonist department.
I've no idea how it felt for other bands but in hindsight the defeat of the miners strike seems like it was quite a turning point. Up till then there really was a feeling that workable alternatives (in life, not music) were being created and there was at least a possibility of 'alternative lifestyles' stretching out into old age. Or maybe that was youthful naiveté – it certainly seemed so once Thatcher turned her bile on the travellers at the Battle of the Beanfield.
By this point, and maybe not coincidentally, Flowers In The Dustbin had left the anarcho building,  though as I've said previously, I don't think FITD as a band or concept were ever actually in it, despite ourselves. As the map is not the territory, so the band is not the members. 
We went on to get an 'indie' record contract and were gigging with the likes of the Cardiacs / Primitives / Fuzzbox.   We even did a gig with some of the blokes out of Madness, causing me to drastically rethink my opinion of them (in a positive direction). But that was another era of the band, and a different story… 
…bits of which are available HERE along with free downloads of everything we ever did and continue to do.
GERARD – 2009