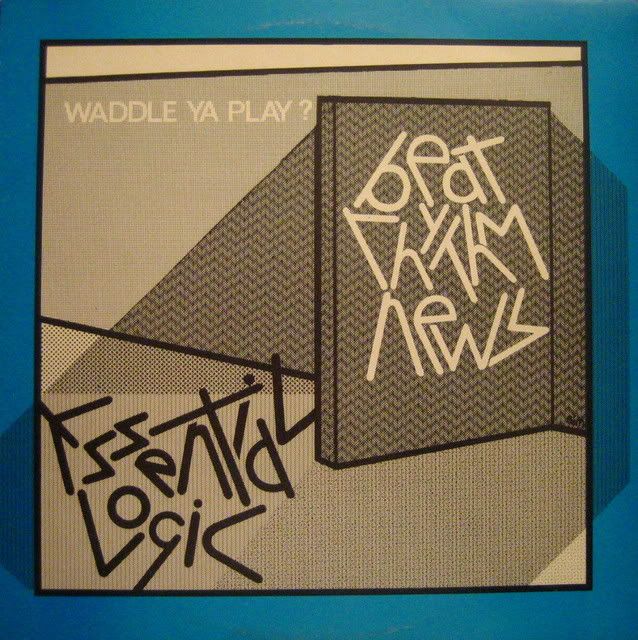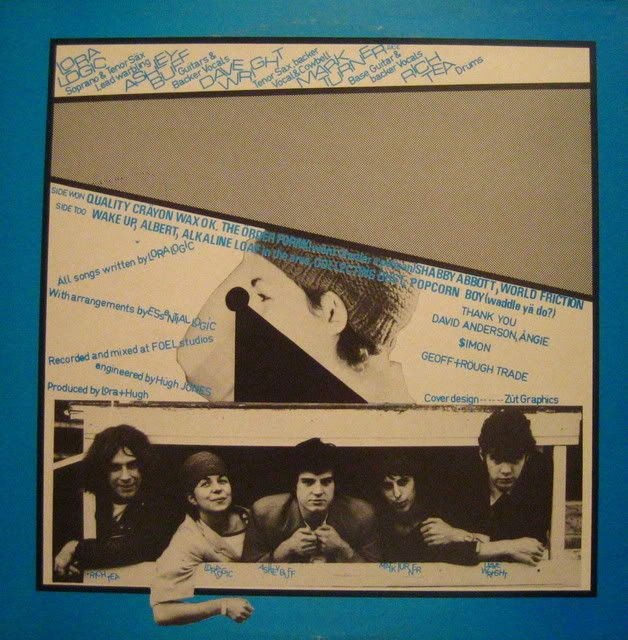 Quality Crayon Wax OK / The Order Form / Shabby Abbot / World Friction
Wake Up / Albert / Alkaline Loaf In The Area / Collecting Dust / Popcorn Boy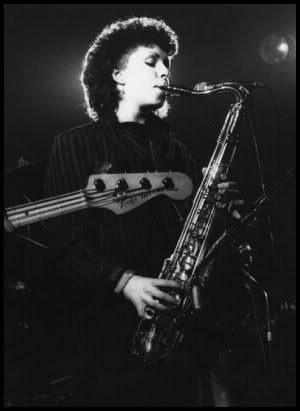 After the Pistols and Clash exploded onto the English music scene, the punk scene soon boasted its share of women at its forefront. X-Ray Spex had no less than two dominant forces with singer Poly Strene and saxist Lora Logic (both in their early teens). After being edged out, Logic continued to make her mark with her own group, Essential Logic, leaving an album and a set of singles in its glorious wake.
Q: What got you started with music?
I took a few saxophone lessons then practiced a lot on my own and busked a bit. I joined a folk band for a few weeks but didn't really like that. I was really rebellious and I wanted to do something different with my life and get into another world. Around autumn '76, I saw an ad in Melody Maker looking for 'punk' musicians. I didn't even know what punk was but I just showed up. The manager for X-Ray Spex liked the idea of having another woman in the band with Poly so I made it. We got on so well, really hit it off and rehearsed a lot. It was like a dream.
Q: Was the scene supportive of women?
Definitely. It was an asexual movement. It transcended labels and boundaries: that was really part of the punk spirit.
Q: Did the scene affect you yourself a lot?
I grew up really fast. I was extremely naïve at first and was exploited by the management and didn't see any of the fruits of my work. It was a nice time that a lot of different people could get heard though.
Q: How did you leave the band?
Poly saw that I was getting a little too much of the spotlight and I was just replaced without any notice after a year. They even used all the sax parts I worked out for the album (Germ Free Adolescents) with a new player.
Q: That must have been crushing.
I became cynical about the music business and went to art school to study photography for a while but nobody was really serious about what they were doing.
Q: How did Essential Logic come about then?
A chap who met me at school (Jeff Mann) knew about Spex, had a studio and pestered me about it. I finally decided to do something and started working on a band for about a year before we actually gigged.
Q: Why did it take so long?
We just needed to find the right people before we were sure about everything. We were going to put out a single ("Aerosol Burns") on our own label and then Geoff Travis (Rough Trade) heard it and loved it so we started working with him.
Q: What did you think of Rough Trade?
Fantastic group of people. They'd put out whatever I gave them, warts and all. The other bands there was really supportive too- someone would ask if you'd help with their session and you'd be there for them, like the Raincoats, Scritti Politti, Red Crayola, Swell Maps.
Q: Why did Essential Logic end?
We were together for three years but I just got too involved in the process and was dallying with drugs a little too much, living the rock lifestyle out and it took its toll.
Q: You joined the Hare Krishnas after that?
Liz Gordon, a good friend, had joined and I visited the temples around 1980. I was just ready for it and I embraced it and cleaned myself up. I traveled to India quite a bit (I may move there) and all over Europe to different temples to pray.
Q: Any music?
Well, Poly joined the Krishnas and we met up for the first time in years. She had been going through a lot herself and I understood. We formed a reggae-ish band with other Krishnas called Juggernaut and played a few gigs at the Glastonbury Festival (1983) but that didn't last long.
I living in a manor that George Harrison had given to the English Krishna people where I set up a studio that I shared with Poly and others- I'd always been writing and rehearsing (I always saw that as my service to Krishna and share that) but nothing really came out.
Interview with Laura Logic was rather convieniantly ripped from wwwdotfuriousdotcomslashperfectslashessentiallogic…Dont know why I am feeling so lazy today. Thanks in advance to that website.