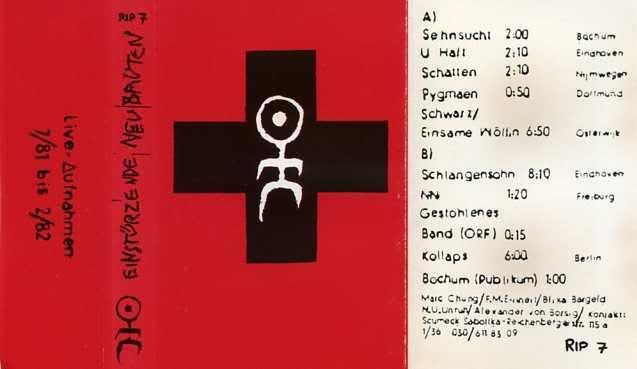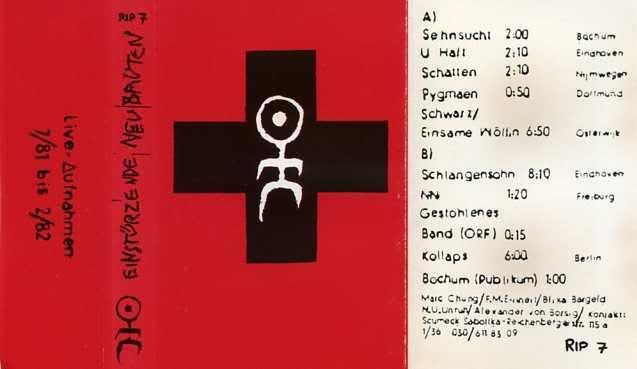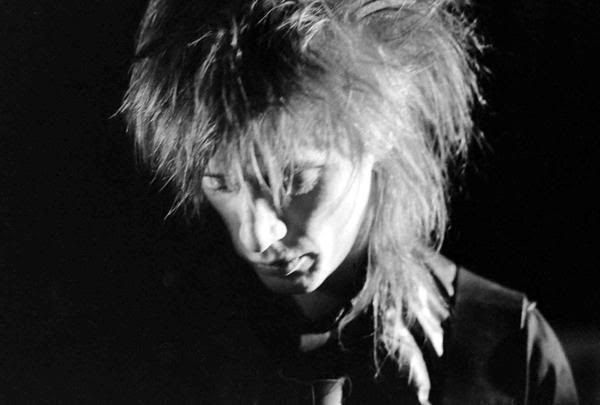 Sehnsuchi / U Haft / Schallen / Pygmaen / Schwarz Einsame Wolfin
Schlangensohn / Nin / Gestohienes / Band (ORF) / Kallaps / Bochum (Publikum)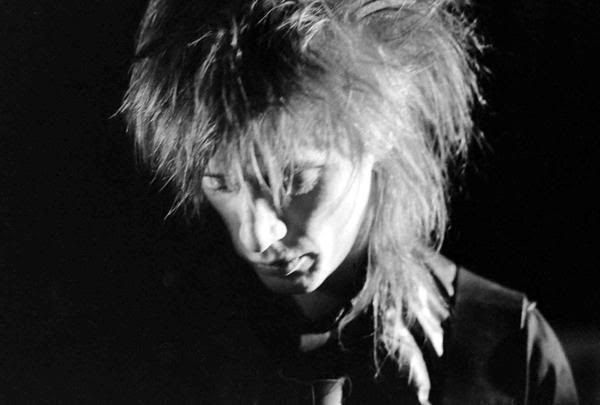 From the ashes of Hamburg's Ab-warts, Blixa Bargeld created the industrial punk band Einsturzende Neubauten (meaning Collapsing New Buildings in English). This live recording was recorded at various locations between July 1981 and Febuary 1982 and released only on cassette tape via the Rip Off / Ruff Trade label, a label closely aligned to Zick Zack records, the premier and most respected  independant new wave, avant garde record label based in Blixa's hometown of Hamburg. 
Zick Zack Records had already released a double 7″ single and the much acclaimed LP 'Kallops' by Einsturzende Neubauten before this cassette tape from Rip Off was available. Zick Zack records also released Xmal Deutschland's early works (a 7″ single and a 12″ single) that are both featured on this site somewhere if you care to use the search function. Also Palais Schaumburg were amongst the major Zick Zack recording artists. A compilation of Zick Zack artists may be viewed and listened to HERE
Text below courtesy of  nuebauten.org.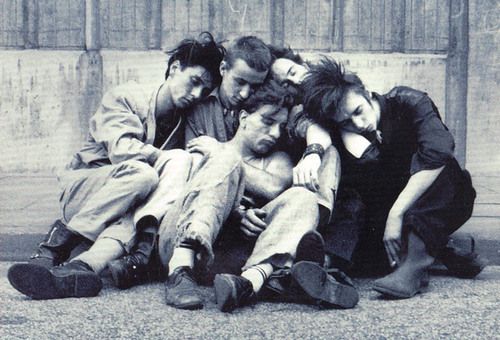 A concert held on first of April 1980 at the legendary Berlin club "Moon" is regarded as the official birth of the Einsturzende Neubauten. Blixa Bargeld, N.U. Unruh and FM Einheit declared war on all conventional hearing habits with the release of their debut album "Kollaps" (Collapse) in November 1981. Tremendously noise-intensive, rhythmically ritual anti-pop was offered as an antidote for the frightened, paralyzed and media-sedated masses. It was made from a range of instruments carefully beaten together from mostly stolen construction site, scrap yard and do-it-yourself supplies, consisting of steel parts, barrels, drills, hammers, saws and an untuned electric guitar. The sound monster awakened to life was crowned by Bargeld's blood-curdling screams and feverish texts, impregnated by doomsday fantasies that revolved around ruin and destruction, illness, downfall and death. Precisely this nonconformist mixture would lay the cornerstone for a completely new understanding of music, which would influence countless mainstream pop bands, such as Depeche Mode, Nine Inch Nails, Marilyn Manson and Rammstein.
In subsequent years, the team of musical experts, increased by Alexander Hacke and Mark Chung, continued to expand its pioneering sound field experiments with the highly-stylized albums "Zeichnungen des Patienten O.T." from 1983, "1/2 Mensch" from 1985, "Fünf auf der nach oben offenen Richterskala" from 1987 and "Haus der Lüge" from 1989, which also became milestones of the Industrial scene. The eruptive noise sections were employed with increasing economy and song structures began to conform more and more to conventional forms. Songs like "Armenia," "Yü-Gung (Fütter mein Ego)," "Z.N.S." or "Feurio!" shaped an entire generation and even today continue to serve as frequently copied blueprints for experimental sound art and sound performance. Although the media dismissed them in the beginning as a bizarre, "Walled City" curiosity, Einsturzende Neubauten quickly established themselves as an internationally acclaimed band representing the present and pop culture.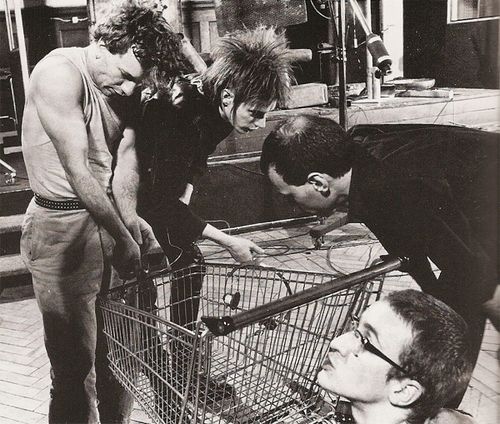 Einsturzende Neubauten famously drilled and (electric) sawed up the stage at a showcase gig at the I.C.A. in the Mall, London in January 1984 as described below by Alexander Hacke of Einstürzende Neubauten in a Guardian newspaper article.
When we played at the I.C.A, we had this Utopian idea of leaving the stage from underneath. The plan was to dig through the stage into the tunnel system underneath the venue, which is supposed to go all the way to Buckingham Palace. Obviously, the venue had no idea of our intentions. We'd already been banned from a lot of venues for using fire and drilling the walls, but the Concerto for Voice and Machinery was billed as a highbrow art thing. There was no connection made to rock music.
I think the I.C.A probably started to realise something was afoot when a cement mixer was set up on stage, alongside electric drills and jackhammers. There was a piano, too, but that would be smashed to pieces. In those days, we'd often take the stage under the influence of substances or alcohol but this time I think we were particularly aware of the potential for danger so we were pretty much straight. When we took the stage, the euphoria was so intense. It felt ritualistic, meditative, like we were samurai.
There's a lot of controversy over who was actually on stage. Contrary to rumour, Blixa [Bargeld, the singer] did appear, but pretty late. He came on in the last quarter and sang one word, Sehnsucht, which means "addicted to desire". Frank Tovey, who performed as Fad Gadget, was singing freestyle stuff, these sort of om-like mantras. Genesis P Orridge was also on stage but I can't remember if he was handling a chainsaw or a pneumatic drill. Because we were using petrol-driven chainsaws, very soon the whole room was filled with smoke, the stench of petrol everywhere. It sounded like a cross between a building site and war. Because I was very young, the others wouldn't let me near the heavy machinery so I stood, wearing protective gloves and a visor, throwing milk bottles into the cement mixer, which smashed and flew into the crowd.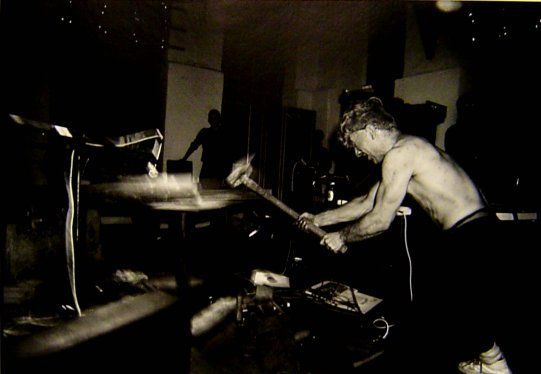 But we would have kept it pretty straightforward if we weren't inspired by the reaction of the audience. There's a famous Walter Benjamin essay about the destructive character, and he says: "The destructive character knows only one watchword: make room. And only one activity: clearing away." And that's how it was. We were thinking, "Actually, it's not us doing anything. The audience are tearing the place apart!" People were fighting over the drills and sledgehammers. Cables and machinery were pulled into the audience.
The thing about these situations is that no matter how wild it gets, people do instinctively take care of each other. I'm sure there were moments when we thought it was getting out of hand but it was all so quick, it went "Snap", like a switch being flicked and everyone going berserk.
When I ran out of bottles, I wandered off the stage so I could look at what was happening from in the crowd. There were heated discussions going on between officials at the entrance. They couldn't really throw themselves into the fray, it was hopeless. After 21 minutes they pulled the power. It was the only thing they could do. But the audience just carried on banging things.
By the end there was a big hole in the stage but we didn't make it through to the actual stone structure of the venue, so we failed!