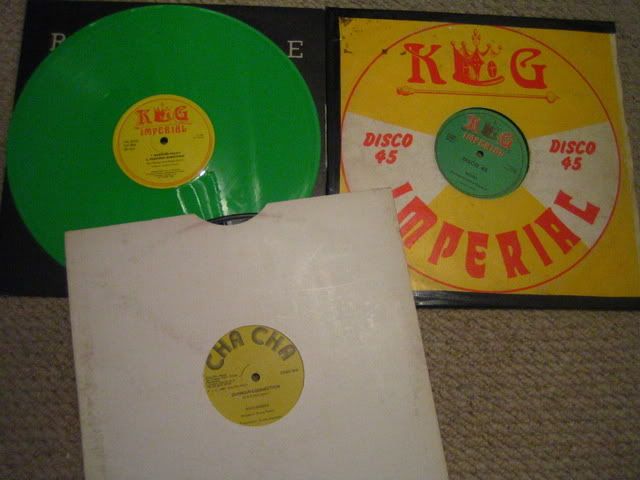 Badoo + Toyan – Rocking Of The Five Thousand / Reaching To Be Free
Roy Ranking + Raymond Naptali – Go Deh In The Late Night Blues / Late Night Session
Roy Ranking + Hugh Brown – Babylon Policy / Peaceful Something
Nico Demus – Gunman Connection / It Have Fe Ram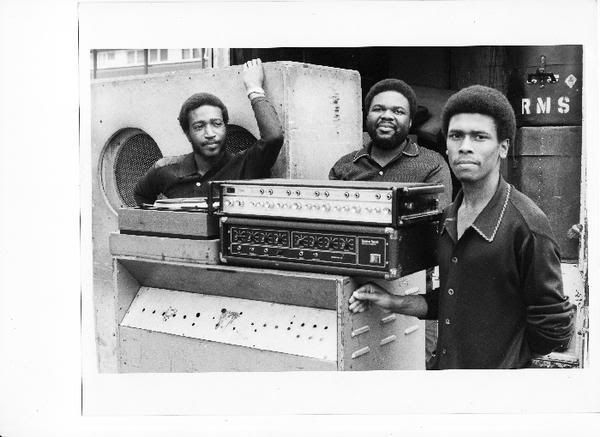 Ribs (later of Unity Hi Fi), Fatman and Mikey Crucial with sound system gear (Photo courtesy of Daddy Fatman).
Fancied uploading a couple of bad tunes up onto the site, recorded by Ken Gordon A.K.A. Fatman on his own K.G. Records imprint. Jah Pork requested a track by Nico Demus from the Socialist Roots Sound System, way over JA way, 'Gunman Connection' recorded for Channel Ones in-house label, Cha Cha Imprint.
Fatman represented Tottenham, North London all through the 1970's and through to today, although he now has a base at 277 Green Lanes, Manor House, London, N4 which is more Arsenal territory. Mirage is a friendly place to have some nice Jamaican food and to hear some nice sounds. Go along and see if you can get a discount by mentioning Penguin to Ken, Irine or Flip! Sometimes they have Sound System nights and nuff singers and players pass by the resturant on the way to and from Jamaica.
These tunes dedicated to John Eden, Pork of course, and any Hackney Squatters that passed through the Four Aces Club in Dalston Lane.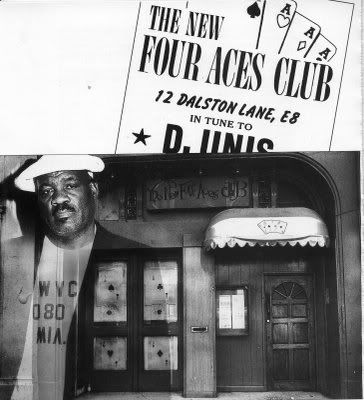 Count Shelley and The Four Aces Club (Photo Unknown)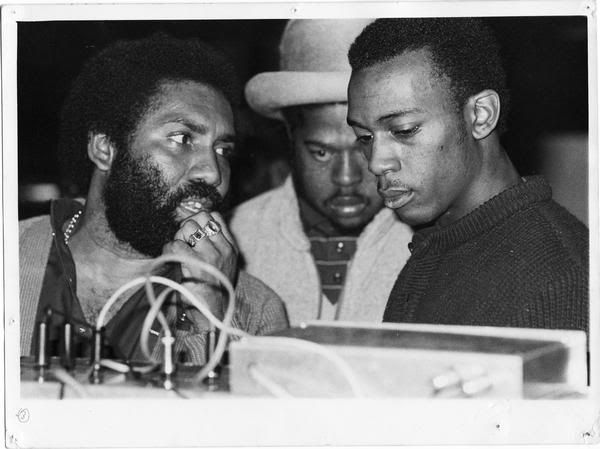 Jack Ruby, Fat Jaw and Karl on Fatman Sound (Photo courtesy of Daddy Fatman)
Fat Jaw, thirteen years ago, was still alive and well, I know this because I used to chat to him outside Jack Ruby's resturant in Ocho Rios, then run by Michael Ruby (Jack Ruby's son) as Jack had passed on. Great Sound Systems up on the roof of Ruby's. We had discussed Fatman Sound, and Fat Jaw, ex of Brixton (sometime in his life), told me all kinds of stories about 1970's dances.
Anyway, one day me and wifey (Bobbly Jax Bird) were outside Ruby's when a car speeded past (at all of 15 mph) and the wing mirror hit Jax on the side of the hip. She yelped and Fat Jaw surrounded the poor baffoon driving said motor, that had stopped twenty yards away, and was going to put said baffoon to death with help from a couple of Ruby hangers on. It was only Jax and myself pleading to Fat Jaw that she was ok and it was only a small contact, and not to worry, that baffoon was allowed to drive on and 'not turn head back'.
Baffoon didn't, Jax and myself scuttled off quietly with a slight scared expression on our faces!
Cheers anyway Fat Jaw!