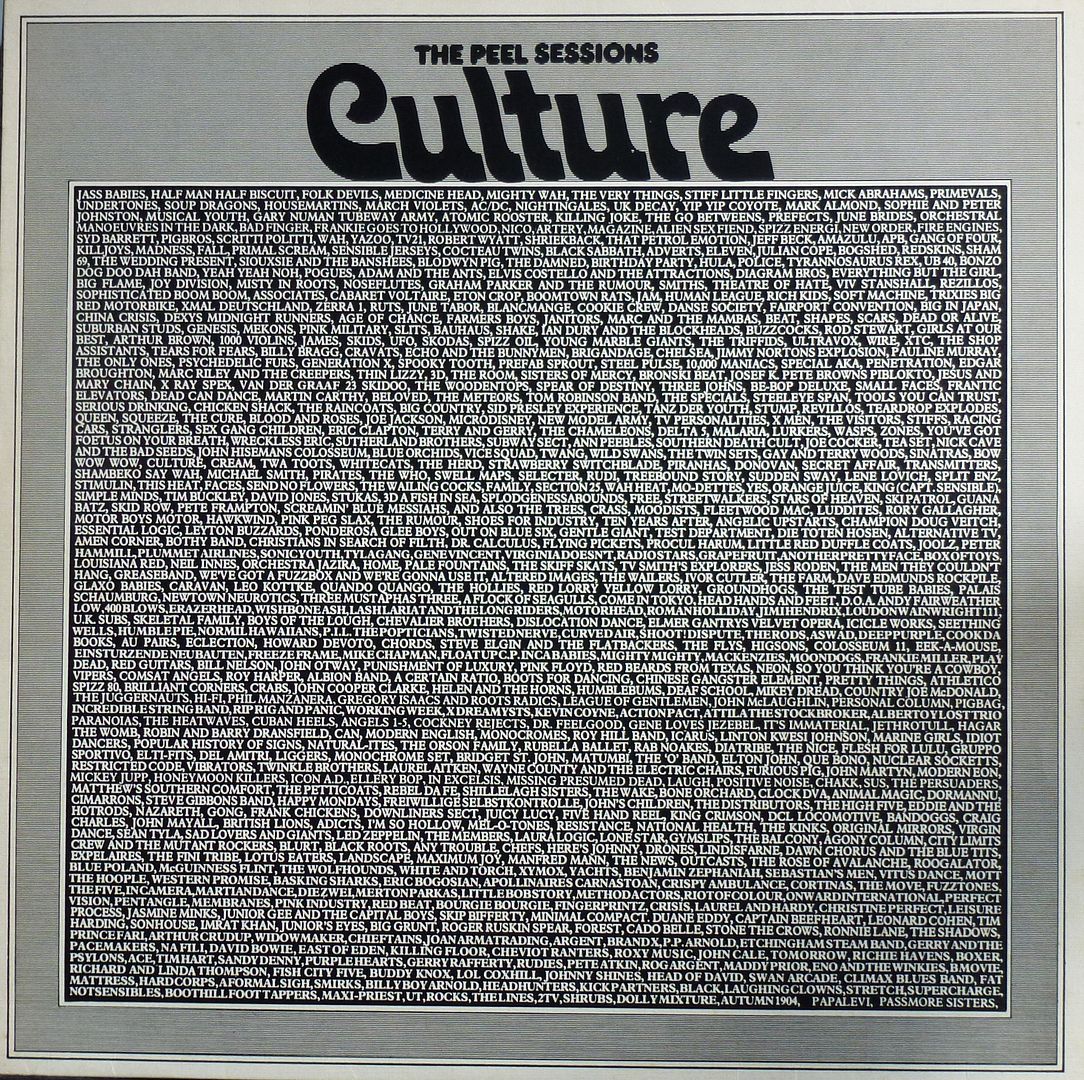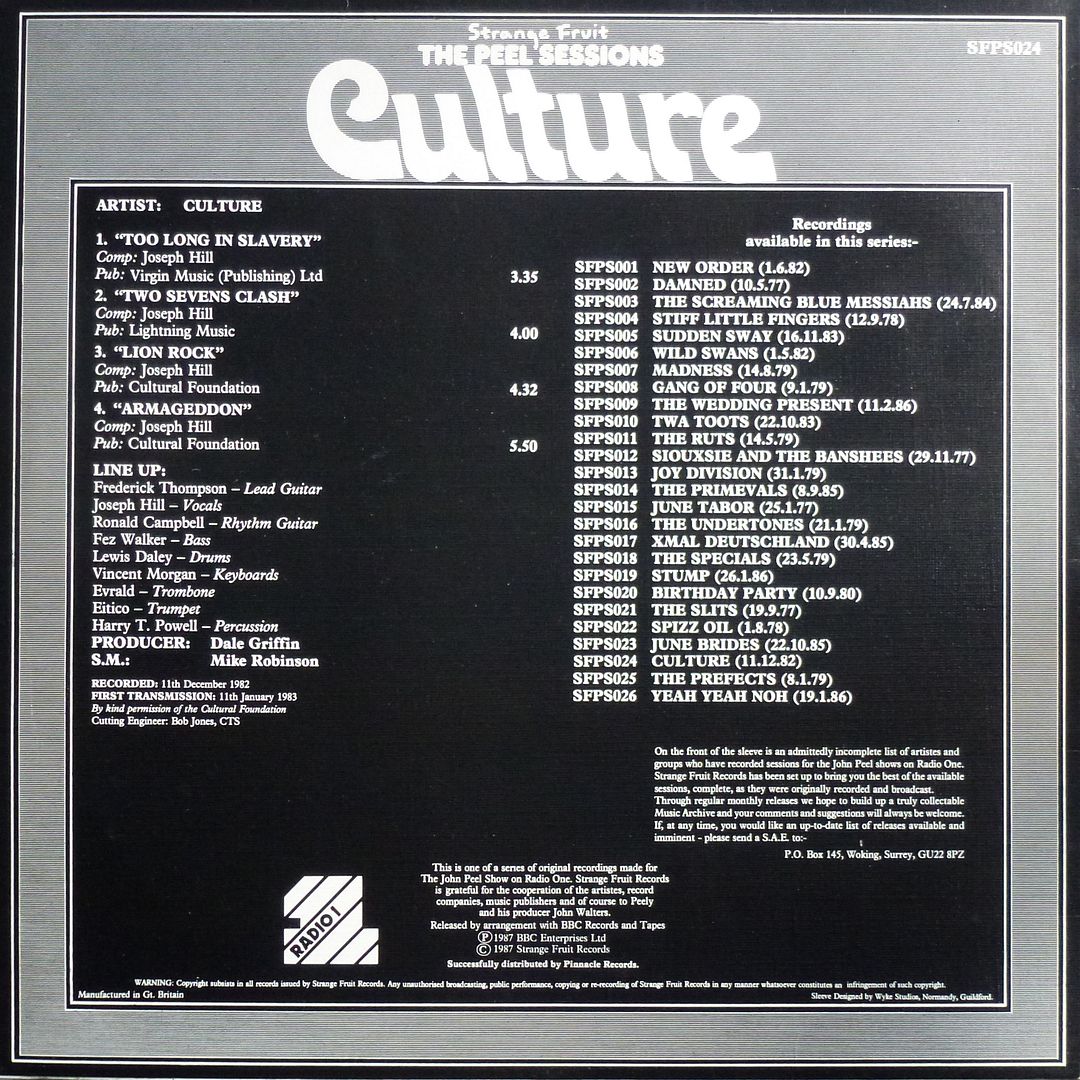 Too Long In Slavery / Two Sevens Clash
This session by Joseph Hill's Culture was recorded in December 1982 at the BBC Maida Vale studios for the John Peel radio programme and is one of the all time great Peel sessions in my opinion. Furthermore it is one of the all time great Peel sessions in John Peels opinion! I was once told that John Peel wept when he first heard the results on the tapes that Dale Griffin had handed to him a few days before the session was meant to be aired in January 1983.
For clarity John Peels opinion is written in burgundy red bold towards the bottom of this post.
The versions of the two newer tracks 'Lion Rock' and 'Armageddon' that Culture recorded for the BBC actually eclipse in quality the versions that had previously been recorded at Aquarius studios in Kingston and released on the Sonic Sounds record label. This is no mean feat as the 'Lion Rock' album from 1982 is an immense work in itself!
As a much younger Penguin I remember listening to the John Peel radio show on a more or less nightly basis from 1979 right up to the mid 1980's. I met him a couple of times, and he was a very pleasant man.
Text for this post stolen from allmusic.com and two BBC websites.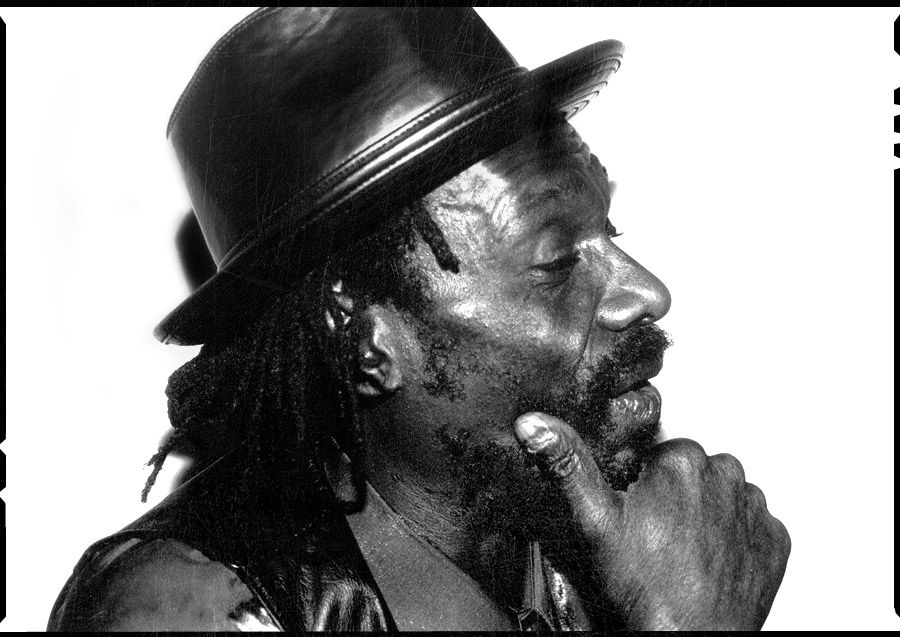 CULTURE
Vocal trio Culture helped define the sound and style of Rastafarian roots reggae, thanks largely to charismatic singer, songwriter, and leader Joseph Hill. True to their name, Culture's material was devoted almost exclusively to spiritual, social, and political messages, and Hill delivered them with a fervent intensity that grouped him with Rastafarian militants like Burning Spear and Black Uhuru. Their classic debut 'Two Sevens Clash', is still considered a roots reggae landmark, and most of their other late '70s output maintains a similarly high standard. After a hiatus, Culture returned in the mid-'80s with a lighter, more polished sound that drew from more eclectic musical sources. Yet the force of their message never softened, and they soldiered on into the new millennium.
Joseph Hill had been trying his hand at a solo career for some time before forming Culture. He first started out as a disc selector for various sound systems in his hometown of Linstead, in St. Catherine Parish. From there he joined a group called the Soul Defenders as a percussionist and part-time vocalist. The Soul Defenders worked at Clement "Coxsone" Dodd's legendary Studio One in 1971, cutting backing tracks for a variety of vocalists. Hill himself recorded several solo numbers during that time, including "Behold the Land" and "Take Me Girl," but nothing came of them. The Soul Defenders returned to St. Catherine to work the hotel lounge circuit in northern Jamaica, and Hill floated through several bands prior to forming Culture in 1976. His cousin Albert Walker came to him with the idea of forming a vocal group, and the two quickly recruited another cousin, Roy "Kenneth" Dayes, to sing harmony vocals along with Walker.
Initially calling themselves the African Disciples, the trio hooked up with producer Joe Gibbs in Kingston, and soon changed their name to Culture. Overseen by Gibbs and engineer Errol Thompson, aka the Mighty Two, they debuted with the single "This Time" on Gibbs' Belmont label. Not long after, they broke through with several hit singles, including "See Them a Come" and "Two Sevens Clash." The latter was a Rastafarian vision of the rapidly approaching apocalypse, which fuelled public paranoia in an already violent election year; it also provided the title track of the group's debut album, which was released in 1977 to tremendous acclaim. Featuring other crucial tracks like "Get Ready to Ride the Lion to Zion" and "Natty Dread Take Over," "Two Sevens Clash" was a spiritual manifesto against racial injustice and poverty. It won a huge following not only in Jamaica, but also the U.K., where the growing punk rock movement was discovering a kinship with protest reggae, and connected immediately with the album's powerful disaffection.
Unhappy with their financial dealings with Gibbs, Culture soon split for a brief and contentious stay at Duke Reid's Treasure Isle label, where they started (and never quite finished) a new album titled Africa Stand Alone; the results were eventually released as they were, without authorization. Meanwhile, Gibbs released leftovers from the Two Sevens Clash sessions on two more LPs, Baldhead Bridge (whose title song was a hit) and More Culture. By the end of 1977, Culture had already moved to Sonia Pottinger's High Note label, and recorded three excellent albums in quick succession: 1978's 'Harder Than The Rest' and 1979's  'Cumbolo' and 'International Herb'. Additional material from the era was later compiled on Trod On and Production Something. Culture performed at the legendary One Love Peace Concert in 1978, and later toured heavily in the U.K. with backing band the Revolutionaries (which included the young Sly & Robbie).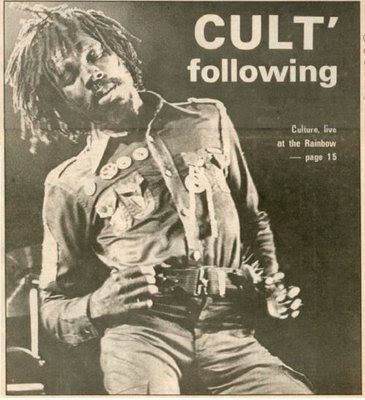 However, there would not be much more material forthcoming, at least for the time being. Culture split up in 1982, and Hill recorded which was essentially a solo album 'Lion Rock', under the Culture name; Walker and Dayes meanwhile made a few recordings with producer Henry "Junjo" Lawes. The trio reunited in 1986, and quickly recorded two well-received comeback albums, 'Culture at Work' and 'Culture in Culture' that year. They resumed touring as well, and kicked off another prolific and productive period with albums like 1988's 'Nuff Crisis' (which featured the powerful protest "Crack in New York"), 1989's 'Good Things' 1991's dancehall-flavoured 'Three Sides to My Story', and 1992's 'Wings of a Dove'.
In 1993, Kenneth Dayes left the group to pursue a solo career, wanting to continue their earlier experimentation with dancehall. Culture was then touring with an independent backing band called Dub Mystic, and that group's lead singer, Ire'Lano Malomo, was pressed into service as the third vocalist in the trio. Malomo appeared on two studio albums, 1996's 'One Stone' and 1997's 'Trust Me'. He was replaced in 1999 by veteran singer Telford Nelson, who made his debut on 2000's 'Payday'. Hill released another effective solo album, 'Humble African', in 2001, and Culture returned in 2003 with the acclaimed World Peace. On August 19, 2006, during a show in Berlin, Germany, Hill collapsed on-stage and passed away.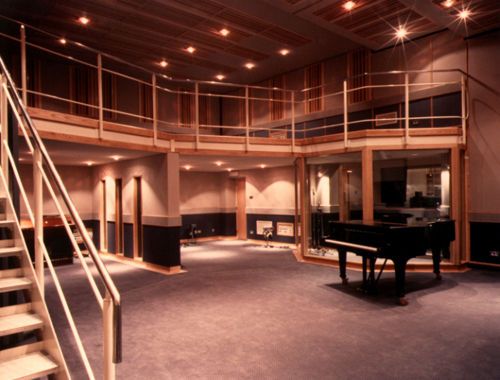 MAIDA VALE STUDIOS
Maida Vale Studios is a complex of seven BBC studios (of which five in regular use) on Delaware Road, Maida Vale, London.
It has been used to record thousands of classical music, popular music and drama sessions for BBC Radio 1, BBC Radio 2, BBC Radio 3 and BBC Radio 4 from 1946 to the present. On October 30, 2009, BBC Radio 1 celebrated 75 Years of Maida Vale by exclusively playing 75 tracks recorded at the studios over the years. Snow Patrol played a live set from the studio with Fearne Cotton to celebrate 75 years of live music.
The site was built in 1909 as the "Maida Vale Roller Skating Palace and Club". Over a period of fifteen months in 1933/1934, one hundred men reduced the skating rink to a shell, then rebuilt it. The arches at the doorway were preserved. It was one of the BBC's earliest premises, pre-dating Broadcasting House, and was the centre of the BBC News operation during World War II.
It has been the home of the BBC Symphony Orchestra since 1934. For over fifty years the BBC Symphony Orchestra has given invitation concerts, usually free. As a schoolboy, Vernon Handley learned some of his conducting technique by watching Sir Adrian Boult conduct the BBC symphony orchestra here. Studio 1 has room for an orchestra of over 150 musicians and an audience of over 200. An unusual feature of these concerts is that they were often recorded, which means that in later years the orchestra sometimes were able to do re-takes. It is the largest classical music studio in London.
The "Third Programme" was created in September 1946. By the 1950s, the Third Programme was frequently broadcasting concerts from this venue. Some premieres of British classical music were recorded here (in studio 1), including works by Robert Simpson, Arnold Bax, Nicholas Maw, Alan Rawsthorne and Sir Arthur Bliss. Many of them later became available on vinyl or CD. Olivier Messiaen's Turangalila was rehearsed here, before its UK premiere at the Royal Festival Hall.
In 1958 the BBC Radiophonic Workshop was created and based here until its demise in 1998, and the pioneering "Delaware" synthesiser made by EMS takes its name from the Studios' address. The Workshop's rooms are now used as a small TV studio for The Film programme, audio archiving facilities, engineering workshops and office space.
In the late 1950s and early 1960s the radio programme Movie-Go-Round was broadcast from here. Peter Haigh played sound clips from major films. The Beatles used studio 5 several times in 1963 to record sessions for BBC radio.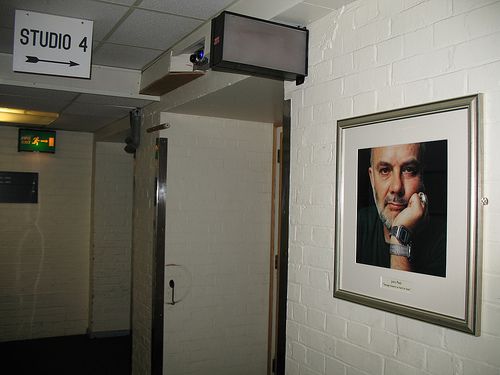 From 1967 to 2004, "John Peel Sessions" were recorded in studio 4. At first a number of other venues around London were also used, such as the Playhouse Theatre in Charing Cross, but as these were let go by the BBC the sessions increasingly centred on Maida Vale 4. Music sessions were once a mainstay of BBC Radio programming as there were strict limits on the amount of commercially recorded music that could be aired (known as needle-time restrictions), so the BBC regularly booked musicians to record music exclusively for broadcast. In the early 60s when the BBC began to give some limited coverage of pop groups such as The Beatles, it was found that the sessions allowed up-and-coming bands to gain exposure, and for musicians and groups to try out new material, play covers they would not include on their albums, and experiment with different sounds and guest musicians. With the birth of Radio 1 in 1967, programmes such as Top Gear embraced this concept, with sessions from such stars-in-waiting as David Bowie, Led Zeppelin and Jimi Hendrix. And when one of Top Gear's presenters, John Peel, got his own programme, he again continued to commission these specially recorded sessions. Most of the artists were relatively unknown even to Peel's listeners: he and his producer would often invite bands on the strength of a rough demo tape or gig to hear what they could do, and for many of the bands it was their first experience of a professional recording studio, not to mention a much-needed boost to their finances. The format became standardised as a single session in the studio with a staff producer and engineer (or more latterly a producer-engineer and assistant), during which the artists would record four songs, but there were also some sessions which were either live to air, or pre-recorded as live with an audience
John Peel said "The Clash did half one, then amazingly said that the equipment in the studio wasn't up to the standards they'd expected so they couldn't complete the session. Which seemed to me to be unbearably pretentious of them".
Some albums by The Fall were entirely recorded there. The last band to record a Peel session was Skimmer, at Maida Vale Studios on October 21, 2004.
Other BBC disc jockeys invited artists to perform at Maida Vale. Led Zeppelin recorded for Alexis Korner's "Rhythm and Blues" program in 1969. Walter Trout recorded for Paul Jones's R & B show. Marillion recorded for Radio 2 DJ Bob Harris. Jo Whiley invited Hard Fi to play here. The venue is also the home of the BBC Elstree concert Band. The Radio 3 "Jazz Line Up" sessions were recorded here.
JOHN PEEL SESSIONS
The Peel Sessions are the stuff of legend. They broke all the rules and engaged the listener with rough and ready mixes of some of the world's most weird, wonderful and wired bands. There was a mythology to Peel Sessions: musicians went into the studio to record their three or four track session, only to emerge a few hours later blinking and dazed, having made a hell of a racket that would go down in history as the making of the band
The Peel Sessions began when John realised he had to play by more rules than he was used to at pirate radio when he joined the BBC in 1967. John's show had to air a large amount of non-recorded music. This meant that he was only allowed a certain amount of 'needle time' (referring to 'stylus-on-vinyl' time – the time allotted to playing records on air) due to Musicians' Union rules.
The choice was either to have idle banter or to get bands to play a live session… Guess what he chose to do?
Deciding which artist to book for The Peel Sessions was an organic process. Peel would have a brief chat with his producer, John Walters, usually about artists that took their fancy that week. A phone call was made and the band would turn up to the recording studio to lay down the session, usually at the BBC's Maida Vale studios.
Peel said: "There are those who believe that there is in place some system, that meetings are held, that charts are pored over… John and I would list those bands who had not recorded a session for a spell, eliminating those whose work no longer pleased us or, more rarely, whose new-found celebrity status would mean that their agents, management and record companies would come together in holy union to frustrate our attempts at rebooking. We'd also add to the list the names of artists we had heard and liked on demo tape or record or seen and liked in performance."
John was repeatedly asked what his favourite session was. He could never choose because there were so many Peel Sessions recorded.
John told Interzone magazine: "It's really impossible to say which is my favourite… Perhaps Culture, I wish they'd done more. The Slits was something of a classic, and I liked several by The Wedding Present. There's been a few American bands that it would have been nice to have – The Doors, Jefferson Airplane and the Grateful Dead – for a while it was difficult to get American bands into the country in the Sixties and Seventies."
But artists who did get invited back lots of times included: The Fall (32 sessions), Ivor Cutler (20 sessions), The Wedding Present (16 sessions) and The Delgado's (16 sessions). And, of course, there are also the famous sessions, from the likes of Led Zeppelin, Pink Floyd, Jimi Hendrix, Bob Marley, The Smiths, Nirvana, Pulp and The White Stripes.
The Peel Sessions are now a worldwide phenomenon, recognised for quality and diversity.